Mike Nichols and the versatility paradox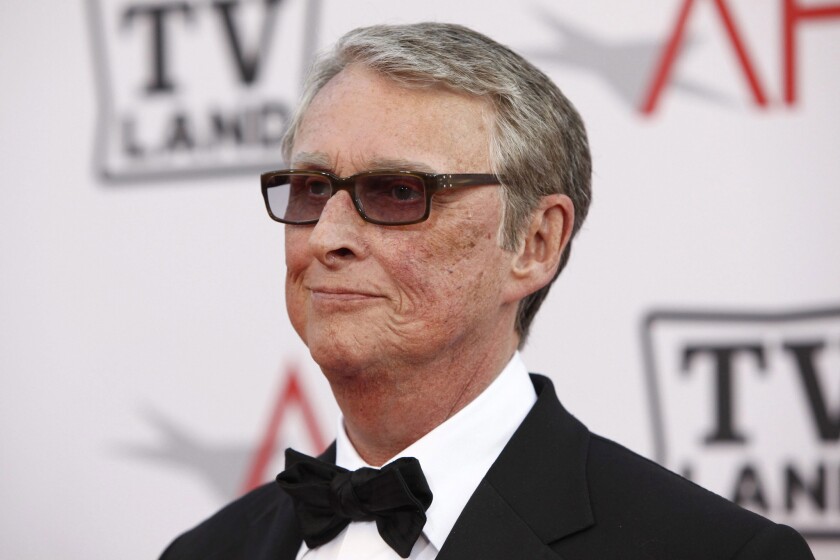 The first major honor came in 1962, when he won a comedy album Grammy for "An Evening With Mike Nichols and Elaine May." Among the last — and the one that completed Nichols' coveted EGOT — arrived nearly 40 years later when he took home an Emmy for directing the TV adaptation of "Wit" in 2001.
In-between, amid the numerous other honors, came a directing Oscar for "The Graduate" and many other film honorifics, along with nearly a dozen Tony awards, for shows as diverse as "Annie," "Barefoot in the Park" and "Death of a Salesman."
Mike Nichols, who died in his New York home at 83 on Wednesday night, was a singular talent, amassing awards the way most people rack up airline miles. And he did it across platforms and genres — stage and screen, comedy and drama.
But what's most telling is how many different forums he could pull this off in while excelling in his chosen field: directing.
It's versatility of the highest order: to range across fields, at the top ranks, while being in a job that increasingly just asks you to do one thing. Directing these days, whatever the forum, means it's hard enough to switch genres, let alone platforms. Most modern film directors have made brief, hardly auspicious forays into theater.
Going the other way is equally tough: Consider: The other Tony winners for direction this decade in addition to Nichols include some of the field's big names — Kenny Leon, Pam McKinnon, Michael Grandage. None of them have even directed a film, let alone won an Oscar for it.
And the demise of the comedy album means that, unless you do double-time as a singer or composer, you're probably not winning that Grammy anytime soon. And really, how many film directors are doing any of those things?
It's why, on the list of 12 people who've won an EGOT, only one other person has done it primarily as a director -- Mel Brooks, the paragon of versatility, and a man who got his start as far back as Nichols did.
The issue is pretty straightforward. The modern entertainment world is in many ways more fixed, and more specialized, than it's ever been. Sure, much has been made of the flexible TV-movie divide -- most particularly via big-name film directors tackling TV pilots. But that's largely the function of TV becoming more cinematic. The other realms in which one can succeed and land diverse awards -- from stand-up to stage direction -- are increasingly cordoned off from film directing, and vice versa.
It's what might be called the versatility paradox. To be really good at something in today's entertainment climate is to be asked to do it again and again. And to do it again and again means it's that much harder to do something new. Sure, there are serviceable directors who can move between discipines. But if you're tops in your field, chances are you're staying right where you are.
Even if you can break out, there are people there who've been excelling in that other field who themselves make it harder for you to compete for the top jobs and awards. The amount of money and risk in modern entertainment is too high, and the number of people practicing it too great, to allow interlopers.
In many of the tributes to Nichols on Thursday, writers have noted that there won't be another talent like him. And there well may not be. But the truth is we're lucky to have had Nichols come along when he did, at a moment when the lines were a lot less rigid. As Nichols knew from his stand-up days, so much of life is in the timing.
---
Inside the business of entertainment
The Wide Shot brings you news, analysis and insights on everything from streaming wars to production — and what it all means for the future.
You may occasionally receive promotional content from the Los Angeles Times.