Boycott of Quentin Tarantino's 'Hateful Eight' adds Orange County police organization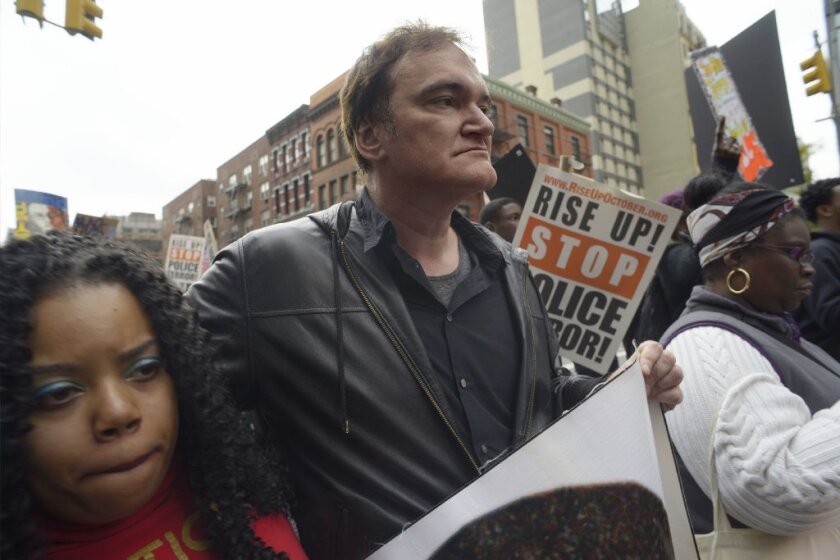 The Assn. of Orange County Deputy Sheriffs has joined the New York Police Department and the Los Angeles Police Department's largest union, the Los Angeles Police Protective League, in support of a boycott of Quentin Tarantino's upcoming film, "The Hateful Eight."
The announcement is just the latest in a continued outcry against the director, in the wake of Tarantino's comments reported by the Associated Press at a police brutality protest in New York City on Oct. 24, just days after New York police officer Randolph Holder was killed in the line of duty.
"I'm a human being with a conscience," Tarantino said, "And if you believe there's murder going on then you need to rise up and stand up against it. I'm here to say I'm on the side of the murdered."
The Assn. of Orange County Deputy Sheriffs announcement comes on the heels of a similar statement sent Monday by the National President of the Fraternal Order of Police Chuck Canterbury to FOP members.
In his statement, Canterbury says that officers take "great offense" at Tarantino's comments, particularly seeing how Tarantino's career was built on "glorifying criminal violence."
"If Mr. Tarantino truly wished to be on 'the side of the murdered,' he would speak in defense of Officer Holder and the 37 other law enforcement officers who were killed in the line of duty in 2015. 38 dead police officers may not be much of a body count for a Tarantino film, but to the brave men and women of the Fraternal Order of Police, it is far too many," Canterbury said.
Canterbury further sent his message to the Weinstein Co. in explanation for why the Fraternal Order of Police would be boycotting the film.
"The Hateful Eight," a western set in post-Civil War Wyoming, will be released in theaters on Dec. 25.
Follow me on Twitter at @midwestspitfire.
ALSO:
'Star Trek' and streaming: How CBS is betting big on a sci-fi classic
'Star Wars: The Force Awakens' heads to 'Jimmy Kimmel Live'
Is Glenn dead? 'Walking Dead' show runner assures us all 'questions will be answered'
---
Inside the business of entertainment
The Wide Shot brings you news, analysis and insights on everything from streaming wars to production — and what it all means for the future.
You may occasionally receive promotional content from the Los Angeles Times.