At 'Butler' premiere, Oprah's big-screen return marked with fanfare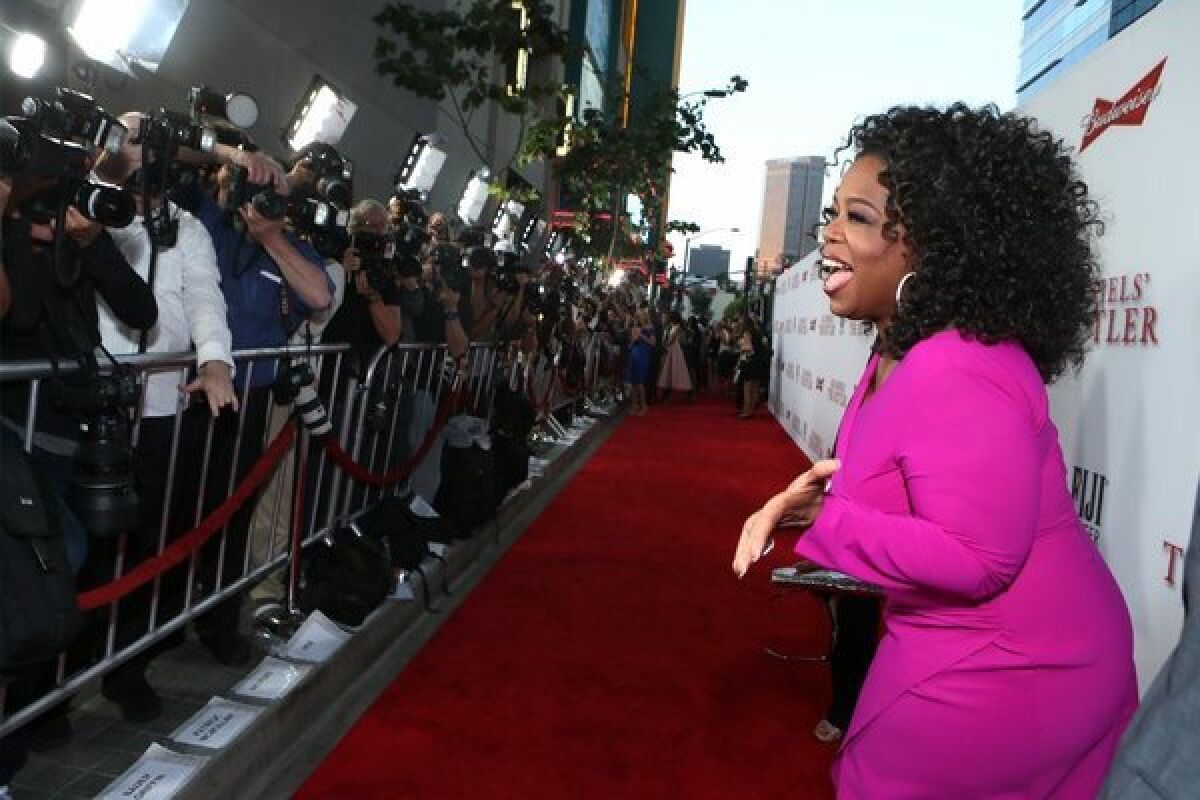 Oprah Winfrey has said that taking a role in "The Butler" -- her first big-screen turn in 15 years -- was a scary prospect. But after being engulfed by a media mob at her new movie's premiere in Los Angeles on Monday night, Winfrey might be thinking that acting is the least frightening part of her return to film.
Following an emotional screening at Regal Cinemas L.A. Live, moviegoers headed across the street to an after-party at WP24 -- Wolfgang Puck's trendy restaurant with a sweeping view of the downtown skyline. Once inside, everyone seemed to make a beeline to Winfrey, who wasn't exactly hard to spot in her bright fuchsia dress.
Though she was surrounded by hulking bodyguards, somehow Winfrey still found herself swarmed by cellphone-toting fans, all eager to take a selfie with one of the most famous women on the planet. She gamely wrapped her arms around strangers as camera flashes blinded her. One desperate woman elbowed her way through the crowd just to tell Winfrey about a medical problem, pleading with the star to connect her with Dr. Oz.
(In one particularly awkward moment, as the masses pushed her to and fro and then up against me, she smiled and half-observed, half-apologized: "My arm is on your breast.")
Sure, one might argue, there are far worse things than putting on a fake smile and spending an hour posing for pictures, especially when you're one of the wealthiest women in the world. Nonetheless, the whole fiasco didn't appear enjoyable, and Winfrey booked it out of the party before midnight, as soon as she was able to emerge from the crowd.
The chaos was a stark reminder of the level of Winfrey's fame -- something director Lee Daniels worried about when casting her as Gloria Gaines, the booze-swilling wife of one of the White House's top butlers (played by Forest Whitaker).
"It was a very big concern -- that when people looked at her on screen, they'd just see Oprah," the filmmaker said on the red carpet before the screening. "But when she opened herself up and became vulnerable and fragile, I knew that we were going to be able to shoot a movie. It was me tripping, not her tripping."
Daniels spent months trying to convince Winfrey to join the cast of his movie, which hits theaters Friday. Though she is an accomplished actress -- scoring an Oscar nod for her first-ever role in 1985's "The Color Purple" -- it had been a while since she'd acted, last appearing in 1998's "Beloved."
"The thing with Oprah was that she put that part of her life behind her," explained Cuba Gooding Jr., who plays one of Whitaker's White House co-workers. "She wanted to revisit it, but she felt that it would have to be something that really clicked with her. And this is pretty rough material, some of this stuff. But Lee's persistent. I don't think he was going to let it go before she finally acquiesced."
PHOTOS: Billion-dollar movie club
When everyone made it to set last year, there were few reminders of Winfrey's fame.
"I think the set is like an insular environment," Whitaker said, looking on as desperate photographers shouted Winfrey's name on the carpet in attempts to get her attention. "It's a false reality in a way."
James Marsden, who plays John F. Kennedy, said he was initially intimidated by the prospect of being around Winfrey until she walked over to him and gave him a big hug. Both he and David Oyelowo -- who plays the Gloria's son in the picture -- said they had to battle the sense that they knew her before actually meeting her.
"She's the world auntie, so you feel like you know her when you really don't," said Oyelowo. "But if I had no idea who Oprah Winfrey was, I would just be thinking, 'Wow, this is just a phenomenal, phenomenal actress.' I think people are going to see her in this and hunger for her to be in more movies."
With Oscar buzz already surrounding Winfrey's turn in "The Butler," it's likely Hollywood will be clamoring for her to sign up for another movie soon. Whether she wants to deal with all of the attention that comes with that, however, is another question.
ALSO:
Forest Whitaker says 'The Butler' served him well
Want to meet Oprah Winfrey at 'The Butler' premiere? Pay up.
MPAA permits Weinstein Co. to use 'Lee Daniels' 'The Butler' title
---
Get our L.A. Goes Out newsletter, with the week's best events, to help you explore and experience our city.
You may occasionally receive promotional content from the Los Angeles Times.