Allison Janney just scored her first Oscar nomination. Yes, first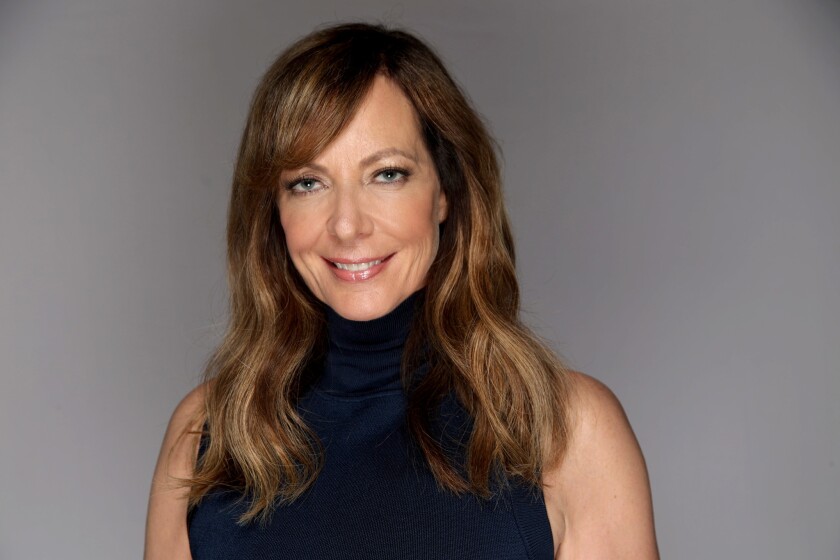 Allison Janney's morning did not proceed as scheduled.
The seven-time Emmy winner has made quite a run through awards season, earning a Golden Globe and Screen Actors Guild and Critics Choice awards for her supporting actress turn in "I, Tonya."
Still, Janney was taking nothing for granted and planned an early bedtime Monday night with an alarm set for well after the Oscar nominations were announced.
The Times spoke with Janney Tuesday morning during a break in filming on her sitcom "Mom," and she shared how her morning actually played out, plus inside scoop on how a jealous costar is holding up.
Live update: The 2018 Oscar nominations »
How did you get the news?
Janney: It's a pretty great story that I didn't think I was going to be telling today. My niece is staying with me right now as she looks for an apartment, and as we were watching TV last night, I said, "I'm going to go to bed early." I knew my publicist was going to call me either way to let me know what had happened,so I set my alarm for 6 because I thought, "I'll get up after it's all over and I'll see if she called me and I'll deal with it then."
At 5 a.m., my bedroom doors stormed open and all of these [friends] stormed into my bedroom. It was dark and I was hearing voices and I was like, "Well, that sounds like Shannon, but she's in New York. And that sounds like Melissa, but she's in D.C." They had all flown in to surprise me, to jump on my bed and wake me up to watch the announcement with me. I was so completely surprised and touched that they did that for me and that they thought, "Listen, if you do get nominated, we want to celebrate. And if you don't, you're going to need your friends." It just made me cry. It was so extraordinary and we all got up and my nephew poured mimosas and we watched and then just jumped for joy.
Complete the sentence: Being nominated for an Oscar is like ________.
Being nominated for an Oscar is like a dream that you never thought would come true.
What has been the most surreal moment of this awards season?
The most surreal moment for me has been six friends storming my bedroom at 5 a.m. and thinking I was getting abducted.
What do you remember of the Tonya Harding incident and how did working on the film change your perspective on those involved?
I used to be a figure skater, so I was very aware of Tonya [Harding] and Nancy [Kerrigan] and the figure-skating world in general. I didn't get very far in my career. I was a little too tall for the acrobatics required in being a figure skater.
When the incident happened, I was glued to the TV. As we know, it was the advent of the 24-hour news cycle, so we were fed this story all the time and the narrative was that Nancy was this ice princess and refined figure skater and Tonya was the bad girl from the wrong side of the tracks. That is what we were told and that is what I believed.
It was a terrible thing that was done to [Nancy] — but I feel that I have a lot more understanding [of the] nuance of Tonya's story and what she grew up with and what she was up against in the figure-skating community and class-wise, being very poor and trying to be recognized just for her talent.
I have so much more empathy for her. I believe she paid a stiff price for what she was involved in. But she had her whole career stripped away from her, paid a hefty fine and did hours of community service.
[Tonya] sent me a text this morning and it was really sweet. She said, "Look at you, you're going to the big top, girl." I have a big place in my heart for her.
The complete list of 2018 Oscar nominees »
What about the bird [her constant companion in the film]? Have you heard from the bird?
Can you believe that bird has not reached out to me? I'm absolutely dumbfounded. I know he's jealous.
That bird was extraordinary. I really wish that I could see him again. He made me want to have a bird. And I was not a bird person before this movie. I didn't understand them and I've learned so much more about them.
I really did love what he did for me. He's been my favorite animal costar, hands down.
Allison Janney discusses her approach to filming her "I, Tonya" scenes with a bird on her shoulder.
See the most-read stories in Entertainment this hour »
This awards season has been dominated by the discussion of the #MeToo movement and the industry's reckoning with sexual harassment and assault. What do you think of how things are shaking out?
I think that's exactly it. We're in the middle of an earthquake and we'll see how things land. These are all important conversations we're having. No one should ever feel unsafe in any work environment, especially any sort of sexual harassment — it's just something that can't be tolerated anymore.
Abuse of power is rampant, not just in our industry but every industry in the world. To be addressing it this way and having accountability is extraordinarily important. It's a real call to action … the conversation is important to be having and dealing with and I'm glad to be standing in solidarity with every woman who has come forward and showing my support for the movement.
Before I let you go, tell me how you'll celebrate?
My friends are here. I have a feeling that I'm going to be seeing them tonight.
I hope that we'll have plenty more Champagne and lots of hugs. I wish that Octavia [Spencer] were here, because she's one of my best friends, but she's working out of town so she won't be able to be there. Otherwise I'd be celebrating with her as well.
I'll just have good friends and probably some fattening food I shouldn't be eating and cake and Champagne and a lot of just joy.
---
The complete guide to home viewing
Get Screen Gab for weekly recommendations, analysis, interviews and irreverent discussion of the TV and streaming movies everyone's talking about.
You may occasionally receive promotional content from the Los Angeles Times.