Oscars: 'Batkid' appearance with Andrew Garfield cut at last minute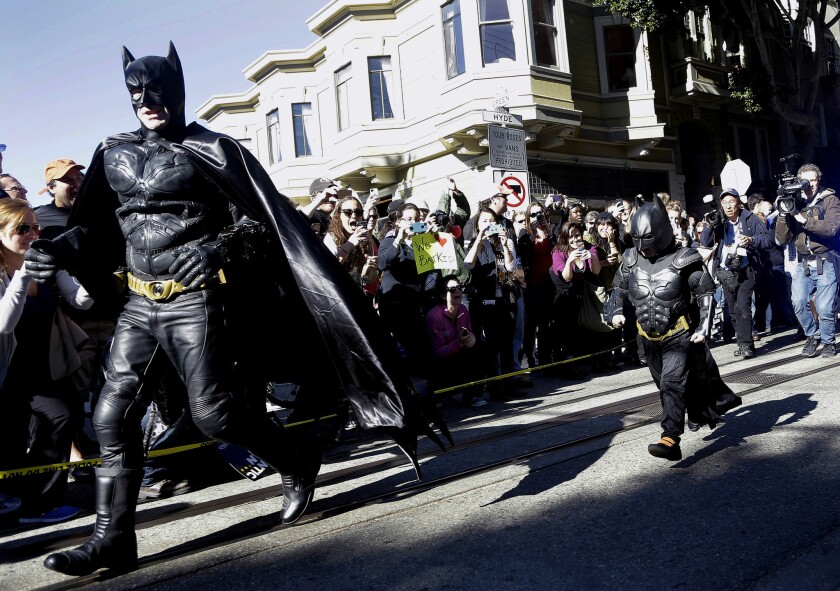 At an Academy Awards ceremony that set out to honor movie heroes of all stripes, an onstage team-up between Spider-Man and the pint-size crusader known as Batkid didn't make the cut.
Miles Scott, the 5-year-old leukemia patient who charmed America when he donned a mini-batsuit and defended San Francisco from supervillains during a Make-a-Wish event last year, was scheduled to appear with "Amazing Spider-Man" star Andrew Garfield at the Oscars on Sunday, only to have the segment scrapped at the last minute.
Natalie Scott, Miles' mother, told the International Business Times her son was invited by the Academy of Motion Picture Arts and Sciences to participate in the ceremony, and the family traveled from Northern California to attend rehearsals the day before the show. On Sunday morning, however, the Scotts were told the segment wouldn't be part of the show after all.
PHOTOS: Oscar hosts through the years
"I don't know if they ran out of time, or if there was something about the segment they didn't like," she said. "It got pulled so quickly that we didn't have a lot of insight into what was going on."
According to Mashable and other news outlets, Scott was to be introduced by Garfield, whom the academy previously announced as an Oscar presenter. A Mashable report includes a photo from rehearsal showing Miles in front of a Gotham-like set with "Batkid" in large letters.
Garfield did not take part in the show. The New York Post reported that the segment was dropped after Garfield and the show's producers clashed over the segment, after which the academy paid for Miles and his family to go to Disneyland.
An academy spokesperson provided a statement to E! News that said, "Due to the nature of a live show, hard decisions sometimes must be made which require the Academy to cut segments due to the logistics of production." The statement added, "Andrew Garfield understood that his segment had to be omitted, and he drove to Disneyland on Monday to spend time with 5-year-old Miles Scott [Batkid] and his family."
ALSO:
Jared Leto to play Ukraine; Oscar speech edited in Russian telecast
Conan O'Brien to chase millennial viewers as MTV Movie Awards host
Oscars: John Travolta 'beating himself up' over Idina Menzel name flub
---
Get the Indie Focus newsletter, Mark Olsen's weekly guide to the world of cinema.
You may occasionally receive promotional content from the Los Angeles Times.