For director Joe Wright, 'Pan' is about connecting with childhood -- especially his own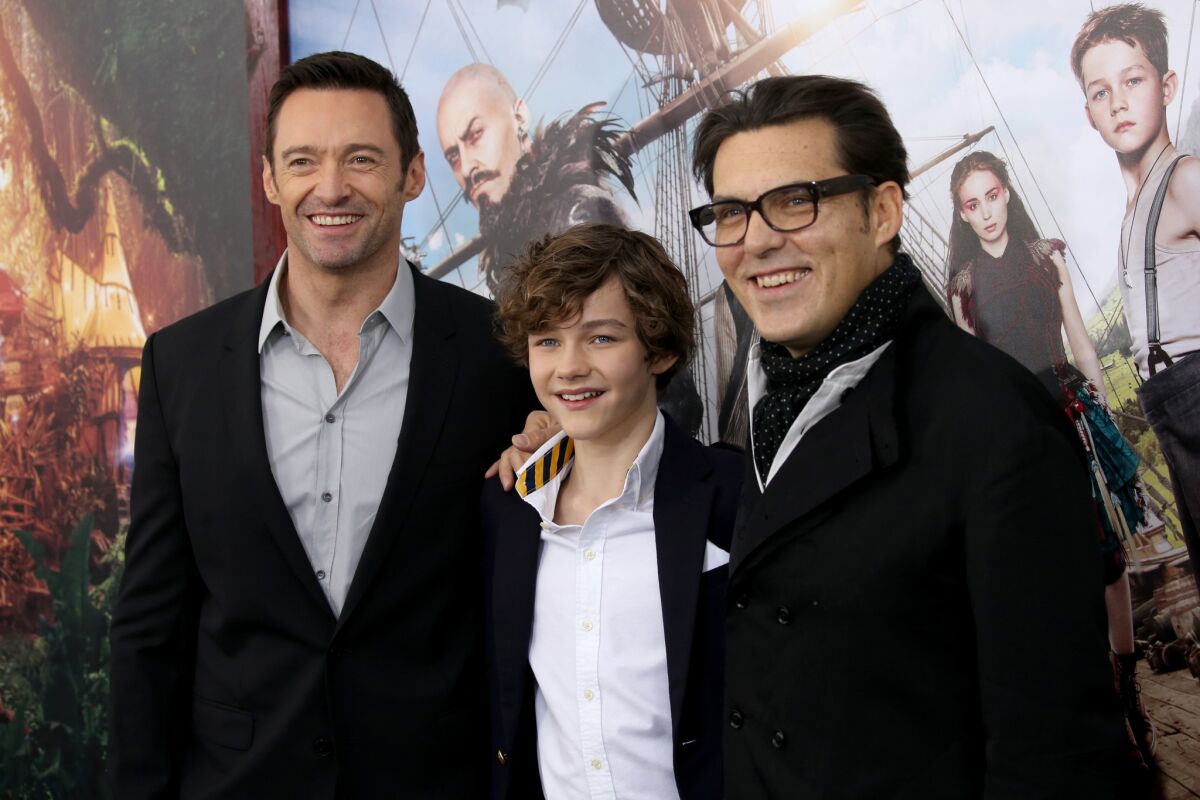 Reporting from NEW YORK —
When British filmmaker Joe Wright was about 10 years old, he created a character named The Great Kazam and began performing magic tricks in public.
Wright, the BAFTA-winning director of the new Peter Pan origin story "Pan," was basically a busker, hauling his equipment out to a square in Covent Garden to perform feats of stupefaction for passersby.
"I was very fat and totally uncool, and I didn't care at all what anyone thought of me. But I was also very excited by anything and everyone, and I was free," Wright recalled at a hotel café in New York on a recent afternoon. "And then adolescence happened, and suddenly I wanted the approval of everyone, and I stopped being open and stopped being creative, and I told Kazam he ... should just keep his mouth shut."
He paused in contemplation.
"This film was about reconnecting with The Great Kazam. I was making the film for him, and it was made by him."
SIGN UP for the free Indie Focus movies newsletter >>
Fusing a childlike spirit with an eccentric personal streak was the guiding principle for Wright, the man behind prestige movies such as "Atonement," "Pride and Prejudice" and "Anna Karenina." The 43-year-old makes a major shift with this film, opening Friday, getting behind the camera for a $150-million PG adventure and the newest cultural iteration of Pan after a host of more musical theater and TV offerings.
In so doing, he becomes the latest upscale director (Kenneth Branagh, e.g.) to make the switch to four-quadrant entertainment. But that doesn't necessarily mean he wants to follow a four-quadrant playbook.
What begins as the traditional story of an orphan in bleak, blitzkrieg-era London, morphs into something more free-associative when young Peter (Australian newcomer Levi Miller, the first onscreen male Peter in some time) is whisked away from his orphanage in the middle of the night on a flying pirate ship. He lands in Neverland, the domain of Blackbeard (Hugh Jackman). In J.M. Barrie's original work, Blackbeard is only alluded to for his Hook connections, but here, he is a main villain, a follicularly enhanced demagogue who controls miner peasants by leading them in rousing singalongs of — what else? — fascistic covers of Nirvana's "Nevermind" and the Ramones' "Blitzkrieg Bop."
These scenes might bring to viewers' minds such dystopian political works as Fritz Lang's "Metropolis." (Wright and his production designer, Aline Bonetto, said they were influenced by the art of Brazilian documentary photographer Sebastião Salgado.)
Pan then embarks on an adventure that takes him to a more tribal land, a kind of acid dream of Disneyland's Enchanted Tiki Room, where he meets the warrior Tiger Lily (Rooney Mara), quick of sword and garish of headdress, and eventually his accomplice.
Working from a script by Jason Fuchs, Wright brings many other touches that, for all the traditional wrapping of an episodic quest movie, contains a stranger heart.
Cable cars carom and fly over vast mountainscapes. Cara Delevingne gets involved in mermaid activities. Garrett Hedlund turns up as a young adventurer Captain Hook — mercenary but not yet evil — while channeling the spirit of Indiana Jones.
It remains to be seen what audiences make of this. Box-office tracking for the film is weak domestically. (Warner Bros. studio hopes to make up some ground abroad.)
Wright said he has tried not to focus on the commercial expectations "because if I start to think of them too much, I begin to panic." Instead, he has concentrated on his methods. The director built large-scale sets, recreating Neverland for Miller, whom he wanted to feel as if he were acting within an actual world instead of against a screen. It also was beneficial for Wright, allowing him to plunge into a tangible universe in a way that can be forgotten with the distractions and forced order of adulthood.
"I decided to liberate myself and make a film from the point of view of an 11-year-old-child so I could pluck ideas and bring them in to the movie without regard for common sense," Wright said. "That was the anarchic spirit I was aiming for. It's a kind of tonal craziness."
He added, "It's quite an anarchic film. But that's what makes it a kids film. Kids really understand anarchy. Adults don't understand anarchy." He said when he watches his son, about 4, he sees a stream-of-consciousness that he tried to channel here.
Jackman said he quickly realized he was in a different world when he showed up on set in England and Wright promptly held a weeklong "pirate boot camp" in which actors spent their days in the world of patches and peg legs — basically, theater sports in which they had to obey the rules of the open seas.
"I hope audiences feel the way I do whenever I encounter a movie by someone like Joe, where they appreciate the courage and sense of adventure," Jackman said in a phone interview. "It's the same with Baz Luhrmann — there may be a part where I go, 'That's a bit jarring, or that's a bit different.' But then I find myself saying, 'I'm so glad there's a filmmaker like that doing big movies.'
He added, Joe's a little wacky at times, to be honest. But I'm so glad Warner Bros. allows someone like him to direct a film like this." (The studio has been looking for franchises to rival that of Disney's Marvel, and aimed to put it in the hands of a veteran director with artistic cred as well as box-office appeal; many of Wright's arthouse movies have broken out commercially.)
Those behind the camera described a similar intensity from the director.
"Everyone on set I think wanted to channel childhood, but particularly Joe," said Bonetto, who also worked on the "Harry Potter" movies. "He kept saying to us, 'You have to remember everything is being told from the point of view of a young boy.' "
Jacqueline Durran, who designed the costumes, said she tried to contrast the grays of early-film London with the colors of Neverland in the same way, reacting to Wright's belief that Neverland "is a child's trauma response to the blitz."
The director notes his own background growing up with parents in the puppet-theater business as influencing "Pan," and he also cited the impact of a British children's franchise called Captain Pugwash. ("It was a kind of pirate cartoon that seemed to be made by acid casualties of the '60s").
But Wright says that though the budget and genre were new to him, there were far more similarities than differences to his previous work.
"For me this doesn't feel like a huge swing," he said, when asked if he still saw himself as an art-house filmmaker. "I think it's exciting. I've been trying to live my life avoiding categorization. I try not to categorize myself by the way I think, I try not to categorize my sexuality, I try not to categorize my politics. To me non-categorization is freedom."
There have been some other notable choices in "Pan," not the least of which was to cast Mara as Tiger Lily, which some commentators initially questioned because, unlike the character in other versions, she is not incarnated by a Native American. Wright earlier explained to The Times, "I think one has to respect people's feelings, and I completely understand people's concerns ... but I think it might have seemed insensitive to have an entire community of warriors who were Native American."
But mostly what might stand out to viewers is the film's larger feel and aesthetic, which has aspects of a fever dream.
That is exactly as Wright wants it.
"I used my son as a kind of touchstone for what I wanted this movie to be — if it was something he'd like or think of, I knew it was right," he said. Then he returned to his childhood alter ego.
"It really does come back to The Great Kazam. I would let him out occasionally in other films, but secretively, as though I was putting a disguise on him," he said. "It's somehow different to give him full rein. And that's why this feels like an incredibly personal movie even though it's very ... big, it's really frightening and exposing, actually."
Twitter: @ZeitchikLAT
---
Get the Indie Focus newsletter, Mark Olsen's weekly guide to the world of cinema.
You may occasionally receive promotional content from the Los Angeles Times.