Fall Movie Guide: In 'Pan,' Levi Miller takes an unexpected trip to Neverland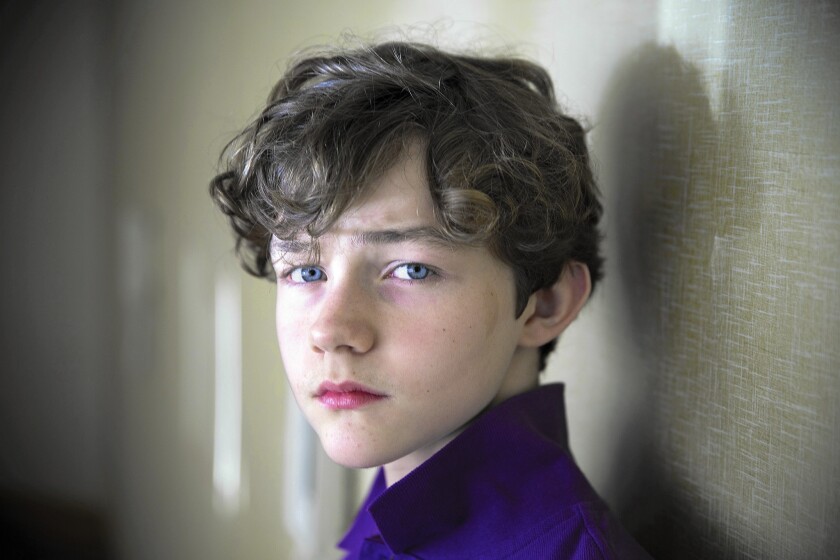 NEW YORK —
Early last year, about 4,000 boys ages 11 to 13 gathered in London's Wembley Arena to demonstrate that they had what it took to play a perpetual child. British filmmaker Joe Wright and casting director Dixie Chassay were holding an open call for their Neverland film, "Pan," and they hoped a worthy Peter Pan was buried within the flash-mob of child actors.
Levi Miller wasn't among them. He was at that moment in elementary school in his hometown of Brisbane, Australia. But a series of commercials Miller made had he and his mother convinced that he had a shot. And sure enough, when Chassay and Wright saw a tape the Millers had sent in, they knew they had their (little) man.
"There was something about him where we just said, 'That's it,'" Chassay said. "It's very tricky. You need someone who has to be special but also that every child has to connect to. It has to be someone both ordinary and extraordinary. And Levi had that."
SIGN UP for the free Indie Focus movies newsletter >>
On a recent afternoon here, Miller turned out for a small reception in a private screening room at which footage from "Pan," in U.S. theaters Oct. 9, was being shown.
The 12-year-old, looking at once tickled by the scene and slightly overwhelmed, was making one of his first public appearances as a film actor. Miller is self-contained, with that mix of confidence and shyness that children who spend most of their time around adults tend to possess. He is prone to using the word "awesome," which rolls out naturally in his Australian drawl, even if it seems like it should be coming from someone of larger, more Lleyton Hewitt-like proportions. Miller's words can also trail off, and he will then mumble an apology that he doesn't know what to say.
He was wearing an amulet from the film, and he seemed impressed with it, as he was many aspects of the "Pan" set.
"These stages could fit the Titanic with just the nose pointed out," he exclaimed in an interview shortly after. "When they built the ships, they put these things on called gimbals, then a guy moved them or a robot or a computer controlled it and moved the ships around. It was awesome."
He paused, concerned that his awe had not been conveyed. "It's hard to explain. It was Neverland, really. That's the best way to say it. It was magical."
"Pan" is an origin story, and the title character is a boy in 1940s London who, searching for his missing mother, embarks on an adventure with a (not yet entirely evil) Hook (Garret Hedlund) and encounters the likes of Tiger Lily (Rooney Mara) and the villain Blackbeard (Hugh Jackman) in Neverland along the way. Wright conceived the story as one primarily about a maternal bond, and it was critical that its lead character had not just the fortitude for the action scenes but also the vulnerability — and at times the chicanery — of an abandoned child.
"Hook is both good and bad, but Peter is both good and bad too," Wright said.
Known for prestige adaptations, the director has experience with child actors of a certain complexity--he worked, after all with a 12-year-old on his 2007 opus "Atonement." That young performer turned out to be Saiorse Ronan.
"Pan" is one of the first takes to use a boy instead of a girl in the title role; over the years the live productions ]have been populated by the likes of Mary Martin, Sandy Duncan and Allison Williams. Wright considered a girl but felt he those watching filmed entertainment would have a harder time suspending their disbelief.
Miller began performing as a dancer in local Australian productions—his oldest sister, nine years his senior, had such a run--but quickly found himself too clumsy to make a go of it. Commercials followed—they included pitches for the likes of ice cream and rice--before he took a stab at movies.
Miller described an elaborate process that led to "Pan"—callbacks in Los Angeles and London, and then seven months of shooting in the latter. "I had never been to the United States, and I'd only been in London for three day previous to this. So to see London again, and to be in L.A., It was awesome. I can't wait to something like that again."
He won't have to wait that long for some Southland time. Miller, who has left formal schooling to take classes on set, in fact recently traveled back to L.A. to shoot scenes for a supporting part in the new CBS comicbook show 'Supergirl," which shares a production company with "Pan." He reflected on how his life has changed of late. "It's been awhile since the last commercial. Two years, I think."
He stopped to take in the magnitude of that time frame. "Gosh, it's 2015. I can't believe how much time has passed."
MORE:
FULL COVERAGE: Fall Movie Guide
Filmmakers tackling social issues keep it real but also entertaining
Joseph Gordon-Levitt mentored by daredevil Philippe Petit for 'The Walk'
---
The complete guide to home viewing
Get Screen Gab for weekly recommendations, analysis, interviews and irreverent discussion of the TV and streaming movies everyone's talking about.
You may occasionally receive promotional content from the Los Angeles Times.