Rob Reiner and his son exorcise drug demons with 'Being Charlie' at Toronto Film Festival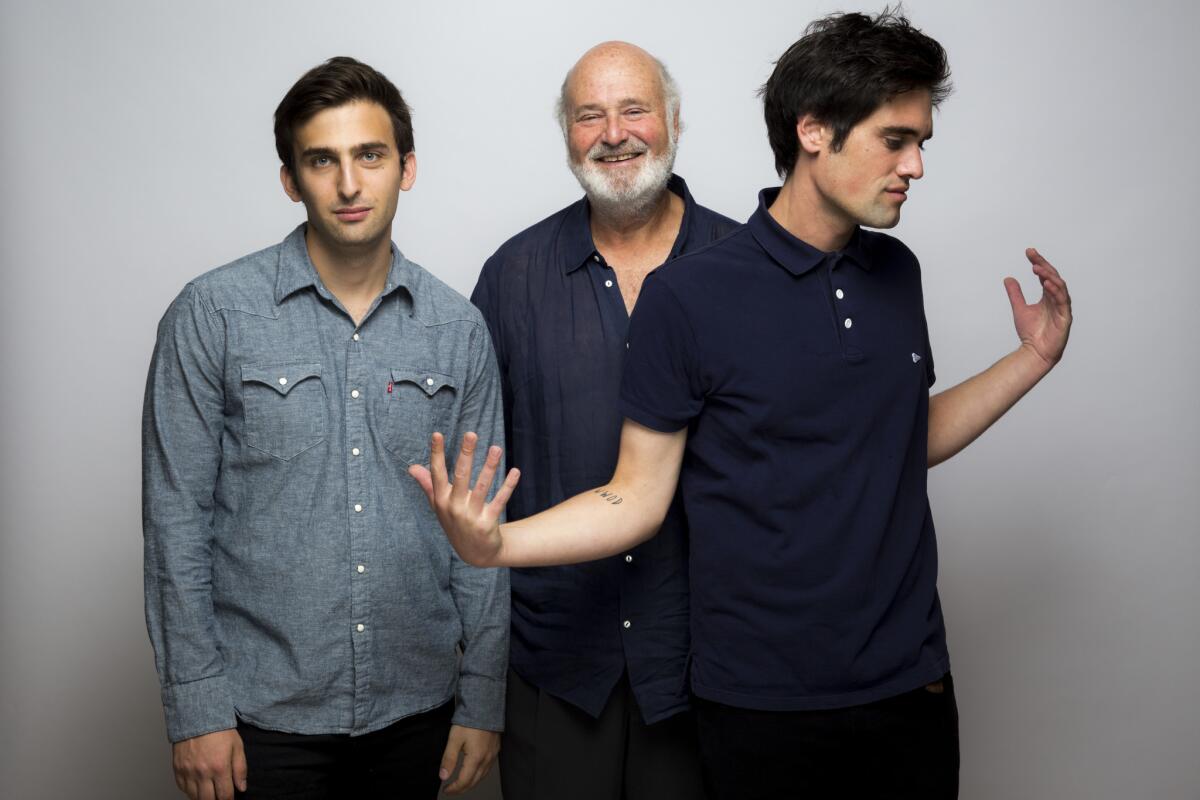 Reporting from TORONTO —
For years, Hollywood director Rob Reiner and his wife struggled as their son Nick was addicted to hard drugs, rotating in and out of rehab facilities like they were shopping malls. The couple wondered if there was an end in sight, and whether it would be the tragic one that a voice in the back of their heads kept telling them was coming.
As it turned out, Nick Reiner would survive his descent into heroin and homelessness, recently getting clean. And he and his famous father have decided to deal with their family's troubled past in a most unlikely way—by making a movie about it.
"It was very, very hard going through it the first time, with these painful and difficult highs and lows," Rob Reiner said. "And then making the movie dredged it all up again."
SIGN UP for the free Indie Focus movies newsletter >>
"I really wasn't sure I wanted to do this," Nick Reiner said matter-of-factly.
The duo was having dinner on Monday -- Nick's 22nd birthday -- during the Toronto International Film Festival, joined by Rob's wife Michele and another of the couple's children, daughter Romy. The Reiners' scripted film, "Being Charlie," had just premiered at a theater a few blocks away, where the two Reiner men had stood on stage and described their lives to 1,500 people who were receptive both to the film's message and to a family's show of vulnerability. The film is both an unlikely window into the oft-read headlines about the troubled children of celebrities, and a surprisingly heartening counterpoint to them.
Directed by Rob and written by Nick and fellow ex-addict Matt Elisofon, "Being Charlie" doesn't bother veiling its protagonists too much. David Mills (Cary Elwes, reuniting with his "Princess Bride" director) is a successful screen actor with political ambitions. Charlie (Nick Robinson) is his son, a privileged child who has lost himself to a life of drugs.
Charlie has had numerous failed attempts at rehab when his father essentially blackmails him into making a serious go at recovery. Matters appear to be moving in the right direction until a romance with a woman Charlie meets in rehab (Morgan Saylor, of "Homeland" teen-daughter fame) complicates those efforts.
COMPLETE COVERAGE: 2015 Toronto Film Festival
What could have been an ordinary drama of family and addiction vibrates differently with the realization that this is the story of a famous and even comedic Hollywood personality exposing his life to us. (That said personality was one half of arguably the most famous TV relationship between a young man and a father figure only heightens the effect.)
Whole chunks of the movie have been lifted from the Reiners' lives. Charlie is seen in several scenes on the streets and in homeless shelters, moments that Nick says came from his own desperate experience. (In one, a relationship challenge leads Charlie to relapse, shoot up heroin and get brutally mugged by addicts he meets in a shelter.)
David and Charlie also have a number of knock-down, drag-outs -- fueled by mutual mistrust --that Rob and Nick say mirror their own interactions over the years. In an era when many Hollywood personalities seek to conceal even benign details about their personal lives from a hungry tabloid press, the Reiners have gone, somewhat startlingly, in the other direction.
"Sharing your life story about a child with a drug addiction? And in this business? Who has the….to do that?" Elwes said in an interview, invoking a body part to suggest courage. "So many filmmakers say, 'It's a personal story' and they don't really mean it. It doesn't get more personal than this."
Self-involved and at times harsh toward his son, Elwes' Rob Reiner stand-in is decidedly unsympathetic. The actor incarnated the character in this manner even while the man he was playing was a few feet away from him, helming the scene.
"There were times when I would want to tone it down and Rob would just tell me, 'No, turn it up.' He would tell me he didn't handle it well and we had to show that. He would describe the stages of grief and how addiction is like a slow suicide, then say, 'Let's explore all of that.'"
One striking aspect of the film is how little it seems to value traditional recovery wisdom. Though the counselors all mean well, they have little success in reaching Charlie, who remains skeptical of the system even at a moment when many other movie protagonists give in to it. (His epiphany arrives in another way.)
The Reiners, who live in Los Angeles, say that echoed their own experience.
"The program works for some people but it can't work for everybody," Rob said. "When Nick would tell us that it wasn't working for him, we wouldn't listen. We were desperate and because the people had diplomas on their wall, we listened to them when we should have been listening to our son."
Michele added: "We were so influenced by these people. They would tell us he's a liar, that he was trying to manipulate us. And we believed them."
Asked if there was anything good that came out of rehab, Nick smiled and said, "Maybe this," referring to the film. The young man, who can effect a cool detachment -- he's sober, but still 22 -- said that what ultimately brought him around was a practical realization. "I got sick of it. I got sick of doing that.... I come from a nice family I'm not supposed to be out there on the streets and in homeless shelters doing all these...things."
Nick Reiner and Elisofon had initially written the project as a shorter half-hour piece and tried to sell it as a pilot. When they struck out, they thought about giving up. But Rob said he thought this could be healthy, both for Nick and the whole family, to explore it cinematically. A climactic scene in which David apologized to Nick for being cruel in pushing his son toward recovery -- "I'd rather you hate me and you be alive," essentially -- was taken almost verbatim from their own lives, and in fact developing the movie helped them achieve that level of communication.
Their effort continues to bear fruit. Asked how she experienced the process, Romy, sitting next to her brother, said: "This is my best friend and I was there for all of it. It's weird but good to see in on the screen."
As the family finished their meal, a festival-goer who had just watched the movie walked up to them and began expressing his gratitude, explaining that he has a niece who had battled addiction and made several suicide attempts. He said he was hoping his wife could see the film and find comfort in it.
"Thank you, that's the point," Rob Reiner said to him.
Then he turned to a reporter. "It's for them. But really it's for us. To be honest, by the time we got to the point of making the movie it didn't matter if we actually did. Because our relationship had gotten so much closer."
Asked how he felt about the movie now that it was finished, Nick said simply, "I never thought I'd capitalize on rehab."
Get our L.A. Goes Out newsletter, with the week's best events, to help you explore and experience our city.
You may occasionally receive promotional content from the Los Angeles Times.