SAG Awards 2014: Rita Moreno receives lifetime achievement award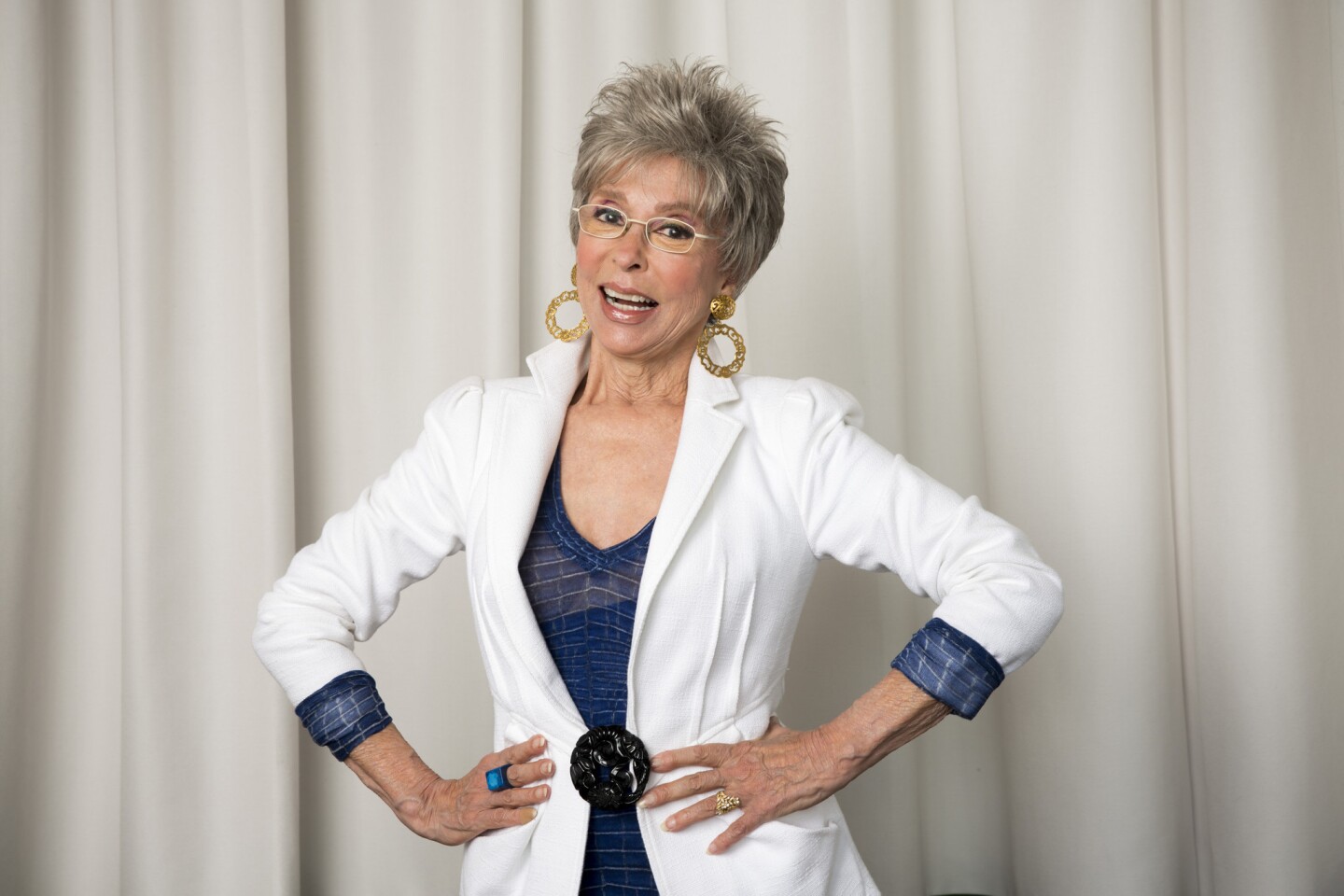 Born Rosa Dolores Alverio in Puerto Rico to a seamstress mother and farmer father, Rita Moreno went on to become a singer, dancer and actress -- bursting with major talent. She is one of only a few to receive four major annual American entertainment awards: the Emmy, Grammy, Oscar and Tony, classifying her as an EGOT.
Here, we take a look at just a few of Moreno's career highlights.
Hey, you guys,
let's get started.
(Jay L. Clendenin / Los Angeles Times)
As a young girl, Moreno moved from Puerto Rico to New York City. She enrolled in dance lessons with a Spanish dancer named Paco Cansino, who was the paternal uncle to actress Rita Hayworth.
By age 11, Moreno used her voice talents on Spanish-language versions of American films. And at 13, she made her Broadway debut in the play "Skydrift."
Only four years later, Moreno was offered a seven-year contract with MGM by the studio's head, Louis B. Mayer. She made her film debut in the drama "So Young So Bad" (1950).
(Handout)
Moreno was later cast in films like the musical comedy "Singin' in the Rain" (1952), boxing drama "The Ring" (1952) and action adventure "The Cattle Town" (1952), shown here, with actor Jay Novello.
(Wide World Photo)
Moreno later starred in the adventure film "Seven Cities of Gold" (1955). It's the story of 18th century Franciscan priest Father Junipero Serra and his role in founding the first missions in California.
Moreno, left, landed her big break in the modern musical "West Side Story" as Anita, the strong but sensitive girlfriend to the Sharks' gang leader. Her role earned her an Academy Award for supporting actress, making her the first Latina actress to win an Oscar.
After the success of "West Side Story," Moreno played on-screen roles opposite Jack Nicholson, James Garner and Marlon Brando, a man she also dated. While seeing Brando, Moreno attempted suicide with an overdose of sleeping pills.
(Los Angeles Times)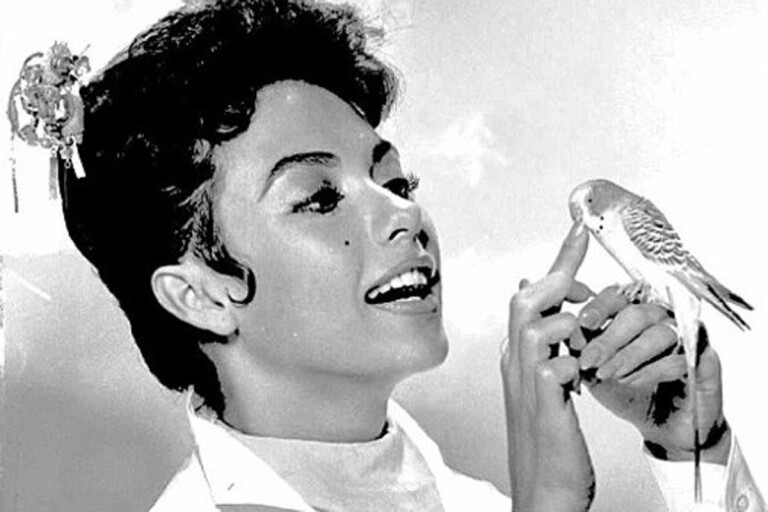 In the early 1970s, Moreno was seen on television when she joined the cast of PBS children's series "The Electric Company." She remained on the program for six seasons and became known for the opening line, "Hey, you guys!"

With actor Bill Cosby and the rest of the cast, Moreno won a Grammy for recording for children for the soundtrack of "The Electric Company."
After her Grammy win, Moreno earned a Tony Award for her role in Broadway's "The Ritz." She took home featured actress in a play. Here, Moreno in a scene with actor Treat Williams on set of the Warner Bros. movie "The Ritz" in 1976.
(Michael Ochs Archives/Getty Images)
From there, Moreno appeared in a handful of family television series, like "The Muppet Show" (1977), for which she won an Emmy Award for continuing or single performance by a supporting actress in a variety or music series. It was at that point that Moreno became an EGOT.
Moreno also made a guest appearance on the drama series "The Rockford Files," a role for which she scored another Emmy for lead actress for a single appearance in a drama or comedy series. In this photo, Moreno chats on set alongside actor Noah Beery Jr.
(Bud Gray/NBC/NBCU Photo Bank via Getty Images)
In 1995, the Hollywood Chamber of Commerce gave Moreno a star on the Hollywood Walk of Fame.
(Nuestro Tiempo / Los Angeles Times)
In the late 1990s, Moreno expanded her audience base to a younger generation of viewers when she played a stern nun on the HBO series "Oz."
(Eric Liebowitz / HBO)
At the 2014 Screen Actors Guild Awards, Moreno will be awarded the Life Achievement Award.
(Genaro Molina / Los Angeles Times)
The Screen Actors Guild paid tribute to actress, singer and dancer Rita Moreno on Saturday night, presenting her with the 50th SAG Life Achievement Award.
Accepting the honor, the 82-year-old performer said, "I am so ...," and then sheepishly added, "I hope the man with the button was there on time."
Moreno, wearing a showy black-and-gold ensemble, said she was "breathless" and "so bloody happy," and then took the opportunity to sing a few bars from "This Is All I Ask."
PHOTOS: Rita Moreno's career in pictures
"As I approach the prime of my life," she sang, "I find I have the time of my life."
A show-business veteran and a SAG member for more than six decades, Moreno is one of only 11 people to have won an Emmy, a Grammy, an Oscar and a Tony — a feat known as the EGOT.
Born Rosa Dolores Alverio in Puerto Rico and raised in the Bronx, Moreno performed in nightclubs as a youngster and made her Broadway debut at age 13 in "Skydrift." Using her stepfather's surname, she first appeared on the big screen in the reform-school drama "So Young, So Bad" in 1950, and afterward was put under contract as an ingenue at MGM, where a casting director changed her first name to Rita.
PHOTOS: SAG Awards 2014 top winners and nominees
Moreno's first film for the studio was the Mario Lanza musical "The Toast of New Orleans," and she had a small role as the flapper actress Zelda Zanders in "Singin' in the Rain" two years later.
She would go on to star in such films as "The King and I," "West Side Story" — for which she won her Oscar in 1962 — and "Carnal Knowledge."
Moreno won her Grammy for "The Electric Company Album" in 1972, her Tony for "The Ritz" in 1975, and her two Emmys for appearances on "The Muppet Show" and "The Rockford Files" in 1977 and 1978.
She remains busy, having just finished a run as Fran Drescher's mother in the TV Land comedy "Happily Divorced." She will appear next in the upcoming indie drama "Six Dance Lessons in Six Weeks" with Gena Rowlands.
ALSO:
FULL COVERAGE: Screen Actors Guild Awards 2014
SAG Awards 2014: The complete list of nominees and winners
PHOTOS: SAG Awards 2014 presenter portraits by The Times
---
The complete guide to home viewing
Get Screen Gab for weekly recommendations, analysis, interviews and irreverent discussion of the TV and streaming movies everyone's talking about.
You may occasionally receive promotional content from the Los Angeles Times.