Movie review: 'Skyfall' shows James Bond still sharp and fit at 50
Jane Seymour
plays the clairvoyant Solitaire to Moore's Bond in "Live and Let Die" 1973.
(Keystone / Getty Images)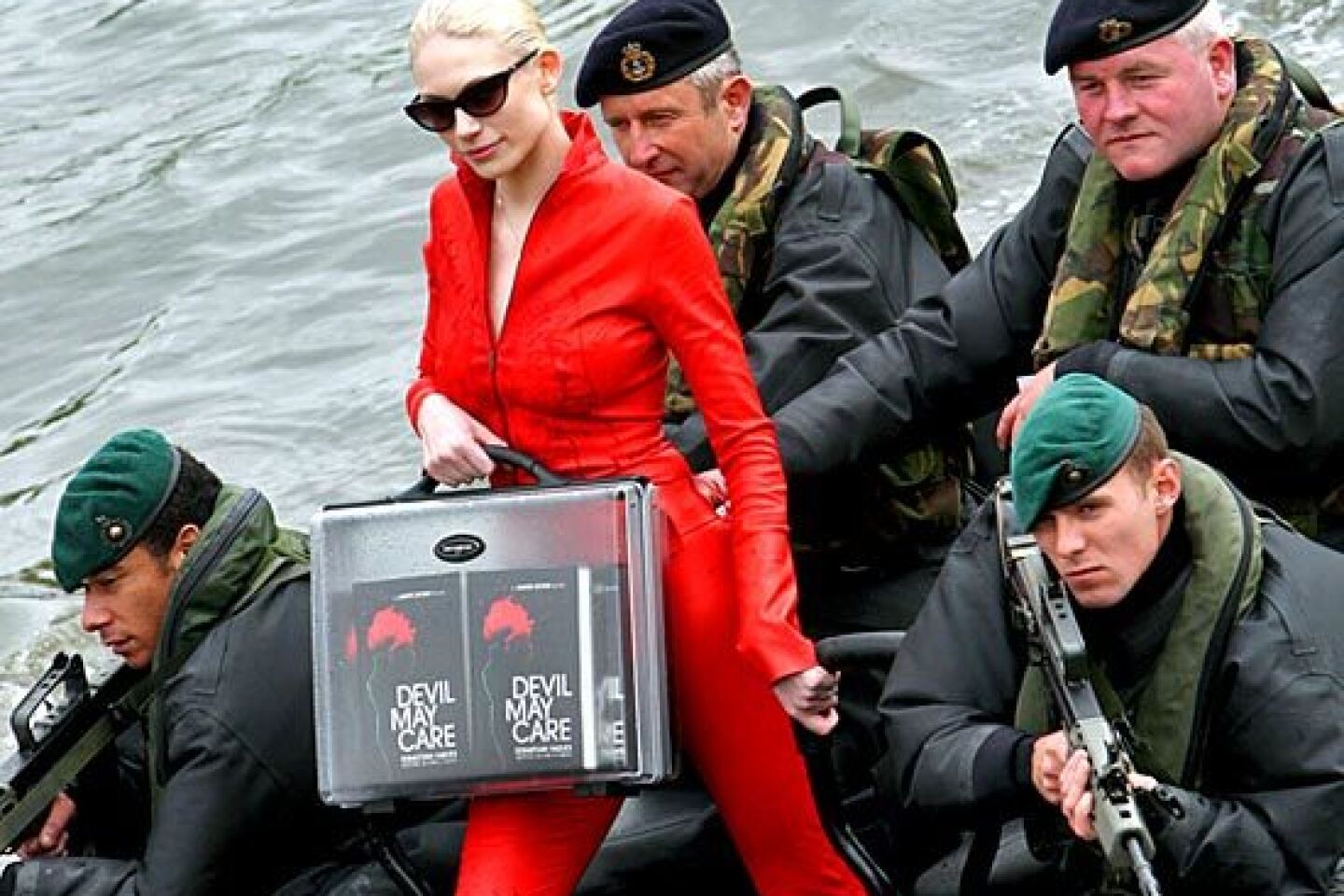 Model Tuuli Shipster, accompanied by Royal Marines in a speedboat, brings copies of the newest Bond book "Devil May Care," by Sebastian Faulks, up the Thames River in London.
(Andy Rain / EPA)
If "Skyfall" is the new 50, James Bond is handling it remarkably well. Five decades after the first cinematic incarnation of 007, novelist Ian Fleming's agent provocateur, the spy-craft in the new film is sharper, the intrigue deeper, the beauties brighter (more brain, less bare).
And yet if I'm not mistaken, there are perilous emotional peaks and valleys along with all that bloody cheek. Daniel Craig's Bond is not quite as detached, his martini not quite as dry. Even the villain, a masterfully menacing Javier Bardem, is an emotional wreck whose angst is actually explored. Indeed the entire film is shrink-wrapped in self-examination that somehow manages not to dint, much less destroy, the explosive fun.
Just how does one get in touch with one's inner assassin — sanctioned or not? Try putting an introspective auteur in the director's chair. Sam Mendes, the maker of such suburban dysfunction as "American Beauty" and "Revolutionary Road," has upped the ante, the action and the artistry in "Skyfall" without losing all the defining traits we've come to expect — and need — from Bond. Not just the well-cut tux, so perfect for slipping into fashionable soirees that villains inhabit, but the most essential pillar of all things Bondian — that the very fate of the free world rides on one man's ability to beat impossible odds and save the day.
PHOTOS: James Bond through the years
Mendes has a good blueprint to work with. Screenwriters John Logan, Neal Purvis and Robert Wade have Bond (Craig), M (Judi Dench) and the rest of MI6 facing a cold war being waged uncomfortably close to home. There is nothing more dangerous than the enemy within and M, in particular, is left dodging Parliament's salvos and new intelligence chief Gareth Mallory's questions (nicely downplayed by Ralph Fiennes).
There are a lot of dicey moves for M to make after the disaster of a mission in Turkey, which opens the film in fierce fashion (following another Bond touch, a particularly elegant graphic opening credit sequence accompanied by a sure-to-be-a-smash title song by Adele). A compromising list of secret agents has somehow gotten into the wrong hands. M wants it back at all costs. And the cost will be high — a shocking death and implications that will ripple through the film.
The splashy gadgets that are a Bond tradition are few. Instead, the film is framed by the high-tech age of satellite communication and cyber bullies. Agent Q (Ben Whishaw) is an electronics genius with plenty of nerdy quirks, intellectual arrogance chief among them. But he's a good ally in tracing the shadowy cyber trail of the film's arch archenemy, Silva (Bardem going bad bottle-blond for Bond). Silva's got a wicked sense of humor as well as a carefully refined sadistic streak that keeps the body count climbing. But it is what drives Silva to such deadly extremism that makes the movie interesting.
PHOTOS: James Bond's top 10 villains
In a ties-that-bind twist that casts M in an entirely new light, "Skyfall" takes a good deal of time digging into her motives and methods. The decision, a good one, keeps Dench front and center, and M tart and tested, until the bitter end. Mendes proves quite facile in using the acting assets he has at his disposal to maximum effect. Bardem is easy to despise. Naomie Harris, as Bond's sometime partner Eve, provides a welcome bit of sass and Bérénice Marlohe as the beauty caught in the mess stops short of sliding into sex-object territory.
But the weight of carrying the film falls to Craig. The good news is that he's even more comfortably settled in than his first two outings — 2006's "Casino Royale" and 2008's "Quantum of Solace." Craig's always been a craggier Bond, more solid and serious than Sean Connery, who initially gave James a sly, wry elegance, a tone that was largely continued by the Bonds that would follow. Craig's shaken it up again here. His James is angrier and more haunted by indecision in "Skyfall." The emotional charges buried under all that stoicism add another layer of tension to an already teasingly tense film.
While many of the ideas are high-tech, much of the action, superbly shot by Roger Deakins, is anything but. Trains, of both the high-speed and metro type, are running through the film. Bond's classic Aston Martin turns up, as does his messy childhood. All that digging around in the past works flawlessly at times — as when an old father figure turns up in the form of Albert Finney — with the occasional bad patch quickly dispensed with.
Though "Skyfall" begins in Turkey and spends some quality time in Shanghai, most of the anxiety and action is unspooling on the home front — strategic London bombings, a beyond-belief subway ride and a country home in Scotland where everything (metaphorically at least) blows up. Scarier, and more to the point of things we have come to fear most, the bad guys are able to plot a path of destruction with extraordinary precision — and complete anonymity. It's a conspiracy of shadows using social media — a YouTube sensibility gone rogue where targets can be mocked and kills get their 15 minutes of fame.
In "Skyfall," Mendes has given us a thrilling new chapter in a franchise that by all rights should have been gasping for air — which really makes him the hero of this saga. Saving Bond, after all, is rather like saving the day.
---
MPAA rating: PG-13 for intense violent sequences throughout, some sexuality, language and smoking
Running time: 2 hours, 25 minutes
Playing: In general release
ALSO:
Keeping 007 relevant in a changed world
"Skyfall" debuts at No. 1 in 25 foreign countries
Are James Bond and Jason Bourne melding together?
Get our L.A. Goes Out newsletter, with the week's best events, to help you explore and experience our city.
You may occasionally receive promotional content from the Los Angeles Times.