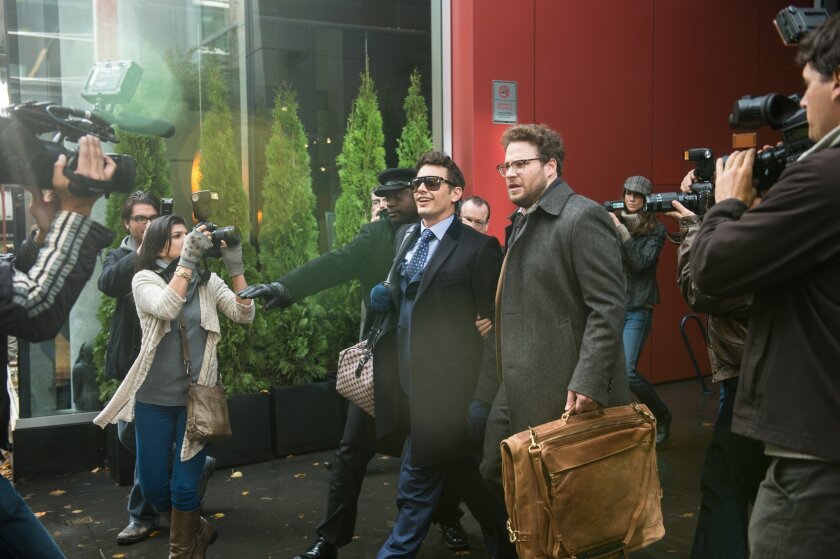 Seth Rogen and James Franco's North Korea-themed assassination comedy "The Interview" has already had one of the more unusual rollouts in recent memory, going from a planned wide release to a cancellation to a simultaneous VOD and limited theatrical release.
Now the hot-button comedy may be delivered — in North Korea, no less — by balloon, according to the Associated Press.
The AP reports that South Korean activist Park Sang-hak is planning to launch 100,000 balloons loaded with DVDs and USB memory sticks bearing "The Interview" toward North Korea as early as late January.
Park, a North Korean defector, said he's working with the U.S.-based nonprofit Human Rights Foundation for the stunt, which is intended to undermine the cult of personality built around dictator Kim Jong Un.
"North Korea's absolute leadership will crumble if the idolization of leader Kim breaks down," Park told the AP.
It's questionable, though, how much of an impact Park's plan will have, as few North Korean citizens are believed to own computers or DVD players.
"The Interview" stars Rogen and Franco as a pair of vapid television journalists who land a rare interview with the reclusive North Korean leader, played by Randall Park, and are enlisted by the CIA to kill him.
The FBI has blamed the North Korean government for the recent cyber-attacks that crippled Sony Pictures Entertainment, the studio behind "The Interview," but some cybersecurity experts believe a disgruntled studio insider might have been involved.
Follow @ogettell for movie news
---