TIFF: Paul Haggis says viewers of his new film may be 'frustrated'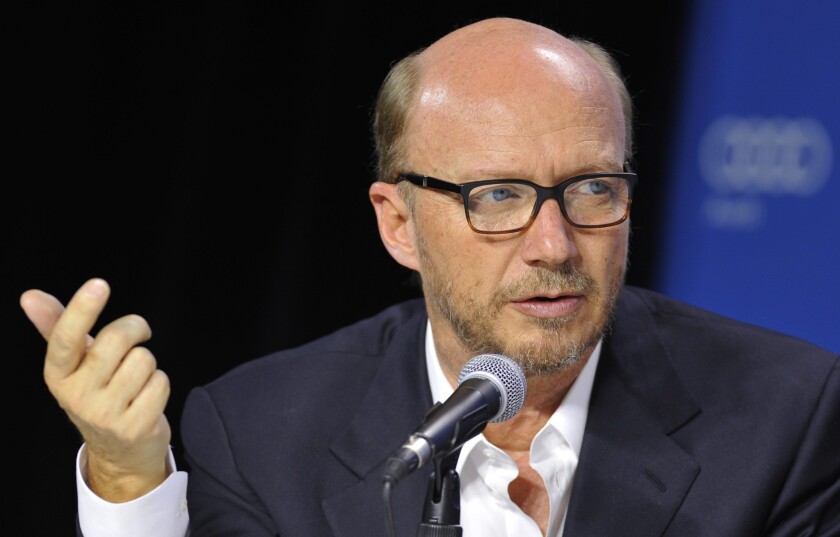 TORONTO--Paul Haggis divided viewers with his new film "Third Person" when the romantic mystery premiered at the Toronto International Film Festival earlier this week.
And that, he said, was the intention.
"When I was making the movie what I said was that, like 'Crash' was praised and vilified, this movie will be praised and damned in the same breath," the director said in an interview before the screening, alluding to his polarizing best picture winner that premiered at Toronto in 2004. "That's my kind of film."
PHOTOS: Toronto International Film Festival | The scene
And then even more boldly: "If you see this movie once, you'll leave frustrated. It's a puzzle. You have to go back."
Starring Mila Kunis, James Franco and Olivia Wilde, among others, the film examines couples in Rome, Paris and New York, teasing out in elliptical fashion details of their relationships as well as the couples' relationships to one another, offering plenty of surprises along the way.
Critics were all over the map after the film screened. Variety gave it a strong review, describing it as a "'Crash' course in complex modern relationships" and calling it "hearty fare by arthouse standards." The Guardian was less kind. "Third Person is a work of staggering trash; an ensemble drama with the aesthetic of an in-flight magazine, but less classy writing," the paper said.
VIDEO: Toronto International Film Festival trailers
Haggis, a decorated screenwriter on movies such as "Million Dollar Baby" and "Letter from Iwo Jima," is best known for directing "Crash." He's helmed just one movie since 2007, 2010's jailbreak thriller "The Next Three Days" as he spent years writing and putting together the financing for this movie. (Ultimately the film was funded by private investors in Belgium and is seeking U.S. distribution in Toronto.)
Haggis' casting process was a colorful one. Kunis had wanted to play a different role than the one she was eventually cast in. Wilde was nervous about her part until Haggis calmed her down, the director said.
Franco, of course, said he'd play anyone. "I said, 'How about the artist character?' And he said, 'Sure, man,'" Haggis recalled.
Haggis is coming off a tough commercial outing in 2010 with "Three Days," which was made and distributed by Lionsgate. He said the movie's box office left him a little disheartened but the studio's decision to release it opposite a new "Harry Potter" film took an inevitable toll.
INTERACTIVE: From Toronto to the Oscars? Well...
Still, he said the experience helped nudge him toward going independent this time around. "You have a better chance of coming from a place of passion when you're working with one-tenth or one-twentieth the resources. I really believe that."
If the Toronto hoopla seemed a little muted for a director who less than a decade ago launched a Best Picture winner here, it's for good reason: Haggis said he decided to keep a purposefully low profile heading in. "We didn't want to throw a lot of flash powder on to Toronto. You didn't see a trailer. You didn't see anything," he said. "We wanted people to discover this."
He continued: "This film hopefully surprises you and unsettles you as you watch it. It's not a film that comes out and announces itself loudly, it doesn't satisfy you quickly and it hopefully doesn't allow you to forget it," he said. "I wanted to do a film for smart people, which really aren't made anymore. We're pretending it's a love story when it's actually a mystery. It's a film you discover as you watch it. I think people will walk out and try to figure with their friends what the hell the film was about."
ALSO:
TIFF 2013: Proclaimers' 'Sunshine on Leith' makes fest hearts fly
TIFF '13: 'August: Osage County' ending could be changed for release
TIFF 2013: 'Labor Day' has Jason Reitman toiling anew'
Follow me on Twitter at https://twitter.com/ZeitchikLAT
---
The complete guide to home viewing
Get Screen Gab for weekly recommendations, analysis, interviews and irreverent discussion of the TV and streaming movies everyone's talking about.
You may occasionally receive promotional content from the Los Angeles Times.