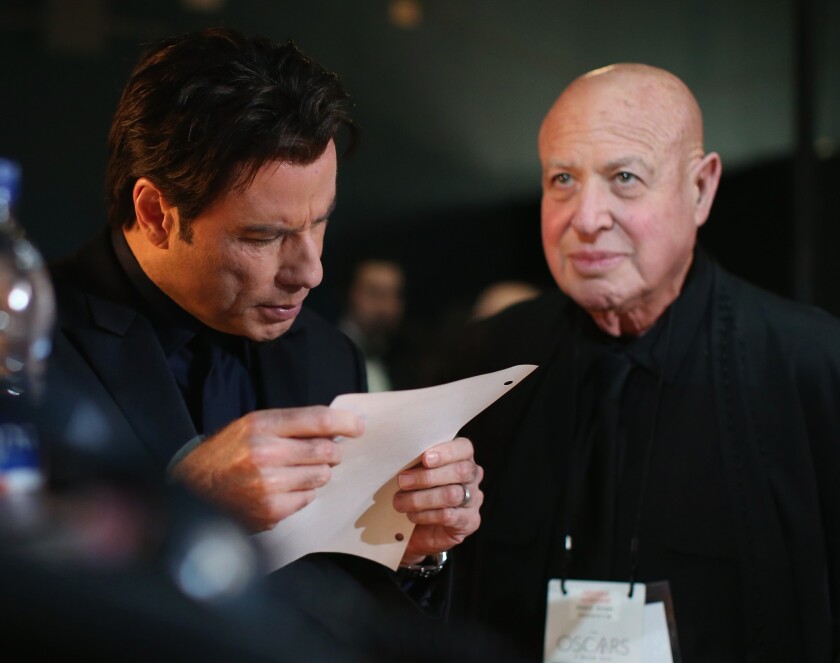 It was the gaffe that launched a thousand quips. John Travolta's now-infamous mispronunciation of "Let It Go" singer Idina Menzel's name as "Adele Dazeem" at the Oscars spawned viral screen captures, countless tweets and even a widget to "Travoltify your name."
On Wednesday, Movies Now asked readers to submit their own witty captions about the incident to accompany the photo above, which shows Travolta backstage with publicist Paul Bloch. Here are our favorite submissions.
Third place: "Now, John, it's I before E except after C, and remember the L in Idina Menzel," suggested by James Norwood. It's a clever mnemonic that we hope no one ever actually has to employ.
FULL COVERAGE: Oscars 2014 | Complete list of winners
Second place: Rita Blackwell submitted the caption, "Paige Blork, what did I say?" This one gets extra points for thoroughness: Paige Blork is indeed the Travoltified version of Paul Bloch.
First place: Commenter "Bob Zuruncle" — we see what you did there with your name, Bob — suggested two captions, which also work together nicely. The first: "Gee, that's a hard name to pronounce. I'm glad I'm not introducing that Somali guy!" (a reference to "Captain Phillips" star Barkhad Abdi, who was nominated for the supporting actor Oscar).
And Bob's follow-up, our favorite reader caption: "Next time, just let me introduce Pink!"
Finally, an honorable mention goes to Richard Horgan of Fishbowl NY, who suggested his own caption on that site: "Man, it was a lot easier when 'Grease' was the word."
ALSO:
'La La Land' is musical follow-up for 'Whiplash' filmmaker
'Annie' trailer: Musical bets bottom dollar on Quvenzhane Wallis
Oscars: 'Batkid' appearance with Andrew Garfield cut at last minute
---