U2 talks of new album in the works, Nelson Mandela
The life story of
Nelson Mandela
- a powerful tale of a charismatic lawyer and human rights activist working to dismantle apartheid, only to land in prison for 27 years and ultimately become country's first democratically elected president - has been told time and time again. Most recently, British star Idris Elba portrays the anti-apartheid figure on screen. Click through to see a sampling of actors who've depicted the revolutionary in film.
By Christy Khoshaba
(Debbi Yazbek / AFP / Getty Images)
The narrative:
Based on Nelson Mandela's 1994 autobiography of the same name, the tale chronicles Mandela's life journey from his childhood in the rural village of Qunu through his triumph inauguration as the first democratically elected president of South Africa.
Actor's push:
Elba leaned on his now deceased father from Sierra Leone, who held an uncanny resemblance to Mandela, from his rhythm of speech to the way he interlaced his fingers and crossed his legs while in conversation. "My dad had a big silver ball of hair and Mandela has that, so that was my framework," Elba said.
Director's pull:
"The producers had imagined I'd cast a Hollywood star, but I loved that Idris carried no baggage into whatever role he plays," said the film's director Justin Chadwick of "The Other Boleyn Girl" and "The First Grader." "We weren't going for a lookalike version, but wanted to catch the spirit of the man."
Did he meet Mr. Mandela?
No, but Elba has developed relationships with Mandela's family. At the film's South Africa premiere, Mandela's daughter Zinzdi from wife Winnie Mandela, referred to Elba as "Dad" when posing for photographs.
(Keith Bernstein / The Weinstein Company)
The narrative:
An adaptation of the biography "Winnie Mandela: A Life," the drama delves into the personal and political life of Nelson Mandela's second and former wife, revealing her fight to dismount apartheid, and the surrounding controversy that never seemed to fade.
Actor's push:
"If you fail at Nelson, you don't get to comeback and say, `Well, I was trying. Let me do it again.'There are no re-takes. I knew that it would either kill my career or give birth to it."
Director's pull:
"Terrence Howard is my all-time favorite actor. I just think that guy's an astonishing man, and I got him and it was amazing," said the film's director Darrell Roodt of "Prey" and "Yesterday." "And Jennifer - when I saw her in "Dreamgirls" I was busy writing "Winnie" at the time, and I said this is a really interesting human being."
Did she meet Mrs. Mandela?
Turning the tables to Jennifer Hudson, the actress never crossed paths with Winnie Mandela, largely because of the film's director. "I desperately wanted Jennifer to meet her," said Roodt. "But the South African producer [Andre Pieterse] convinced me otherwise. And I think ultimately he was right, because [Winnie Mandela] is such a controversial character that if we had done this with her blessing, it might've been perceived as a whitewashed movie. But it's not that at all. It really embraces the dark times as well as the good times in Winnie Mandela's life."
(RLJ Entertainment)
The narrative:
In his first term as the South African President, Nelson Mandela uses the nation's appetite for sports as a pivot point to unite the apartheid-torn land. He enlists the national rugby team - a group and sport many black South Africans once perceived as the game of their oppressors - to win the 1995 Rugby World Cup. The result electrifies South Africa with what Mandela calls its moment of greatness.
Actor's push:
At a 1994 press conference for Mandela's memoir "Long Walk to Freedom," Mandela appointed Morgan Freeman as the actor to portray him in film. "It sounds arrogant," Freeman said, "but my thinking was, 'Of course. Who else? and I can do it."
Director's pull:
"Morgan is great," said the film's director Clint Eastwood of "Flags of Our Fathers" and "Million Dollar Baby." "I could not imagine anyone else in the role of Mandela. They have the same stature and same kind of charismatic nature. Morgan also has a similar vocal quality, and he worked very hard to capture Mandela's inflections. I think he did it quite well."
Did he meet Mr. Mandela?
Very much so. Freeman spent time with Mandela to replicate the way he walked and talked. The pair eventually sat down to watch the film together. "I was sitting right next to him," Freeman said. "He pointed at the screen and said 'I know that fella.' So, yeah, I think he liked it."
(Keith Bernstein / AP)
The narrative:
This HBO made-for-TV movie explores Nelson Mandela's quest from a brilliant young lawyer to an avid anti-apartheid political activist. Filmed in Zimbabwe, the tale depicts Mandela's time in jail and his wife's perseverance to promote reconciliation between blacks and whites of South Africa.
Actor's push:
"You make the words your own, so [Mandela's] great speech on the dock is not unlike Dr. King's speech on the March on Washington in 1963," said Glover. "Not only were they simple words that I was memorizing on the page, they were my words and I took ownership of the words."
Did he meet Mr. Mandela?
Yes, the pair met one other during Mandela's very first trip to Boston, Massachusetts in 1990, shortly after Mandela was released from a 27-year stay in prison. "He often calls me his son," Glover said. "I'm sure I'm one of many... that would be honored to be referred to as his son."
(HBO)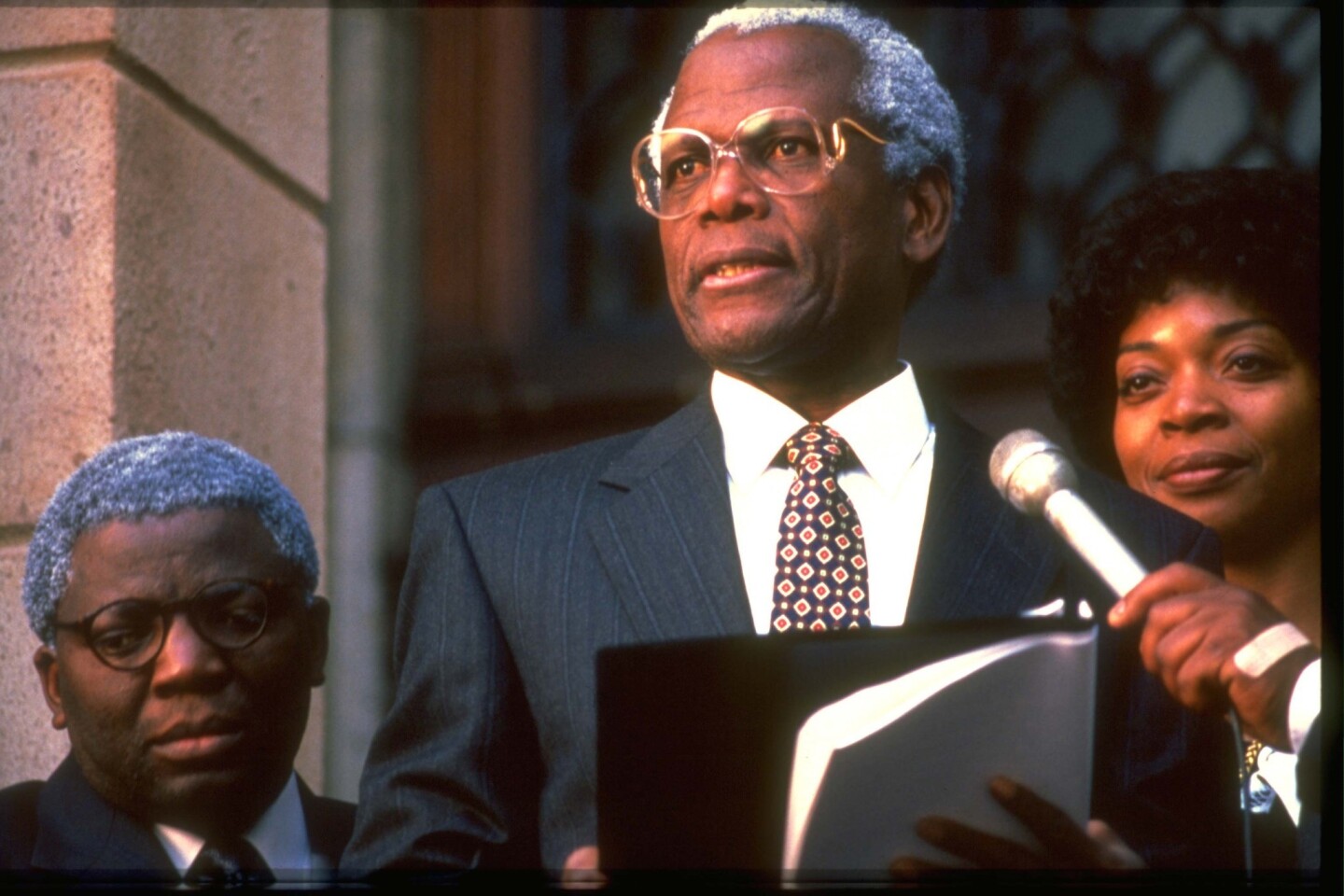 The narrative:
When Mandela is sentenced to life imprisonment, his struggle becomes a symbol to end apartheid. After 27 years, Mandela is released from prison thanks to the efforts of then-South African President F.W. De Klerk, who also lifts restrictions on political groups and bans executions. Together, they provide a peaceful transition to democracy.
Actor's push:
Poitier had played a South African reverend in "Cry, the Beloved Country" (1951), and a South African revolutionary in "The Wilby Conspiracy" (1975). "I was able to capture the accent," Poitier said. "The important thing for me to do now is to erase Poitier and create Mandela."
Did he meet Mr. Mandela?
Yes, their paths aligned at a news conference in Cape Town, South Africa.
(Handout)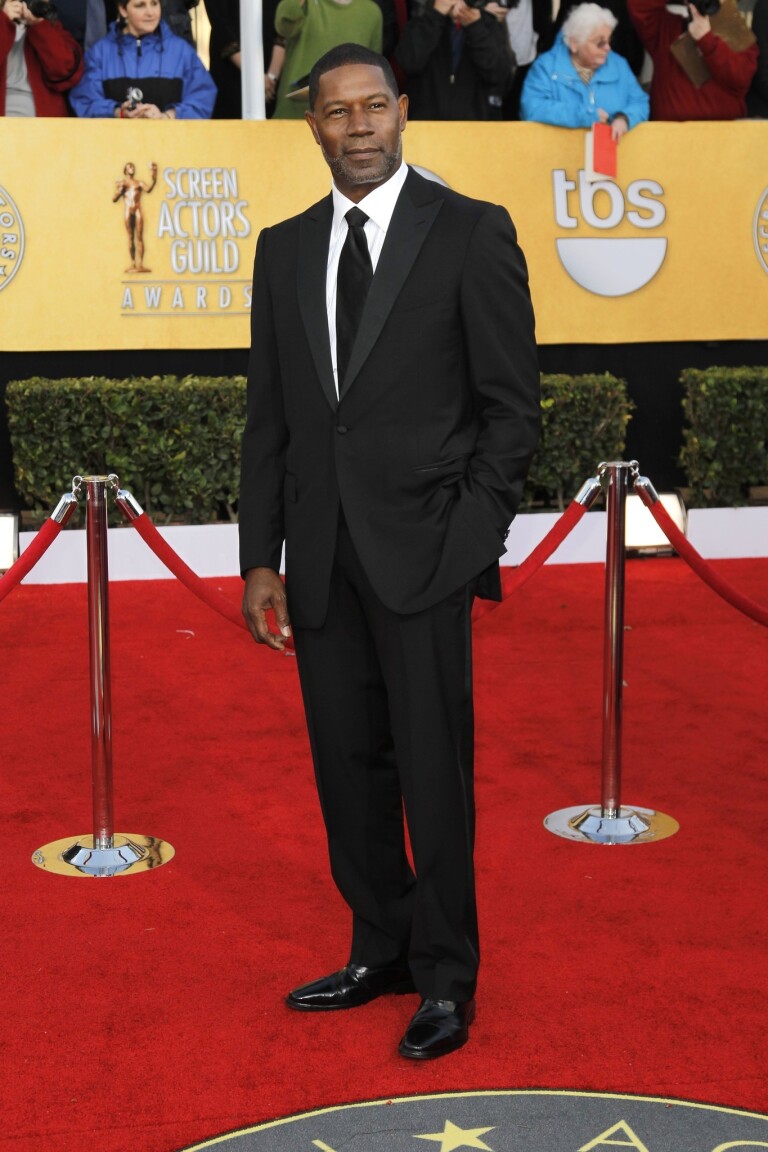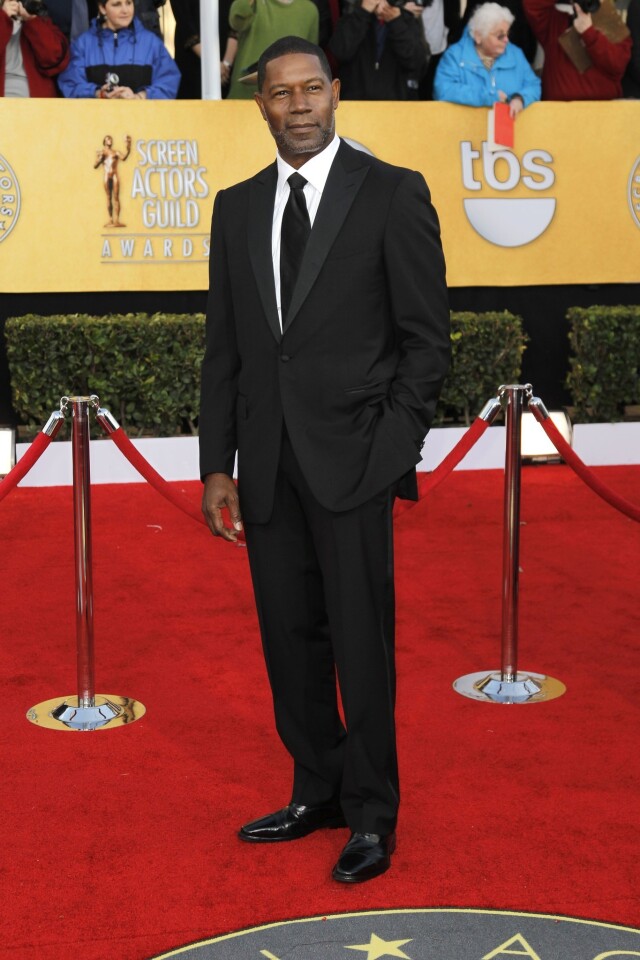 The narrative:
Based on the memoirs written by James Gregory, who was the censor officer and prison guard to Nelson Mandela, the film recounts the intense effect Mandela had on the white South African guard, and the relationship the pair developed during Mandela's 18-year stay in prison on Robben Island, before he moved to Pollsmoor Prison.
Actor's push:
Haysbert admitted the role was "daunting" and "intimidating." "Every night I went home, I would have a glass of wine and just cry," he said. "The sacrifices he made were profoundly sad to me."
Director's pull:
"I had to find an actor who has his size and [is of] the same age as Mandela," said the film's director Billie August of "The House of Spirits" and "Les Miserables." "The choice of Dennis Haysbert seemed obvious. I had spotted him in the series "24."
(Jay L. Clendenin / Los Angeles Times)
The narrative:
The film tells the tale of Nelson Mandela's wife, Winnie Mandela, and her tumultuous outing from a shy country girl to a dogged revolutionary, as the world watched her relationship with her husband transform.
Actor's push:
"I was terrified," said David Harewood. "Then I started doing my research. And the more I read, the more I understood that he's a man, a very vulnerable man, a man in love, a man who was incredibly strong and intelligent."
(Jeff Vespa / WireImage)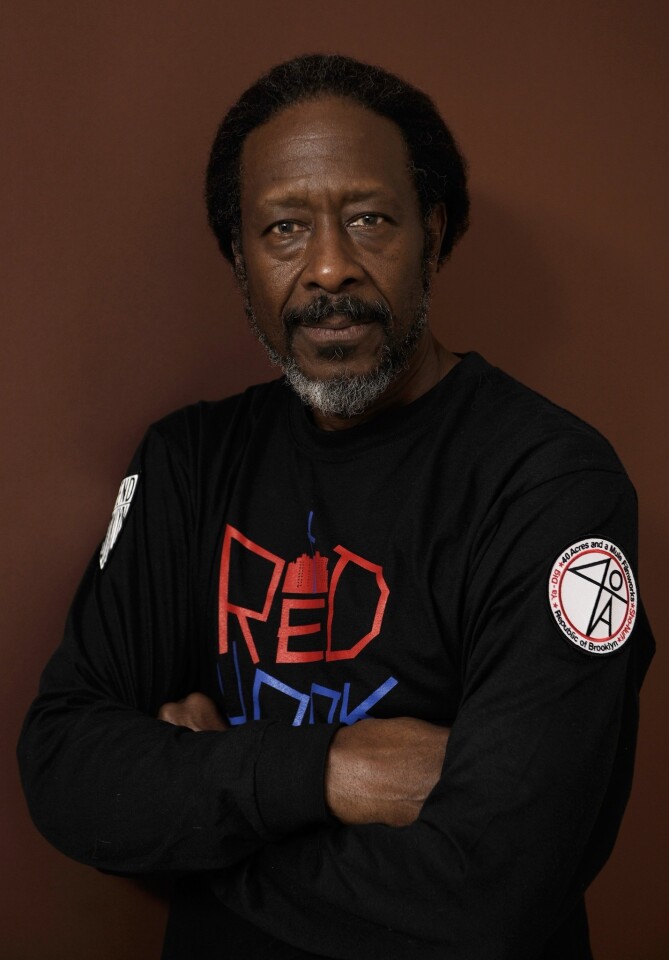 The narrative:
Honing in on the final days of apartheid in South Africa, the film brings to light the secret high-risk talks and negotiations held between the African National Congress and the Afrikaner National Party in an English country house, which brought an end to apartheid and led the release of Nelson Mandela.
Actor's push:
"For years I didn't eat South African food,"Peters said. "I didn't go to South Africa when I was invited there. I was counting on the whole world to bring pressure to bear to help end apartheid." When Clarke was offered the role, he likened it something of royal stature. "I was absolutely overawed. Wouldn¿t you be? How would you like to play the Queen?"
Director's pull:
"What really struck me is that it's a story about now," said the film's director Pete Travis of "Vantage Point"and "Dredd." "Seemingly intractable political situations transformed by seemingly impossible things, like people having hope. That's the story that feels totally about today to me."
Did he meet Mr. Mandela?
Peters met Mandela's inmate on Robben Island, who told him when Mandela heard his son died, he stood at his cell window for four days, avoiding human contact and food. "When he turned away from the window he was a changed man," said Peters. "I think he was having a very deep conversation with God - that God imbued him with that extra bit of wisdom, that extra bit of patience."
(Larry Busacca / Getty Images)
NEW YORK — Bono took a look around the cluttered recording studio, filled with Coke bottles and laptops and vinyl records, and turned to a reporter.
'I'm not sure where we put the crack pipe," he deadpanned, pretending to riffle around a coffee table as he also poked at the band's workaholic image. "We usually leave it out for guests."
A moment later the U2 frontman had cranked up a track from the band's work-in-progress April album, an anthemic number about leaving one's hometown titled "Invisible." As the song played, he spiritedly played air guitar to it, also belting along with the track's vocals, so that, in effect, Bono was performing a duet with himself.
---
FOR THE RECORD:
U2: An article about the band U2 in the Dec. 19 Calendar section misspelled the last name of drummer Larry Mullen Jr. as Mullens. —

---
The 53-year-old rock star's self-mocking turn is enjoyably at odds with his self-serious public image, a sign of an icon who knows when not to be iconic. But similarly surprising is his approach to the music, a kind of boyish giddiness suggesting that, even after 12 studio albums and thousands of shows, that's really what matters, perhaps more now than in a long while.
PHOTOS: Actors who've portrayed Nelson Mandela on screen
After years of being known as much for activism as rock 'n' roll — the day after the studio session, Nelson Mandela will have passed away, and an essay from Bono recollecting his impressions of the South African leader and friend will have materialized on Time.com — U2 had perhaps its most commercially disappointing album in decades with 2009's "No Line on the Horizon." They also worked on some aborted projects that led to just one new studio album in the past nine years. So now they're shaking things up.
The band, which of course also includes guitarist Edge, bassist Adam Clayton and drummer Larry Mullen Jr., came up with the concept of a collection of songs told partly from the perspective of an innocent and partly from a seasoned veteran. And they brought on the electronic dance music producer Danger Mouse to help them craft it.
Told that some fans were still puzzling over how that collaboration would work, Edge, 52, laughed. "I think we're still figuring that out ourselves," he said.
On this December evening the band moved between studio rooms. In one, engineers tried different mixes as Bono sang along and gave notes in equal proportion. In another, Mullen, Edge and several others were tinkering with some rhythms. "You're seeing a little bit of creativity as it happens," Mullen said. "Like penguins in the wild."
PHOTOS: Nelson Mandela through the years
But the first salvo in the Irish megagroup's latest musical phase has already happened. U2 recently released its first new song in nearly three years, "Ordinary Love," an ode to Nelson and Winnie Mandela that appears on the soundtrack to Justin Chadwick's newly released biopic, "Mandela: Long Walk to Freedom." The song was nominated for a Golden Globe last week and is likely to get an Oscar nod next month.
"Ordinary Love" is a throwback, mid-tempo number that would not have been out of place on one of the band's 1980s albums, and a song that walks the line, as it has for U2 so many times before, between the personal and the political. "We can't fall any further if we can't feel ordinary love," it goes, narrating the tremulous relationships both among a citizenry and its symbolic First Family.
"It's a plea for common decency among the people who've been oppressed," Bono said at dinner earlier in the evening. "And it's a plea for common decency in a marriage as it starts to fall apart."
U2 hoped to portray the complexity of the Mandela relationship, according to Chadwick, who called it "a film that deals with apartheid but is really about love."
OBITUARY: Nelson Mandela, anti-apartheid icon, diesThe film's producer, longtime Mandela friend Anant Singh, sent Bono love letters that Nelson Mandela wrote to his wife from his prison cell on Robben Island, and the band set about turning its poetry into lyrics.
"We thought it should be a love song, a very human song. Not epic, not earnest in dealing with world-changing political shifts," Edge said, "but personal in two people trying to hold on to one another in the face of dreadful mistreatment and heartbreak."
Mandela was a huge influence on the members of U2, who played early anti-apartheid shows. Bono and Edge said that, though it was his political leadership that the world knew Mandela for, in person it was Mandela's dry wit that would win you over.
"He would always turn on the humor, mock you a little and then mock himself. Mostly himself," Bono said.
And if he wanted the rock star to undertake a cause, he would convince him in an unconventional way — with a little reverse psychology.
"He'd say 'You shouldn't do this; it's a complete waste of your time,'" Bono recalled, rendering a spot-on impression of the South African icon's mellifluous, halting speech pattern. "'A man like you, with such responsibilities? Why would you want to be at a concert to celebrate an old man like me?'" Bono laughed. "And suddenly you were putty in his hands."
Added Edge: "That's his philosophy of dealing with the world."
It's a similar approach for the band these days. A natural extrovert, Bono in person comes off as much as a comic presence as an activist. "If you have any sense as a band that you could be not just a sop but a salve, you have a moral duty to respond," he said, when asked if the group's activist reputation ever grew burdensome. "And that," he added, with a poker face, "can make you a total pain in the" butt.
He also quipped to Edge: "The whole thing about being in a band is like being on an oil rig. Just a lot of men. We really need to change that."
Edge, in his trademark knit hat and biker-esque facial hair, volleyed back, "I told you we should have had a girl drummer."
FULL COVERAGE: Nelson Mandela (1918-2013)
Dressed in a green military cap, black jeans and several layers to ward off the New York chill, Bono was standing in a soundproof room filled with engineers. Every once in a while someone handed him a microphone. Bono reaches for a microphone the way a baby reaches for a lollipop, with the easy sense he knows exactly what to do with it. Barely pausing his conversation with a reporter, he began singing, rocking slowly back and forth as his facial muscles clenched. Then in a musician equivalent of a no-look pass, he handed back the mike to an engineer as he continued bantering with a reporter.
"Not to sound pretentious—not that it's ever stopped us before," he said as he described the new record.
Oh yes, about that record. From the few tracks heard that night, it has traces of the Clash and Sex Pistols and Kraftwerk — "stuff we were really listening to when we were younger," said Bono. But it also comes laden with soul and old-school R&B, genres the singer said he and friends were listening to in the 1970s, only "once punk came along, no one admitted it." It, too, walks the line between the political and the personal, with one song title connoting a difficult period but really referring to a personal trauma.
Thematically, the album will center on the collision between hard-earned wisdom and youthful hunger. For present-day U2 — sometimes branching out in new directions even as it so often returns to its roots, and still vital even as it stands just a few years shy of its 40th anniversary — that tension couldn't be more fitting.
The band has reportedly been entertaining corporate suitors for a Super Bowl ad to introduce the new record. But Bono waved aside a question about those plans. There's still work to be done, an album to fine tune, all-night sessions that mean dinners eaten directly off sound boards.
So engineers continued to tinker with Bono's vocal chord-straining falsetto, the sound that has defined him and U2 as far back as albums like "War" and "The Unforgettable Fire." "There's just something about a bloke who sings like a chick," Bono cracked to a reporter. And then practically in the same motion, he turned, took the mike and unleashed another one of those vocals.
---
The complete guide to home viewing
Get Screen Gab for weekly recommendations, analysis, interviews and irreverent discussion of the TV and streaming movies everyone's talking about.
You may occasionally receive promotional content from the Los Angeles Times.