Universal CityWalk's AMC Theater redesign: No concession lines, a total black box auditorium and a social lounge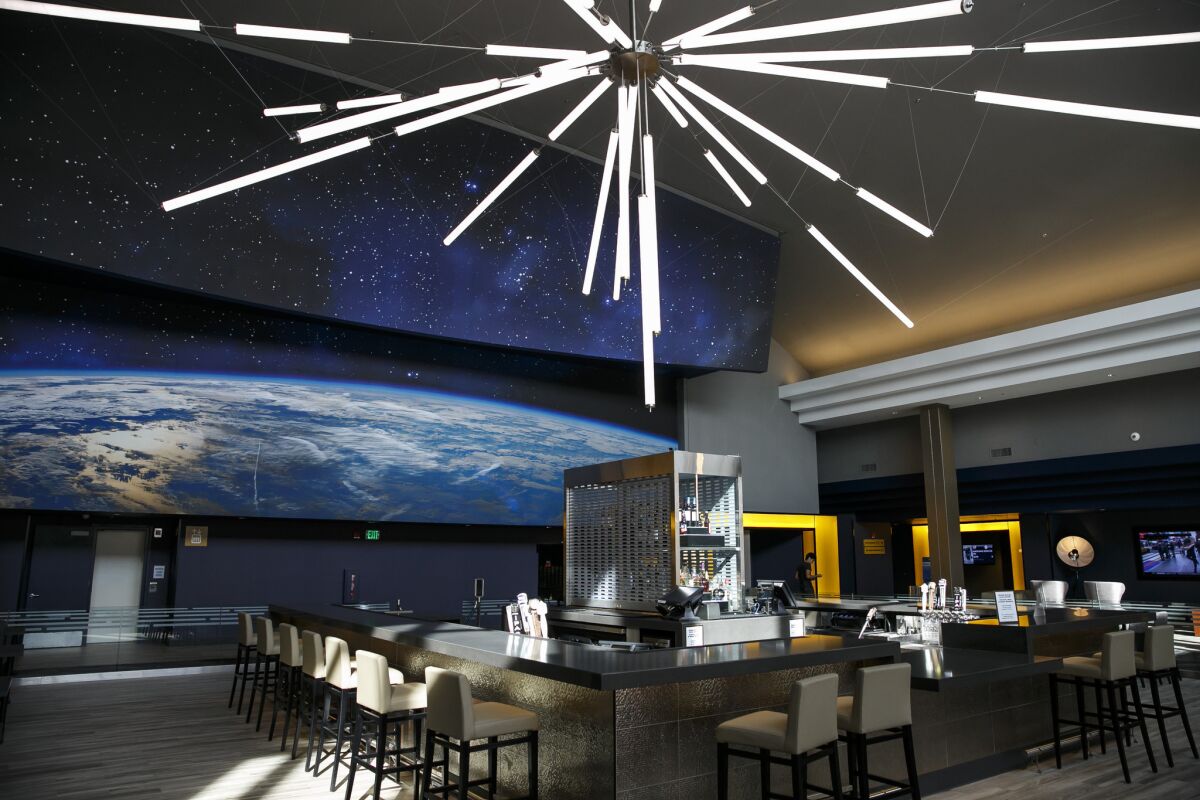 In April, Universal Studios Hollywood opened the Wizarding World of Harry Potter — an intricate recreation of the universe created in J.K. Rowling's series of "Harry Potter" novels, then interpreted for the Warner Bros. films — where fans have the opportunity to lose themselves in the world they love so much.
Content with what they'd built at "Wizarding World," the minds at Universal Creative, the team that conceptualizes and deploys large-scale projects at Universal, set their sights on Universal CityWalk's AMC Theatre, which, other than the installation of stadium-style seating in 2007, had gone untouched since it was built in 1993.
"We wanted a departure from the traditional movie experience," said Gene Dobrzyn, senior vice president of Universal Creative.
That departure starts as soon as patrons enter the lobby and the newly designed box office area. The lobby is open-format, eschewing the lurid reds and jewel tones favored by many theater chains in favor of cool blues and grays.
"The blue theme flows throughout," said Dobrzyn. "We didn't want to plaster it with Universal, we wanted to bring the Universal feel into it."
Dobrzyn goes on to point out the large sunburst chandeliers overlooking the lobby and globe vista on the second floor, echoes of Universal's logo that lend themselves to the subconscious branding at work.
Gone are the outdoor box office windows, replaced with a serpentine queue system and centralized box office desk, that allows patrons shelter from the rare adverse L.A. weather.
But for all the beauty of the redesigned lobby and lounge areas, the success or failure of the new-look AMC lives and dies on what lies inside the four walls of each of the 19 auditoriums — each of which is called the "black box."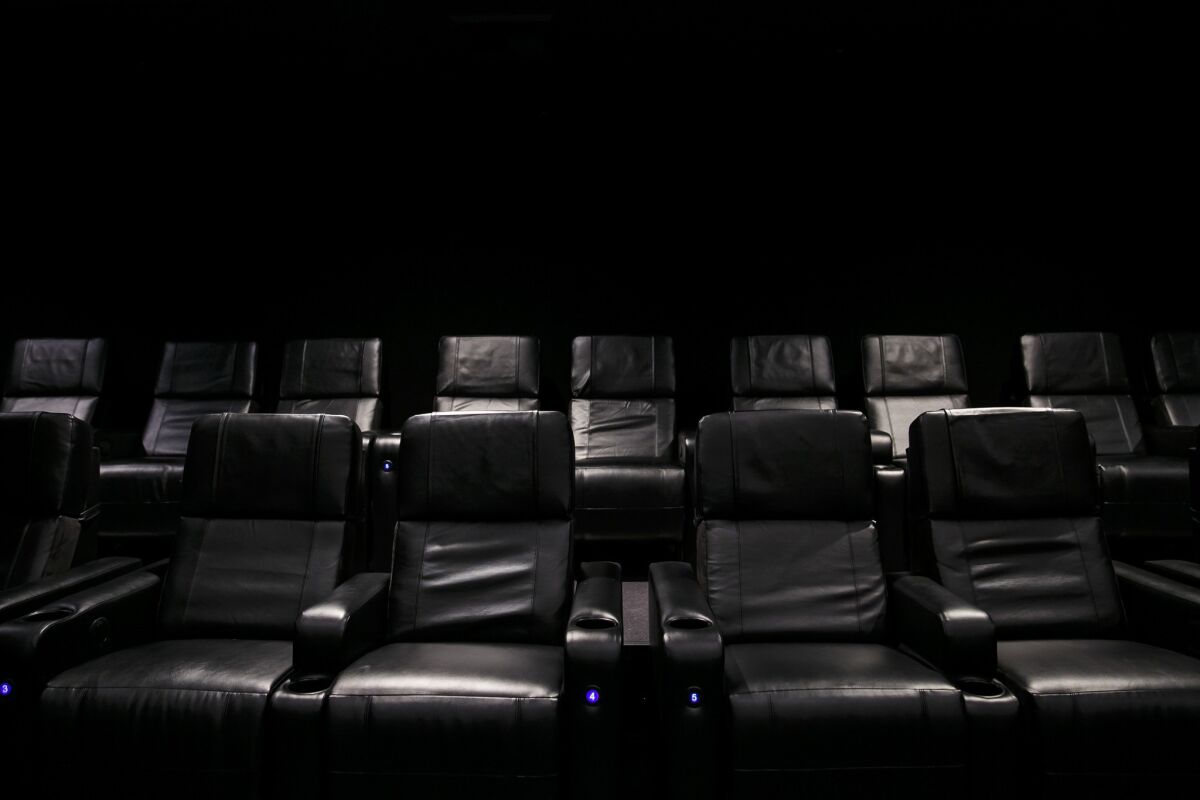 See the most-read stories in Entertainment this hour »
Black walls, black speakers, black seats — each of the theaters designed to minimize any and all light interference that might distract from the film-going experience. Even the guide lights that assist patrons with stairs are a deep, unobtrusive blue.
The black seats do more than just absorb light, they also recline and expand into loveseats, creating an intentional feeling of luxury. "You would find these in a normal Hollywood screening style," Dobrzyn said of the seats, which measure 32" in width, "It used to be you would come to the movies and worry who you'd sit next to. Now there's plenty of room."
But as vital as it is to keep light and distractions out of the black box, what Universal is putting into the black box is an even higher priority.
Each theater is equipped with Dolby ATMOS immersive surround sound and Christie RGB laser projection, as well as a Christie Vive Audio system, allowing for audio fine-tuning on a theater-by theater basis.
"The screens are all latest technology," said Universal spokeswoman Audrey Eig. "They're perforated and we have about 40 speakers in each theater. We can point source audio out of anywhere in the theater and as the image trails offscreen, the audio trails with it."
The effect of the high-end projection and sound is palpable. Disney's "Moana," projected in 4K perfection, was eye-popping, rendering color and texture in scrupulous detail.
The Christie projectors are a departure from the 35mm film projectors that used to power theaters, replacing bulky reels and film canisters with a sleek black box and laser projection, severing the link to physical film entirely.
Outside the auditoriums lay a lobby and lounge area aimed to be as comfortable and contemporary as the theaters themselves.
"Getting to a movie early to get a good seat is a thing of the past," said Dobrzyn, acknowledging the rise in reserved-seating theaters. "Now you can pick your own seat, get here any time you want, but now you can come and sit with your friends, you can talk, you can grab some food."
Dobrzyn emphasized the importance of the free-flowing layout, using the "grab-and-go" style concessions marketplace as an example.
"It's all convenience style. It's less standing in line. It's 'Go do your own thing,'" Dobrzyn said. "While you're standing in line you can grab candy, popcorn. You don't have to wait for somebody, you just grab a bag."
For each choice meticulously made throughout the 18-month, four-phase process, Universal Creative always came back to the idea of creating a seamless, functional and state-of-the-art environment where film lovers can feel at home as they sit mere feet away from where some of their favorite movies filmed.
"We have some of the most talented people in the industry creating these environments," said Dobrzyn. "What keeps me doing it is the groundbreaking stuff that we do and seeing the guests at the end of the day come out with with a smile on their face."
Now the creators of "Wizarding World of Harry Potter" just have to wait and see if Universal CityWalk's AMC Theatre can make a little movie magic of its own.
---
Universal CityWalk's AMC Theatre
Where: Universal Studios, 100 Universal City Plaza, Universal City
When: Now open
Info: citywalkhollywood.com/Cinema
Twitter: @midwestspitfire
ALSO
Video game adaptation 'Assassin's Creed' chases violence across the ages
'Friends' producer Kevin Bright's very non-Central Perk post-show journey
'Rogue One' star and fan favorite Donnie Yen almost passed on the film
Get our L.A. Goes Out newsletter, with the week's best events, to help you explore and experience our city.
You may occasionally receive promotional content from the Los Angeles Times.