'Veronica Mars' movie a case of pleasing many masters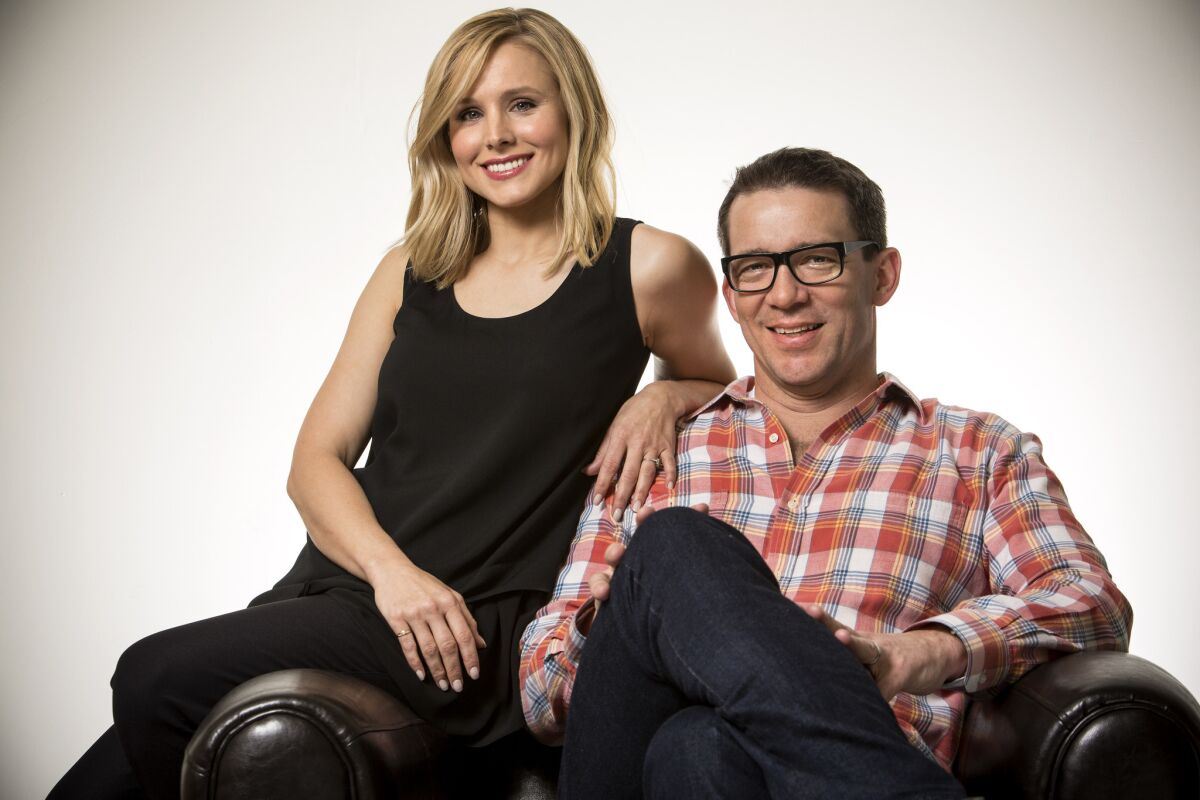 After convincing some 91,000 fans to donate $5.7 million toward the making of a "Veronica Mars" movie, you'd think show creator Rob Thomas would take a breather. After all, no film on the crowdfunding website Kickstarter had ever raised that much, and now Thomas finally had the greenlight from Warner Bros. to turn his television show into a feature film.
But in fact, it was only when he finally had the serious chunk of change in hand that he really began to worry.
"Once we raised the money and it became a fan-funded movie, there was this added pressure to give 'Veronica Mars' fans what they wanted," said the writer-director. "So I wrote it with the fans in mind."
Whether that fan base is enough to drive a hit movie is a key question this weekend as the long journey of "Veronica Mars" from TV to movies becomes a reality.
Since the conclusion of the show in 2007, Thomas has wanted to turn "Veronica Mars" into a movie. Starring Kristen Bell, the series followed a brassy high school student obsessed with solving mysteries in her small seaside town. Unlike "Buffy the Vampire Slayer," she didn't have any special powers, but her wit and self-confidence endeared her to a relatively small — but very devoted — group of fans.
"High school is the most self-conscious time of your life," Thomas said. "What a cute boy might say to you in between class can ruin your day. But Veronica didn't care about what other people thought of her, and that's something fans admired."
Naturally, Thomas didn't want to stray far from the show's roots. His plan made sense — especially because initially, it wasn't even clear that the film would ever be made available to moviegoers nationwide. Anyone who pledged $35 toward the project's Kickstarter campaign was promised a digital download of the movie on the day of its release — and when a new film is available via iTunes, cinema owners aren't typically keen on booking it in their theaters.
And yet on Friday, Warner Bros. will release "Veronica Mars" in 270 locations; depending on how well it performs, the studio will expand it to additional theaters in the coming weeks. But the movie will not only serve as a bellwether of new distribution platforms and financing models — it will also test how well contemporary stories made for television can transition to the big screen.
BEST MOVIES OF 2013: Turan | Sharkey | Olsen
The biggest success story in this genre has been "Sex and the City," the beloved HBO show that began in 1998 and was on-air for six years. Since its conclusion a decade ago, Warner Bros. has released two film sequels to the series which, together, grossed more than $700 million worldwide (critical reaction was less stellar, with the second film in particular getting panned). The same studio is currently in production on a movie version of "Entourage," another popular HBO show that ended its eight-season run in 2012.
But both of those programs had far bigger audiences than "Veronica Mars." In its final season, "Sex and the City" attracted an average of 10.3 million viewers; "Entourage" had 7.3 million. Though it was available in three times as many homes on the CW Network, "Veronica Mars" averaged just 2.7 million.
Given those ratings, Warner Bros. had serious doubts about turning the crime drama into a movie. At first, Thomas tried to conceive of the most commercial plot he could for the film — "a Natalee Holloway type-mystery where a girl goes missing during spring break," he said. The studio did a marketing survey with the pitch, and the results weren't good. In fact, even when Thomas proposed raising the film's budget via Kickstarter a few years later, he says he faced opposition from the studio.
"I think a big part of their hesitance was the perception game," he said. "A big sticking point was that they wanted to make sure that they weren't perceived as a giant corporation holding a title ransom until fans ponied up. And I understand — donating $200 to PBS for a $4 tote bag seems altruistic, but that doesn't exist with a movie studio."
REVIEW: 'Veronica Mars' welcomes the old gang back for familiar fun
To avoid playing into that impression, the "Veronica Mars" team offered up what they viewed as heavyweight rewards — major donors were given tickets to the film's red carpet premiere, and some even had tiny roles in the movie. Thomas' main concern, however, was writing a script that felt consistent with the TV show.
For "Mars" newcomers, Thomas introduces the film with an explanatory flashback using clips from the series. But he kept Veronica's noir-style voice-over narration — a staple of the show — even though the device is used sparingly in film. Like the TV show, the film is set in Veronica's fictionalized hometown, Neptune, and uses all the same actors — even though most of them aren't Hollywood names.
"We never even considered recasting this with a bunch of famous people," said Bell, whose character in the movie leaves her lucrative law gig to return home and crack a murder case. "I don't think Veronica is meant to be sold as a gigantic commercial entity. She's supposed to be in her small town with the people on the television series."
Since the show wrapped in 2007, Bell is essentially the only "Veronica Mars" cast member to become a major star. The 33-year-old is the lead actress on Showtime's "House of Lies" and recently voiced one of the main characters in the animated film "Frozen," which this month passed the $1-billion milestone at the global box office.
PHOTOS: Box office top 10 of 2013
But even as her career flourished, Bell remained committed to a potential "Veronica Mars" film. She sent tweets to Warner Bros. urging them to OK a film and constantly expressed her passion for the idea whenever she was asked about it in interviews.
Like Bell, "Friday Night Lights" creator Peter Berg has for years been bombarded by fans pleading with him to revive the high school football drama in theaters. (To be clear, "FNL" actually started as a 2004 film that Berg then developed for TV two years later; it ended in 2011 after five seasons.) Berg has always wanted to make another movie — a script was even drafted — but some of his actors weren't onboard.
"The obstacles that we faced were that certain members of the cast felt like they'd done enough and wanted to move on," said Berg. "Actors on television shows are often worried about being typecast — that people will forever look at them as a certain character. So I couldn't argue with someone like Kyle Chandler when he said he wanted to be more than Coach Eric Taylor."
Even convincing the cast of "Entourage" to reunite had its own challenges, as arguments over salary negotiations made TMZ headlines last year. On the set of the film in the Hollywood Hills this week, creator Doug Ellin downplayed the drama.
"I think it was blown out of proportion that there were real problems," he said during a break between scenes. "Now that we're here, I'm excited — I think we have the potential to attract a broader audience than just HBO viewers. I mean, the show was big. We shot it like a movie from Day 1 — it was very cinematic."
The "Veronica Mars" team has a different aim — one Bell herself is championing. Last week, she signed more than 6,000 posters and left dozens of voice mail message recordings for movie donors.
"My sole priority was making sure the T-shirts we gave away didn't feel like cardboard," she said with a laugh. "I take this very seriously. We didn't just want to give away beer koozies. And if someone is dissatisfied, I'll start giving out French kisses."
She paused to yell to her husband, Dax Shepard, to make sure he was onboard with the plan.
"Do you care if I offer French kisses to Kickstarter donors?" she shouted. "He says, 'No. Not at all.'"
Get our L.A. Goes Out newsletter, with the week's best events, to help you explore and experience our city.
You may occasionally receive promotional content from the Los Angeles Times.