Gilles Legrand uncorks family strife in 'You Will Be My Son'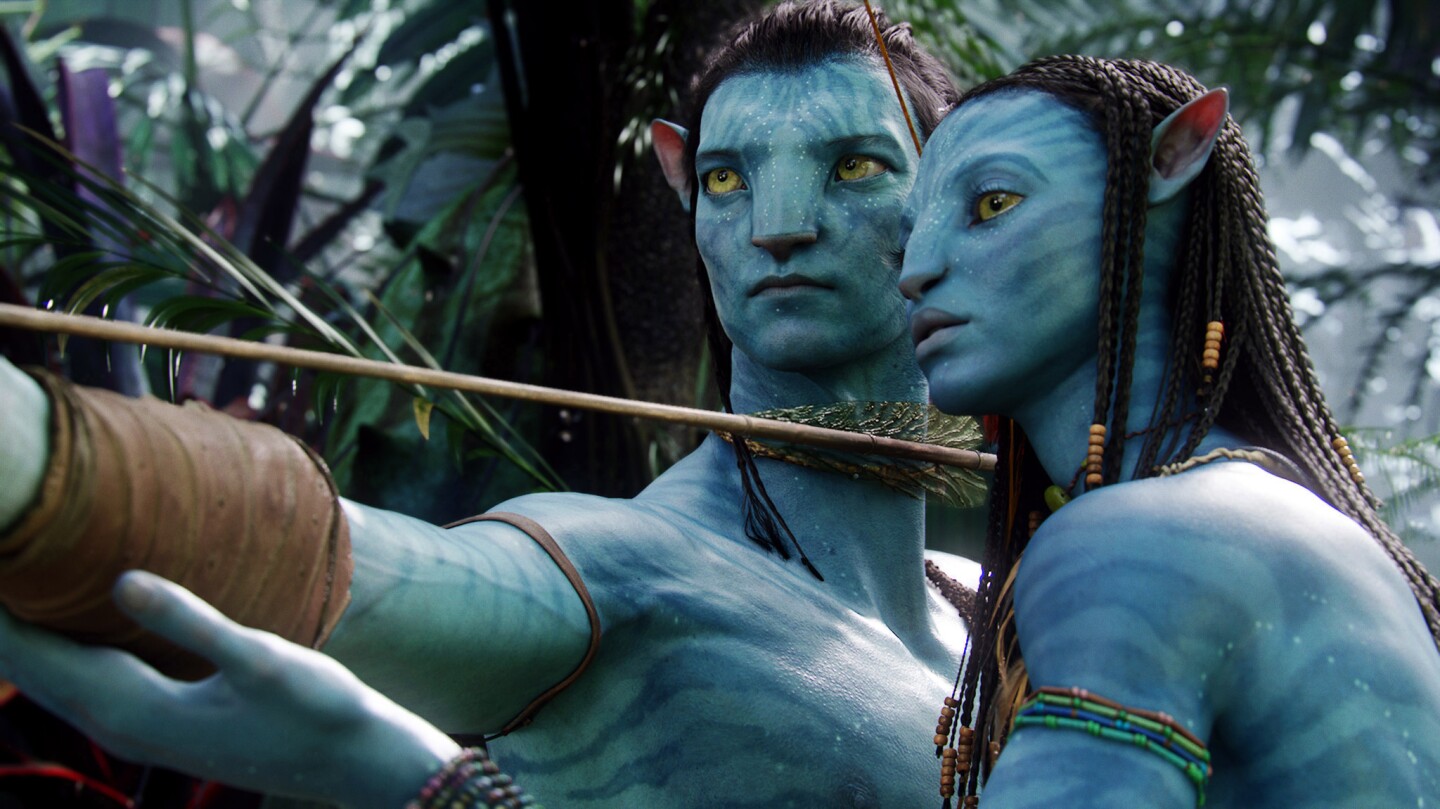 The first of the two titles that make James Cameron the undisputed boss of the billion-dollar club, "Avatar" came out in 2009 and broke records worldwide.
(20th Century Fox)
Rumored to be wildly over budget and expected to sink at the box office, Cameron's "Titanic" turned into a juggernaut, taking top dollar and top prizes at the Oscars.
(Paramount Pictures)
Although all the "Star Wars" films have been global hits, "The Force Awakens" is only the second film in the long-running franchise to join the billion-dollar club.
(Film Frame / Associated Press)
In just 17 days of release, the latest film in the "Fast and Furious" franchise became the fastest film to cross the $1 billion mark at the worldwide box office.
(Universal Pictures)
"The Avengers" assembled to join
the billion-dollar box-office club
. The summer smash united the Marvel heroes of blockbusters past. The combination proved super at the box office.
(Marvel)
The Marvel super-sequel has earned more than $1 billion at the global box office, making it the third Marvel Studios film to reach that milestone.
(Marvel / TNS)
The final installment of the adventures of the boy wizard made magic.
(Jaap Buitendijk / Warner Bros.)
The multiple Oscar-winning "Frozen" crossed the $1-billion benchmark in its 14th weekend in wide release, according to Disney. It ranks as the highest-grossing animated non-sequel film, not adjusting for inflation.
(Disney)
"Iron Man 3" crossed the
$1-billion milestone
after 23 days at the global box office, according to distributor Walt Disney Studios. The 3-D film, directed by Shane Black and starring Robert Downey Jr., cost Disney about $200 million to produce.
(Marvel)
Audiences turned out big for the first two "Transformers" movies in 2007 and 2009, but went supernova for the third iteration in 2011.
(Paramount Pictures)
Like its "Transformers" cousins, the first two installments of director Peter Jackson's "LOTR" trilogy were enormous hits, but the third time was the charm for entry into the billion-dollar box-office club.
(Pierre Vinet / New Line Productions)
"Skyfall," the 23rd installment in the massive James Bond movie franchise, has grossed just over $304 million in the U.S., and just over $804 million abroad, making it the most successful Bond movie ever and the highest-grossing movie of all time in Britain.
(Sony Pictures)
Even with a new cast of humans, the robots did it again as "Transformers: Age of Extinction" became the second film in the franchise to pass the $1-billion mark.
(Industrial Light & Magic)
Christopher Nolan's final installment in his Batman film trilogy was also the highest-grossing at the worldwide box office. The film, starring Christian Bale as the Caped Crusader and Anne Hathaway as slinky Selina Kyle, cost an estimated $250 million.
(Warner Bros.)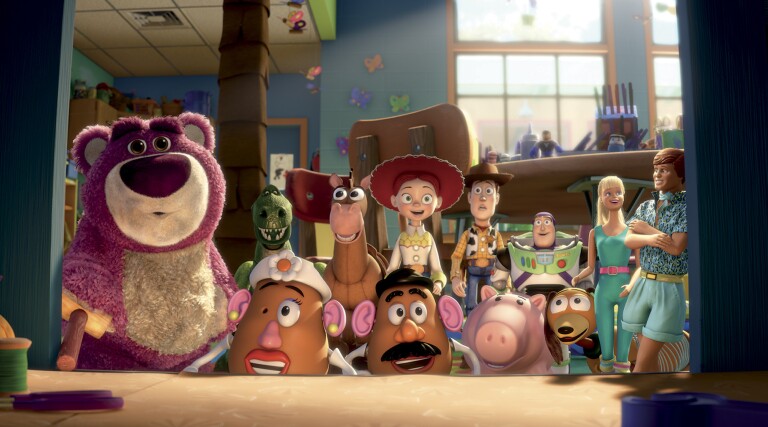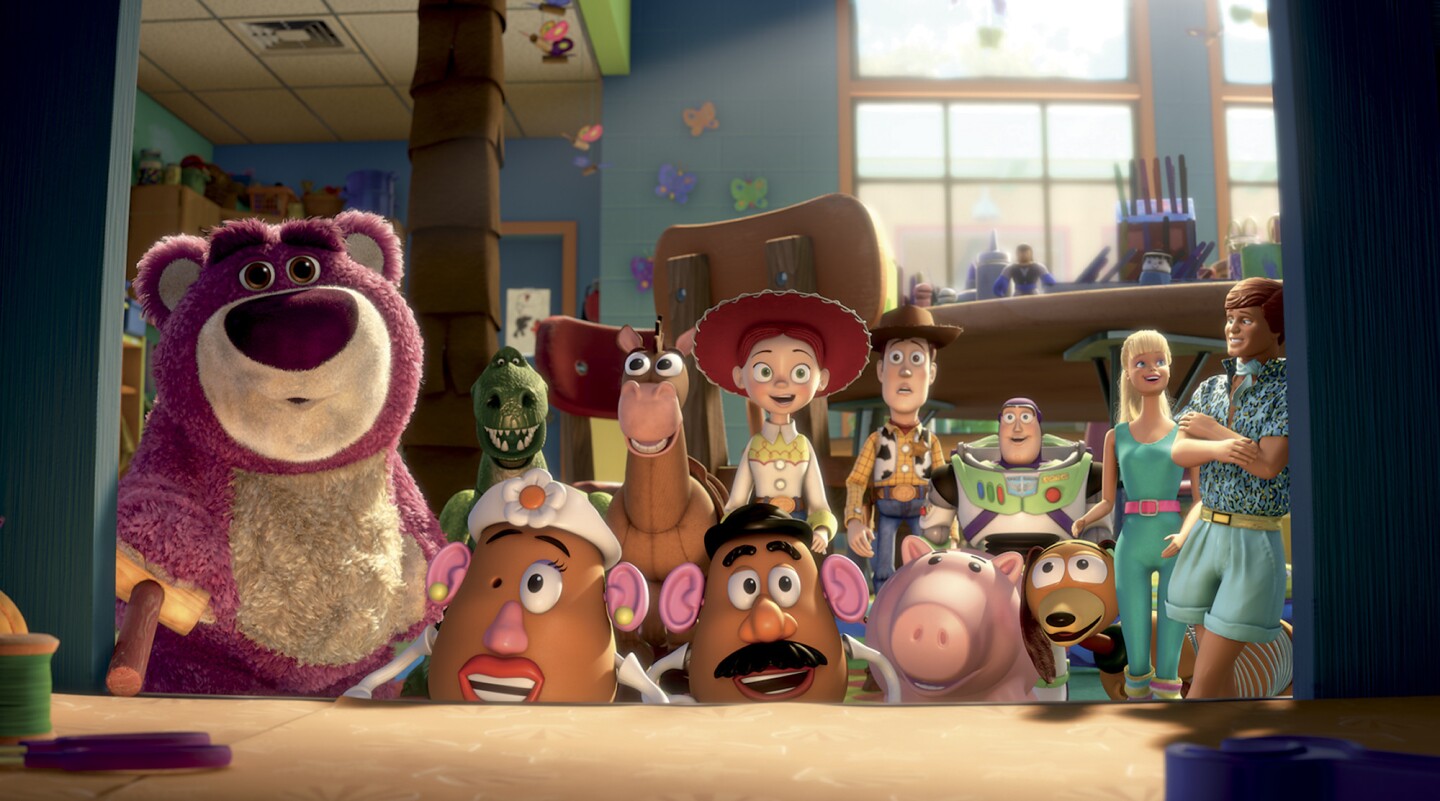 More than a decade passed between parts 2 and 3 of the continuing CGI adventures of Woody and Buzz, in the Pixar series started by John Lasseter in 1995. It was also the only one Lasseter didn't direct.
(Pixar / Disney)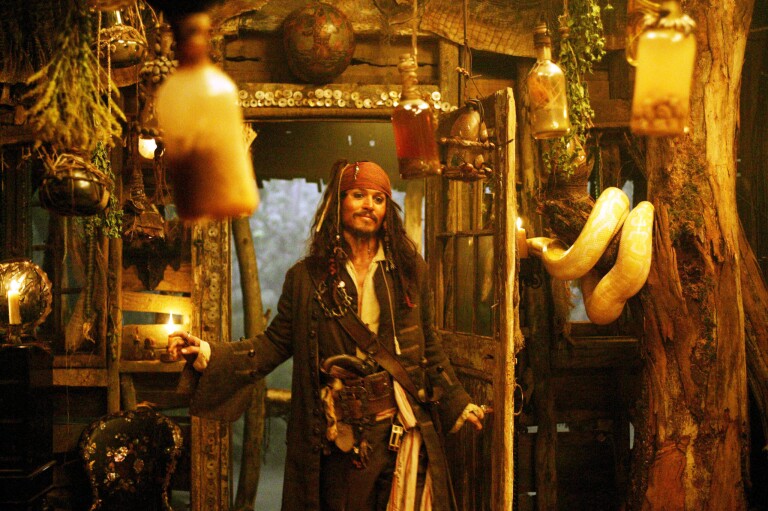 The second installment in producer Jerry Bruckheimer's fabulously successful "Pirates" series beat its three brothers domestically and abroad when it came out in 2006, opening a dead man's chest of gold for star Johnny Depp and director Gore Verbinski.
(Peter Mountain / Walt Disney Pictures)
Penelope Cruz came aboard as Capt. Jack Sparrow's enamorata, and "Chicago" director Rob Marshall took the helm, in this fourth installment of the successful series. Critics hated it, but audiences made it the No. 3 movie of 2011 -- after "Harry Potter" and "Transformers" films.
(Peter Mountain / Disney)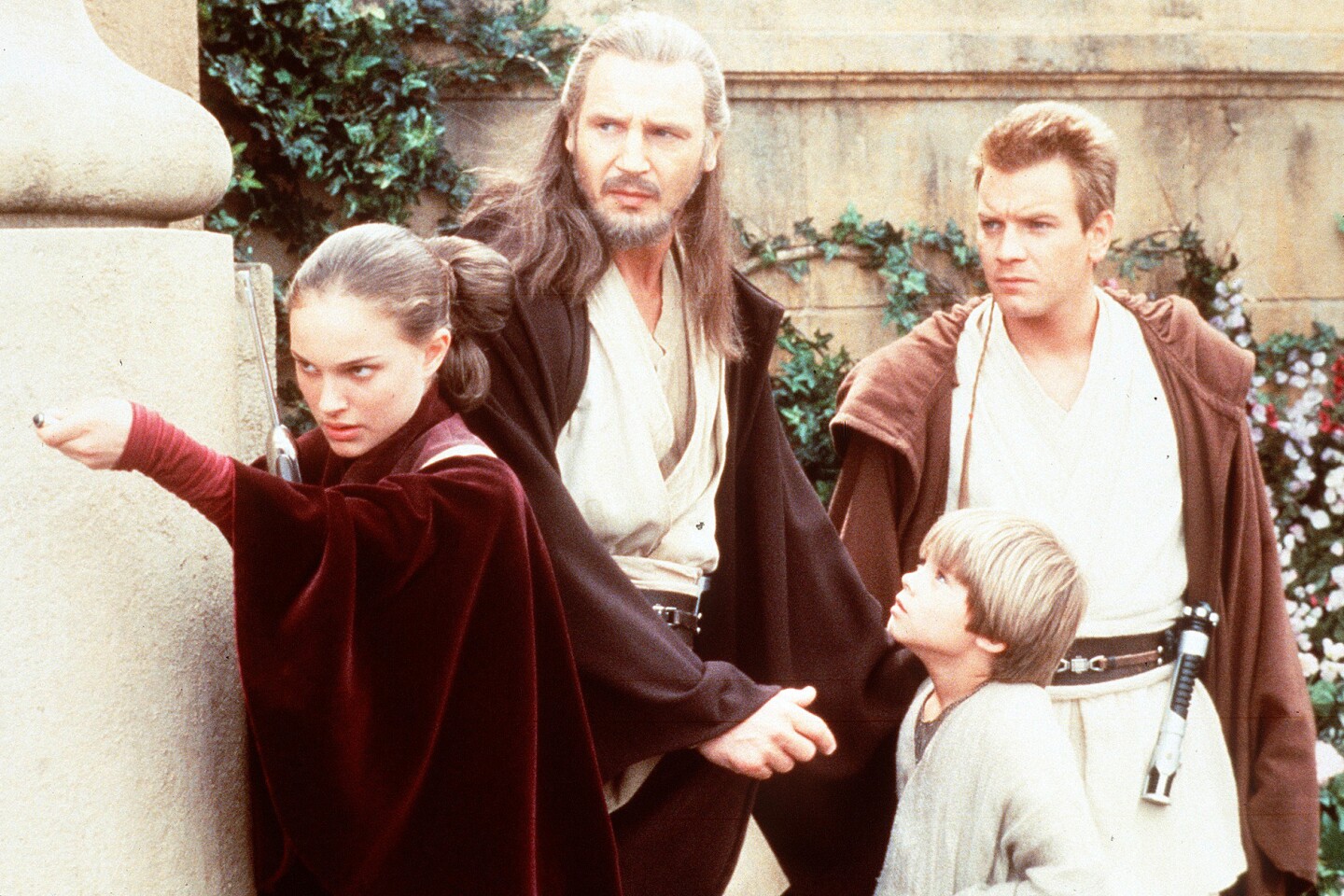 Like "Jaws," the 1977 original created a new template for the wide, national releases that define the modern-day blockbuster. But it was this fourth movie in the long-running series that went hyperspace.
(Keith Hamshere / Lucasfilm Ltd)
Tim Burton's 2010 retelling of the fairy tale classic makes Johnny Depp the only billion-dollar box-office club acting three-peater.
(Disney Enterprises)
"The Hobbit: An Unexpected Journey" joins its franchise kin "The Lord of the Rings: The Return of the King" in the $1-billion movie club, inching over the limit in its 11th week of release.
(James Fisher / Warner Bros)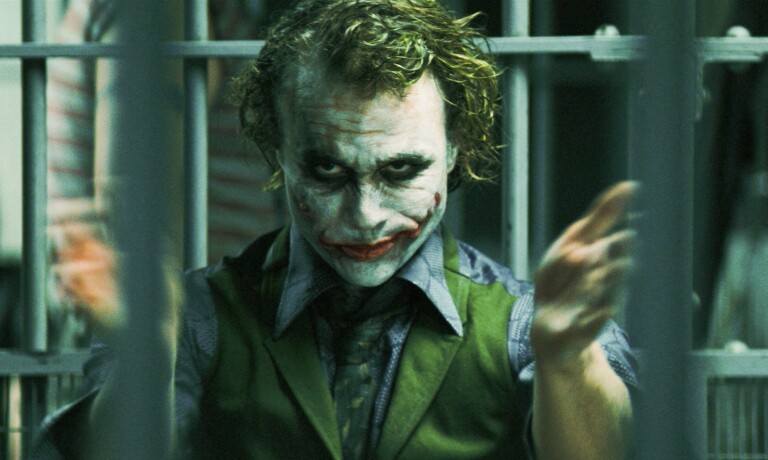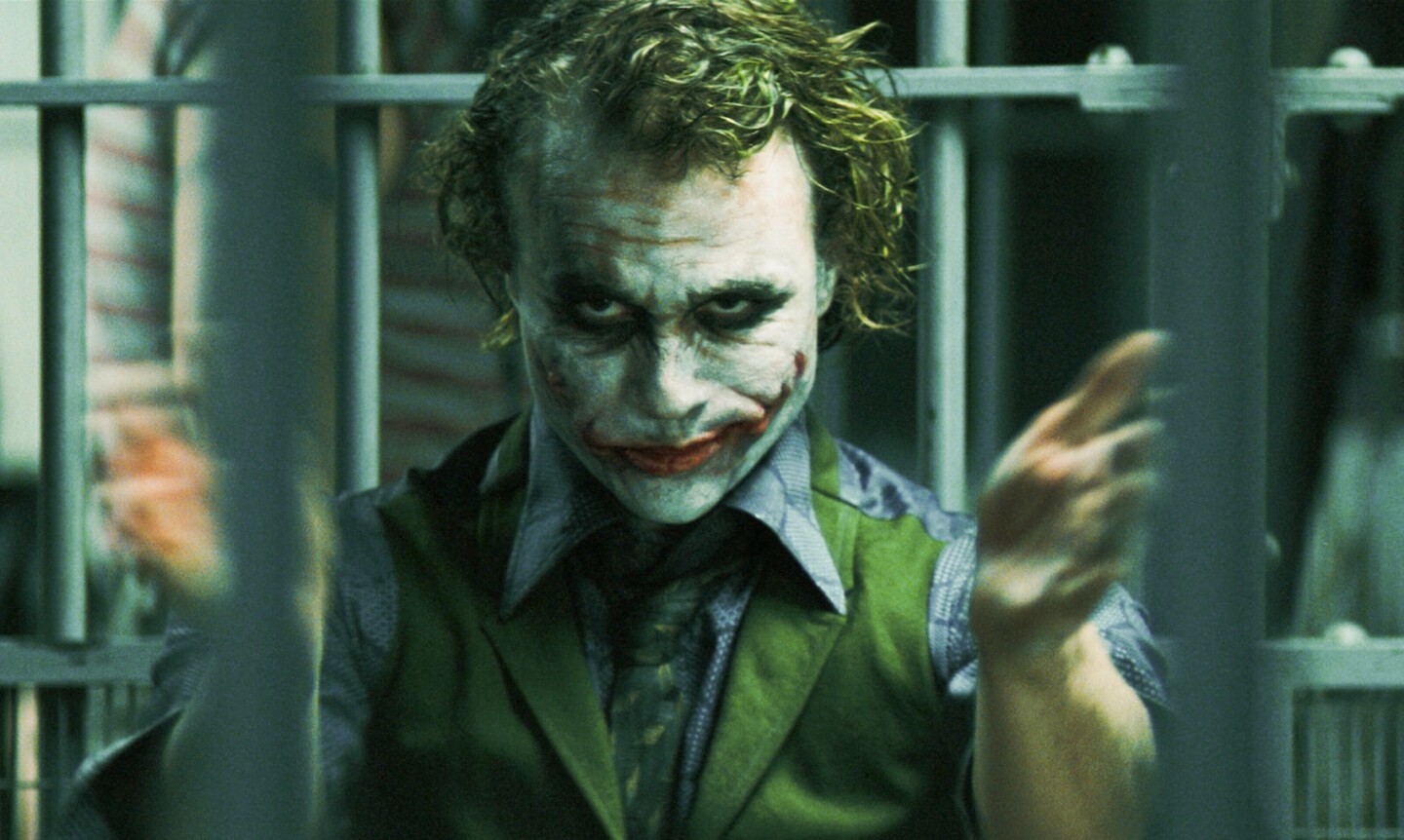 Christian Bale, Gary Oldman, Morgan Freeman and Michael Caine returned, and Heath Ledger (pictured) joined in, to topline this 2008 sequel to "Batman Begins."
(Warner Bros.)
Gilles Legrand's harrowing psychological drama "You Will Be My Son," which opened Wednesday, is a study in contrasts.
Set in a lush French vineyard estate in Saint-Émilion near Bordeaux, the film captures the beauty and bouquet of the legendary wine region. But behind the walls of the estate lurks a dark ugliness: Paul de Marseul (Niels Arestrup), the passionate, brilliant winemaker with the heart of a monster who treats his mild-mannered grown son Martin (Lorànt Deutsch) like a dog.
Though his son has tried all his life to please his widower father, Paul doesn't think Martin has what it takes to take over the family business. He favors his dying estate manager's charismatic son, Philippe (Nicolas Bridet).
PHOTOS: Fall movie sneaks 2013
Legrand said in an email interview that he didn't start out to make a movie about fathers and sons. He wanted to explore the drama inherent in vineyard estates.
"I visited famous vineyards and spoke with the owners about their troubles," he said. "If you want to make a movie, you need to find 'conflicts.' The big trouble in those families is the transmission of the estate. If you have trouble with your children, the transmission could be complicated. You have to transmit to your own children. So if you think that your son is unable to succeed, that can be a big problem."
Legrand has interesting notions of love between parents and children: He believes parents have to love their children only when they are young.
SNEAKS: Movie trailers, full coverage
"But they are not obliged to when they become an adult," he said. "And we are not obliged to love our parents, especially if they are unfair or nasty."
During a visit to an estate in Saint-Émilion, Legrand encountered a father and son who had an uneasy relationship not far removed from the Paul and Martin dynamic — "a strong, dominant male and his poor son who was unable to express himself. It was painful to watch."
Legrand said the film isn't autobiographical.
PHOTOS: Billion-dollar movie club
"I left home when I was 18," he said, "precisely because I wanted to escape conflict with my father. I think I have a good relationship with my son. But I think it's very difficult to grow up in the shadow of a dominant father, especially if he is charismatic or powerful. I think fathers have a great responsibility in the success or failure of their children."
Legrand said several famous French actors over the age of 60 wanted to play Paul. Arestrup was one of them but was about to make another film when Legrand contacted him.
"A few weeks after that, I had a problem with another actor," said Legrand. "I called [Arestrup] again and the film he was supposed to do had been canceled."
PHOTOS: Hollywood backlot moments
Arestrup ("War Horse," "A Prophet"), who has played a memorable gallery of villains and bullies, is fearless as Paul. The filmmaker said he brought a "quiet" violence to his role.
"Just a glance and he kills you," Legrand said.
The veteran actor was not the easiest person to direct.
"He has his ideas and it was very difficult to change things or details," Legrand said, adding "now we are good friends."
PHOTOS: Celebrities by The Times
Arestrup remained primarily in character during the production, interacting sparingly with Deutsch, the actor who played his son.
"I spoke very little with the other actors because my character trusts only himself and is wary of everything," Arestrup said in an email interview. "Besides, I am rather silent by nature."
The actor added that being a father in real life didn't pose "any problems in approaching this role, no more so than the fact that being more or less 'normal' has not prevented me from playing madmen or criminals. That is the reason for and the function of an actor."
---
The complete guide to home viewing
Get Screen Gab for weekly recommendations, analysis, interviews and irreverent discussion of the TV and streaming movies everyone's talking about.
You may occasionally receive promotional content from the Los Angeles Times.