Zany Disney short sizes up 3-D battle in animated 'Get a Horse!'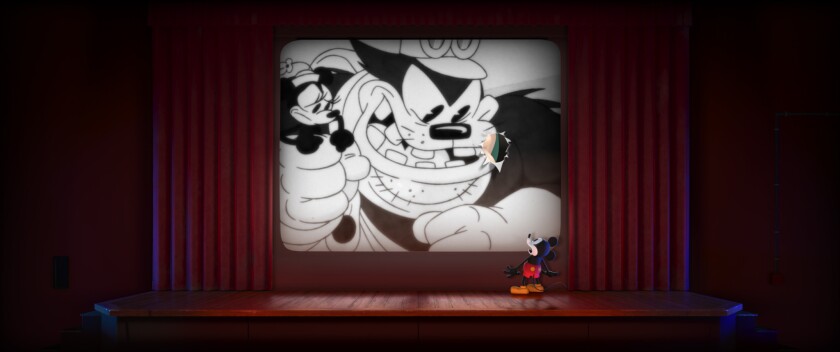 "Get a Horse!", the zany new animated short attached to the front of Disney's animated hit "Frozen," is a kicky satire about the inherent appeal of animation in all its many forms.
Directed by Lauren MacMullan, it opens with a nod to the studio's storied cartoon past. In newly hand-drawn black-and-white scenes, several of Disney's classic characters are brought, once again, to vibrant life.
As the short opens, Mickey, Minnie and Clarabelle Cow are oom-pah-pahing along, making mischief and music on a wagon piled high with hay. The toothy Horace Horsecollar is pulling it at a playful, glacial pace. The look has the softness and sly wit of those early Disney shorts from the '30s and '40s. There is at least one thing borrowed directly from that earlier era, though -- Walt Disney's voice as Mickey is integrated into the new film.
All is fine for Mickey's merry band until a very impatient Peg-Leg Pete and his new-fangled automobile come along. When passing proves impossible, Pete tries to run them off the road -- clearly the villain in this homage.
As the conflict escalates, the truly amazing animated antics ratchet up the stakes on multiple levels. Between the lines, if you will, MacMullan manages to tackle the question that surrounds so much of animation these days: Which is better --- the old-school artistry or computer-powered creativity? The answer? In a minute.
With such weighty issues in play, it is significant that the director's sense of humor and comic timing is spot on. She has honed it over the years directing episodes of such animated TV series as "The Simpsons," "King of the Hill," and my personal favorite, "The Critic," which followed an angsty New York film critic voiced by Jon Lovitz, who is forced to review movies he rather dislikes. To say the least.
Back on the road and with the kind of magic made possible by animation, a major spill catapults the characters into a world that is suddenly computer-generated, 3-D and filled with color. From that point on, characters bounce between colors (including black-and-white) and dimensions (2- and 3-D) -- literally bursting through the screen -- as the battle for the road rages.
The old-versus-new concept is clever on its own. But the way "Get a Horse!" -- and MacMullan -- uses the visual power of animation to draw the line between 2-D and 3-D is nothing short of terrific.
Contrast and compare all you will – it is impossible not to – but each is charming in its own way.
---
The complete guide to home viewing
Get Screen Gab for weekly recommendations, analysis, interviews and irreverent discussion of the TV and streaming movies everyone's talking about.
You may occasionally receive promotional content from the Los Angeles Times.