After One Direction, Morgan Spurlock tackling Kim Kardashian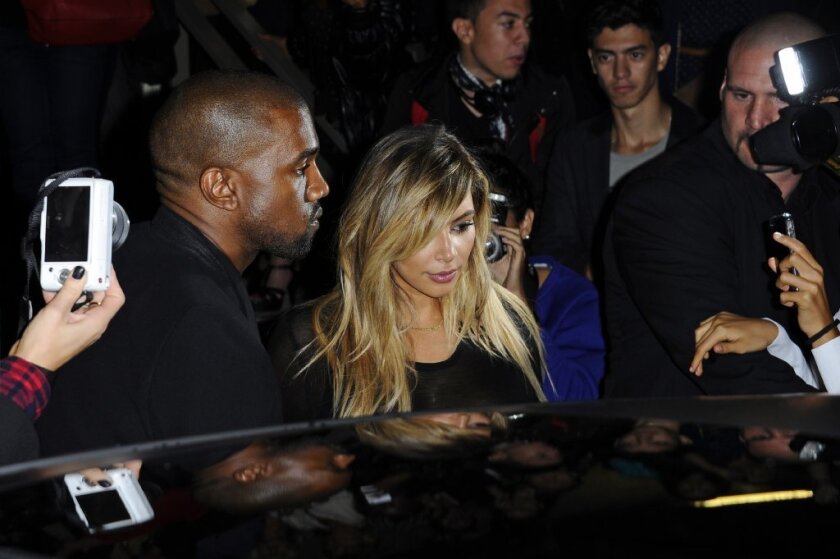 After spending six months trailing the massively popular boy band One Direction, you'd think documentarian Morgan Spurlock would want a break from celebrities.
But just over a month after the filmmaker's "One Direction: This Is Us" hit theaters, Spurlock is returning to the world of fame -- this time, centering his lens on the paparazzi.
Rumors about Spurlock's new project began circulating Wednesday, when he was spotted among a horde of photographers trying to get a shot of Kim Kardashian at LAX. Carrying his own camera, Spurlock can be seen in the background of many of the paparazzi shots taken of the reality star.
PHOTOS: Celebrities by The Times
So what is the director of "Super Size Me" up to? According to photographer Karl Larsen, the filmmaker is documenting his experience as a celebrity shutterbug for his CNN program "Inside Man." The show, which began running in June, has so far devoted episodes to the exploration of medical marijuana, gun ownership and bankruptcy.
Spurlock did not return a request for comment, and his publicist David Magdael would say only that the filmmaker was "working on a project about fame and celebrity."
Larsen said he also spotted Spurlock outside a Sherman Oaks restaurant last week, where he was snapping photos of Kardashian before she departed for Paris Fashion Week. According to photographer, Spurlock has befriended a well-known paparazzo in the industry who is showing him the ropes.
PHOTOS: Hollywood backlot moments
"I asked him what he was doing this for and he said, 'Inside Man.' When I asked what that was, he said, 'Oh, nice. Way to keep up with pop culture,' " Larsen recalled. "I said, 'No, I guess your show is just not that popular.' "
Spurlock is not the first to explore the world of paparazzi. Three years ago, "Entourage" star Adrian Grenier's documentary "Teenage Paparazzo" premiered at the Sundance Film Festival. In the movie, the actor followed a 14-year-old who was already beginning to carve out a lucrative career for himself by taking pictures of stars.
Spurlock's new venture does have the benefit of a newsworthy time peg, however. Just a few weeks ago, California Gov. Jerry Brown signed into law a new measure aimed at protecting celebrity children from the paparazzi.
ALSO:
'This Is Us' keeps it light and fun for One Direction's young fans
Kim Kardashian's love affair with Givenchy (and cleavage) goes on
Morgan Spurlock commercial production company hires new directors
---
Get the Indie Focus newsletter, Mark Olsen's weekly guide to the world of cinema.
You may occasionally receive promotional content from the Los Angeles Times.