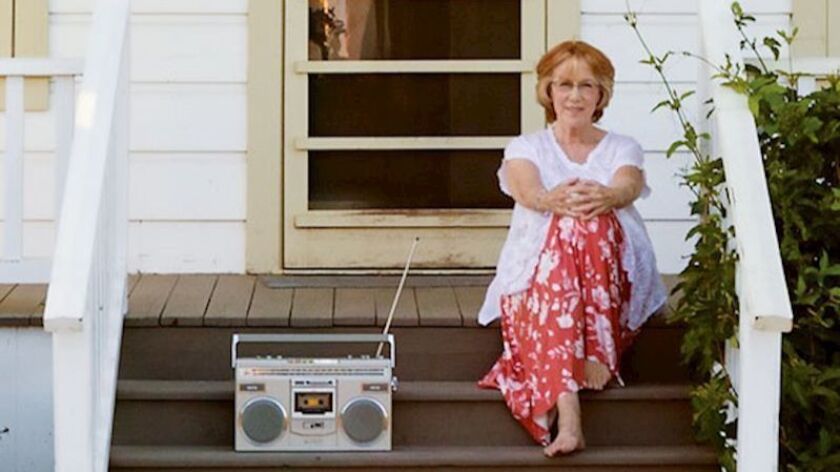 Daniel Lanois and Venetian Snares, "Venetian Snares X Daniel Lanois" (Timesig). Fortunate is the soul able to beckon a Lyft and end up a few minutes later in musician and producer Lanois' living room studio with the artist himself. But, lo, this listener recently did just that, climbing the steep driveway to his grand Silver Lake manse, where Lanois was waiting.
Best known for his work with Brian Eno, Bob Dylan, Emmylou Harris, Neil Young and U2, Lanois had extended an invitation to hear the musician's new collaboration with the Canadian experimental electronic producer Aaron Funk, who performs as Venetian Snares. Fans of Lanois' work with Eno, Dylan, Harris, Young and U2 might be in for a series of abrasive electronic surprises.
Sitting in front of a mixing board in his cavernous front room, two refrigerator-sized speakers facing him, Lanois cues up a track called "02 HpShk5050 P127." It was created, like the other seven tracks, during three sessions in Lanois' Toronto studio. Much of the work was improvised: Lanois played a steel guitar and Funk worked with sequencers and various sonic gear.
"We might play for 15 minutes on something," Lanois says of the sessions. After they finished recordings, they listened for what he called "magic sections, made note of them, hooked them up with another magic section and built an arrangement with that process." His shorthand: "Cut the crap and keep the great."
The collaboration, Lanois adds, was based on intuition, "much the way that I've worked with Eno. There wasn't a seminar."
He hits play on "02 HpShk5050 P127," which opens with Lanois drawing whines and moans from his steel guitar, then moves into a percussive frenzy with a few well-placed shards of noise. The track heaves and stretches, its beat slipping through wild time signatures and then pausing for breath.
As it ends, Lanois smiles. "It's amazing how much one can get done without a lot of discussion — without a plan," he says. "That's what's wonderful about being a musician: How you respond to your environment. Someone might play something that will spark a certain direction, and then off we go."
Jennifer Warnes, "Another Time, Another Place" (BMG). Best known for two Grammy-winning ballads that helped define the 1980s — "Up Where We Belong" and "(I've Had) the Time of My Life" — the singer just issued her first album in 17 years.
A crystalline work featuring the Anaheim-born Warnes interpreting songs by Pearl Jam, Mark Knopfler, John Legend and others, "Another Time ..." serves as a reminder of the skills she displayed on "Famous Blue Raincoat," her acclaimed album of Leonard Cohen songs.
In fact, joining her in the audio booth was Roscoe Beck, Cohen's musical director and longtime bassist. (Warnes, too, collaborated with Cohen.) Also adding texture: drummer Vinnie Colaiuta (Joni Mitchell, Sting), percussionist Lenny Castro (Steely Dan, Toto), slide guitarist Jeff Plankenhorn (Joe Ely, Ray Wylie Hubbard), blues artists Sonny Landreth and Ruthie Foster and more.
Among the highlights: Warnes' interpretation of the late Mickey Newbury's "So Sad," her take on Dire Straits' "Why Worry" and the sole Warnes composition, "The Boys and Me," about her life on the road.
Gene Clark, "Gene Clark Sings for You" (Omnivore). Best known as the member of the Byrds who quit because he hated the touring, Clark is way less known than he should be. Waylaid by a longtime drug addiction, he was a Kansas transplant who carried an honest, unadorned twang with him to Los Angeles when he arrived in the '60s.
Clark wrote or co-wrote two of the Byrds' most enduring hits, "I'll Feel a Whole Lot Better" and "Eight Miles High," and was an in-demand songwriter upon leaving the band. He harnessed that hunger to deliver work for hire, distributing demo records — called acetates — to labels.
One acetate was discovered in the Liberty Records vault, and those recordings are the basis of "… Sings for You." Stripped down to Clark on guitar and, on occasion, a rhythm section, the 14 songs at times sound as much like field recordings as song pitches. That only adds to the sturdiness of the work, though, especially on "Doctor, Doctor" and "7:30 Mode."
Another Clark-related collection will come out, like "… Sings for You," through Omnivore on June 15. Called "A Trip Through the Garden: The Rose Garden Collection," it gathers highlights from the late '60s Los Angeles band the Rose Garden, for whom Clark penned a number of songs.
For tips, records, snapshots and stories on Los Angeles music culture, follow Randall Roberts on Twitter and Instagram: @liledit. Email: randall.roberts@latimes.com.
---