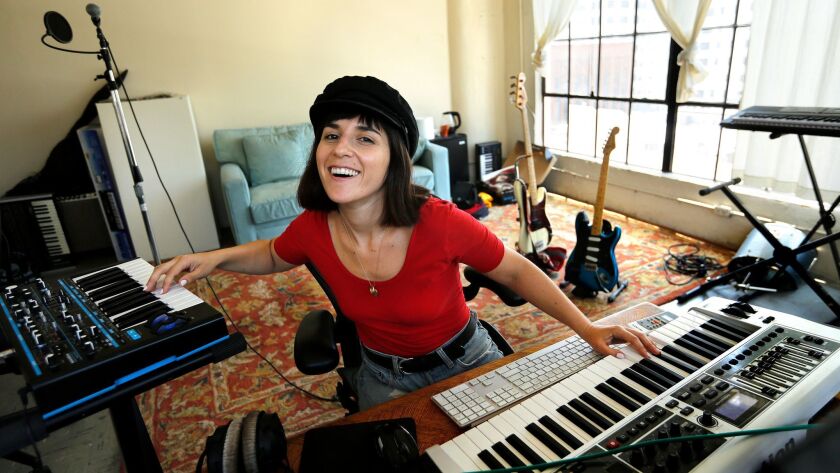 Health, "Blue Monday" (Loma Vista). The Los Angeles quartet long ago earned the cred to tackle this dance floor classic by New Order, which was commissioned for the new Charlize Theron thriller "Atomic Blonde."
Originally written in mourning of the late Joy Division singer Ian Curtis, New Order's original presented a template that helped darken the tones and textures of synth-based songs in the early '80s. Three decades later, Health's cover adds a layer of tense aggression.
Where New Order's version sounds like it was recorded in a clean, dust-free environment, Health adds a dungeon's worth of echo and depth, newly resonant tones and a thin layer of grime. Part of the way through, the band cuts the tempo in half, as if it's just downed a bottle of cough syrup. After a break, though, the original rhythm warbles back to life with a renewed sense of purpose.
Ramona Gonzalez, Julia Holter, Cole M.G.N. and Nedelle Torrisi, "Condemnation" (Domino Records). Synth-pop masters Depeche Mode recorded "Condemnation" in 1993; a quarter century later four L.A. solo artists have combined for a new take on it.
Recorded as a tribute to their friend, the late video artist Travis Peterson, the four harmonize and trade lines to minimal accompaniment by what sounds like a harmonium.
"If for honesty / You want apologies / I don't sympathize," they sing in unison. "If for kindness / You substitute blindness / Please open your eyes." In January, Peterson, who directed videos for Nite Jewel, Ariel Pink and Glass Candy, among others, took his own life.
On their own, the artists have impressive résumés: Gonzalez is best known for making candlelit dance music as Nite Jewel; her husband, Cole M.G.N., is a solo artist, producer and Beck's engineer; Holter is an acclaimed composer and solo artist; and Torrisi is a solo artist and advice columnist.
The song is taken from a 7-inch single that features two different takes on "Condemnation." Proceeds from its sale will be directed to Didi Hirsch Mental Health Services, which provides services for people in need.
Dale Crover, "The Fickle Finger of Fate" (Joyful Noise). Best known for his algebraic patterns as drummer for the heavy Los Angeles rock band the Melvins, Crover kicks over his kit to take center stage for his first solo full length.
For those familiar with the Melvins' epic career, that "The Fickle Finger ..." is odd and uncommercial shouldn't come as a surprise. The 20 songs here range from fully formed four-minute rock songs such as "Hillbilly Math" to brief Crover rhythms that have somehow yet to find purchase on Melvins records.
At a mere half minute, opening track "Chicken Ala King" serves as a kind of palate cleanser. Pure percussion that's filtered with effects and rolling with energy, it sounds like an instrumental outtake from Kanye West's "Yeezus." "String Bean" is more mystical and features sitar-esque clangs, jaw harp and Crover-fueled drum fills.
With apologies to Phil Collins and Karen Carpenter, Crover sings like a drummer. Which is to say, he shouldn't quit his day job. But there's a sweetness within his vocals on "I Found the Way Out," which suggests the tripped-out vibes of early Pink Floyd.
The Rain Parade, "Emergency Third Rail Power Trip" and "Explosions in the Glass Palace," (Real Gone). Released in the early 1980s, these two albums helped define Los Angeles post-punk while advancing the cause of the so-called Paisley Underground scene.
Featuring brothers Steven and David Roback, the latter of whom went on to found Mazzy Star, the Rain Parade funneled the jangly guitar textures of the Byrds and Love through gritty distortion pedals. Along with singer guitarist Matt Piucci, Will Glenn (keyboards and violin) and Eddie Kalwa (drums), the band earned acclaim alongside kindred spirits the Bangles, the Three O'Clock and the Dream Syndicate.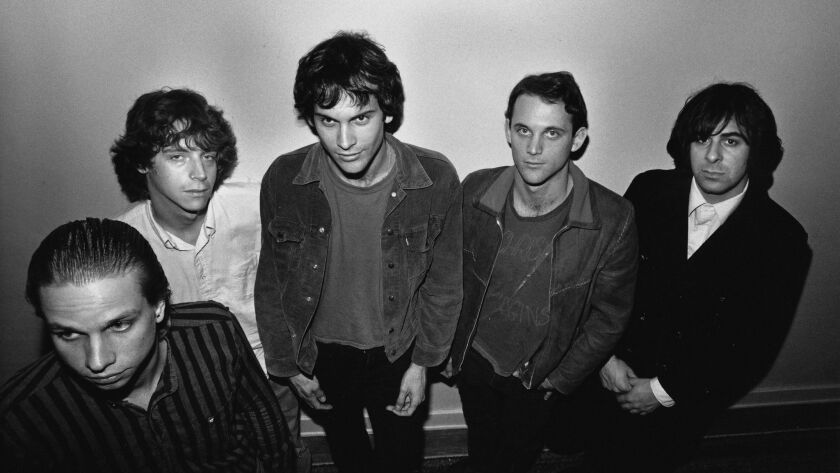 Real Gone's new CD reissue contains the band's debut and its follow-up EP, both of which have been remastered for the first time since the early 1990s. Notably, this new reissue sounds way better than the versions currently available on the major streaming services, which seem to be relying on the old Enigma Records-era mastering.
That's especially apparent on the mesmerizing "No Easy Way Down," which moves in a mantra-esque pattern that predicts David Roback's work with Mazzy Star and its predecessor, Opal. "This Can't Be Today" too pops with a newfound urgency.
For tips, records, snapshots and stories on Los Angeles music culture, follow Randall Roberts on Twitter and Instagram: @liledit. Email: randall.roberts@latimes.com.
---