How Nic Adler turned a life in the clubs into a feast at Arroyo Seco Weekend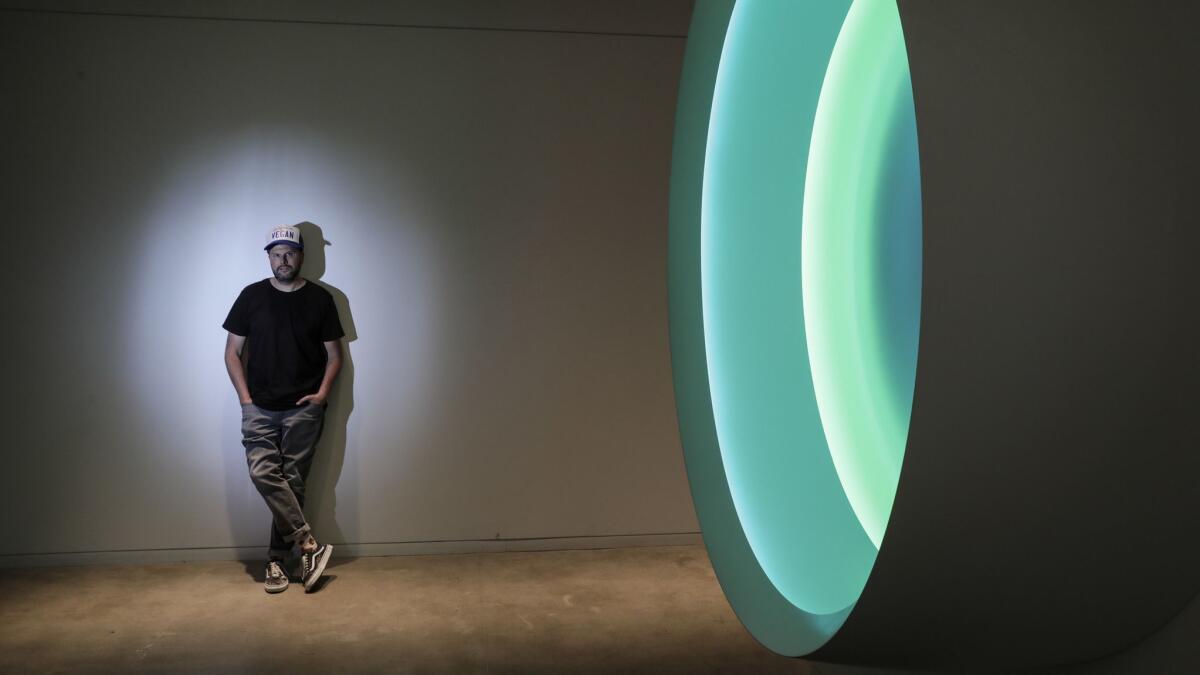 Between bites of vegan ramen at the bustling Grand Central Market in downtown Los Angeles, Nic Adler is trying to explain what he finds so gratifying about events like the Arroyo Seco Weekend, the Eat Drink Vegan culinary festival and the now-gone Sunset Strip Music Festival.
He compares festival planning to prepping for a dinner party. "You have some idea, you go to the store, see what looks good — 'Oh, I didn't think of that!' You go home, prep it out, cook it, put it on the plate. People eat it, you feel good. Then you clean the dishes and it's like it never happened."
He should know. As the culinary director for the Coachella Valley Music and Arts Festival, Adler oversees a dinner (beer and late-night munchies) party for a quarter-million people annually.
His next undertaking, as festival director of the second annual Arroyo Seco Weekend, will occur June 23-24 on the grounds of Brookside Park at the Rose Bowl, and will feature musical entertainment by artists including Neil Young, Alanis Morissette, Pharoah Sanders, the Pretenders, Robert Plant, Jack White and Margo Price.
A lot is riding on Arroyo Seco's success this year. Last month Goldenvoice, which has earned its reputation through festivals including the hipster-centric Coachella and the country twang of Stagecoach, announced the cancellation of the taste-making FYF Festival. It was shuttered due to poor ticket sales and after its co-founder, Sean Carlson, was accused of sexual assault.
As a result, Arroyo Seco will be Goldenvoice's sole Southern California festival production this summer. The family-friendly music and food event — with a roster curated by Goldenvoice President Paul Tollett — aims to strike a balance between Coachella and Stagecoach, with a roster featuring what Adler, 44, describes as "not a lot of hip-hop, not a lot of EDM. More instruments, singer-songwriters, guitars." (Tollett declined an interview request.)
"You can't come to this festival and not leave with a little bit of Pasadena," he adds. Offering an Adler-curated selection of area chefs, a play area run by Kidspace Children's Museum, a Vroman's Books-curated selection of titles from the Little Libraries nonprofit, bouquets prepared by students involved with Muir Ranch at John Muir High School and other amenities, the weekend promises a less hectic few days than most contemporary music festivals.
Adler also was the director of last year's debut, which featured headliners Tom Petty & the Heartbreakers and Mumford & Sons and offered a glimpse of the festival's potential, but it was not without its issues. A misguided layout resulted in a bottleneck near the main stage. Worse, an unclear seating policy rewarded early attendees who, once they secured real estate near the stage, hogged it by setting up chairs or spreading blankets.
Adler takes responsibility for the misfires. He'd invited fest-goers to bring chairs and blankets. They did. "The first 1,500 people put eight-by-eight blankets down. I didn't envision that," he says. For 2018, organizers have re-plotted the space, created specific areas for picnickers and improved sightlines and better access for VIP attendees.
Adler is the oldest son of music and film producer Lou Adler and actress Britt Ekland. As such, he has witnessed Los Angeles from a unique, and enviable, perch. He's owned restaurants, managed the Roxy and managed metal bands, and got his start in the business when he teamed with a few friends in the early 1990s to throw an influential West Hollywood rap weekly, Balistyx, at the Whisky a Go Go.
"That first night there were 800 kids down the street near the Whisky," Adler says. "And I kind of thought that's how it worked. It just got bigger and bigger and bigger."
During this time, his dad Lou served as doorman. Despite having already earned fortune enough to pay for an army of bouncers through his work on Carole King's "Tapestry," the Mamas and the Papas' "California Dreamin'," the movie adaptation of "The Rocky Horror Picture Show," Cheech and Chong's "Up In Smoke" and more, the elder Adler wanted to help his son, whom he calls by his full name, Nikolaj, however he could.
"I remember taking tickets at the door," Lou says, laughing, on the phone from his place overlooking the Pacific in Malibu. "You had lines. The kids were 15, 16 years old, but you had to stand there and make sure you looked in the girls' purses or you looked them straight in the eye and said, 'Hey, do you have anything in your purse?' That became my job."
It was reminiscent of Lou's own youth, he says, "when I opened the Whisky with Johnny Rivers and they were lined up around the corner. I had that kind of feeling about it."
However impressive his run, Nic is keenly aware that he's had more than just a foot in the door to a music career. "The door was open. It wasn't even like I had the key to the door, or someone showed me where the door was." He says he's wrestled with his good fortune. "For a lot of people, it's 'Where do I even start? The door's closed.' For me it was a big roll-up door that was wide open."
It was odd. We were four white kids and we're chilling with Eazy-E. It was pretty surreal for us.
— Nic Adler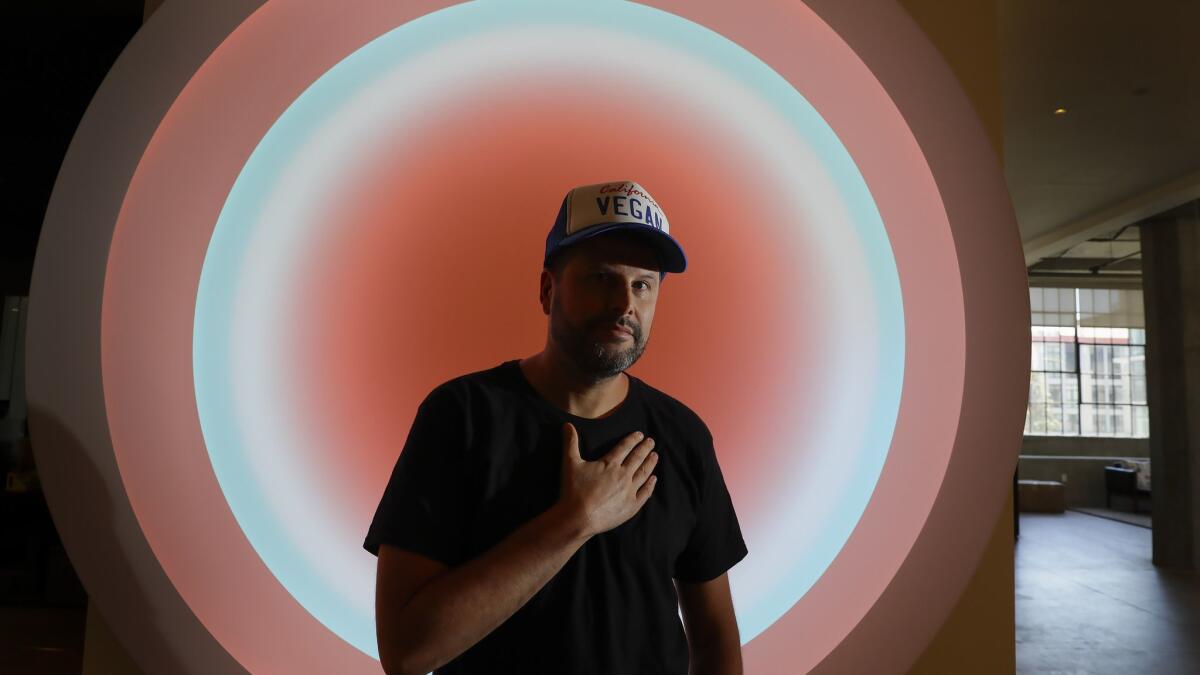 He and his pals took full advantage, and understood that any mistakes would be magnified by his father's success. "Before we knew it, N.W.A was performing, Bobby Brown, TLC and a bunch of new jack swing-era artists," Adler says, adding that N.W.A's Eazy-E, "parked in the red zone with a white BMW, was there every week. It was odd. We were four white kids and we're chilling with Eazy-E. It was pretty surreal for us.
"Every night after the club we'd get together. We looked like some crazy drug dealers. We were counting up these stacks of money."
After the club wound down, Adler spent some time managing bands but didn't like it. Unlike cooking a meal, he says, the job's never done and every dish has to be better than the last.
The same went for running the Roxy, which was opened by his dad along with David Geffen, the Whisky a Go Go's Elmer Valentine and Neil Young's manager, Elliot Roberts.
Nothing's ever settled when you're running a club, Adler says. Plus, he was trying to run one in a district, the Sunset Strip, that no longer drew the rockers who helped build it. After seven years of organizing and promoting the guitar-focused Sunset Strip Music Festival, Adler pulled the plug on that in 2015.
Asked what prompted his exit, which ultimately led to him joining Goldenvoice to oversee the food, Adler is diplomatic. Pausing, he says, "There were some exterior forces messing up my dinner."
For tips, records, snapshots and stories on Los Angeles music culture, follow Randall Roberts on Twitter and Instagram: @liledit. Email: randall.roberts@latimes.com.
Get our L.A. Goes Out newsletter, with the week's best events, to help you explore and experience our city.
You may occasionally receive promotional content from the Los Angeles Times.