Musical memories along Sunset Boulevard's Whisky a Go Go, Tower Records, the Echo and more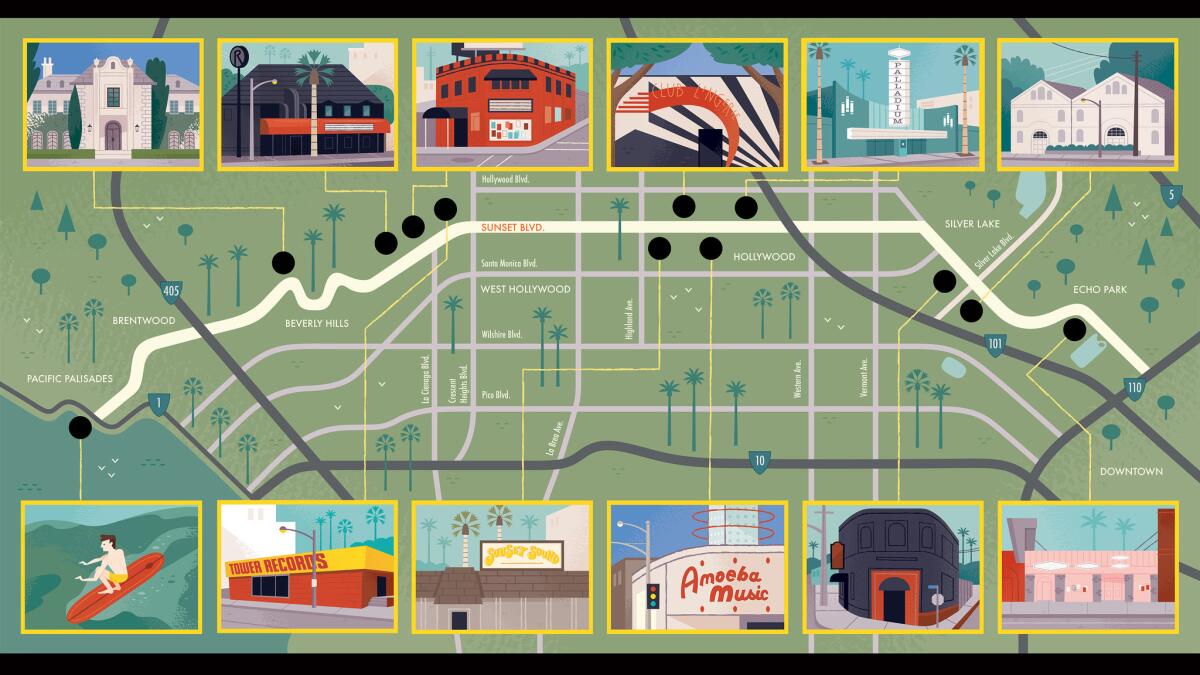 A map of Sunset Boulevard's musical memories
Over the course of Sunset Boulevard's life, hundreds of labels, studios, venues and publishers have come and gone. Gigs that seemed crucial in the moment have dissipated. Memories of debauchery have blurred. So-called "sure hit records" have missed. Stories, however, remain. Below, a few pieces of the Sunset puzzle as recorded in recent books and interviews.
Sunset Boulevard and Pacific Coast Highway
"We had an early connection to Sunset Boulevard, even at the point where it hits the ocean. I mean, it may not look that way from the way we look now, but we spent so much time at the beach, and it was always kind of near where Sunset hits the Pacific Coast Highway." — Ron Mael of Sparks, on growing up in Pacific Palisades
FULL COVERAGE: Sunset Boulevard's musical history »
Michael Jackson overdose, 100 Carrolwood Drive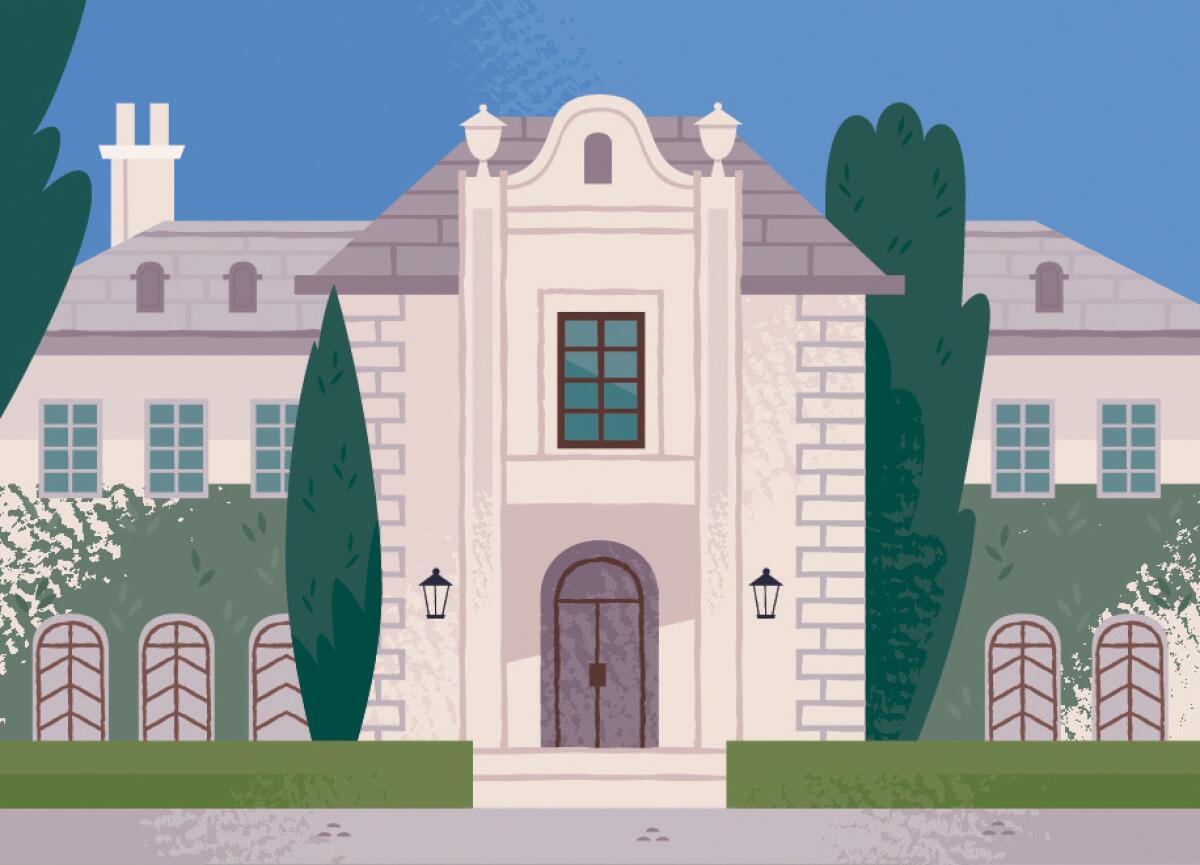 "Paramedics found Jackson in cardiac arrest when they arrived at his home shortly before 12:30 p.m., three minutes and 17 seconds after receiving a 911 call. ... Jackson was not breathing, and it appears he never regained consciousness." — Los Angeles Times
The Roxy, 9009 Sunset
"Every second-division rock musician in the region seemed to have a tab there and could be found draped over a bar stool on any given night trying to drown their professional and personal woes with copious shots of tequila." — Music journalist Nick Kent, from "Apathy for the Devil"
Whisky a Go Go, 8901 Sunset
"What happened in the Los Angeles of 1965 and 1966 has given our world immeasurable color and contributed to much positive social change. For one fleeting moment, all of the progress made in the allied arts during the 20th century came to a head in one crystalline apex. The possibilities were boundless." — L.A music historian Domenic Priore, from "Riot on Sunset Strip: Rock 'n' Roll's Last Stand in Hollywood"
READ MORE about the Whisky a Go Go »
Tower Records, 8801 Sunset
Tom "Petty picked [Bruce Springsteen] up at the Sunset Marquis. They went down Sunset Boulevard to the water, stopping at Tower Records on the way, picking up half a dozen eight-tracks. They drove until they'd listened to every song on every one of them." — Warren Zanes, from "Petty: The Biography"
Sunset Sound, 6650 Sunset
"Now that I was living in Los Angeles, where people thought nothing of driving half a block to buy a newspaper, I adopted a 'when in Rome' policy. When I wasn't working on my own project I drove to Sunset Sound to play as a sideman and sing background on James' songs." -- Carole King, on working with James Taylor in the early '70s, from "Carole King: A Natural Woman"
Club Lingerie, 6507 Sunset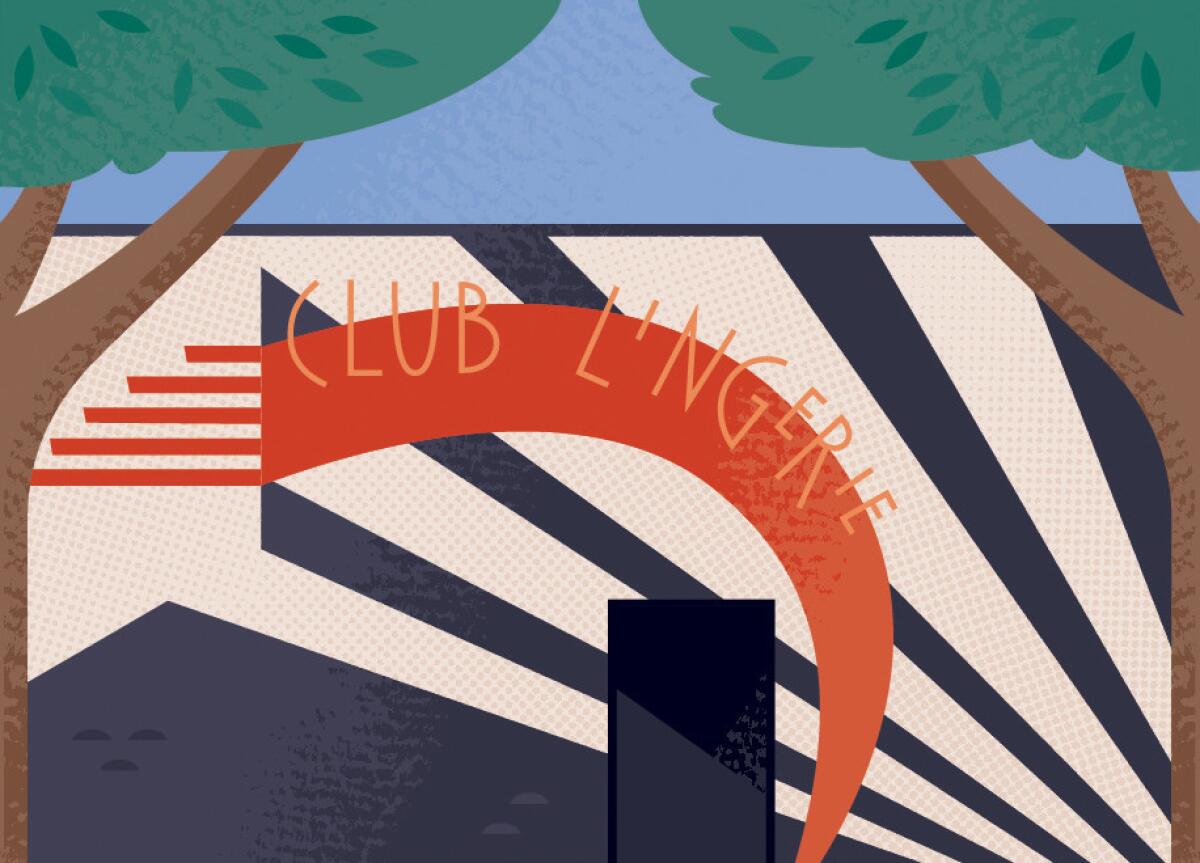 "I mention a gig at Club Lingerie that featured the iconic Screamin' Jay Hawkins, with Tex and the Horseheads and my band the Screaming Sirens opening. It wasn't unusual for true rock and blues legends to play at or just hang out at local clubs that were featuring punk and alternative bands. Screamin' Jay Hawkins was always getting stoned in the kitchen at Raji's, while Iggy Pop, Sky Saxon from the Seeds and the Legendary Stardust Cowboy were around all the time." — writer Pleasant Gehman, as quoted in the LA Weekly
Amoeba Music, 6400 Sunset
" 'I'd just like to take a little moment to ... just take this all in, OK?' McCartney said, having gotten up from the piano after 'The Long and Winding Road.' He sang a quick 'Happy Birthday' to somebody near the front, then opted for audience participation." — The Times on Paul McCartney's 2007 in-store appearance
READ MORE about Amoeba Music »
Hollywood Palladium, 6215 Sunset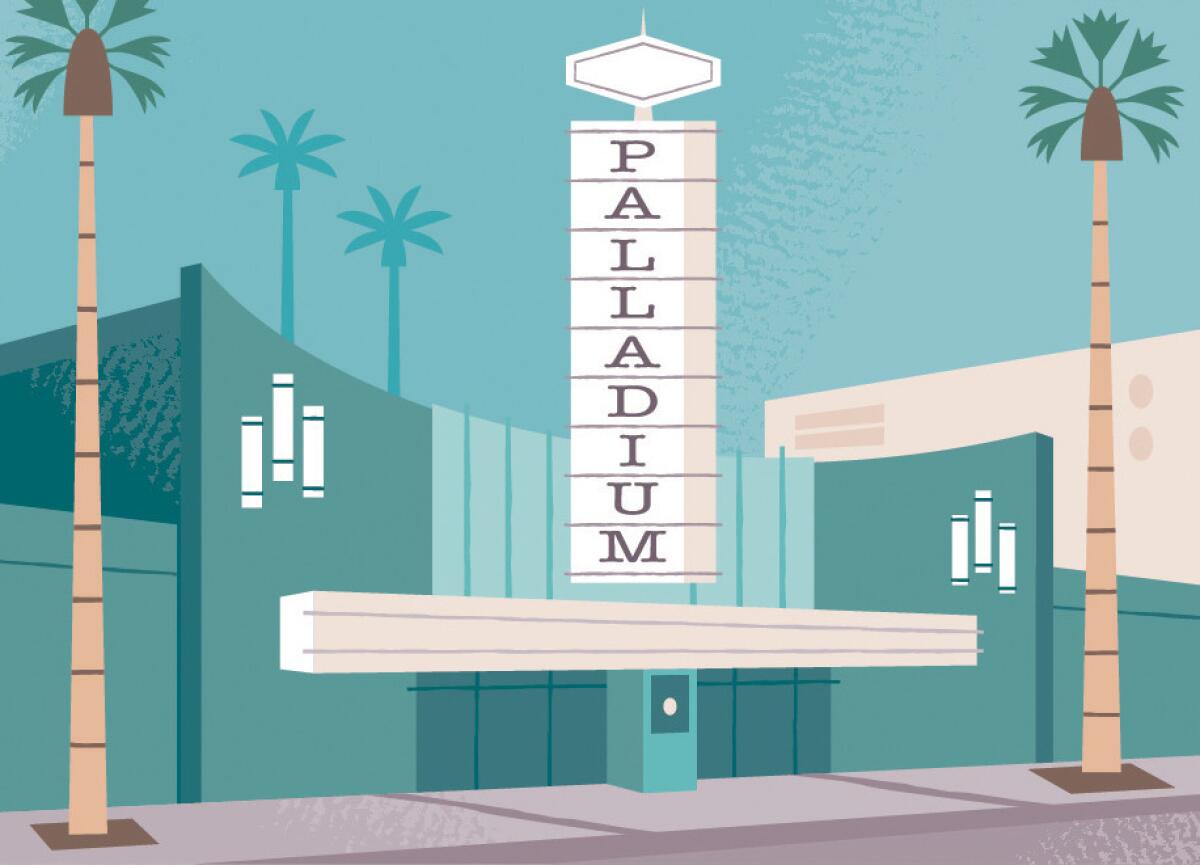 "I saw the Kinks for the first time at the Hollywood Palladium. The Davies brothers got into a fight, though it was a one-sided affair. Ray just hauled off and sucker punched Dave and knocked him down. Dave kept playing his guitar until a pair of roadies came out to lift him up." — Keith Morris (Black Flag, Circle Jerks, Off!), from "The Story of a Punk Rock Survivor"
READ MORE about the Hollywood Palladium »
Los Globos, 3040 Sunset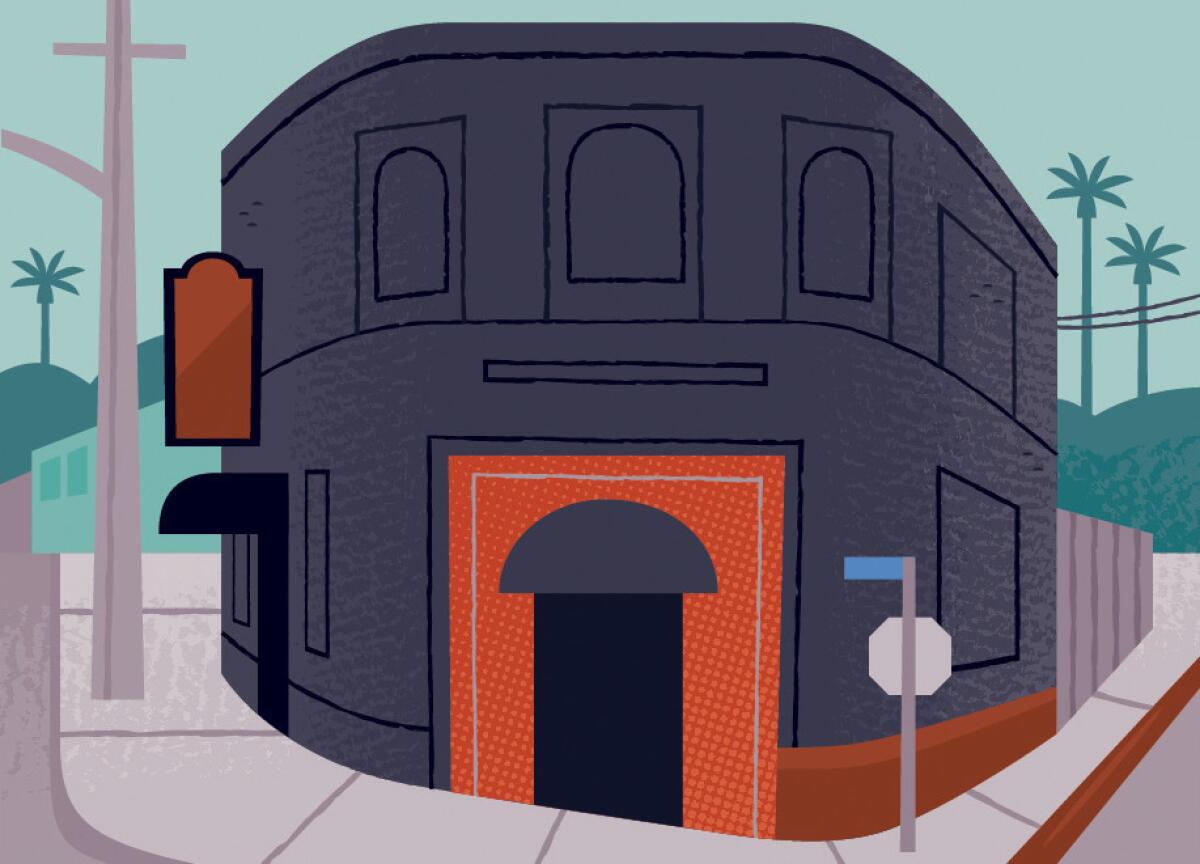 "My parents used to party at Los Globos way back in the day. That was the place — 'Let's go to Los Globos!' And then when we were coming up, that was more of a what we call a bisa spot — more regional Mexican music. It went through different phases." — Uli Bella of Ozomatli
Epitaph Records, 2798 Sunset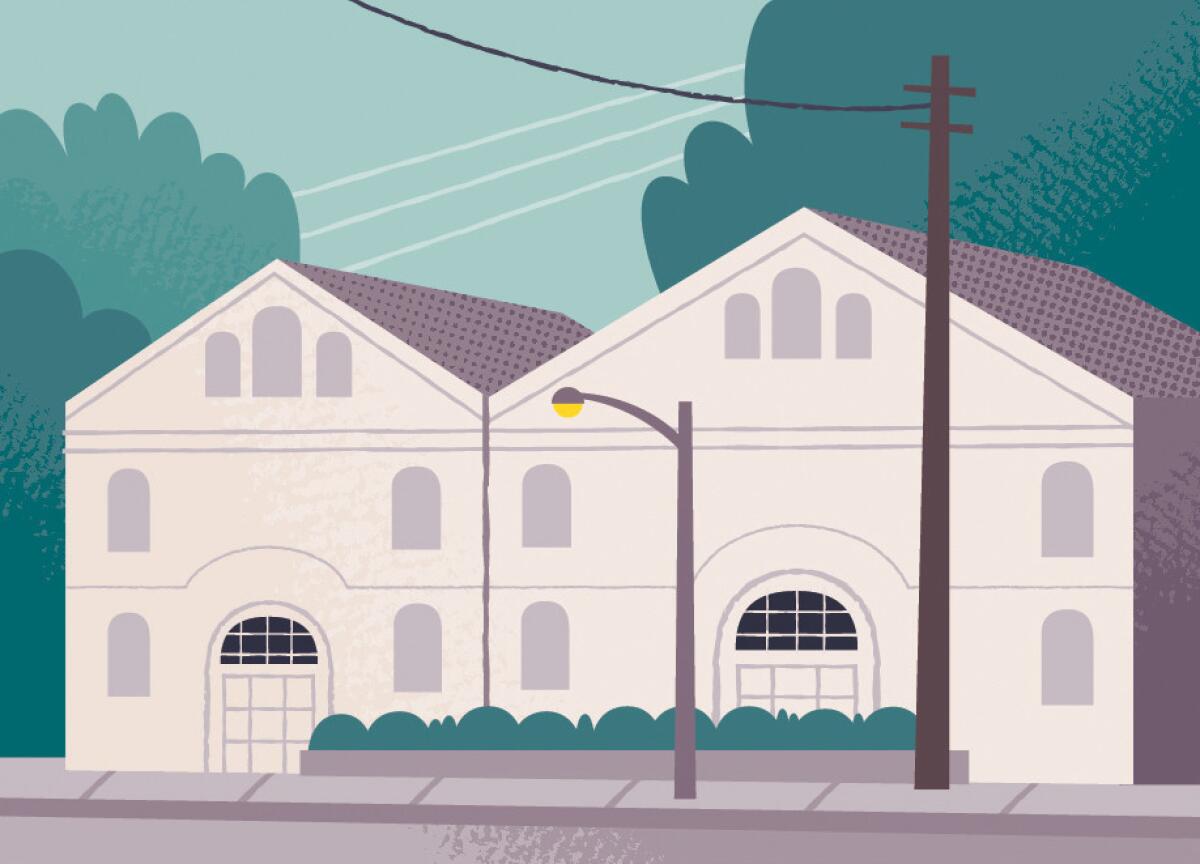 "In 1990 I was still working out of Westbeach, with no formal Epitaph offices, when I signed Down by Law, Rancid and the Offspring. The Offspring's 'Smash' album sold 9 million worldwide. … Since that time I've received countless offers from major corporate conglomerates to sell." — Brett Gurewitz of Epitaph Records, from "We Got the Neutron Bomb: The Untold Story of L.A. Punk" by Marc Spitz and Brendan Mullen
The Echo, 1822 Sunset
"When I first opened the place [in 2002], everyone in the music industry told me, 'You're crazy.' Everyone. They were like, 'No one's going to come to your venue.' The police tried to talk me out of opening it up. They sat down with me and said, 'We don't really want you here.' " — Mitchell Frank, co-owner, Spaceland Productions, which owns the Echo, the Echoplex and Regent Theater
A closer look at Sunset Boulevard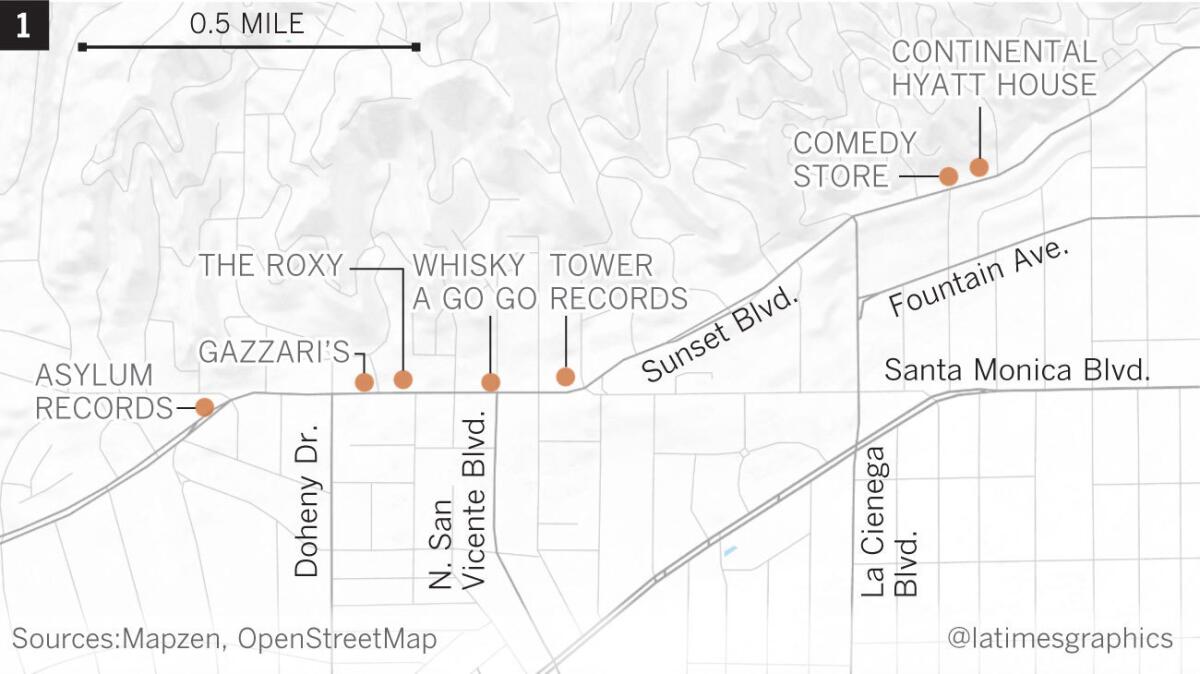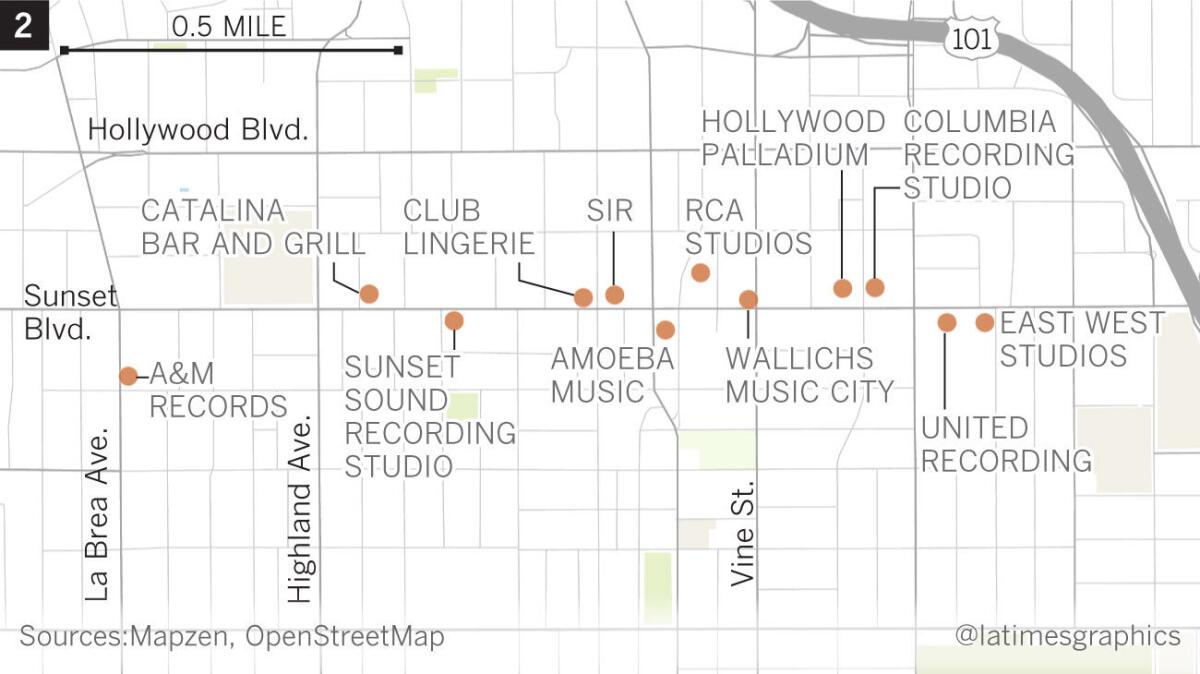 For tips, records, snapshots and stories on Los Angeles music culture, follow Randall Roberts on Twitter and Instagram: @liledit. Email: randall.roberts@latimes.com.
Get our L.A. Goes Out newsletter, with the week's best events, to help you explore and experience our city.
You may occasionally receive promotional content from the Los Angeles Times.