From the Archives: 10 Chuck Berry songs that inspired the rest of rock 'n' roll
Chuck Berry performing at the Hollywood Palladium on March 24, 1980.
(George Rose / Los Angeles Times)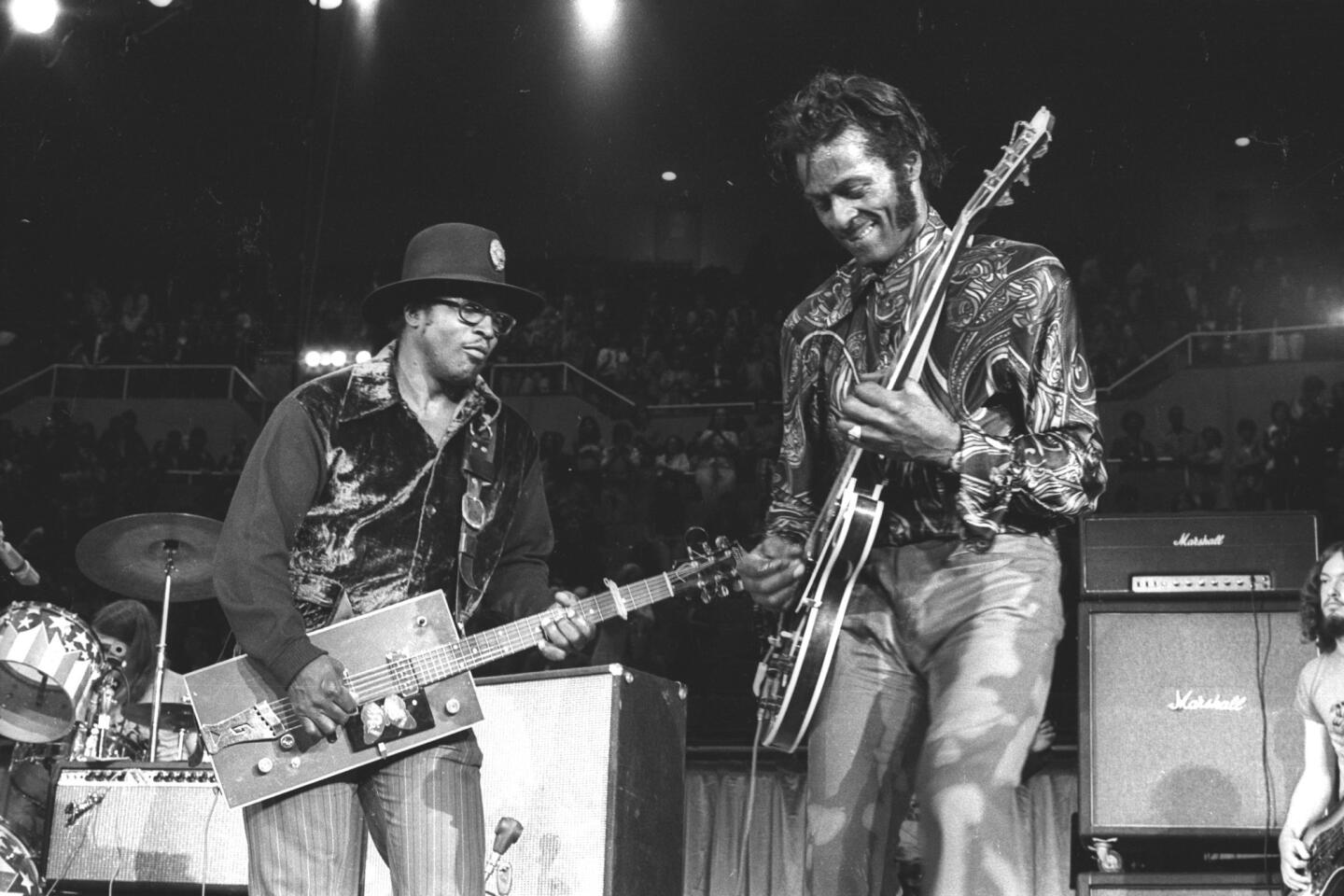 Guitarists Bo Diddley (with his trademark square Gretsch electric guitar on the left) and Chuck Berry (on the right) perform at Madison Square Garden in the concert movie 'Let the Good Times Roll' on May 6, 1972 in New York City.
(Michael Ochs Archives / Getty Images)
Rock and roll guitarist Chuck Berry performs his "duck walk" as he plays his electric hollowbody guitar at the TAMI Show on December 29, 1964 at the Santa Monica Civic Auditorium in Santa Monica, California. Other performers included James Browm, The Rolling Stones, The Beatles and Jan & Dean.
(Michael Ochs Archives / Getty Images)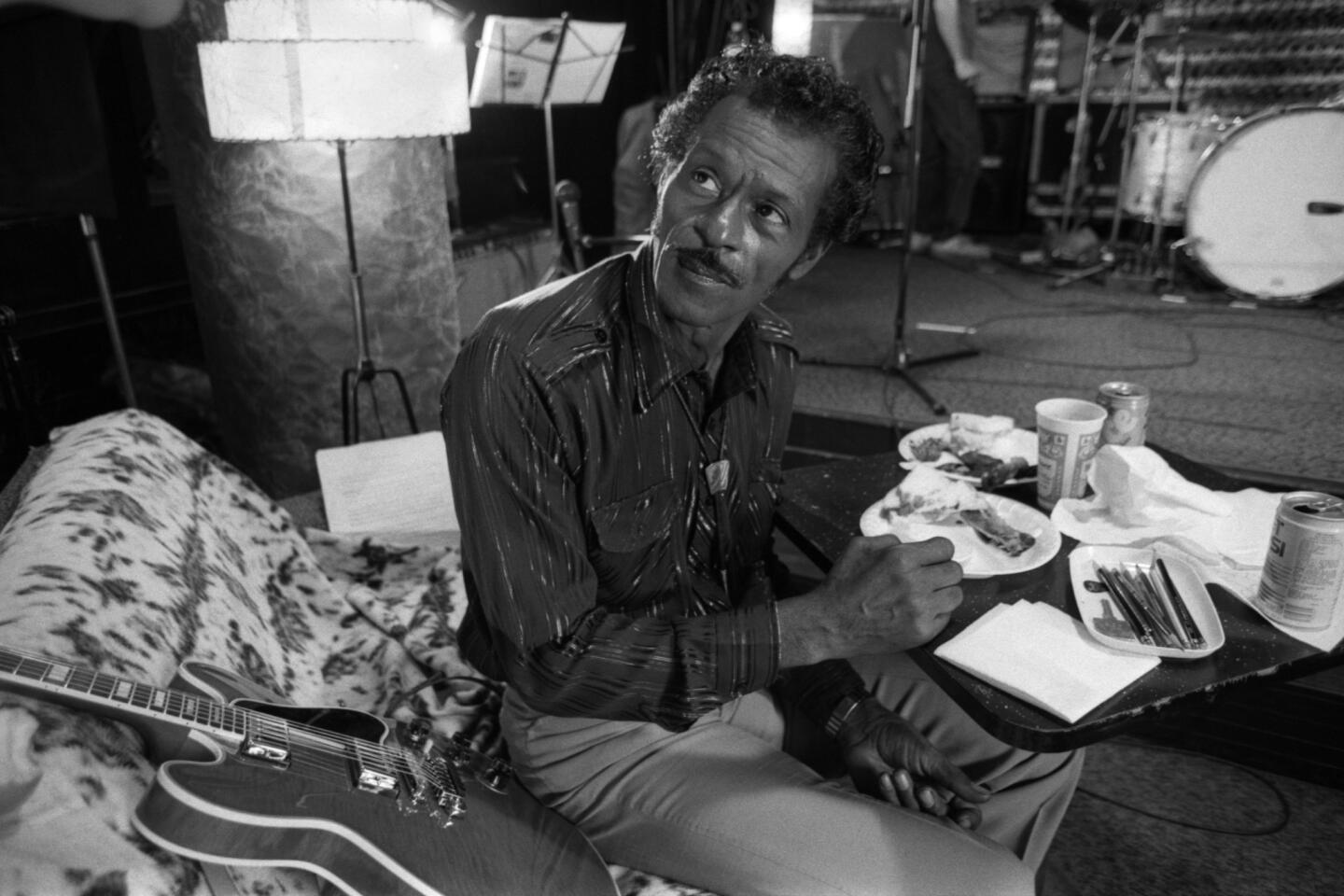 Chuck Berry during rehearsals in St Louis while filming of the documentary "Hail! Hail! Rock 'n' Roll."
(Terry O'Neill / Getty Images)
Chuck Berry, with guitarist Keith Richards of the Rolling Stones, celebrated Berry's birthday on stage with a special concert at the Fox Theatre in St. Louis on Oct. 17, 1986.
(Al Seib / Los Angeles Times)
Chuck Berry poses next to his guitar shape, birthday cake after his performance at the the St. Louis Fox Theatre in Missouri on October 17, 1986.
(Al Seib / Los Angeles Times)
A Hollywood tour bus displays 'We Love Chuck' signs as it drives past a ceremony giving Chuck Berry his Hollywood Walk of Fame star on Oct. 8, 1987. Berry, left, can be seen performing the "duck walk" he made famous.
(Thomas Kelsey / Los Angeles Times)
Chuck Berry headlined the Long Beach Blues Festival on Sept. 21, 1992.
(J. Albert Diaz / Los Angeles Times)
Chuck Berry shares a moment onstage in 1995 with Bruce Springsteen, one of countless rockers influenced by Berry's career.
(Mark Duncan / AP)
Rock and roll pioneers, from left, Chuck Berry, Bo Diddley and Little Richard at the 50th Annual BMI Pop Awards on May 14, 2002, in Beverly Hills. The trio received the inaugural BMI Icon Award.
(Vince Bucci / Getty Images)
Chuck Berry was joined on stage by happy audience members during his last song as he performed at the annual Hootenanny Festival at Oak Canyon Ranch outside of L.A. on July 6, 1997.
(Glenn Koenig / Los Angeles Times)
At 83, Chuck Berry headlined the Hootenany Festival at Live Oak Canyon in Silverado Canyon on July 3, 2010.
(Allen J. Schaben / Los Angeles Times)
Chuck Berry, seen performing at the 2009 Monte Carlo Rock' N Rose Ball in Monte Carlo, Monaco. Berry was born Oct. 18, 1926 in St. Louis. He found success after visiting Chicago in 1955 and recording for the legendary Chess records label.
(Pascal Le Segretain / Getty Images)
Editor's Note: Rock 'n' roll legend Chuck Berry died March 18, 2017. He was 90. The following takes a deep dive into the best of Berry's music, beyond his Top 20 hits.
One way to illustrate Chuck Berry's importance in the birth of rock is to point outthat he was one of the 10 musicians chosen for the Rock and Roll Hall of Fame's first induction class.
Another way is to note that his songs have been recorded by more than three dozen of the other members of the Hall of Fame--from Elvis Presley and the Beatles to Jimi Hendrix and David Bowie.
Or you can just listen to MCA's new "Chuck Berry: The Anthology," a two-disc collection that includes 50 of Berry's most popular or noteworthy tracks.
If you think you know all you need to know about Berry's music because you've heard such lively '50s hits as "Maybellene" and "Sweet Little Sixteen," the comprehensiveness of the new set enables you to marvel all over again at the range and depth of Berry's music.
Born Charles Edward Anderson Berry in St. Louis in 1926, Berry absorbed all sorts of influences as a youngster, including country, blues and gospel.
Working with pianist Johnnie Johnson during his days at Chess Records in Chicago, Berry came up with all sorts of infectious rhythm foundations for his music--patterns that would forever be echoed in the works of such bands as the Rolling Stones.
But Berry's art was in his storytelling. More than any of the other early giants of rock, Berry wrote lyrics that went far beyond the usual topics of teen celebration and rebellion.
He wrote about life around him with an eye for detail that you'd expect from a premier short story writer. He added a playful edge by frequently coining words to give the stories an extra sense of color or personality.
MCA released some 70 Berry tunes in a four-disc box set in 1988 titled "Chuck Berry: The Chess Box." But the two-disc anthology is the heart of his work.
Chuck Berry's "Chuck Berry: The Anthology" (MCA/Chess)
For those who want to look beyond Berry's Top 20 hits, here are some inviting starting points.
"Thirty Days." This was the follow-up single to "Maybellene," the country-flavored tune that first put Berry on the pop charts in 1955. This record had such a country music underpinning that Nashville legend Ernest Tubb would later have a Top 10 country hit with it. Though Berry's version didn't make the pop charts, it did reach No. 2 on the R&B charts--and it stands as one of his most appealing works.
It's a tale of romantic turmoil, with the singer going to a Gypsy woman and a judge to get his baby back. It's tempting to think Mick Jagger and Keith Richards got the inspiration for one of the Rolling Stones' biggest hits from a line in this song--the one where Berry sings, "If I don't get no satisfaction. . . ."
"You Can't Catch Me." On the surface, this is simply a salute to the joys of a fast car. But there's an underlying statement of youthful independence that would be echoed later in such "adult" rock tunes as Bob Dylan's "It Ain't Me Babe." Whether the guy in the song is speaking to a potential girlfriend or a rival motorist, the message is clear. Berry warns that he can't be tamed: " 'cause if you get too close, you know I'm gone like a c-o-o-l breeze."
"Brown Eyed Handsome Man." In his 1987 book, "Chuck Berry: The Autobiography," Berry explains that he got the idea for this tune, one of his most engaging, while on tour. "What I didn't see, at least in the areas I was booked in, was too many blue eyes," Berry wrote. "The auditoriums were predominantly filled with Hispanics and 'us.' But then I did see some unbelievable harmony among the mix, which got the idea of the song started."
"Roll Over Beethoven." This was adopted by teens in the '50s as a battle cry against adult musical tastes, but Berry wrote it, he says in his autobiography, as a slap at his sister because she monopolized the family piano with her classical music lessons.
"Back in the U.S.A." This tale of returning home after an overseas tour only reached No. 37 on the pop charts in 1959, but Linda Ronstadt's 1978 version cracked the Top 20. The song also inspired the Beatles' playful "Back in the U.S.S.R."
"Almost Grown." This is one of Berry's most ambitious songs, one that can be seen either as a wry, rollicking reflection on the impatience of youth or a celebration of approaching adulthood.
"Come On." The opening lines tell it all, "Everything is wrong since me and my baby parted. / All day long I'm walking 'cause I couldn't get my car started. / Laid off from my job and I can't afford to check it. / I wish somebody would come along and run into it and wreck it." The Stones liked the song enough to record it as their first single in England.
"Dear Dad." One of Berry's funniest songs is about a teenager who is begging his father for a new car. The one he has is so bad that the only time he can pass a truck is going downhill.
"Bye Bye Johnny." There are lots of interpretations of this song. Some feel it is a reflection on Elvis Presley's move to Hollywood and the movies, while others see it, probably more correctly, as sort of a companion piece to "Johnny B. Goode" that describes a mother's sacrifices and dreams for her son.
"Memphis, Tennessee." This 1958 song was a break from Berry's teen anthems, and it didn't become a hit until 1963 when Lonnie Mack did an instrumental version of it, followed in 1964 by another hit, this time by singer Johnny Rivers. Berry initially makes you think he's trying to locate a girlfriend by phone, but it turns out to be a sweet tale of a father trying to contact his daughter. The song is among Berry's most-recorded songs. Among the 100-plus interpreters: Elvis Presley and the Beatles.
Albums are rated on a scale of one star (poor), two stars (fair), three stars (good) and four stars (excellent). The albums are already released unless otherwise noted.
FROM THE ARCHIVES
Chuck Berry sets the record straight
How Chuck Berry managed to look and sound so good even in his later years
Get our L.A. Goes Out newsletter, with the week's best events, to help you explore and experience our city.
You may occasionally receive promotional content from the Los Angeles Times.