'We wants the redhead'? Disney fans get vocal over Pirates of the Caribbean change at D23 Expo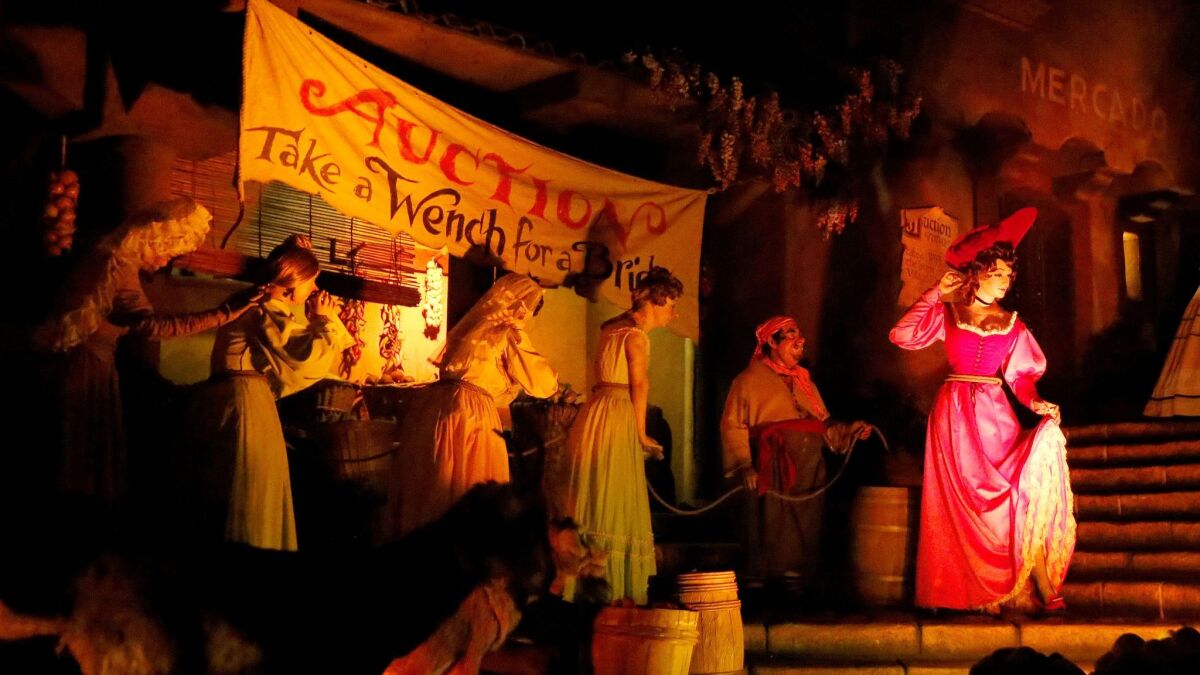 "We wants the redhead."
So goes a familiar refrain in Disneyland's Pirates of the Caribbean, spoken by a robotic buccaneer pining for a chance to buy a wife in a scene that depicts a bridal auction.
It also became a brief rallying cry Friday for the disgruntled at Disney's fan convention, the D23 Expo at the Anaheim Convention Center. A smattering of boos erupted during a panel discussion regarding the 50th anniversary of the Disneyland ride as audience members voiced their displeasure at the company's decision to remove the controversial scene.
By the end of 2018, it will be loot rather than women that will be up for bidding at Disneyland and at Walt Disney World in Orlando, Fla. The moment has already been stricken from the attraction at Disneyland Paris. The revamp will also give Pirates of the Caribbean something it has long lacked: a strong central female character.
Change was a focal point of the discussion with current and former Disney Imagineers, which was moderated by Michael Singer, an executive in marketing and publicity with "Pirates of the Caribbean" film producer Jerry Bruckheimer and the author of the recent historical book "Disney Pirates."
Over the years, the Pirates of the Caribbean ride has seen tweaks small and large, with the addition of a parrot skeleton being an example of the former and the introduction of Captain Jack Sparrow from the "Pirates of the Caribbean" films as evidence of the latter.
Marty Sklar, who formerly headed Imagineering, the company's division devoted to theme park experiences, jumped in to try to assuage the anxiety of a potentially riled audience. He cited Walt Disney's penchant for constant tinkering, and said it was the duty of current Imagineers to look for ways to tweak rides.
Change, however, is often hard to stomach for Disney park die-hards. The announcement last year that Anaheim's Twilight Zone Tower of Terror was being replaced with a ride themed to "Guardians of the Galaxy" has been heavily debated, and the message boards on Disney fan sites are filled with those who insist that Pirates of the Caribbean became irrelevant when Jack Sparrow was added.
"Being around Disneyland for 60-some years, I can tell you that every attraction in Disneyland has had some kind of change," Sklar said.
Sklar recognized that fans — some who have been visiting the Disney parks for decades — have deep emotional ties to particular attractions.
Reporter Todd Martens asks Disneyland attendees why they still go to the park after all these years.
"I have to say that I appreciate the fact that so many of you came to Disneyland as kids, and you had kids and you brought your kids, and now you're grandparents and you bring your [grand]kids here," he said. "You want things to be the way the you saw them initially."
In the reimagined auction scene of the ride, "the Redhead," as she's become known to fans, will transition from a prisoner to a fearsome pirate. She'll now be forcing citizens of the raided town to surrender their wares to the invaders.
The character, as dreamed up animator-turned-Imagineer Marc Davis, has become a fan favorite. At the D23 Expo, Disney is hosting an art contest for fans centered around the 50th anniversary of the ride, and the Redhead was the centerpiece of at least four of the two dozen or so pieces.
While Sklar didn't go into detail on the new scene, he compared Disneyland attractions to a work of live drama that must shift with the times.
"I look at it like a theater show — you come up with a new act and it's great. It's still the same story, but you brought a new dynamic into it. Walt did that constantly in terms of Disneyland," he said.
He then reiterated that change is always looming at Disney parks. On Saturday afternoon, for instance, Disney will host a panel talk on what's coming to its theme parks around the globe. The new "Star Wars" additions are expected to dominate, but no doubt there will be some news about Marvel's increased presence at Disney California Adventure in Anaheim, while fans are hoping for information on a teased refresh of Epcot in Florida.
"This is just part of the process .… It's part of the tradition of Disneyland," Sklar said of the upcoming Pirates modification. "I see nothing negative about it at all. "
The response to his final statement? Thunderous applause, indicating either that those unhappy with the change are in the minority or that Sklar had won over the crowd at the sold-out three-day convention, which more than 65,000 people are expected to attend.
In an interview with The Times prior to D23, current Imagineering executive Kathy Mangum said her staff has been pondering changes to the scene for a while, but was slow to act, in part because Pirates is the last ride that was overseen by Walt Disney himself.
After consulting with diversity groups, including its in-house Women's Inclusion Network, Imagineering decided to adapt the ride for a generation weaned on strong female Disney characters such as Merida, Elsa, Moana and Judy Hopps.
"Last November, for the first time, we had a woman who was a viable candidate for the president of this country," Mangum says. "I hate to say times are changing, but there's an advancement in pop culture and society, and the timing felt right. We didn't link it to any one initiative, but as we talked about it, we couldn't think of a really valid reason for keeping it as it is."
Follow me on Twitter: @toddmartens
ALSO
This is your brain on Disneyland: A Disney addict's quest to discover why he loves the parks so much
What we saw at the 'Star Wars' land preview and how wristband tech could transform interactive fan experience
Meet Disney's philosopher king: the brain behind 'Avatar's' Pandora and Marvel's 'Guardians' ride
---
Your essential guide to the arts in L.A.
Get Carolina A. Miranda's weekly newsletter for what's happening, plus openings, critics' picks and more.
You may occasionally receive promotional content from the Los Angeles Times.