George Strait takes entertainer trophy at 49th ACM Awards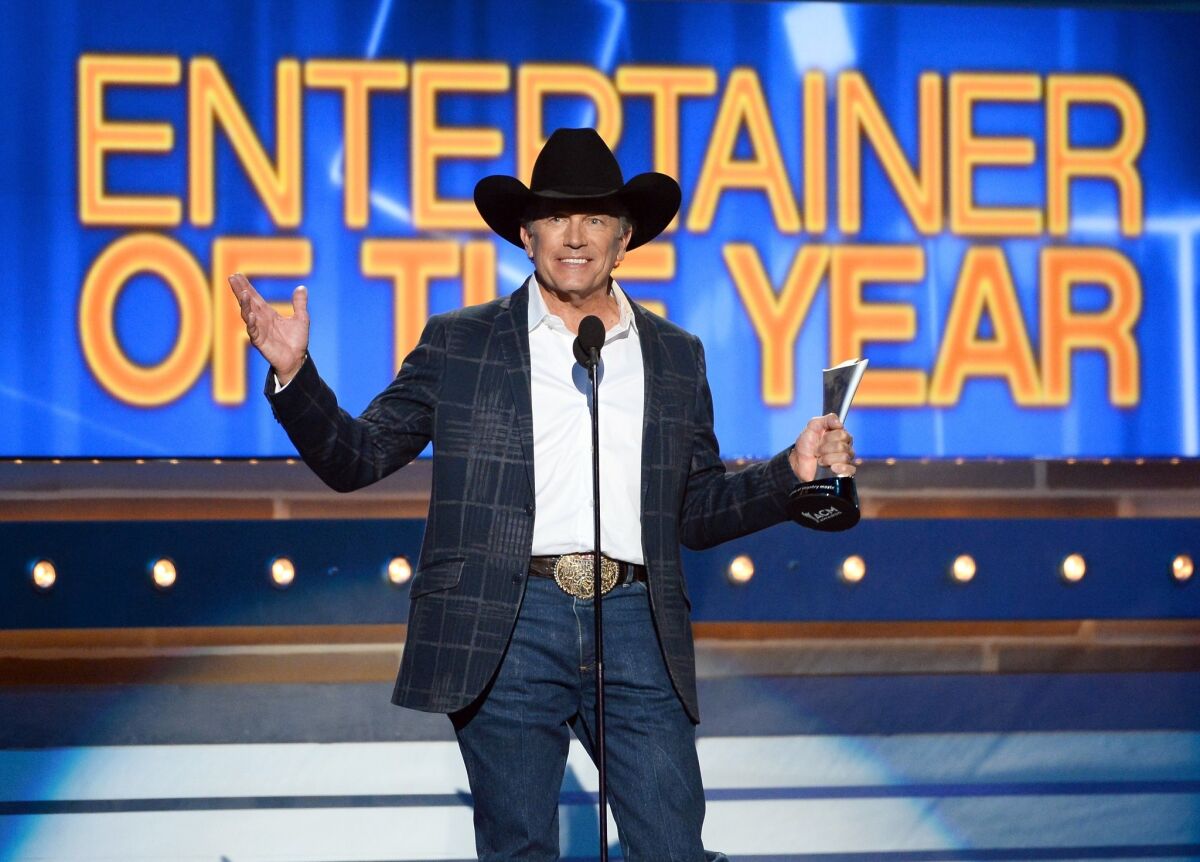 The cowboy rides away a winner, as veteran Texas singer George Strait collected the top honor for entertainer of the year Sunday at the 49th Academy of Country Music Awards in Las Vegas.
The fan-voted award comes as Strait is in the midst of his Cowboy Rides Away farewell tour, after announcing last year his decision to quit touring.
"Wow," the 61-year-old musician said as he was greeted by a standing ovation in the MGM Grand Garden Arena. "You know, I've always said I had the best fans in the world, and I heard this was a fan-voted thing, so I rest my case."
PHOTOS: Academy of Country Music Awards | Arrivals
Normally short on words, Strait, who has charted more than 100 country hits over more than three decades, continued with one of the most relatively effusive public speeches he's given, saying: "I tell you what, this is so amazing. It's been such an amazing past 30 years. ... Thank God for all the stuff he's blessed me with, and thank you Academy of Country Music, thank you so much."
Just before Strait capped the three-hour evening, which was far heavier on eye- and ear-popping production numbers than actual award presentations, relative newcomer Kacey Musgraves' "Same Trailer, Different Park" triumphed in an album of the year field otherwise dominated by multimillion-selling male acts Blake Shelton, Luke Bryan, Florida Georgia Line and Tim McGraw.
Her album emerged as a critical favorite in 2013 for its brashly honest songs, most of which she wrote or co-wrote and which confidently defied the tired formulas relied on in many of mainstream country's biggest hits.
Yet the 25-year-old Mineola, Texas, native was still taken aback when her album won.
LIST: 49th Academy of Country Music awards nominees
"I really did not expect this," Musgraves said. "I'm proud to be a woman representing country music," a straightforward acknowledgment of the bro-heavy tenor of her genre in recent years.
In several key categories, "stick with a winner" was the theme that emerged, as Miranda Lambert and Jason Aldean repeated as the female and male vocalist honorees and Florida Georgia Line took the vocal duo trophy for the second year in a row.
"I cannot believe this," said Lambert, who led the nominations along with Tim McGraw going into the night with seven nods apiece. Her hit "Mama's Broken Heart," had won for single of the year a bit earlier. "I really did not expect this."
Likewise, 37-year-old Macon, Ga., native Aldean expressed surprise on collecting his trophy: "It was a shock last year to win it, even a bigger shock, I think, this year. But what a great year."
The extent to which performance segments overshadowed awards was evident in the first hour of the CBS telecast, which was packed with nine numbers before a single award was announced.
Those live songs have increasingly become the heart of pop music awards telecasts, a trend never more apparent than at the ACM Awards, which bills itself as "Country Music's Party of the Year.""If you don't like live music," co-host Shelton quipped at the top of the show, "you need to go down the block and see Britney Spears."
Garth Brooks, who is returning to touring later this month fter his long self-imposed retirement, was on hand to present the ACM's Crystal Milestone Award to Merle Haggard, who was recognized with snippets of two of his signature songs, "The Fugitive" and "The Bottle Let Me Down," sung by Strait and Lambert.
Entertainer of the year nominee Taylor Swift showed up an hour into the proceedings to reveal that Florida Georgia Line had collected the evening's first trophy for vocal duo.
Shelton delivered the single record trophy to his wife, Lambert, for "Mama's Broken Heart," a song about a woman taking desperate measures to end an abusive relationship.
The song itself, however, missed out in another category in which it was nominated -- song of the year -- an award that went instead to "I Drive Your Truck," a hit by Lee Brice that was written by Jessi Alexander, Connie Harrington and Jimmy Yeary about a dead soldier's legacy that's wrapped up in his truck.
The ACM show also demonstrated that blurred lines aren't the exclusive domain of pop music and Robin Thicke. Sunday's show brought out celebrity chef Guy Fieri to introduce a film recap of the week's country music activities in Las Vegas, before which he plugged a new restaurant he's opening soon in Sin City. Colombian rock-pop star Shakira was teamed with Shelton for a genre-crossing performance segment, and she also popped up in a toothpaste commercial that aired during the show. Singer-songwriter Randy Houser turned up not to sing, but to not-so-subtly plug one of the show's truck sponsors.
In addition to the Shelton-Shakira pairing, the ACM teamed Fleetwood Mac's Stevie Nicks with trio Lady Antebellum in another collaboration designed to tickle country viewers with contributions from musicians outside the genre.
In all, 11 performers were nominated for three or more awards, with Lambert and Tim McGraw leading the pack with seven each, Keith Urban close behind with six, and Swift, Shelton, Kacey Musgraves and Brice right in line with five each.
The ceremony kicked off at 5 p.m. Pacific time, with the CBS telecast going out live to most of the country, but on tape delay at 8 p.m. for West Coast viewers.
Singer and songwriter Paisley was stationed at an outdoor swimming pool filled with bathing suited-fans splashing as he and his band unveiled his new single, "River Bank."
The contest for the ACM's top honor of entertainer of the year is among Shelton and Luke Bryan, who co-host the event once again, along with Lambert, Swift and George Strait.
Strait figures to be a strong sentimental favorite this year in the entertainer category because he recently announced his retirement from touring following his current Cowboy Rides Away farewell concert series.
The three-hour telecast is scheduled to include performances by Jason Aldean, Dierks Bentley with Sheryl Crow, Brice, Bryan, Eric Church, Brett Eldredge, Hunter Hayes, Lambert, Toby Keith, McGraw, Justin Moore, Kip Moore, Paisley, Darius Rucker, Shakira, Shelton, Strait, Urban, the Band Perry, Florida Georgia Line, Lady Antebellum with Fleetwood Mac singer and songwriter Stevie Nicks, and Rascal Flatts.
Those performances alternate between the MGM and the nearby Mandalay Bay, with the ACM taking over several sites on the Vegas Strip for its annual awards extravaganza.
Award presenters include Garth Brooks, Swift, Strait, Carrie Underwood, Trisha Yearwood, Thea Andrews, Fieri, LL Cool J, Jewel, Olivia Munn, Nancy O'Dell, Chris O'Donnell, Rucker, Clay Walker, David Nail and Florida Georgia Line.
George Strait and Dallas Cowboys owner Jerry Jones announced that the 50th show would take place at the Cowboys home stadium, ATT Stadium, in Dallas.
Awards are determined by voting among members of the Los Angeles-based Academy of Country Music, except for the entertainer and new artist categories, which also factor in fan votes. The ACM is the West Coast counterpart to the Nashville-based Country Music Assn., which annually bestows its awards in the fall.
ALSO:
ACM and CMA square off in awards show showdown
Emmylou Harris recalls her 'magical' album 'Wrecking Ball'
Don Everly on death of brother Phil: 'I think about him every day'
Follow Randy Lewis on Twitter: @RandyLewis2
---
Get our L.A. Goes Out newsletter, with the week's best events, to help you explore and experience our city.
You may occasionally receive promotional content from the Los Angeles Times.