Amoeba Music building set to be replaced — but where's the store's new location?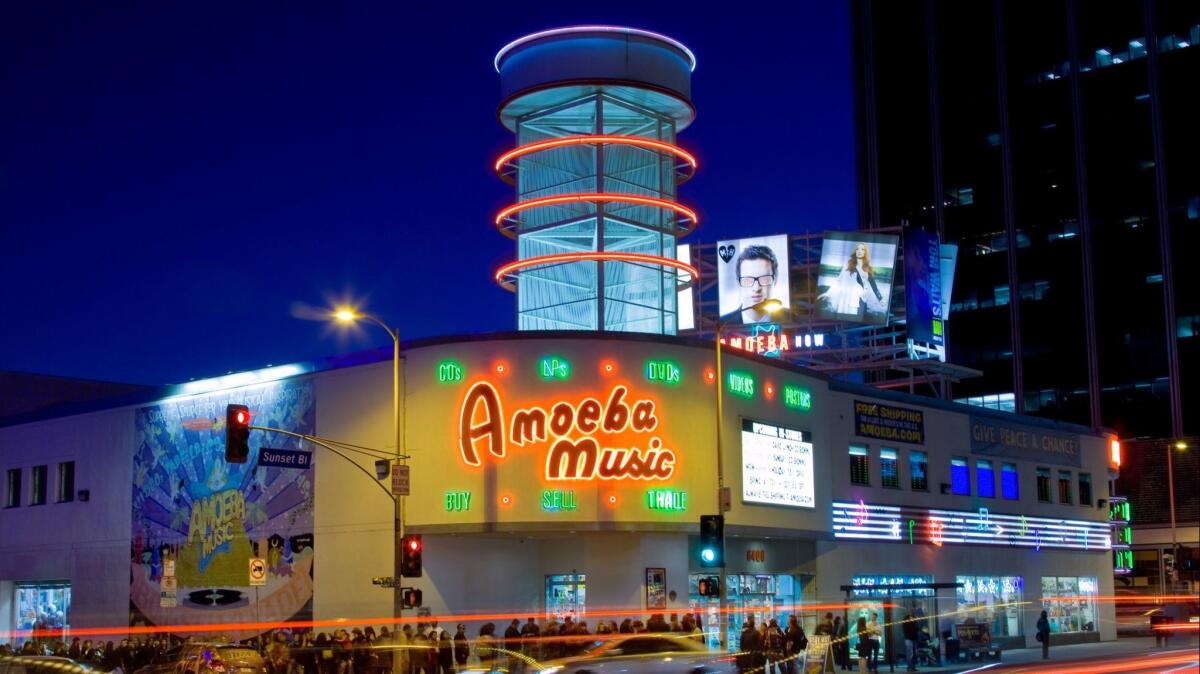 The John Ferraro Council Chamber at Los Angeles City Hall is hardly the most artistically expressive of places, but on Tuesday, the room played host to an event that will have real world consequences for generations of music fanatics.
The City Council voted to approve zoning changes that will clear the way for the development of a 26-story complex at the site of the Amoeba Music store at the corner of Sunset and Cahuenga boulevards in Hollywood. The move cements the fate of the distinctive building and fuels further speculation on the future of the city's biggest record store.
Amoeba will be moving. Where to, however, remains anyone's guess.
The retailer's Hollywood location, which opened to great fanfare in 2001, has been in a kind of holding pattern since news of the possible development came to light a few years ago. The store sold the building to developer GPI Cos. in 2015 for $34 million.
"Amoeba has every intention of remaining in L.A.," Amoeba's Jim Henderson told The Times in 2017, citing the store's statement on Facebook as the most complete update on its future at 6400 Sunset Blvd. "Rest assured, we are NOT closing, but we are now in a position where we may have to change locations in the coming years."
On Tuesday morning, Henderson seemed unconcerned with the City Council's vote. Amoeba's move is a foregone conclusion, he said. The store has a lease that will carry it in its current location "for about another year," he said, with a few brief extension opportunities.
"But I can also tell you that if we find something that's a fit, then obviously we won't be taking those extensions and GPI can get on with their business and we can get on with ours," Henderson added.
The council's vote was the final hurdle facing the development, which will replace the two-story Amoeba building with a mixed-use tower slated to contain up to 200 residential units. The ground floor will provide 7,000 square feet of commercial space, but there are no indications that Amoeba will remain at the address.
So where will the store land? Last year, Amoeba Music's co-owner, Marc Weinstein, told Variety that the store would move "within blocks" of the current development, and that details would come "in a few weeks." That was a year ago, and the store has remained mum ever since. Henderson declined to comment on the search for a new location.
Amoeba has said that its goal for the new location, wherever it ends up, is to include a marijuana dispensary as well. Last year, the store's Berkeley location opened Hi Fidelity, its first foray into weed sales.
The new venture is aimed at diversifying profit streams in a music retail landscape that has been on a steady decline since the rise of downloadable digital files in the late 1990s.
Although the vinyl revival and the annual Record Store Day celebration have put a spotlight on independent retailers and the advantages of physical music, the format's return over the last decade doesn't make up for the decline in compact disc sales.
Last year, sales of new CDs fell by 18.5% over the year prior, according to a 2018 market report by industry analyst BuzzAngle. The report tallied new CD sales at 60 million physical units; by comparison, in 1999, that number was 939 million, according to the Recording Industry Assn. of America.
Add in Amazon's domination in online retail and the overall shift toward music and video streaming services — which also cut into Amoeba's sales of used DVDs — and the challenges facing the store are evident.
Amoeba's Sunset location is more than a place to buy records, though. Since its opening in Los Angeles — Amoeba also operates two stores in the San Francisco area — the shop has become a cross-cultural gathering place. Its in-store appearances — most notably by Paul McCartney — and signings draw customers from around the world, and its turntables have been worked by a fantastic mix of in-store DJs.
Equally crucial of a quick buck or maybe weed money, Amoeba's busy buy and trade counter has provided thousands of broke music fans a few quick dollars in a pinch. All the action draws a diverse clientele of music fans.
"Hollywood is looking more and more like Charlotte, N.C. — with no personality," said Jill Stewart, executive director of the Coalition to Preserve L.A., which advocates on planning and development issues. The coalition has opposed the GPI proposal.
Citing other cities struggling with what she sees as a loss of personality across the years, Stewart added, "There's a lot of anger about how uninteresting Manhattan is becoming, and this development fits in with that whole cultural sameness thing. I think it's a tragedy."
Wherever the new store lands, it will require ample room for a stage, its vast holdings of recorded music and its extensive collection of merch.
What will be missing, though, is that Space Age neon turret jutting up from the corner of the building, the old-school marquee advertising upcoming in-store performances and the murals and posters adorning the white facade.
For tips, records, snapshots and stories on Los Angeles music culture, follow Randall Roberts on Twitter and Instagram: @liledit. Email: randall.roberts@latimes.com.
Get our L.A. Goes Out newsletter, with the week's best events, to help you explore and experience our city.
You may occasionally receive promotional content from the Los Angeles Times.