Anthony Bourdain wasn't just a food lover — he was a music freak, too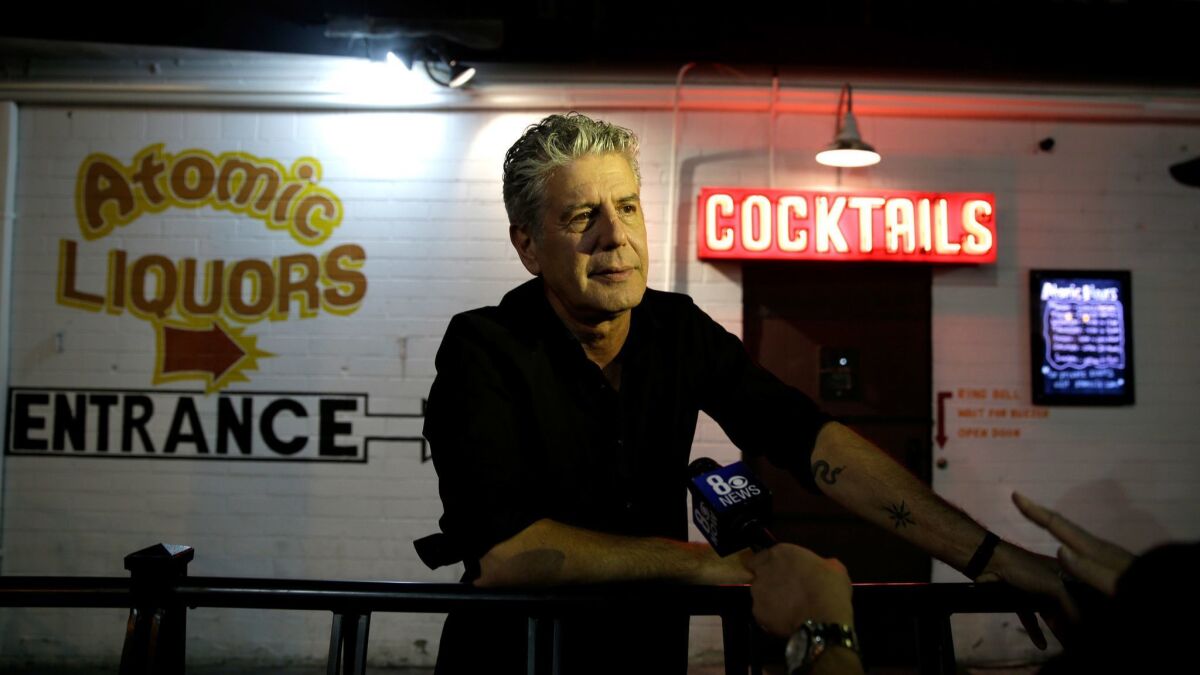 Anthony Bourdain's love of music will forever be eclipsed by his passion for food culture. But the late chef, writer and TV star's life was propelled by music, and he never wasted an opportunity to serve as rock 'n' roll ambassador.
As Bourdain, who died Friday of an apparent suicide, was rising as a literary foodie of the highest order, he injected attitude into a restaurant culture that at the time was mostly reliant on Muzak subscriptions for audio atmospherics. Music, he argued, helped define a space as much as menu and decor.
When a restaurant failed, he named the culprits where "the music in the dining room sucked." When he landed "Parts Unknown," his Emmy- and Peabody-winning show on CNN, he didn't rely on producers to pick the theme song. He commissioned Queens of the Stone Age and Mark Lanegan to write it. He may have celebrated lesser-known culinary rock stars, but he admired the real ones too.
READ MORE: Jonathan Gold on Anthony Bourdain: He opened the working-class kitchen to the world and the world to us »
In the imaginary soundtrack of Bourdain's breakout book, "Kitchen Confidential," guitars are booming from the Lower Manhattan restaurant's kitchen stereo as he and his team work the line. He describes the soundtrack as "a pretty good collection of mid-1970s New York punk classics on tape: Dead Boys, Richard Hell and the Voidoids, Heartbreakers, Ramones, Television and so on," infusing guitar-fueled distortion within a score of clangs, sizzles and shouts.
Bourdain was as likely to quote Joe Strummer or Patti Smith as Mark Twain or Marcel Proust when trying to capture the essence of a meal or experience. He consulted musicians for their thoughts and stories.
In a "Parts Unknown" episode devoted to a post-Kadafi Libya, for example, Bourdain didn't seek out academics or advocates; he spoke to Libyan rappers. His episode on Miami featured the chef eating with 2 Live Crew's Luther Campbell, discussing Miami rhythms with drummer Questlove and hanging with Iggy Pop.
READ MORE: From In-N-Out to Chateau Marmont, Anthony Bourdain understood what makes L.A. great »
Bourdain harnessed his good fortune in service of music. During an interview with the Archive of American Television in 2016, he recounted how Queens of the Stone Age came to make the "Parts Unknown" theme. It involved the band traveling to Bourdain's home in Connecticut and performing in matching Christmas sweaters to play carols.
A typical episode of his show would contain songs that Bourdain helped pick. His Berlin segment featured selections from David Bowie's so-called Berlin trilogy, the experimental electronic group Neu, producer Brian Eno and the rock band Brian Jonestown Massacre. He seemed to revel in making playlists and contributed a great Spotify one for CNN's show "The Seventies."
Another playlist, for the Travel Channel, further defined his tastes by including annotations of the songs. Of Kanye West's "Monster," he wrote, "Just as good as he probably thinks it is. And Nicki Minaj is terrifyingly good on it." Of R.E.M.'s "Crush With Eyeliner," he admitted that he was "never a big R.E.M. fan before but rediscovered this one late in life." He also tips L.A. garage rocker Sky Saxon and Chicano rock band Tito & Tarantula.
He even compared the camaraderie and collaboration among a kitchen staff to the thrills and spills of being in a rock band.
In "Kitchen Confidential," Bourdain wrote of putting together a staff (and referencing a late-1960s rock super-group): "[W]e recruited every young, pot-smoking, head-banging hooligan we'd ever worked with, filling their heads with dreams of glory. 'We're forming … like … a rock and roll band, man, an all-star group of culinary superstars … kinda like Blind Faith.'"
The goal, Bourdain wrote: "A faithful re-creation of the kitchens we'd grown up in: insular, chaotic, drenched in drugs and alcohol, and accompanied constantly by loud rock and roll music."
When he traveled to the Congo for an episode and conveyed his love of Joseph Conrad's "Heart of Darkness" and Francis Ford Coppola's "Apocalypse Now" film adaptation, Bourdain was continuing a story that began when he was part of a trio that took over the restaurant Work Progress in Lower Manhattan.
Full coverage of Anthony Bourdain's death »
At the restaurant, he recalled beginning each shift with the soundtrack to "Apocalypse Now."
"Emulating the title sequence, we'd play the soundtrack album, choppers coming in low and fast, the whir of the blades getting louder and more unearthly, and just before Jim Morrison kicked in with the first few words, 'This is the end, my brand new friend … the end ...'" we'd soak the entire range top with brandy and ignite it, causing a huge napalm-like fireball to rush up into the hoods."
That's rock 'n' roll.
If you or a loved one is considering suicide, please call the National Suicide Prevention Lifeline at (800) 273-8255.
ALSO
Jonathan Gold: Anthony Bourdain opened the working-class kitchen to the world and the world to us
In 'Parts Unknown,' Anthony Bourdain searched the world for human moments — and for his own place in it
CNN, Travel Channel will salute Anthony Bourdain with slate of weekend programming
For Anthony Bourdain, food was just the entry point for a much wider cultural discussion
Critics Pick: 'United Shades of America,' 'Parts Unknown,' 'My Nazi Legacy'
Eat what Obama and Bourdain ate: Where to find great bun cha ha noi
Obama and Bourdain's dining table memorialized in Hanoi
From In-N-Out to Chateau Marmont, Anthony Bourdain understood what makes L.A. great
Anthony Bourdain, world-traveling chef and TV star, dies at 61 in apparent suicide
Books were good to Anthony Bourdain — but TV was even better
Anthony Bourdain was the eternal compadre of overlooked Latinos
Anthony Bourdain's death stuns girlfriend Asia Argento and celebrity admirers
For tips, records, snapshots and stories on Los Angeles music culture, follow Randall Roberts on Twitter and Instagram: @liledit. Email: randall.roberts@latimes.com.
Get our L.A. Goes Out newsletter, with the week's best events, to help you explore and experience our city.
You may occasionally receive promotional content from the Los Angeles Times.