It took years for Arin Ray to find his voice after his 'X Factor' elimination. Now he's on 'Fire'
A sharp pang came over Arin Ray during a recording session for his debut album.
He had just finished cutting "We Ain't Homies," a searing record that gives a brushoff to fake friends, when he suddenly fell ill.
"I was woozy … it [messed] me up. I went home to pass out, and that's when I got the call," Ray said. "It was like I could feel it."
The R&B singer-songwriter is detailing the night in April 2016 when his cousin, Laron Lovett, was murdered in their Ohio hometown of Bond Hill, a suburb of Cincinnati where the crime rate is 168% higher than the national average.
That night was a turning point for the 22-year-old. The music Ray was cutting at the time helped shape the sound he was looking for, and losing his closest confidant lighted a fire under his feet. He wasn't just living for himself anymore.
Ray is slouched on a couch at a cannabis-themed coffee shop after going a few rounds on a nearby pool table on a day off from promoting his debut, "Platinum Fire." The smell of java is nonexistent as the air is thick with the sweet, piney aroma of weed being smoked by shop patrons.
He's in the middle of touring, having completed a run opening for rising R&B singer H.E.R. late last year and prepping for a string of dates with TDE's SiR this month after playing the inaugural Smokin' Grooves Festival in Long Beach on Saturday.
Released earlier this year "Platinum Fire," which is dedicated to Lovett, is the result of years of work by the young singer, who struggled to find his voice while writing songs for Chris Brown, Jason Derulo, K. Michelle and DJ Mustard.
"I was trying to figure out what was right for myself," he said.
Despite his youth, he's been hustling in the industry for the better part of the last decade.
Music is in Ray's DNA. His father played drums for New Edition, Bell Biv DeVoe and After 7; his mother sang in a church choir and in a group.
As a child, he found his first inspiration in Michael Jackson, Marvin Gaye (his aunt sang backup for the crooner), the Bee Gees, Jill Scott, Maxwell, Usher and Musiq Soulchild. Attending Cincinnati's School for Creative and Performing Arts exposed Ray to other genres, like jazz and classical music.
"I used to find an excuse to walk the halls just to stop and listen to the different sounds and instruments people were playing," Ray said.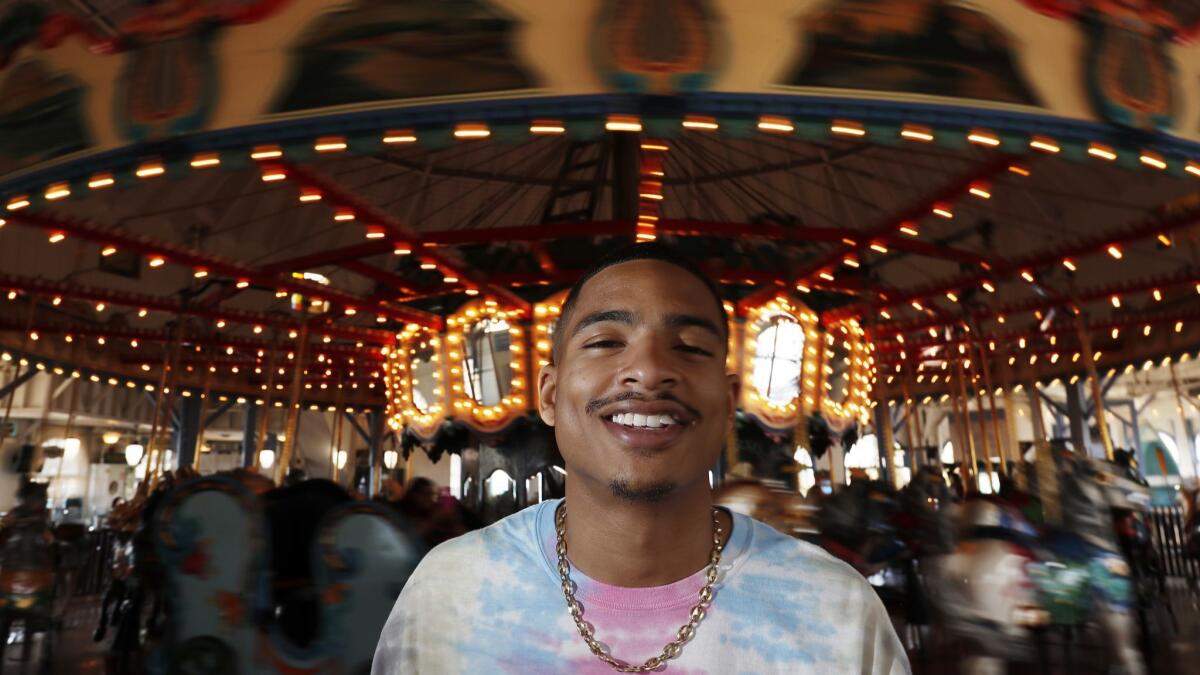 I got eliminated and nobody called me. Nobody asked me to sign with them. It was over unless I made something happen.
— Arin Ray on "The X Factor"
At 15, Ray caught his first break when his mom persuaded him to audition for the first season of Fox's U.S. edition of "The X Factor" in 2011. He was thrown into a group along with other solo hopefuls — much like One Direction and Fifth Harmony were — but the 10-piece didn't make it far.
Ray returned for the competition's second season, again auditioning as a solo act. Simon Cowell called him a star. He was assigned to Britney Spears as a mentor (even though he said they barely spoke during his stint) and given light pop-R&B fare he didn't connect with. "There were moments if you go back [and] watch where I was uncomfortable. It wasn't me … and nowhere near the music I wanted to perform," he admitted.
Being eliminated on a live show in front of 10 million viewers is enough to rattle anyone, let alone a teenager who had only performed at school, but the experience offered Ray a reality check.
"It taught me to work hard but not expect anything," he said, taking a deep puff from the blunt he's rolled. "I got eliminated and nobody called me. Nobody asked me to sign with them. It was over unless I made something happen."
After going through the "X Factor" wringer, Ray returned home to finish high school, and a week after graduating he moved back to L.A. He eventually reconnected with production duo the Underdogs — he met them during his time on the show — and he couch-hopped and slept in the studio as he wrote for two years under their mentorship.
"I was learning how to write — just trying to find the right ingredients to make a song dope. I was searching for the right sound, the right melodies," he said.
During this incubation period Ray was introduced to producer/rapper Yung Berg, who brought Ray along as he worked on Nicki Minaj's "The Pinkprint," and Nez & Rio, the production pair who would become Ray's most frequent collaborators.
Cutting records that were true to him — lush R&B with boom bap hip-hop, classical jazz and bluesy riffs — became Ray's focus.
In 2016 he self-released his debut EP, "Phases," and had already recorded the bulk of the material that would become "Platinum Fire" when he signed with Interscope early last year. "They really helped push me … but they let me do my thing," he said of the label.
Despite its cannabis-inspired title, "Platinum Fire," like recent releases from Daniel Caesar and SiR (who guests on Ray's album), refocuses modern R&B at a time when hazy productions and nihilistic posturing outweighs vulnerability.
Love and relationships are a constant theme (the singer had a son on the way during recording), and there are plenty of records primed for relaxed afternoons, smoke sessions and blasting in car speakers courtesy of an impressive cadre of producers including Terrace Martin, Childish Major and Nez & Rio.
Ray's album showcases a classically trained singer who's rooted in tradition yet forward-thinking — just look at breakout single "We Ain't Homies," a slow-building anthem built around a sparse, jazzy arrangement, a guest verse from YG and the type of full-throated, soulful crooning that's nearly nonexistent among artists in his peer group.
"The past couple years were so crazy for me and my mind was everywhere as I made this album. I'm such a different person from when I came to L.A. I have a family now. I've got people depending on me and my cousin's gone, my best friend," he said. "[This album] was me trying to process all that."
For more music news follow me on Twitter:@GerrickKennedy
Get our L.A. Goes Out newsletter, with the week's best events, to help you explore and experience our city.
You may occasionally receive promotional content from the Los Angeles Times.