Beach Boys founding members reconvene for harmonious gathering in Hollywood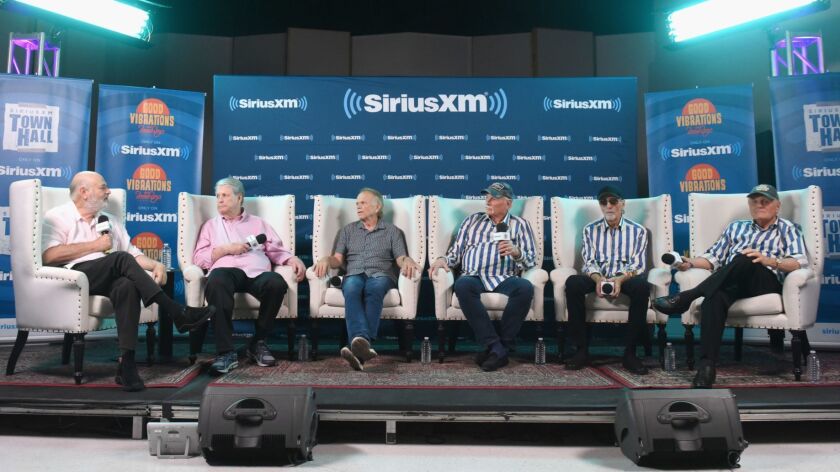 Time heals all wounds. And in Hollywood, having a new project to promote can undoubtedly facilitate the mending process.
Thus, nary a hurtful nor discouraging word between Beach Boys founding members and periodic adversaries Brian Wilson and Mike Love was heard Monday night during a taping for a satellite radio show.
Sirius XM brought the two together in a public setting for the first time since the disharmonious end of the group's wildly successful 50th anniversary tour in 2012, when Love, who holds the legal rights to use of the Beach Boys name, quashed efforts to extend the reunion tour and instead returned to his scaled-down Beach Boys touring group minus Wilson and fellow original members Al Jardine and David Marks.
The promotional aspect was twofold: to draw more attention to the satellite radio service's new Beach Boys-dedicated channel and to spotlight the recently released album "The Beach Boys With the Royal Philharmonic Orchestra," in which songs from the group's repertoire have been overlaid with orchestral accompaniment by the English orchestra.
The album concept is similar to two collections of vintage Elvis Presley studio tracks that have had commercial success, especially overseas. The connective thread among the projects is longtime Presley associate Jerry Schilling
Actor-director Rob Reiner moderated the hourlong session at Capitol Studio A in Hollywood, where the Beach Boys once recorded, engaging all five longtime members who were on hand: Wilson (whom Reiner introduced as "The Genius"), Love, singer-guitarist Jardine, guitarist Marks and keyboardist-singer Bruce Johnston, who joined the enterprise in 1965.
The exchanges between Wilson and Love found both at their most cordial, Love saluting his cousin for melodic and harmonic creativity and Wilson coming across as moderately more conversational than he often is during interviews, a process he regularly treats with the same enthusiasm as a tax audit.
Jardine provided some of the most illuminating anecdotes from the band's storied history. Regarding the recording of their first hit, "Surfin,'" Jardine noted that as vocally accomplished as the group — also then including Brian's brothers Carl and Dennis — was in its early days, it had no instruments other than the Wilson family's piano.
Of the "Surfin'" session, Wilson noted that "I had a little drum with a brush." Jardine explained that after renting other instruments, "I forgot to rent the sticks for the drum. So I had to go back to the store and wound up getting some brushes."
In addition to questions of his own, Reiner facilitated queries from audience members, most of which were Beach Boys 101 subjects such as "Did you live the lifestyle of surfing, cars and girls?" (Wilson said, as he often has, that Dennis Wilson was the only real surfer in the group, and that it was Dennis' suggestion that Love write a song about the then-emerging sport that put the band on the road to pop music history.)
Marks said he also tried his hand at surfing, confessing, "I wasn't very good. But there were girls at the beach, so I kept showing up."
During a discussion of the Beach Boys' delve into music traditions, Marks pointed out that surf guitar hero Dick Dale recorded a version of the Bahamian folk tune "Sloop John B" several years before the Beach Boys took it on in 1966 for their "Pet Sounds" album.
Jardine also jumped to answer in at one audience member's question that temporarily stumped Wilson and the others: Was there anyone you would have wanted to collaborate with that you never did?
Jardine piped in: "The Beatles. I thought we were going to collaborate with them. John and George invited us to come to their hotel room when we were doing a show in Paris. But when we got there, they taught me Transcendental Meditation. But I think we would have had a great collaboration."
The town hall session is slated to premiere Aug. 10 on the Beach Boys' SiriusXM Channel 4 and will feature three of the songs from the Royal Philharmonic album: "Fun, Fun, Fun," "California Girls" and "Good Vibrations."
Near the end, Reiner asked, "Why do you think this music has lasted as long as it has?" Love responded: "I'd say it's love." Reiner elicited chuckles from the audience of about 100 as he quipped, "You mean Mike Love or just love in general?"
"The love of getting together and singing those harmonies," Love continued. "Without thinking about any money, and about any fame or any record position on the charts, it's the sheer joy of getting together and doing those harmonies together. That's the essential ingredient."
Follow @RandyLewis2 on Twitter.com
For Classic Rock coverage, join us on Facebook
---
The complete guide to home viewing
Get Screen Gab for weekly recommendations, analysis, interviews and irreverent discussion of the TV and streaming movies everyone's talking about.
You may occasionally receive promotional content from the Los Angeles Times.