A 50th anniversary trip through 'Sgt. Pepper's Lonely Hearts Club Band' with Giles Martin
Times staffers discuss the background and deeper reasons for a remixed Beatles Sgt. Pepper 50th anniversary album.
The Beatles' "Sgt. Pepper's Lonely Hearts Club Band" album was hailed in some quarters as a groundbreaking milestone in popular music on its release in June 1967.
Others scoffed at it as an overly ambitious bid for artistic respectability that abandoned the innocence of the group's early hits.

For the record:
2:48 p.m. June 11, 2019An earlier edition of this post identified Universal Music Enterprises (UMe) as the parent company of Capitol Records. Universal Music Group is the parent of both Capitol Records and UMe.
In the ensuing five decades, the debate has raged on and is likely to gain renewed fervor with the May 26 release of the 50th anniversary edition of the album, newly remixed in stereo by Giles Martin, son of the album's original producer, George Martin.
The raison d'être for the project isn't simply to serve up a new edition of a classic album that scads of Beatles fans are likely to lap up just because it's there — though clearly many will.
See the most-read stories in Entertainment this hour »
Rather, it is an attempt to rectify what's long been perceived as a significant though hardly fatal flaw in the original stereo version, created with little involvement from band members Paul McCartney, John Lennon, George Harrison and Ringo Starr.
It's hoped that the new iteration will introduce the work to younger audiences and sound more akin to contemporary recordings.
"It's not exactly an album that is unloved," Giles Martin, 47, said during a recent playback session at Capitol Records' Studio A in Hollywood for music writers and a couple of dozen executives and employees of Universal Music Group, the parent company of Capitol and UMe, which is releasing the album in the U.S.
In late 1966 and early 1967 when the Fab Four set to work on "Sgt. Pepper" as the follow-up to "Revolver," monaural sound was the dominant format for music.
Stereo counterparts often were created hastily for the U.S. and other foreign markets. Because the "Sgt. Pepper" stereo mix was better known in the U.S., Lennon once famously stated, "You haven't heard 'Pepper' until you've heard the mono version."
In part that's because the group's vocals are often divorced from the instrumental accompaniment, separated in different channels of the original stereo mix because that was how engineers charged with creating that version could get the job done quickly.
Just how quickly? George Martin and the Beatles spent about three weeks mixing the mono version; its stereo counterpart was completed in barely two days.
"There is a thing about the mono mix," Martin said. "There is immersion that comes from the depth they put in there, even though it is just coming out of one speaker. I was trying to create that [in stereo]. No one can say the [1967] stereo mix is not a great-sounding record. But there's a way to get the best of both worlds."
Feedback on the new mix has been "almost humiliatingly positive," Martin said.
Chris Carter, host of the long-running "Breakfast With the Beatles" radio show on L.A. rock station KLOS-FM (and just expanded with a daily edition for SiriusXM satellite radio's new all-Beatles Channel 18), says: "In general, I was blown away. Not to sound overly dramatic or corny, but in a lot of ways it was like hearing the record for the first time.
"What really struck me is that the Beatles intended to be perfectionists on this record."
'What does this music say today?'
PBS is getting in on the "Sgt. Pepper" 50th with a new documentary, "Sgt. Pepper's Musical Revolution," premiering June 3 and hosted by composer, music historian and documentarian Howard Goodall.
"I know it's a landmark in terms of pop culture, the Summer of Love, youth culture, the '60s," Goodall said, "but really what I'm interested in is: What does this music say today? Why has it been treated with such respect for 50 years?"
Goodall, who like many Beatles fans said he might cite "Revolver" or "Abbey Road" rather than "Sgt. Pepper" as his favorite Beatles album, nonetheless unhesitatingly calls "Pepper" "their most important album."
Said Goodall,"When someone 20 years old says, 'Why do people your age think it's such a big deal?' I would say that in our modern musical world, the eclecticism of 'Sgt. Pepper,' the broad expanse of styles, genres and sounds, is not such a big deal.
"But," he continued, "for those of us who listened to it when it came out … it was a big shock to the system."
Greg Harris, executive director of the Rock and Roll Hall of Fame and Museum in Cleveland, noted, "Stylistically they were throwing garage rock in with music hall with Indian ragas.
"One of the other amazing things for me is that it's a full-on album that takes listeners on a journey, but it's also filled with these incredible songs that can stand on their own."
Most elaborate reissue yet
"Sgt. Pepper" represents the most elaborate reissue yet of an individual Beatles album. It's being offered in several configurations: on CD, digital and on vinyl — the last in a half-speed mastered pressing that ups the audio fidelity one more notch and is accompanied by a second LP containing alternate mixes of all 13 "Sgt. Pepper" songs as selected by Giles Martin.
A six-disc deluxe set includes the new stereo mix and the mono mix of the album on CD with two more CDs containing dozens of outtakes, alternate versions and studio chatter, plus a Blu-ray and DVD including a 1992 documentary on "The Making of Sgt. Pepper" created for the album's 25th anniversary but never released commercially.
It also comes with a 145-page book with artwork, handwritten lyric sheets, essays, photos and detailed session information on each of the "Sgt. Pepper" songs.
The newly remixed "Sgt. Pepper" is not by any stretch a radical reworking of the original."
The newly remixed "Sgt. Pepper" is not by any stretch a radical reworking of the original — it's unlikely anyone who never liked the album will suddenly start singing its praises.
It's equally improbable that anyone who has long loved the album will suddenly turn on it.
Generally, the remix brings new dimension, clarity and presence to the instruments and vocals, which are placed more naturally than the original version.
Songs are enhanced with touches such as the dead center placement of Starr's lead vocal for "With a Little Help From My Friends." The background singers' questions and answers are then split into left and right channels, which sonically surrounds him with his friends.
The gorgeously spacey keyboard introduction to "Lucy in the Sky With Diamonds" moves gracefully left, right and in between in sync with the surreal nature of Lennon's lyric.
What even casual listeners are most likely to notice is that "She's Leaving Home" is faster and higher pitched — and therefore emotionally more urgent — than the version on the 1967 stereo mix.
Segues between "Good Morning, Good Morning," "Sgt. Pepper's Lonely Hearts Club Band (reprise)" and "A Day in the Life" also have been reconstituted to reconcile the stereo and mono versions.
"My take on it," Abbey Road senior engineer Sam Okell said in a separate interview, "is that the differences between the mono and stereo mixes are unintentional. The mono mix was done on the same day or the day after the tracks were completed, and it was all fresh, and the band and George [Martin] were pretty involved.
"The stereo mixes were done at the end of all the other work over about two days, and I don't think the engineers really referenced the mono mixes that much," Okell said.
Overall the "Sgt. Pepper" remix represents what the Beatles and George Martin might have done — had they cared about stereo in 1967.
"It improves upon what was done 50 years ago while paying homage to the mono mix that the purists say is the only way to hear 'Pepper,' " said Beatles historian Bruce Spizer, author of nearly a dozen books on the group's recorded legacy and a new volume, "The Beatles and Sgt. Pepper: A Fans' Perspective" (498 Productions).
Close look at the album's anatomy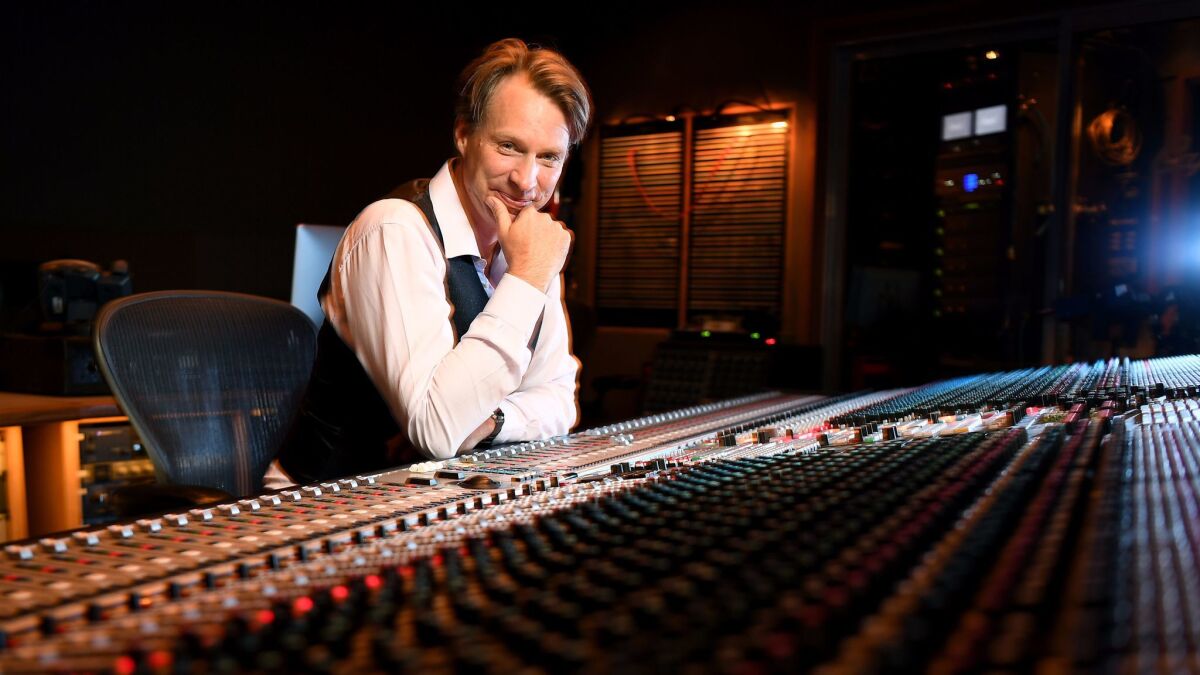 Rather than resorting to more linear analogies about architecture or engineering to describe his impressions from delving headlong into what Beatles and his father created, Giles Martin turns to a doctor-patient analogy.
"Like a lot of Beatles stuff," he said while seated behind the expansive mixing board at Capitol's premier studio, "it's a bit like opening up a body, in a way. And you find it's really healthy. All of the bits and pieces that make up 'Sgt. Pepper's' are there for a reason."
That said, the interrelationship among all of that body's moving parts weren't necessarily ideal.
Martin virtually quotes the Hippocratic Oath in laying out one guiding principle he and others observed: "Make sure that you don't do any harm. You certainly don't want anything sounding worse than it did."
Remixing one of the most hailed works in rock music called for more than myriad judgment calls on how much reverb to use, when to bump up automatic double tracking (ADT), when and where to split instruments or vocals into different channels.
"It's all about: What's the feel? Yes, if we weren't changing the balance or [spatial] position it wouldn't be a different mix," Martin said. "But at the end of it, the important thing is: Does the song make you feel the same?
"For my father," Martin said, "it was the happiest time [working with the Beatles], I think, because they were all pulling in the same direction. In a typical Beatles way, they were actually pushing more than pulling: pushing their past away. They were almost deliberately not making an album for their screaming fans. That's what was interesting."
Follow @RandyLewis2 on Twitter.com
For Classic Rock coverage, join us on Facebook
---
Get our L.A. Goes Out newsletter, with the week's best events, to help you explore and experience our city.
You may occasionally receive promotional content from the Los Angeles Times.