Best of 2018: The 10 (or so) songs that demanded to be replayed, featuring Cardi B, Ariana Grande, John Mayer and Sophie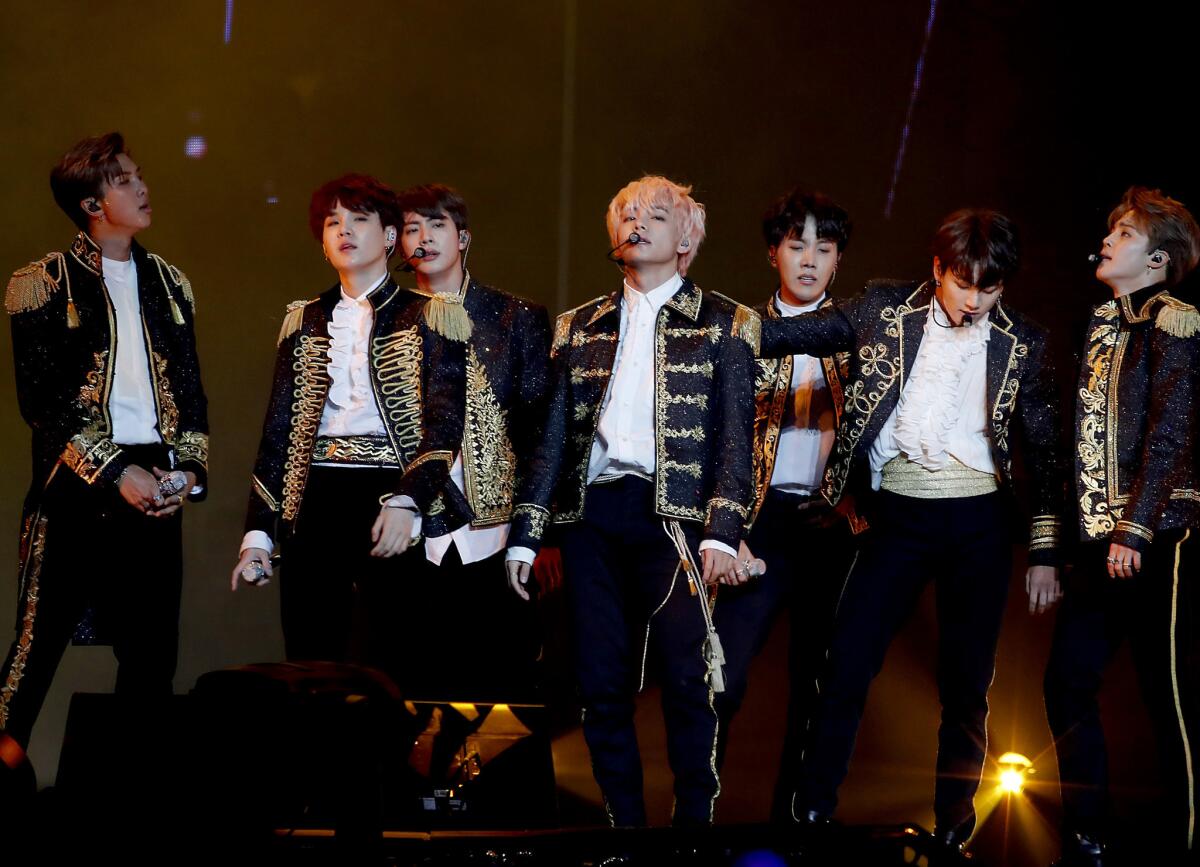 Pop Music Critic
Everywhere you turned in 2018, it seemed like somebody was trying to save the album — in many cases by making one so long that anyone trying to kill the thing would give up in exhaustion.
But if the likes of Drake and Post Malone — not to mention The-Dream, who just last week dropped a new 40-track behemoth — were proudly embracing the format (and its connotations of creative ambition), this year was also full of artists happy to meet the implied challenge of the streaming era, which is to record a single track so irresistible that listeners will hit repeat even when a zillion others are available in an instant.
Here are the 10 songs I replayed most in 2018, with two caveats. First, I avoided any overlap with my top 10 albums list, which is why you won't find Charlie Puth's delightful "Boy" below. And because the year was so good for singles, I couldn't help sneaking in an addendum with five extra mentions. Listen up.
1. Cardi B, Bad Bunny and J Balvin, 'I Like It'
The "Despacito" of 2018 — only it didn't require an appearance from a white pop star to get over. Built so prominently on a sample that it basically constitutes a remix, "I Like It" places a thoroughly modern Instagrammer-turned-rapper over the indelible groove from a late-'60s Latin boogaloo hit beloved by abuelas from here to Washington Heights. Yet who on Earth could argue that Cardi B didn't make this song her own?
2. Ella Mai, 'Boo'd Up'
Something similar happens in the breakout single by this British R&B singer. While the plush but hard-knocking beat is taking you back to the early '90s (before R&B became a mere accessory to hip-hop), Mai's coolly yearning vocal paints a picture of young romance as lived right now.
3. Lady Gaga and Bradley Cooper, 'Shallow'
For all that "A Star Is Born" gets wrong about how pop music works — songs about shapely bums are a point of pride, not shame! — there's no disputing that the film's two stars nailed the power-ballad form embodied by this all-time Bic-flicking classic.
4. BTS, 'Singularity'
Seoul's hyperactive K-pop scene finally went mainstream in America this year thanks to BTS, the hugely popular seven-member boy band that topped the Billboard 200 twice on its way to a sold-out tour that stopped at Staples Center for four shriek-filled nights. Yet the group's most arresting song from 2018 was also its least frenzied: "Singularity," a breathy, methodically paced soul jam with echoes of D'Angelo and Luther Vandross.
Released in the immediate aftermath of her breakup with Pete Davidson and the death of her ex Mac Miller ("Wish I could say thank you," she sings, "'cause he was an angel"), Grande's deep but buoyant pop hit used our expectations of petty celebrity gossip to blindside us with a message of radical self-reliance.
6. Silk City featuring Dua Lipa, 'Electricity'
A pitch-perfect homage to '90s-era house music from producers Diplo and Mark Ronson, both old enough to have been there, and singer Dua Lipa, whose performance is a small marvel of inherited attitude.
7. Post Malone featuring Ty Dolla Sign, 'Psycho'
On tour this year, Malone would introduce this song by telling his audience it was about "having a cool watch," which felt in keeping with the lyric in which he brags about having so many bottles in the club that he might give an "ugly girl" a sip. But how to account for the disarming tenderness that nonetheless suffuses "Pyscho"? Credit Ty Dolla Sign, perhaps the most valuable guest artist of the year. As he did in tracks by Kanye West, Drake and Christina Aguilera, here the L.A.-based singer croons like he's gunning for the job Babyface once held.
8. John Mayer, 'New Light'
"What do I do with all this love that's running through my veins for you?" Mayer asks, though clearly his answer was to create this understated soft-rock gem with just the right blend of swagger and self-pity.
Known to pop aesthetes for her delightfully jagged productions for Madonna and Charli XCX, the mysterious British artist steps to the mike in a grand-scaled ballad that keeps swelling until it sounds like it's going to burst.
No list of 2018's singles would be complete without Drake, whose monster "Scorpion" album spun off three singles that together spent half the year atop the Hot 100. My favorite was "In My Feelings" for the beguiling way it mixed one of the rapper's lowest-key vocals with a hectic beat inspired by New Orleans bounce music. The result requires you to keep regaining your emotional balance.
AND FIVE MORE…
Shawn Mendes, 'Lost in Japan'
A Justin Timberlake song better than any of those on "Man in the Woods."
Stephen Malkmus and the Jicks, 'Middle America'
The only indie rock tune by a dude that mattered this year — and it has Malkmus admitting, "Men are scum, I won't deny."
The Carters, 'Heard About Us'
Come for the ultra-funky bass line, stay for Beyoncé quoting Biggie Smalls.
Robyn, 'Honey'
Dance music as devotional.
Kali Uchis featuring Tyler, the Creator and Bootsy Collins, 'After the Storm'
Throwback soul-funk from an intergenerational trio with style to spare.
Twitter: @mikaelwood
Get our L.A. Goes Out newsletter, with the week's best events, to help you explore and experience our city.
You may occasionally receive promotional content from the Los Angeles Times.