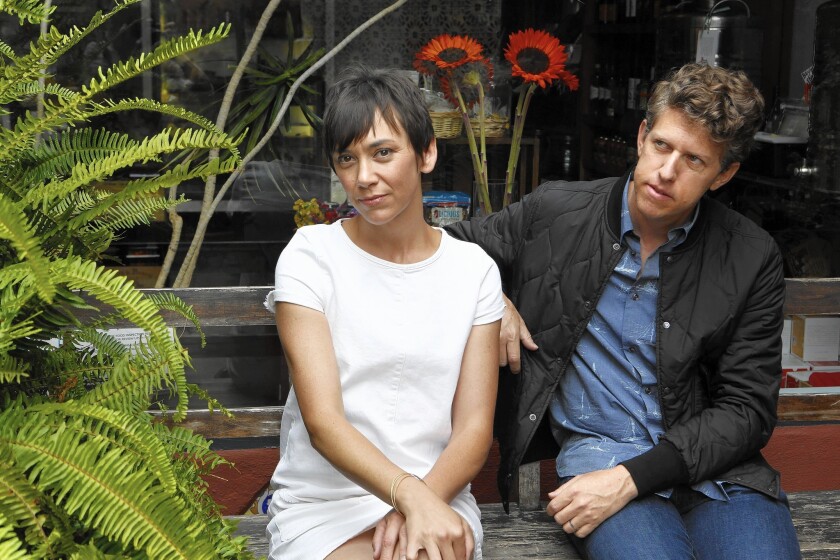 When Inara George took the stage recently at the Masonic Lodge at Hollywood Forever Cemetery, it wasn't merely the first big show in a few years with her Los Angeles-based electro-pop outfit, the Bird and the Bee.
It was also a rare night out for the parent of three young children.
"I got up there," the singer recalled with a laugh, "and was like, 'I have a babysitter — let's have fun tonight!'"
Turning work into play is something of an M.O. for the Bird and the Bee, which pairs George (also known for her solo work and as part of L.A.'s folky Living Sisters) with keyboardist Greg Kurstin, who's become increasingly in demand as a songwriter and producer to A-list pop stars such as Kelly Clarkson and Pink. To make "Recreational Love," their new album due July 17, the two kept a regularly scheduled appointment on Friday mornings, a necessity given the competing demands on their time.
"But then we'd just end up chatting for two hours," said Kurstin, also a parent, over breakfast this week at a Silver Lake restaurant not far from his home. "After talking," he continued, "we'd have like 20 minutes to actually get the songs done."
The result of their labors is a breezy collection of stylish, low-key pop tunes, including "Los Angeles," about these L.A. natives' devotion to their hometown; "Jenny," an homage to chewy 1980s R&B; and "Doctor," with a tart solo by the prolific funk saxophonist Karl Denson, whom Kurstin met in the '90s while the keyboardist was on tour with his band Geggy Tah.
"Their only thing is: Let's get together and have fun, and that's really important for artists to have," said actor Patton Oswalt, a friend of the group who stars in the music video for the disc's lead single, "Will You Dance?," in which a wild party breaks out inside an office bathroom. "Often what starts out as an avocation loses that quality over time. Greg and Inara sort of protect it."
Introduced by mutual musician friends, Kurstin, 46, and George, 41, formed the Bird and the Bee in 2006 and quickly released their self-titled debut; "Ray Guns Are Not Just the Future" followed in 2009. Then the group put out "Interpreting the Masters Volume 1," an affectionate tribute to the music of Hall and Oates that wasn't exactly intended to be the band's final statement for the next half-decade.
"We weren't like, 'You really need to sit on this one to understand it,'" Kurstin said. But life and other projects kept pushing the Bird and the Bee to the back burner. "There was no official stop," said George, whose father was the late Little Feat frontman Lowell George. "One or both of us would just get busy."
Eventually they buckled down — well, sort of — and gave themselves a deadline to finish the songs they'd been tooling with intermittently for years. (They went only a month or two past it, Kurstin said.)
For George, it was important that the new music, which they'll perform Sunday night in a concert at downtown Los Angeles' Ace Hotel, reflect her grown-up perspective while remaining light and accessible. "You want to be truthful in what you're saying, but at the same time you don't want to talk about your kids in your songs," she explained. "Nobody wants to hear that."
That point of view comes through in the gimlet-eyed title track, where George pokes holes in the dubious reasoning of an immature lover, and "Runaway," in which a more reliable fellow leads her to make a proposal. "We should get closer / We should lose our composure," she urges over a slinky pop-soul groove, "Acting out like someone half our age."
The album also reflects Kurstin's increasing sophistication as a record maker, with stronger melodies and more inventive arrangements than on the Bird and the Bee's previous efforts. The maddeningly catchy "Will You Dance?," in particular, is easy to imagine cracking Top 40 radio — at least if the beat were bulked up and George traded her delicate vocal tone for a more forceful attack. But that wasn't the producer's aim.
"Inara has such an identity as a vocalist," Kurstin said. "I didn't want to control that or mold this record to try to fit into what's going on in music. Working with her is a breath of fresh air."
Still, if they're happy to resist pressure to conform artistically, the two have given in to other demands of the day — namely, the perceived need for musicians to promote themselves endlessly on social media. Both have joined Twitter, for instance, which they say they're committed to using even as they worry about bombarding their fans.
"You want to do it in a way that doesn't just feel like advertising," George said. "But then there's so much noise overall that you kind of have to keep hammering it."
Kurstin admitted he's retweeted compliments people have sent his way, a controversial practice at a moment when digital etiquette is still taking shape. But he had a justification ready.
"I only do it to shine a light on Inara," he joked. "I mean, I'm just the producer."
Twitter: @mikaelwood
------------
The Bird and the Bee
Where: The Theatre at Ace Hotel, 929 S. Broadway
When: 8 p.m. Sunday
Tickets: $25 to $30
Info: https://www.acehotel.com
---