Blackpink brings K-pop charm to Coachella and wins over skeptics
It's usually frowned upon to wear the shirt of a band to their own concert. But for Marilyn Morales of Palmdale, Blackpink's debut Coachella performance warranted an exception.
"I wasn't going to come to Coachella until I saw the [lineup] with Blackpink," she said, just before the K-pop group took the Sahara Tent stage. She wore a well-broken-in shirt featuring the quartet, and although she'd been having a good time at the fest, they were far and away the biggest reason she came. "It was really surprising. It's pretty cool that they're thinking outside the box," she said.
"I love this new direction, it's so unique for Coachella," her brother Helder Morales added. He wasn't as big a fan yet, but he was about to be.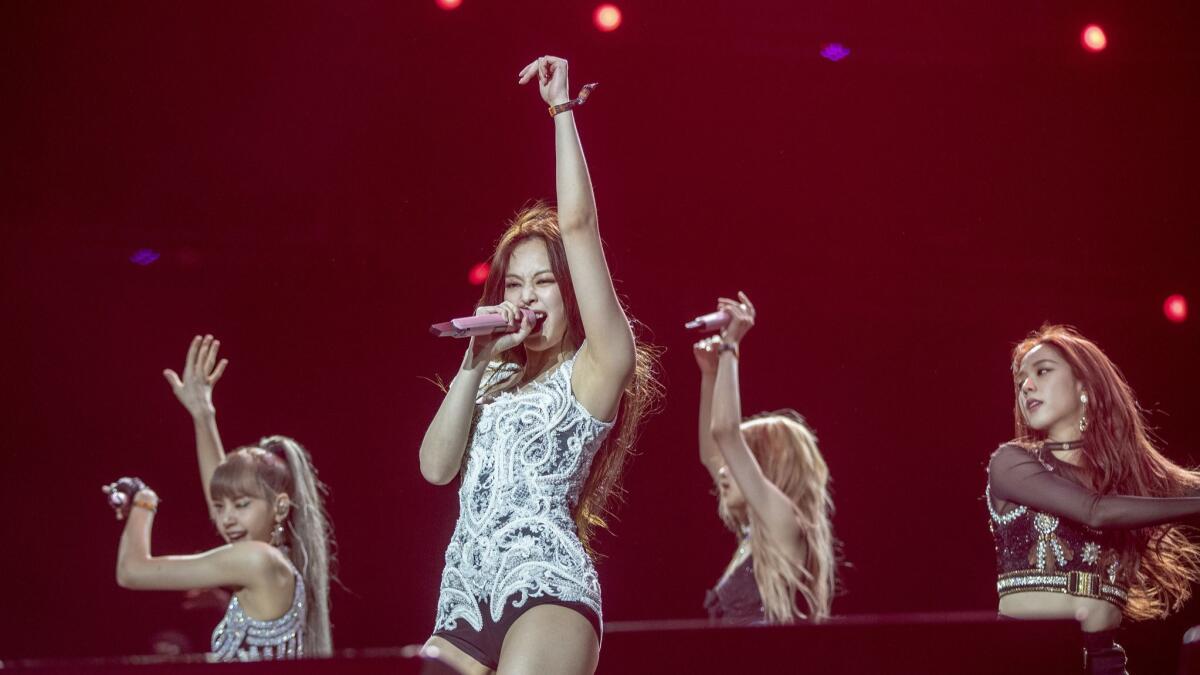 FULL COVERAGE: Coachella 2019 »
Coachella has hosted popular South Korean acts before (the hip-hop group Epik High performed in 2016). But Blackpink's set was the first time a K-pop idol group at the height of its powers performed in Indio. It drew a mix of mind-shattered hallyu fans who couldn't believe their luck, and plenty of curious onlookers who might not have seen a K-pop show otherwise.
If any K-pop group could make this kind of debut here, Blackpink was a savvy choice. They're already megastars across Asia (and have a Forum date coming soon), and their music covers a waterfront of modern hip-hop, EDM, synth ballads and even heavy rock. Their onstage rapport hits a sweet spot between K-pop's cheery, futurist veneer and hip-hop's bravado and prowess.
BTS might be a bigger act, and 2NE1 might have covered similar terrain before them. But no other K-pop group could probably have handled a Coachella gig quite as well.
From the first kicks of "DDU-DU DDU-DU" through the deep-sunk hooks of "Whistle" and "Forever Young," the members of Blackpink brought the rigor and charm of K-pop to a festival founded on punk and indie ideals. That they so successfully translated it to tens of thousands of fans — many of whom didn't yet share Marilyn Morales' devotion — instantly put them in the canon of K-pop crossovers, and they're likely just getting started.
Get our L.A. Goes Out newsletter, with the week's best events, to help you explore and experience our city.
You may occasionally receive promotional content from the Los Angeles Times.