Bob Dylan, interpreter: Seven of the artist's greatest covers
Editor's note: In what was considered a "radical" choice, Bob Dylan was announced as the winner of the Nobel Prize in literature on Oct. 13, 2016. Read the story here.
Bob Dylan has devoted the vast majority of his 55-year recording career to songs of his own, but occasionally he has displayed his ability as a vocal stylist, interpreting folk, country, blues, gospel and pop songs that most inspired him.
Here are seven worth seeking:
1. "See That My Grave is Kept Clean/One Kind Favor" (Blind Lemon Jefferson): Out of the gate in 1962 with his debut album "Bob Dylan," the acclaimed young folk hero and Woody Guthrie acolyte demonstrated he could be as adept singing other writers' songs as his own. Here he injects palpable terror into Jefferson's haunting ode to awareness of an inevitable meeting with the Grim Reaper.
2. "You Win Again" (Hank Williams): Dylan's crying vocal zeroes in on the anguish, as well as the wounded resignation, in the lyrics by country music's greatest songwriter.
3. "Folsom Prison Blues" (Johnny Cash): In place of the rolling train rhythm of Cash's original, Dylan applies a Jimmy Reed chugging blues pace to propel his keening vocal, bringing more existential acceptance to this confession from a man who knows he belongs behind bars for life for his sins.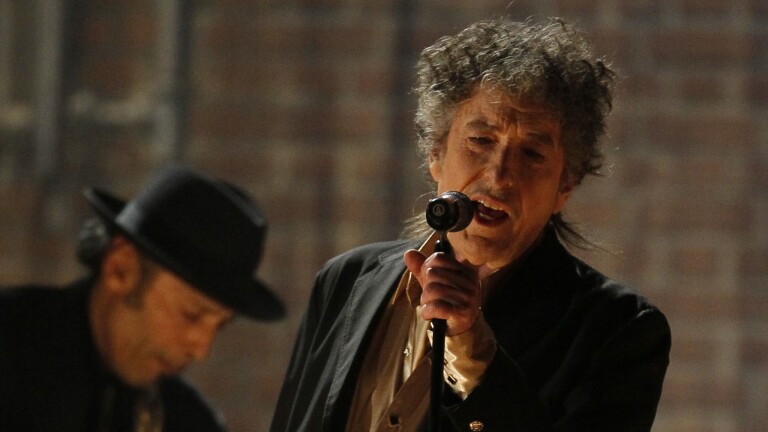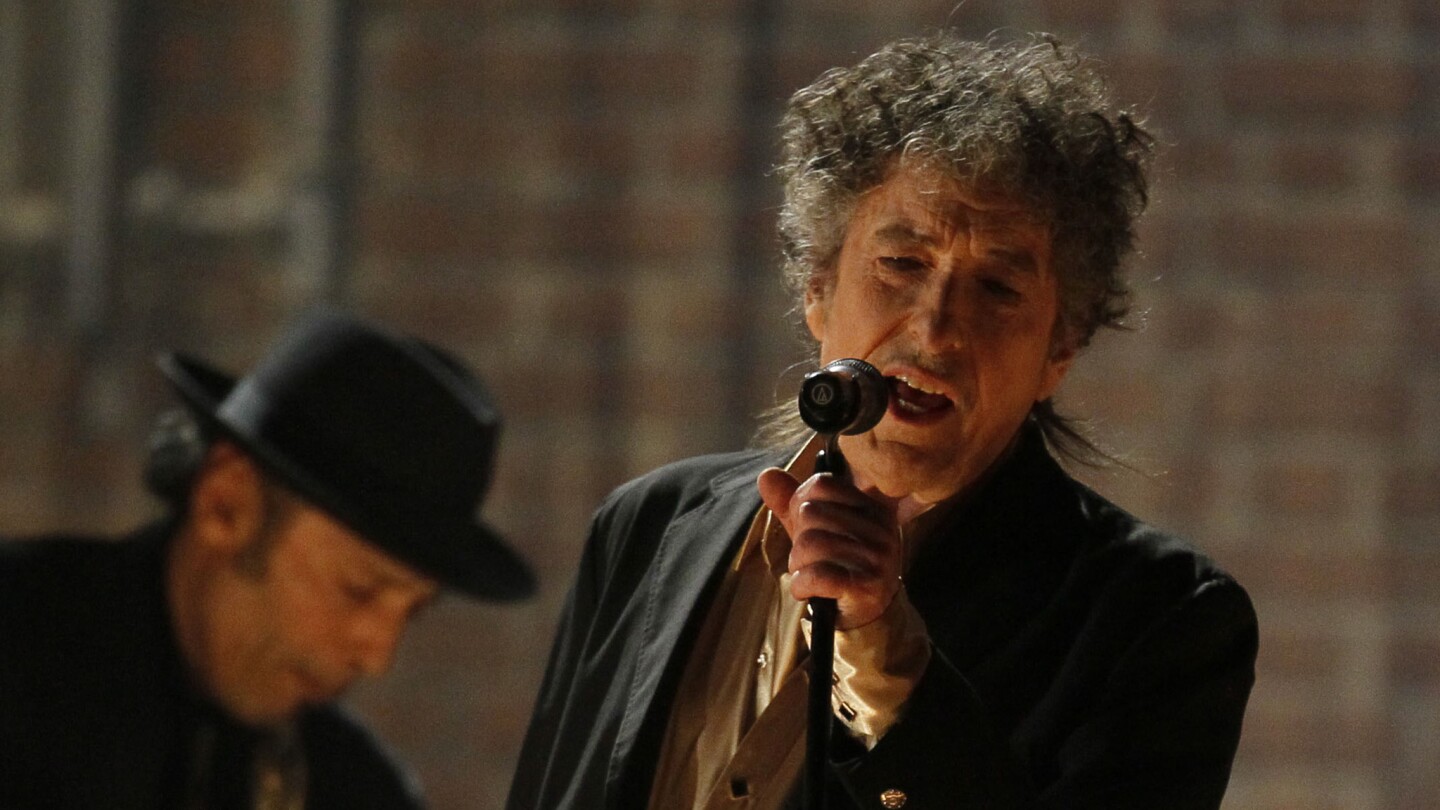 Bob Dylan's lengthy career is difficult to sum up. The restless and prolific innovator has sold more than 100 million albums, won Grammys, Golden Globes and Oscars and is in the Rock and Roll Hall of Fame. Check out highlights of his legendary life.
(Robert Gauthier / Los Angeles Times)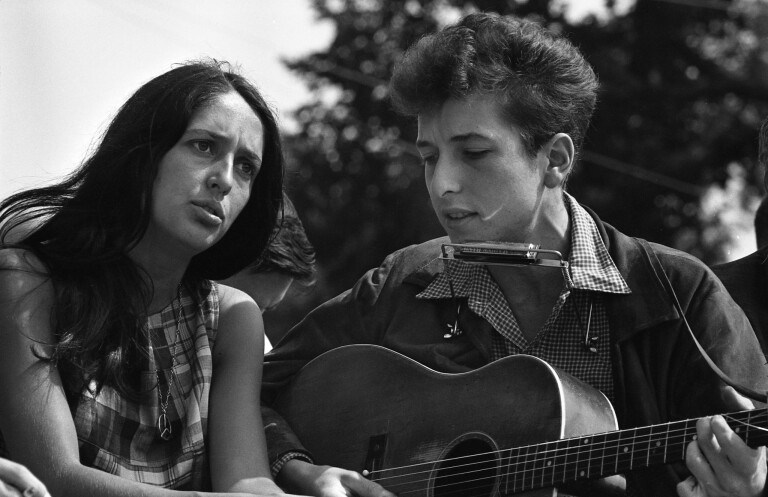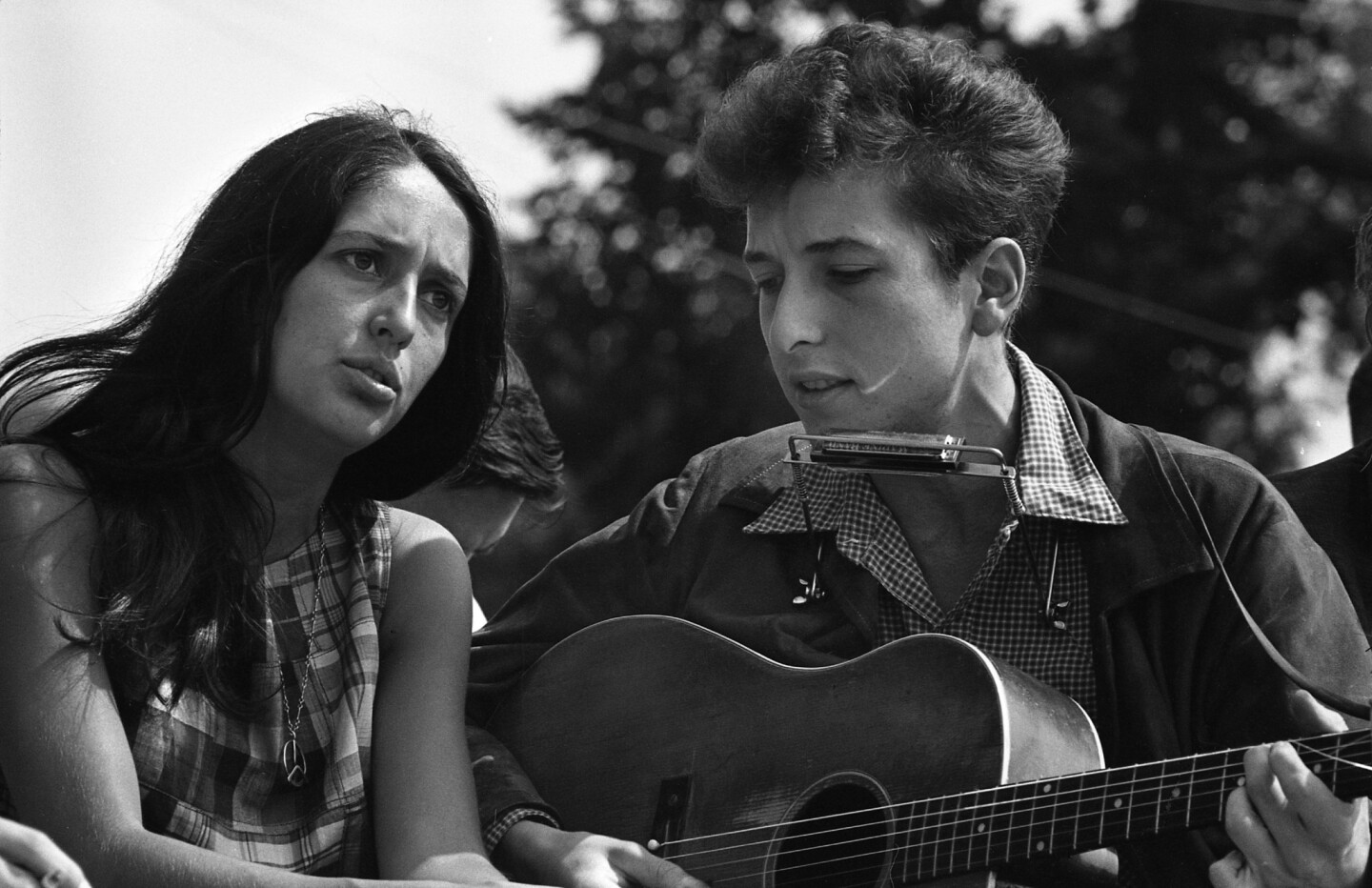 Political folk singer Joan Baez was a highly influential collaborator with Dylan in his early career. They're pictured performing during the March on Washington civil rights rally on Aug. 28, 1963.
(Rowland Scherman / Getty Images)
After recovering from a near-fatal 1966 motorcycle crash, Dylan regrouped, playing with a backing band soon to be known as the Band. Eschewing touring, they instead recorded dozens of songs in widely bootlegged sessions later known as "The Basement Tapes." They are shown performing Jan. 20, 1968, in New York City's Carnegie Hall.
(Michael Ochs Archives / Getty Images)
Bob Dylan appears in a film still for "Pat Garrett & Billy the Kid" (for which he also did the soundtrack) which was released in May 1973 and filmed in Durango, Mexico.
(Michael Ochs Archives / Getty Images)
In 1988, Dylan was inducted into the Rock and Roll Hall of Fame. After the ceremony, he performed with the Rolling Stones' Mick Jagger, right.
(Vince Compagnone / Los Angeles Times)
Bob Dylan performs at the John F Kennedy Stadium in Philadelphia during the first international live aid concert against hunger in Africa on July 13, 1985.
(Micelotta Frank / AFP/Getty Images)
In 1994, Dylan performed at the 25th anniversary of Woodstock in upstate New York. He had rejected an invitation to play at the original 1969 fest, choosing instead to appear at the Isle of Wight festival in England on Aug. 31, 1969.
(Gary Friedman / Los Angeles Times)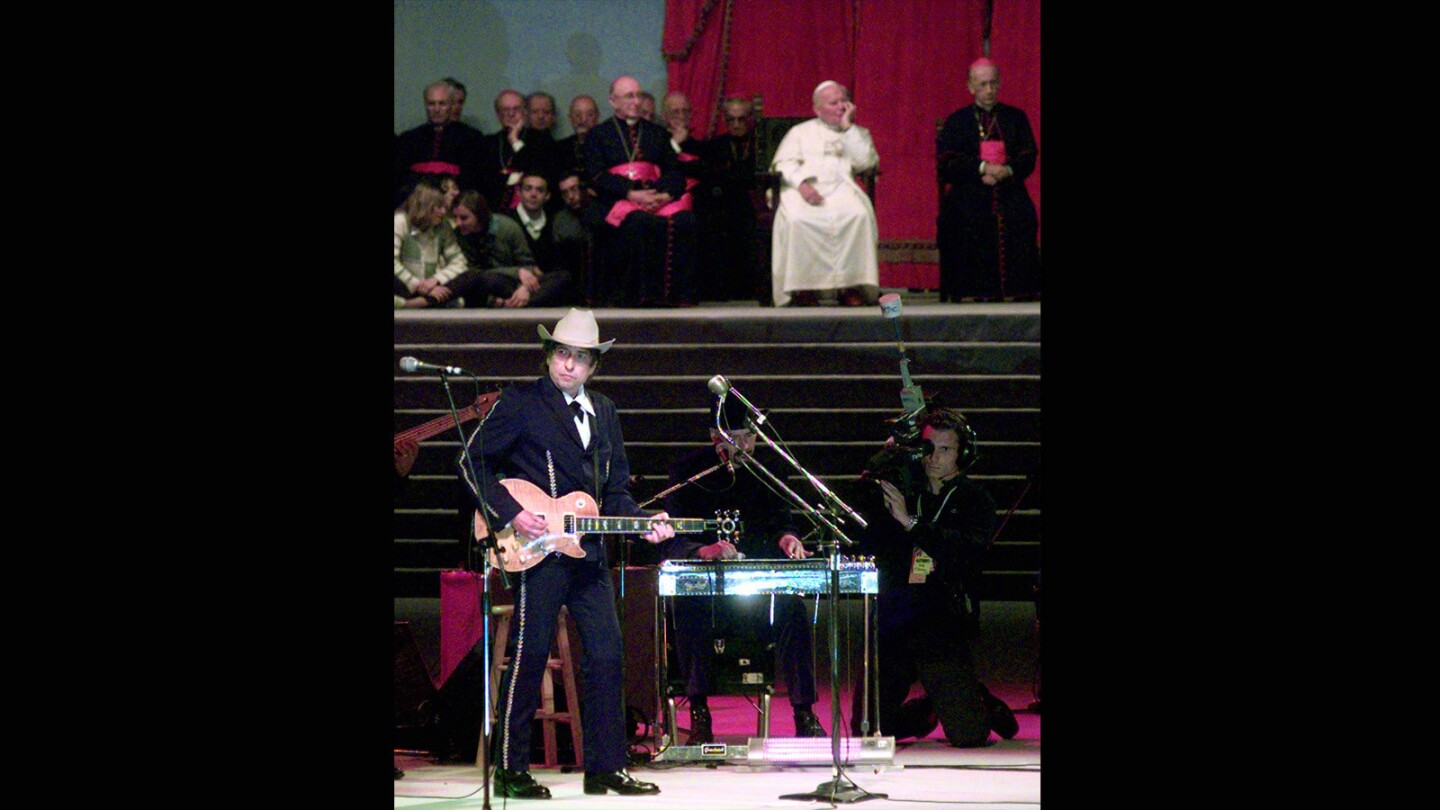 Dylan performed one of his best-known songs, "Knockin' on Heaven's Door" in front of Pope John Paul II in Bologna, Italy on Sept. 27, 1997, before an estimated crowd of 300,000
(Luca Bruno / AP)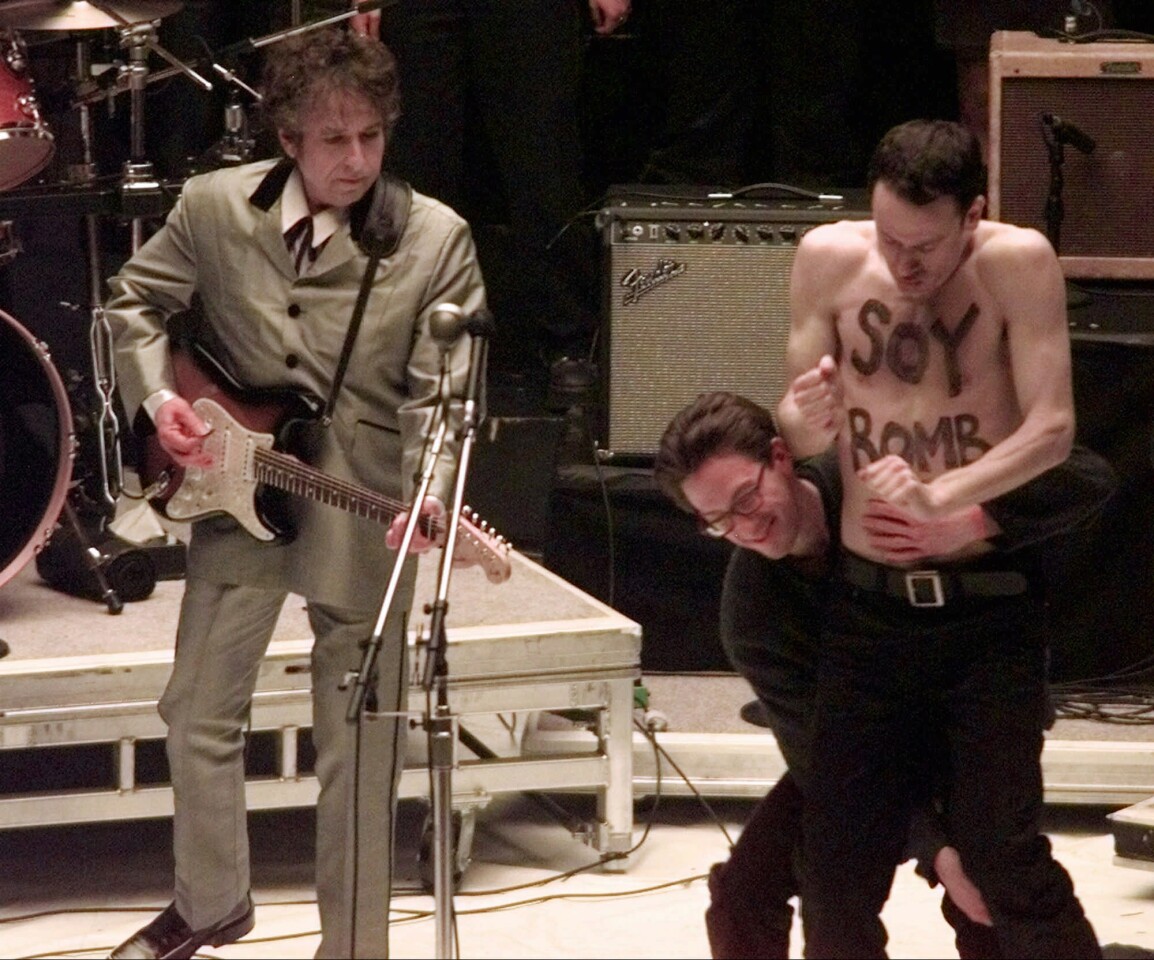 While performing the song "Love Sick" at the 1998 Grammys, Dylan was interrupted by performance artist Michael Portnoy, with the words "Soy Bomb" painted on his chest.
(Mark Lennihan / AP)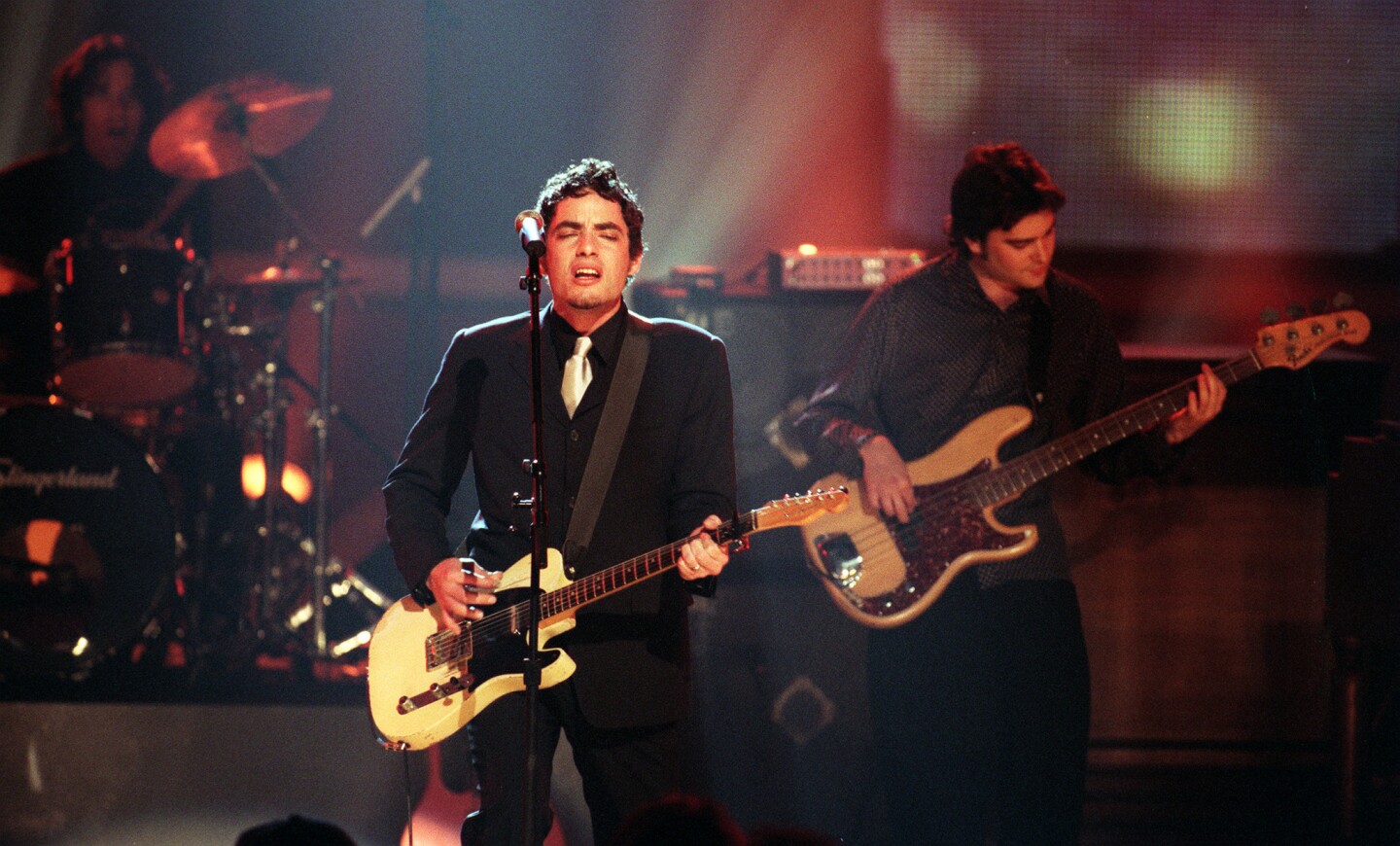 Dylan has been married twice and has six children. His son Jakob Dylan, center, is the lead singer for the rock band the Wallflowers and a solo artist.
(Patrick Downs / Los Angeles Times)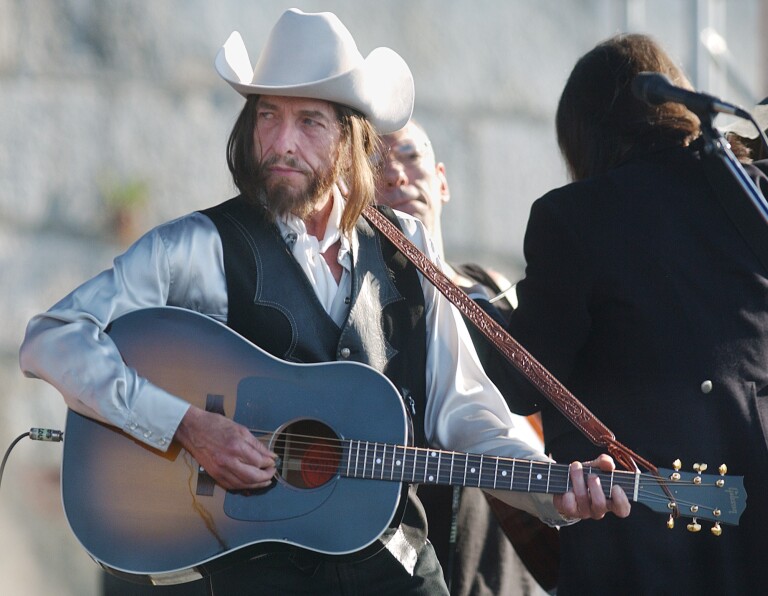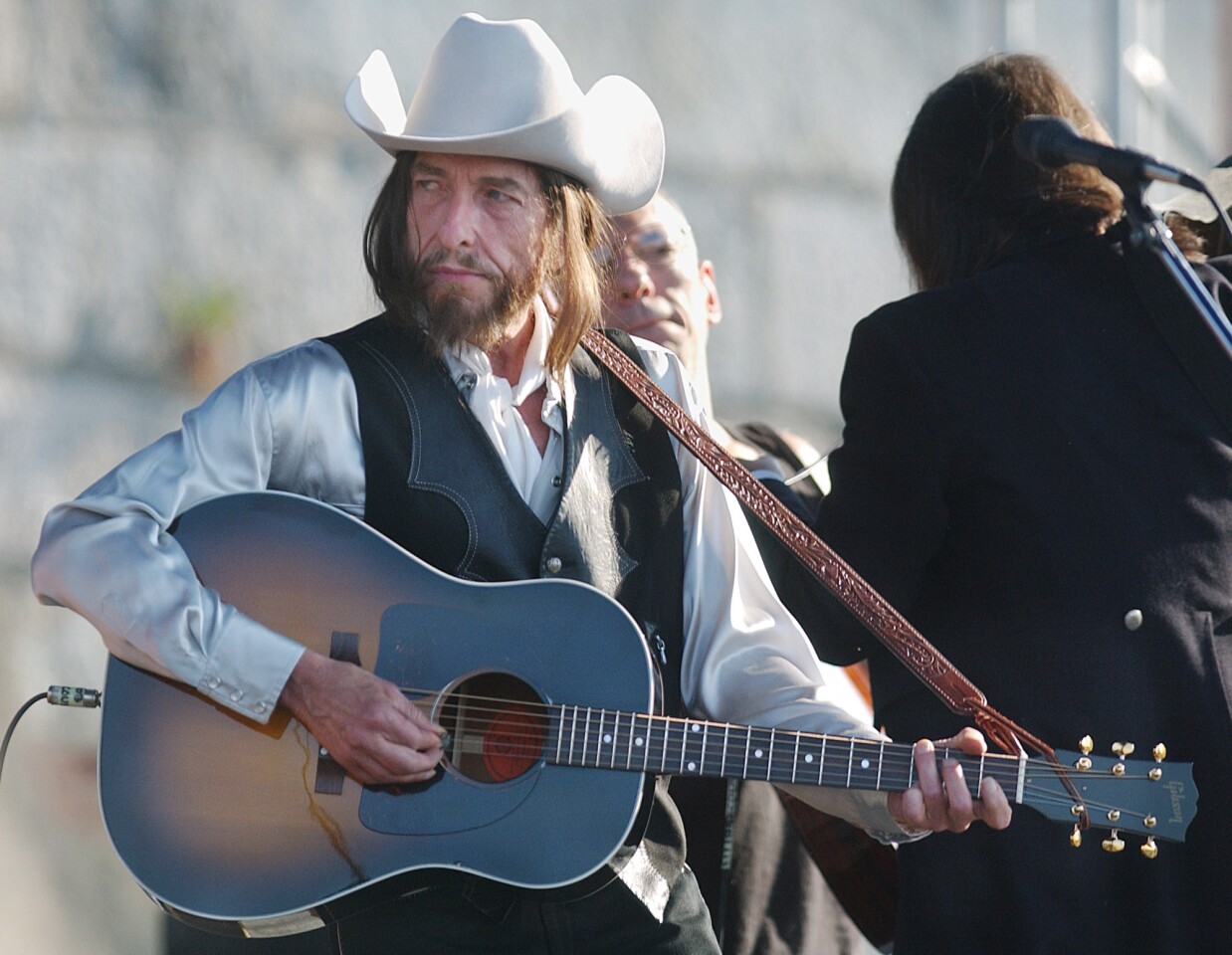 In 2002, Dylan returned to the Newport Folk Festival for the first time since 1965, when he had famously shocked fans by strapping on an electric guitar.
(Michael Dwyer / AP)
In 2006, director Todd Haynes released the film "I'm Not There," in which different actors -- including Richard Gere, Heath Ledger, Christian Bale and Cate Blanchett, pictured -- play incarnations of Dylan at various phases of his public and private life.
(Jonathan Wenk / AP)
Willie Nelson, right, and Dylan performed together at Willie Nelson and Friends' "Outlaws and Angels" concert at the Wiltern in Los Angeles on May 5, 2004.
(Lori Shepler / Los Angeles Times)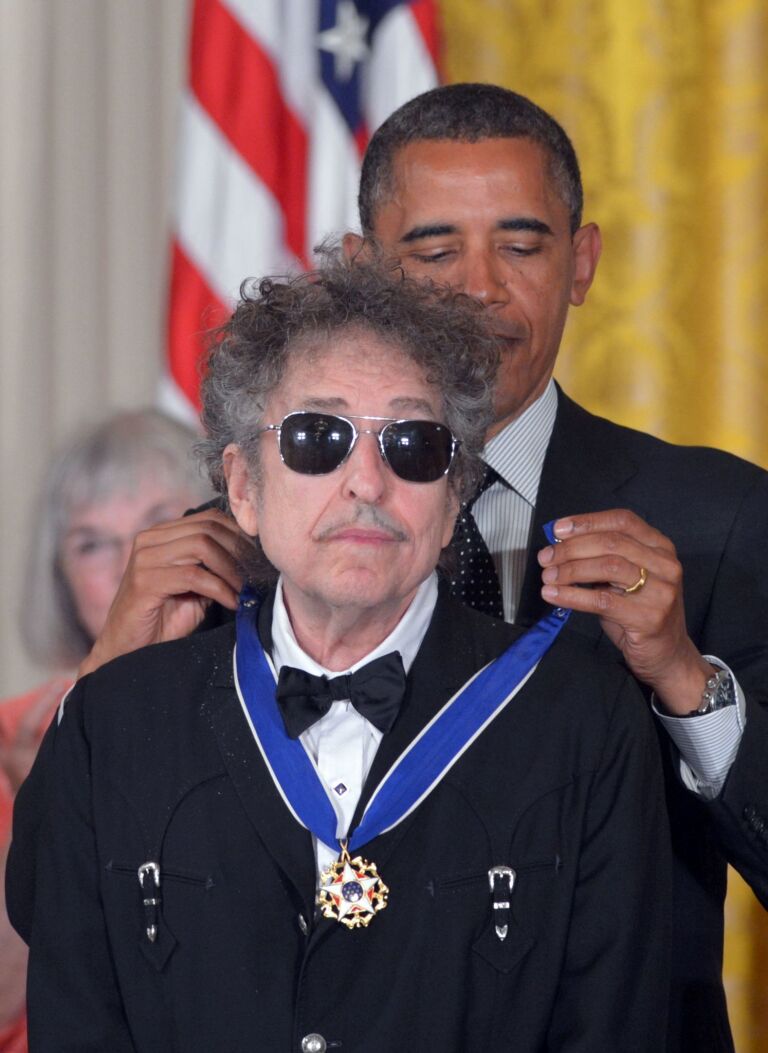 President Barack Obama, background, presents the Presidential Medal of Freedom to Bob Dylan on May 29, 2012.
(Mandel Ngan / AFP/Getty Images)
Dylan -- seen at Les Vieilles Charrues Festival in Carhaix, France, in December 2013 -- continues to perform on what's been dubbed "The Never Ending Tour."
(David Vincent / AP)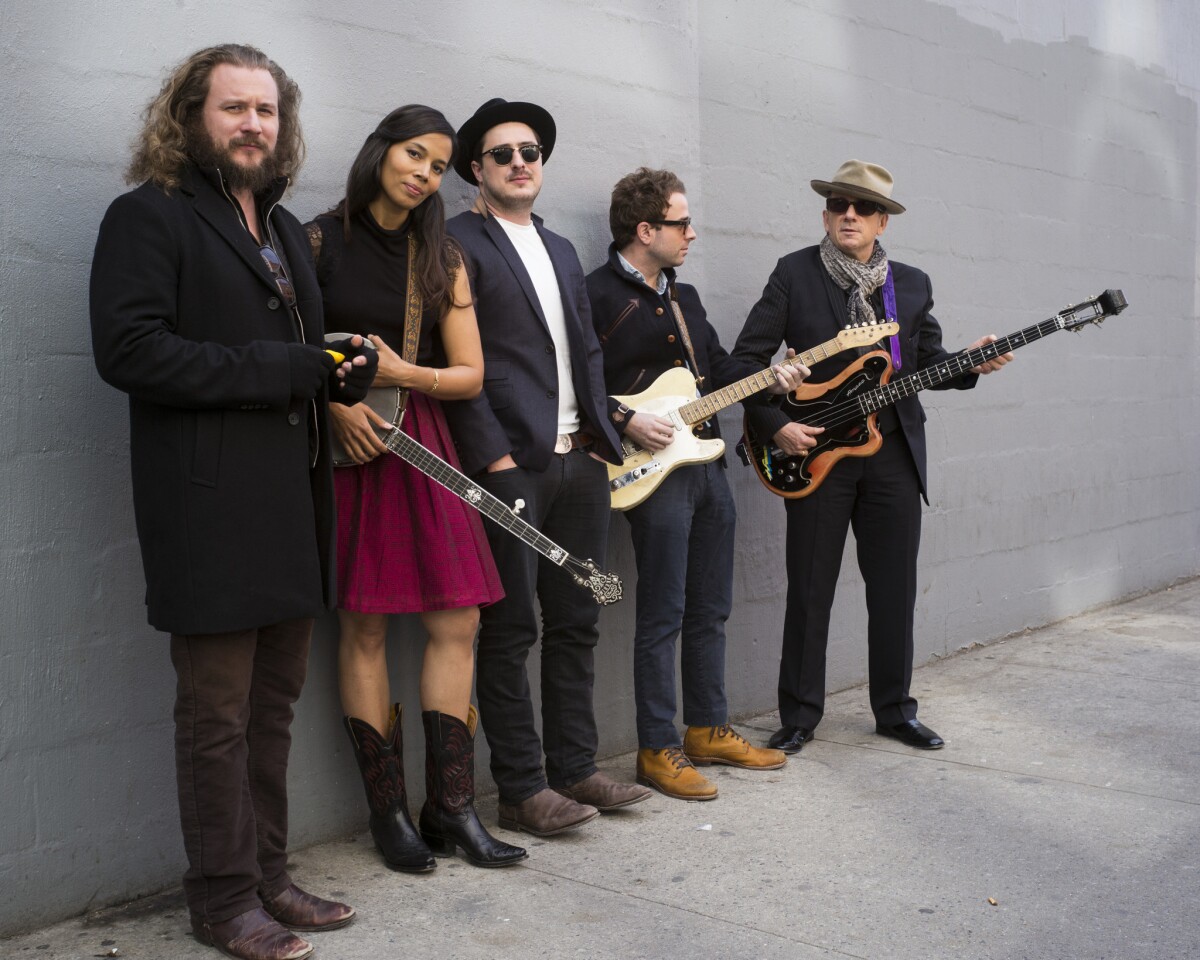 Among the many recent tributes inspired by Dylan was 2014's album "Lost on the River: The New Basement Tapes." Participants included Jim James, left, Rhiannon Giddens, Marcus Mumford, Taylor Goldsmith and Elvis Costello.
(Drew Gurian / Invision / AP)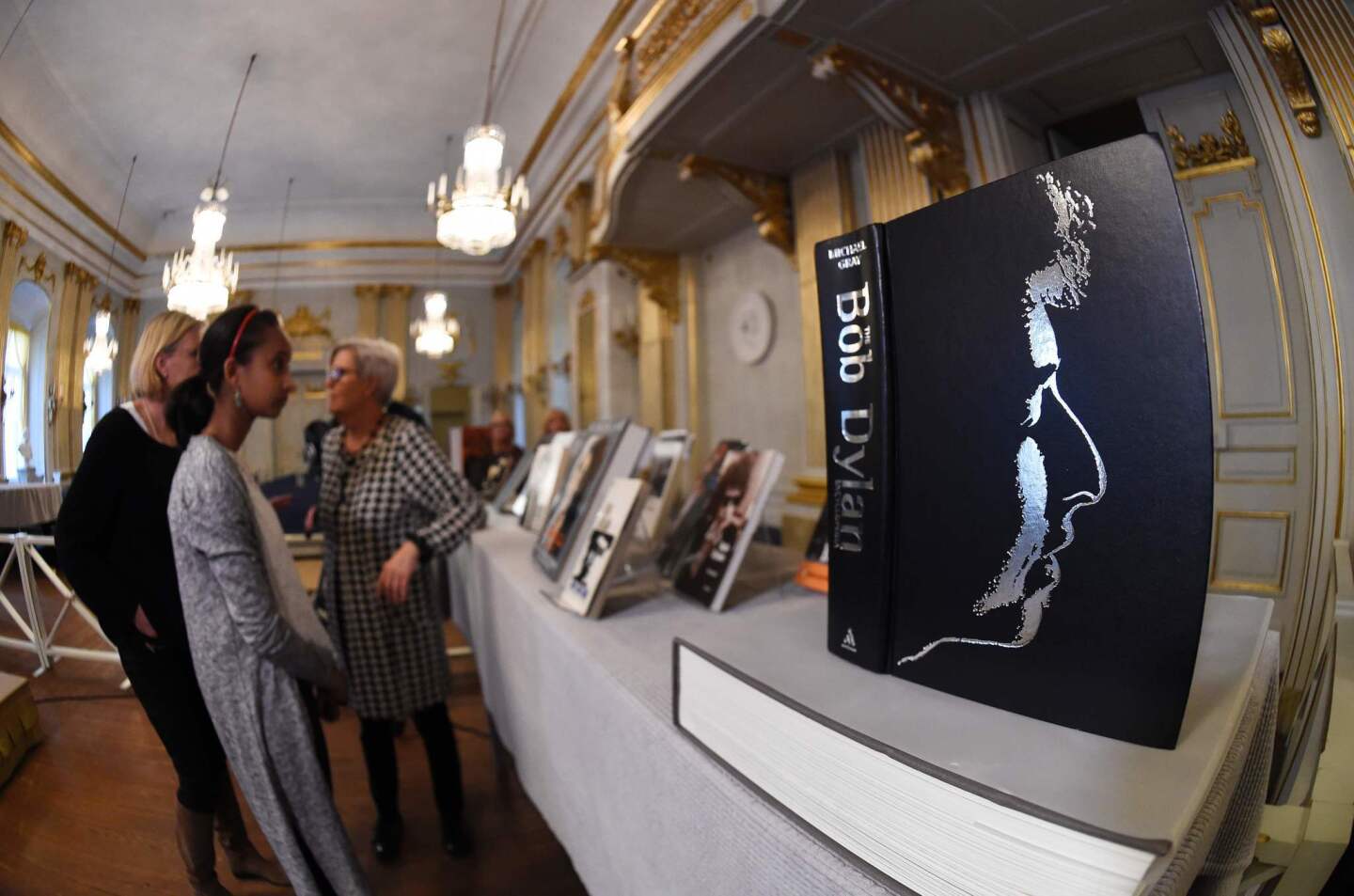 People look at books by Bob Dylan who was announced the laureate of the 2016 Nobel Prize in Literature at the Swedish Academy in Stockholm, Sweden, on Oct. 13, 2016.
(Jonathan Nackstrand / AFP/Getty Images)
4. "Four Strong Winds" (Ian Tyson): Soul-deep regret and heartache are at the heart of this reading of the respected Canadian folk-country songwriter's best-known song.
5. "A Fool Such As I" (William Marvin Trader): The shadows of hit versions by Hank Snow and Elvis Presley loom large over this song, yet Dylan finds his own distinctive route into the anguish at the heart of Trader's lyric.
6. "Tomorrow Night" (Sam Coslow-Will Grosz): This precursor to "Shadows in the Night" and "Fallen Angels" shows Dylan excavating the blues under the surface of this 1939 pop standard, previously recorded by Presley, LaVern Baker, Jerry Lee Lewis, Horace Heidt and, perhaps most relevant to Dylan's version, Lonnie Johnson.
7. "Delia" (Traditional): Dylan is at his most intimately confessional in this almost whispered rendition of the classic murder ballad, no doubt influenced by, but still determinedly different from, folk-blues singer Blind Willie McTell's interpretation.
A brief look at the catalog of Bob Dylan.
---
The complete guide to home viewing
Get Screen Gab for weekly recommendations, analysis, interviews and irreverent discussion of the TV and streaming movies everyone's talking about.
You may occasionally receive promotional content from the Los Angeles Times.