In a 'radical' choice, Bob Dylan wins the Nobel Prize in literature
The Swedish Academy awarded the Nobel Prize in literature to Bob Dylan "for having created new poetic expressions within the American song tradition." 
Well, Shakespeare, he's in the alley
Speaking to some French girl
Who says she knows me well
He was the kid on the coffee house stage growling out songs from behind a guitar that seemed to weigh more than he did. He spoke of the gamblin' man, the thin man, but T.S. Eliot too in songs that honored the roads full of the mud and the chimes of freedom flashing. He was the rebel, the healer, the bard in blue jeans and over-sized shades who sang a generation through war and peace, past the perils of unrest and self-complacency; every time we thought we had him pegged, he tried something new.
For decades, many have considered Bob Dylan the great American poet, and now it is official: On Thursday, he became the first musician to be awarded the Nobel Prize in literature.
Since 1901, the prize has served as the pinnacle of literary achievement. Awarded for a lifetime body of work, it has gone to novelists, poets and playwrights such as Gabriel Garcia Marquez, Saul Bellow, Samuel Beckett, William Faulkner and Aleksandr Solzhenitsyn. The last American to receive the prize was Toni Morrison, in 1993.
And now Dylan has entered that pantheon, shoving against the boundaries of the definition of "literature" just as he pushed past so many borders in music.
Indeed, the Swedish Academy awarded him the prize "for having created new poetic expressions within the great American song tradition."
For many, the announcement was simple affirmation — Bob Dylan has been considered by many to be a, if not the, preeminent modern American poet; his songs are taught as poetry at colleges around the country.
Salman Rushdie tweeted, "From Orpheus to Faiz, song & poetry have been closely linked. Dylan is the brilliant inheritor of the bardic tradition. Great choice. #Nobel."
For others it was a questionable choice, an encroachment by popular culture into one of the few arenas that still proudly considers itself elite.
"Look, Bob Dylan isn't for me, but I get he's a great artist. But the Nobel might as well have given the prize to your dad's fave dorm poster," tweeted comedian John Hodgman. " But there's only one Nobel, and so many authors and poets who haven't a millionth of Dylan's profile/validation."
For members of either camp, it was a bold and surprising choice; when his name was announced at the Swedish Academy, a murmur of surprise went around the room.
Dylan released no public comment Thursday on the award. He was scheduled to perform at the Cosmopolitan of Las Vegas.
The artist, who lives in Malibu and is playing at Desert Trip in Indio this weekend, has been part of the Nobel conversation for years — in 2011 he first appeared on the betting site Landbrokes, and was in fact in eighth place on the site this year. (The Swedish Academy does not release official lists of finalists.)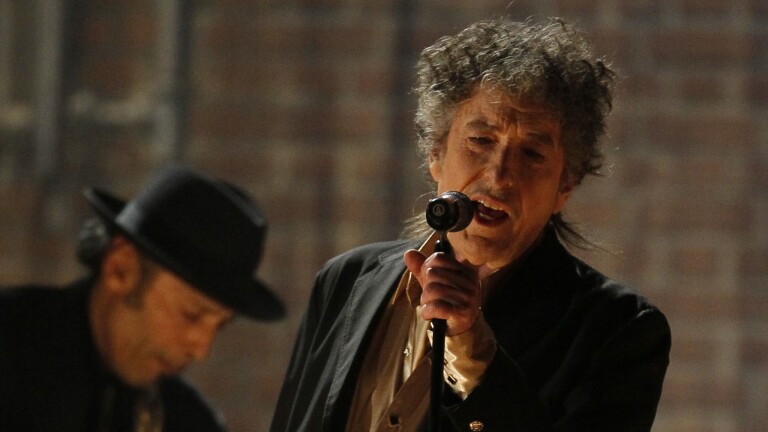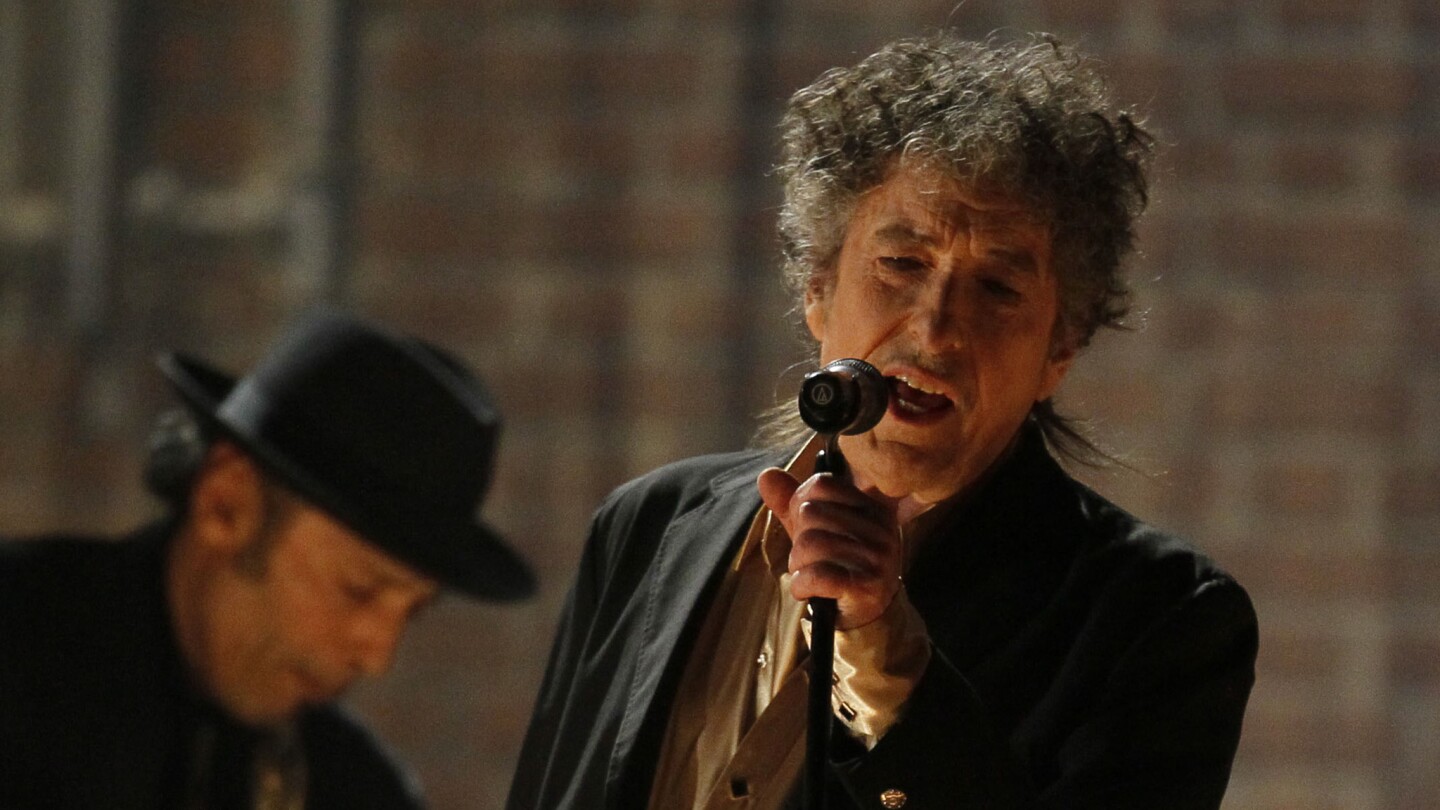 Bob Dylan's lengthy career is difficult to sum up. The restless and prolific innovator has sold more than 100 million albums, won Grammys, Golden Globes and Oscars and is in the Rock and Roll Hall of Fame. Check out highlights of his legendary life.
(Robert Gauthier / Los Angeles Times)
Born Robert Zimmerman in Duluth, Minn., in 1941, Dylan was inspired by folk, blues and pop songwriters and musicians. In 1960, he dropped out of the University of Minnesota and went to New York City, where he would meet idol Woody Guthrie and jumpstart his own career.
(Don Hunstein / Columbia)
Guthrie was a key influence on Dylan, who spent time playing personal and political songs in Greenwich Village clubs. He was soon discovered by producer John Hammond, who signed Dylan to Columbia Records in late 1961.
(Skirball Cultural Center)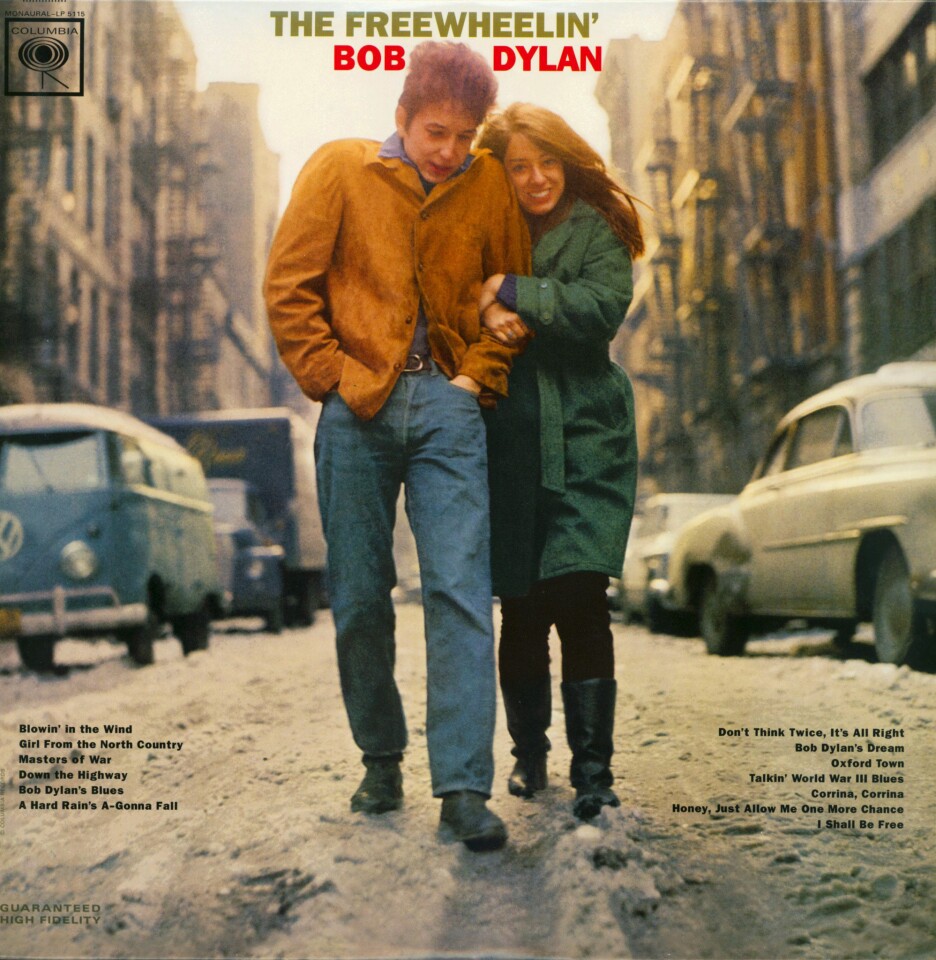 Among his early albums, "The Freewheelin' Bob Dylan" included the anthemic "Blowin' in the Wind," which folk trio Peter, Paul & Mary transformed into a major hit. Elvis Presley, Stevie Wonder, Joan Baez, Neil Young and many others would cover it as well.
(Columbia / Columbia)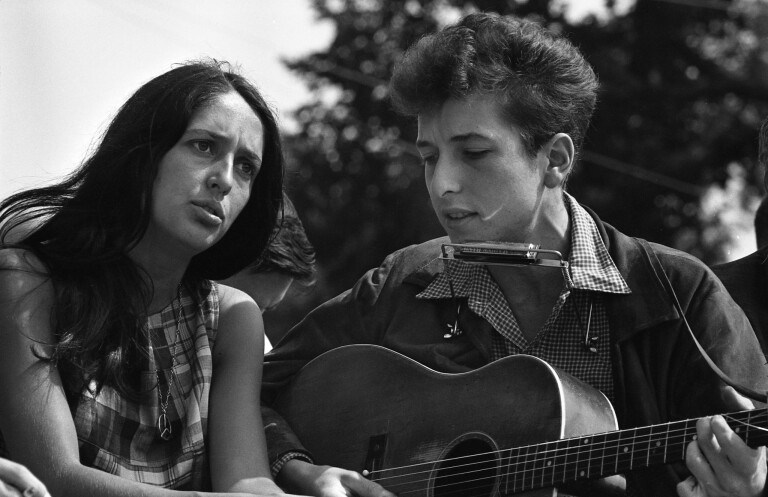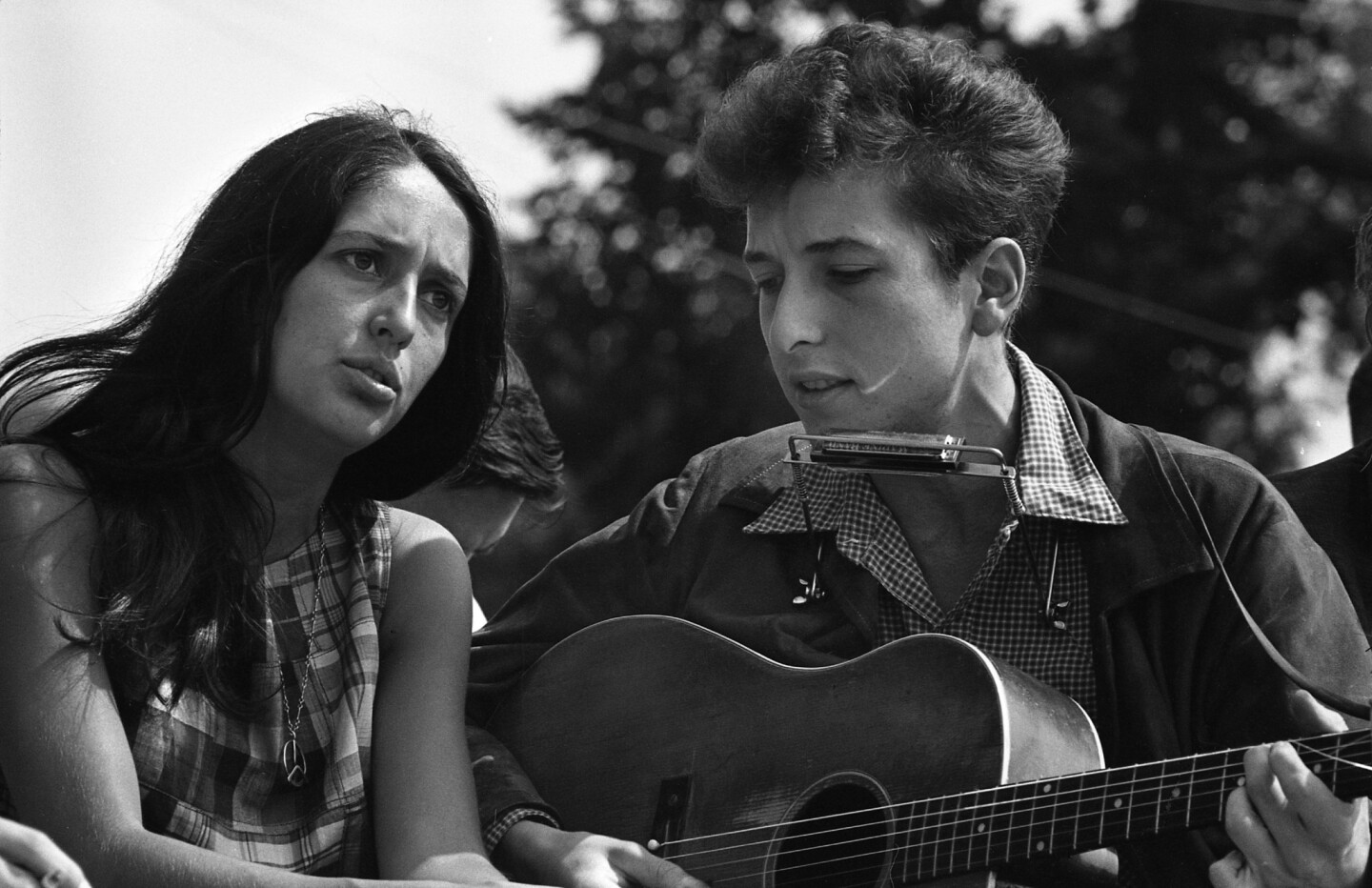 Political folk singer Joan Baez was a highly influential collaborator with Dylan in his early career. They're pictured performing during the March on Washington civil rights rally on Aug. 28, 1963.
(Rowland Scherman / Getty Images)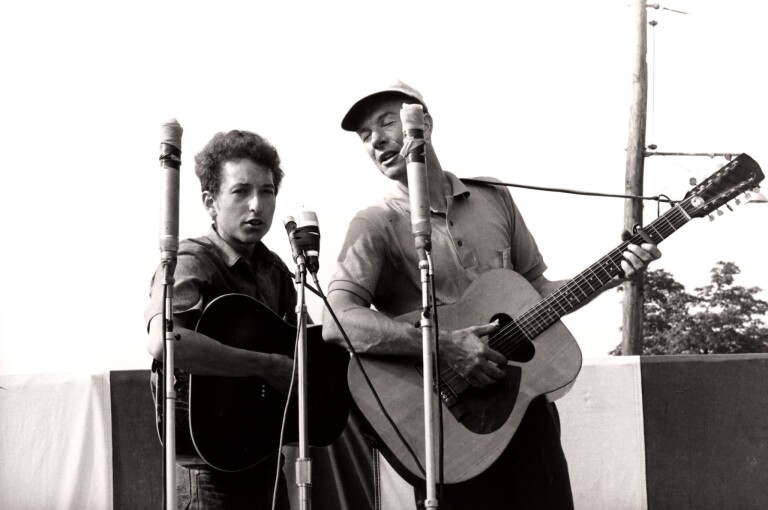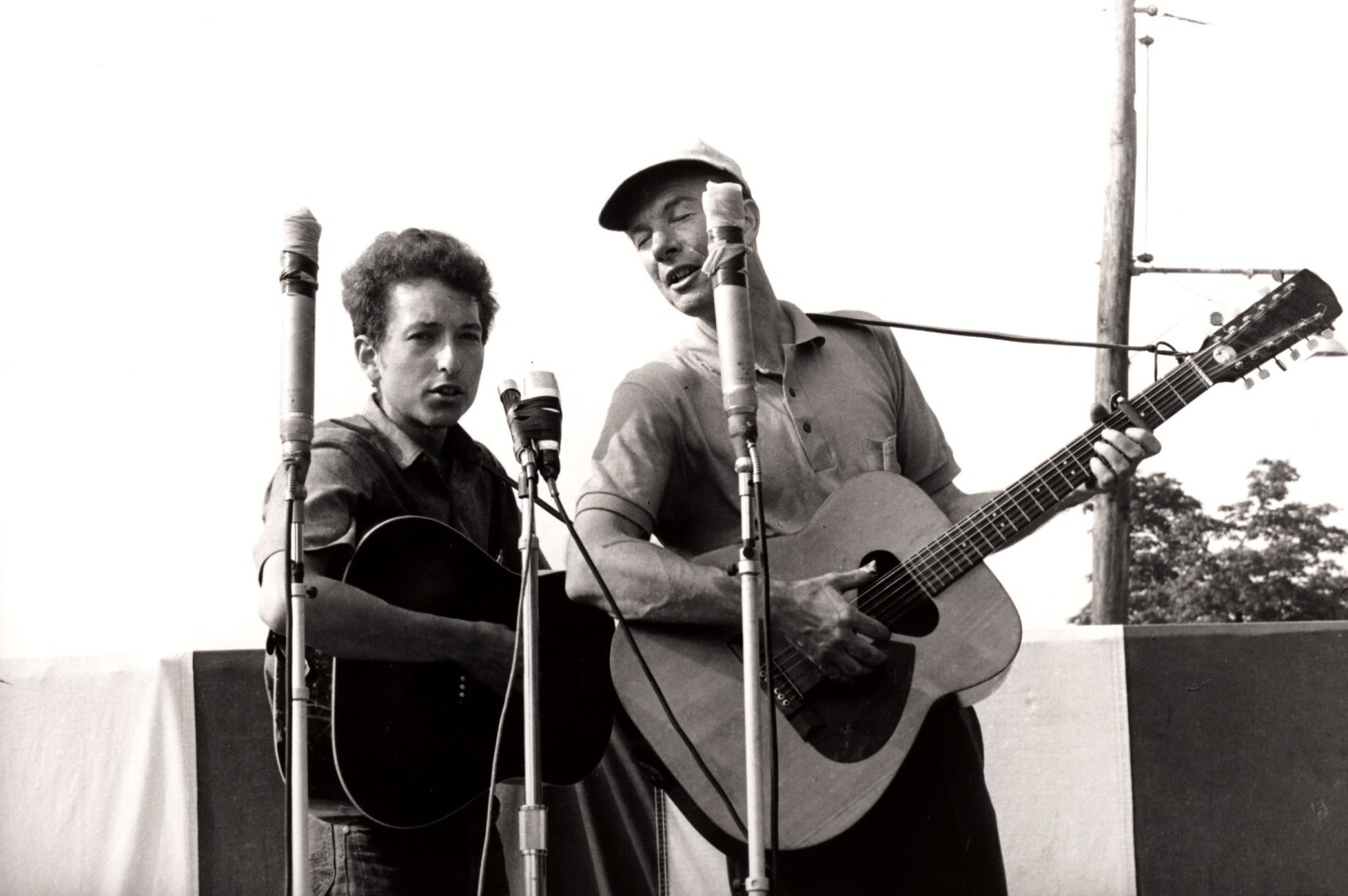 Folk legend Pete Seeger, right, was another singer who collaborated with Dylan in the early '60s. The prolific Dylan was beginning to be seen as the voice of a generation, with many of his songs supplying the soundtrack to the growing counter-culture.
(The Weinstein Company)
Shocking many of his longtime fans, Dylan seemingly turned his back on the folk scene by going electric on his 1965 album "Bringing It All Back Home" and live at the 1965 Newport Folk Festival.
(Sony Music)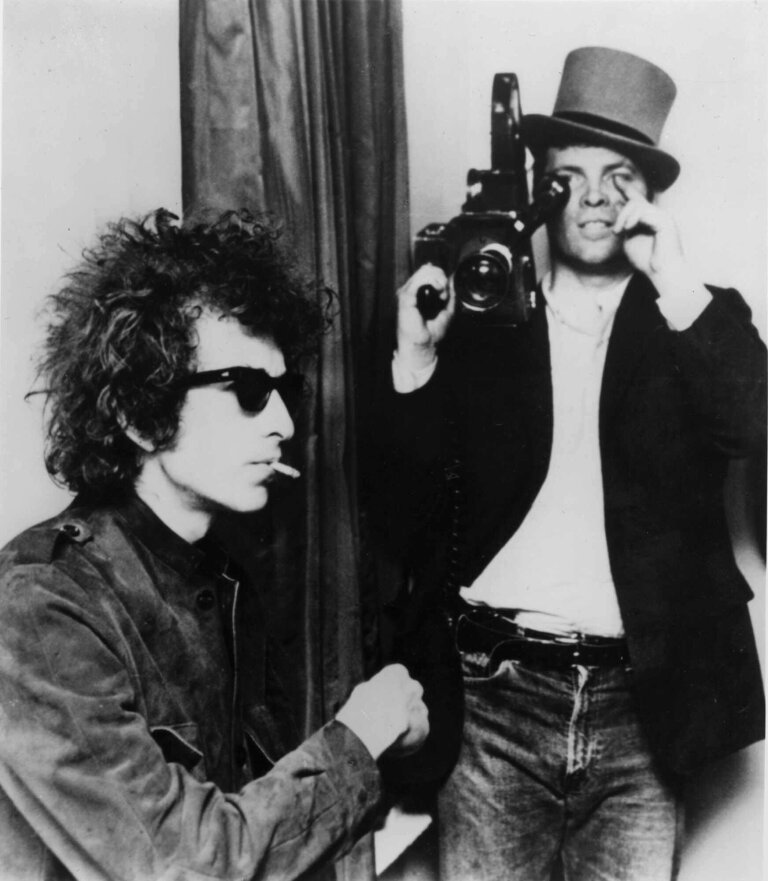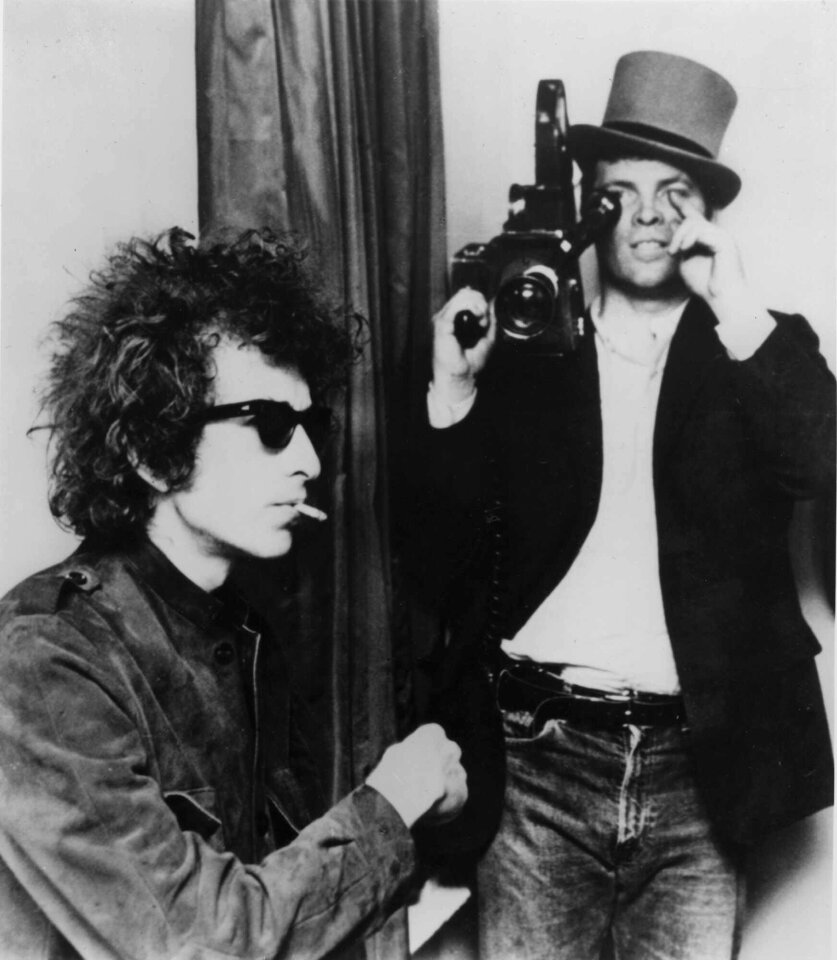 Documentarian D.A. Pennebaker, right, chronicled Dylan's three-week 1965 British tour in the landmark film "Don't Look Back," released in 1967. In addition to live performances and backstage footage, it showed Dylan confounding reporters and interacting with fans.
(AP Photo)
"Don't Look Back" begins with what's been called an early example of a music video, as Dylan holds up cue cards featuring the lyrics to "Subterranean Homesick Blues" while the song plays on the soundtrack. Beat icon Allen Ginsberg can be seen in the background.
(Handout)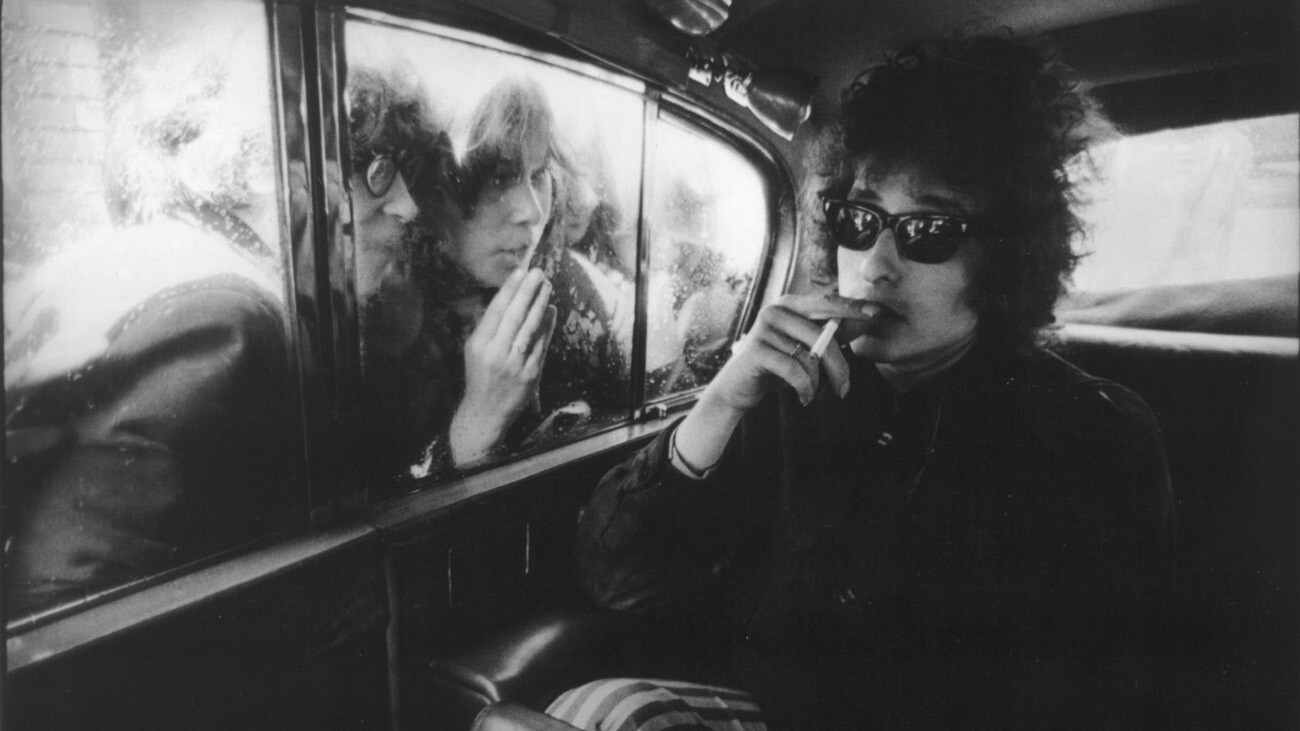 Dylan, photographed with adoring fans in London in 1966, reached commerical heights in 1965 and 1966, with the innovative hit single "Like a Rolling Stone" and the sprawling double-LP "Blonde on Blonde."
(Barry Feinstein / Fahey / Klein Gallery)
After recovering from a near-fatal 1966 motorcycle crash, Dylan regrouped, playing with a backing band soon to be known as the Band. Eschewing touring, they instead recorded dozens of songs in widely bootlegged sessions later known as "The Basement Tapes." They are shown performing Jan. 20, 1968, in New York City's Carnegie Hall.
(Michael Ochs Archives / Getty Images)
Dylan and the Beatles shared a mutual admiration. In 1971, Dylan played his first public performance in two years, as part of a benefit for East Pakistani refugees organized by ex-Beatle George Harrison, left.
(UPI)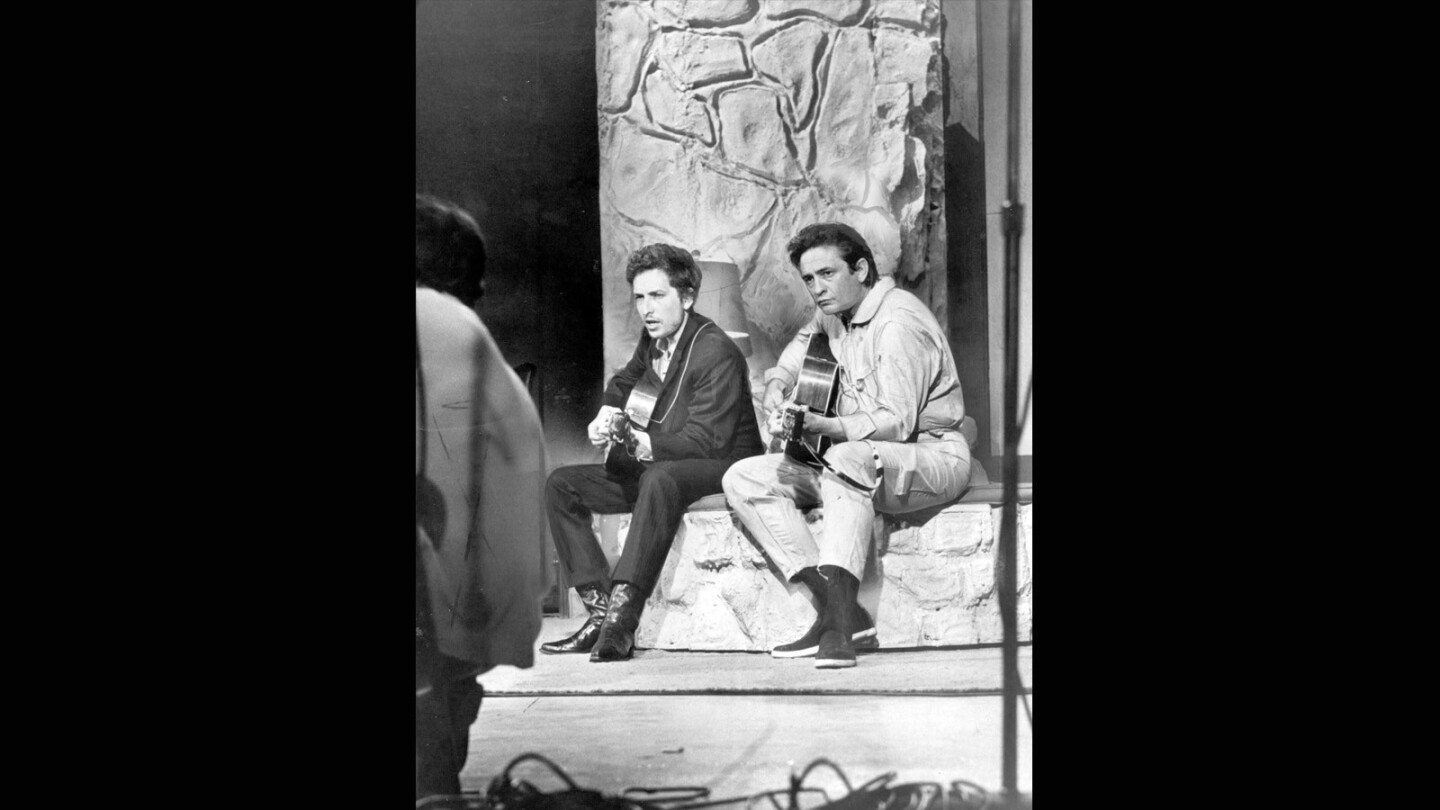 In the late '60s, Dylan explored country sounds, notably on his 1969 album "Nashville Skyline," featuring an appearance by Johnny Cash, right. They dueted on the premiere episode of Cash's TV show.
(Los Angeles Times)
The early '70s found Dylan changing gears once again. His album "Self Portrait" confused fans and critics; he appeared and contributed songs to the '73 film "Pat Garrett and Billy the Kid"; and directed the four-hour film "Renaldo and Clara" (pictured), featuring footage from his 1975 tour.
(Los Angeles Times)
Bob Dylan appears in a film still for "Pat Garrett & Billy the Kid" (for which he also did the soundtrack) which was released in May 1973 and filmed in Durango, Mexico.
(Michael Ochs Archives / Getty Images)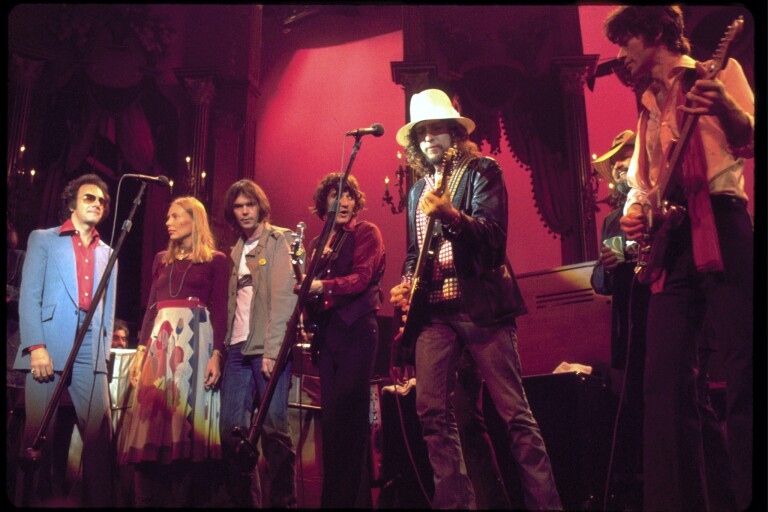 When the Band played its final show, in November 1976, director Martin Scorsese captured it on film in "The Last Waltz." From left, Neil Diamond, Joni Mitchell, Neil Young, Rick Danko, Dylan, Van Morrison and Robbie Robertson.
(Neal Preston / United Artists)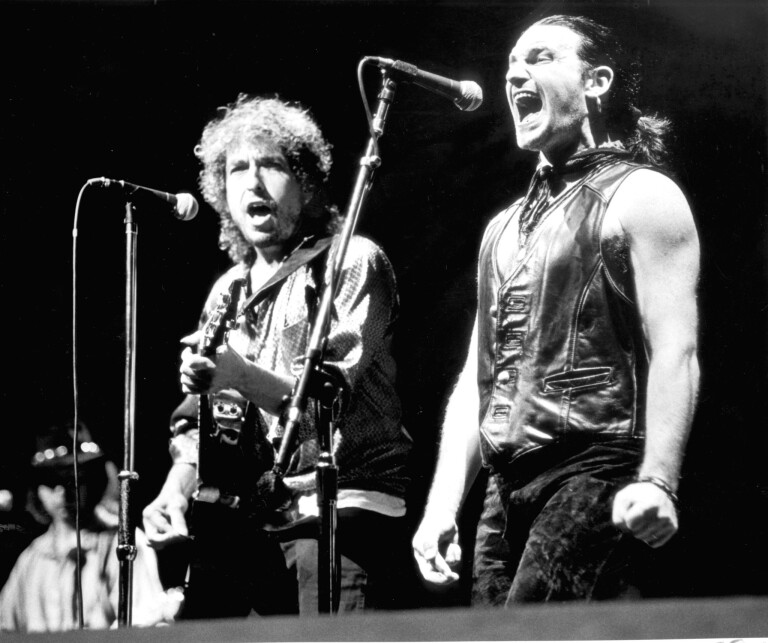 In the '80s, Dylan experimented with gospel sounds, toured with the Grateful Dead, took part in USA for Africa and even collaborated with rapper Kurtis Blow. His albums met with mixed results. Pictured: Dylan performing with U2's Bono, right, in April 1987.
(LA Times Staff Photo )
In 1988, Dylan was inducted into the Rock and Roll Hall of Fame. After the ceremony, he performed with the Rolling Stones' Mick Jagger, right.
(Vince Compagnone / Los Angeles Times)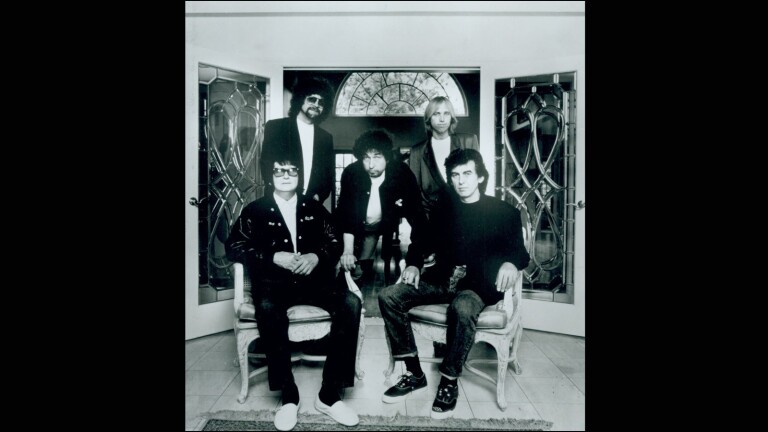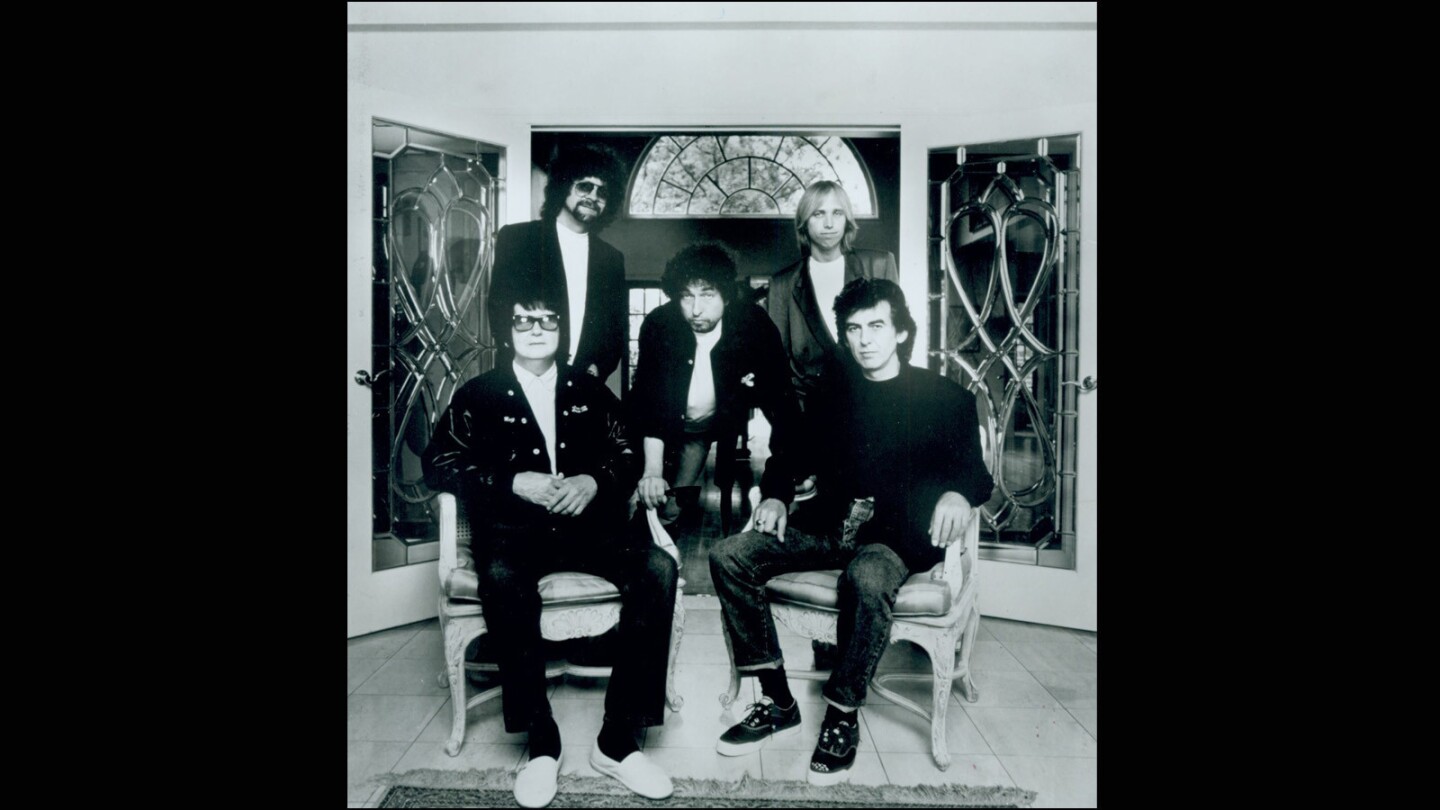 In the late '80s, Dylan joined other rock stars for the supergroup the Traveling Wilburys. Clockwise from top left: Jeff Lynne, Tom Petty, George Harrison, Dylan, Roy Orbison. They released two albums together.
(Neal Preston / Wilbury Records)
Bob Dylan performs at the John F Kennedy Stadium in Philadelphia during the first international live aid concert against hunger in Africa on July 13, 1985.
(Micelotta Frank / AFP/Getty Images)
In 1994, Dylan performed at the 25th anniversary of Woodstock in upstate New York. He had rejected an invitation to play at the original 1969 fest, choosing instead to appear at the Isle of Wight festival in England on Aug. 31, 1969.
(Gary Friedman / Los Angeles Times)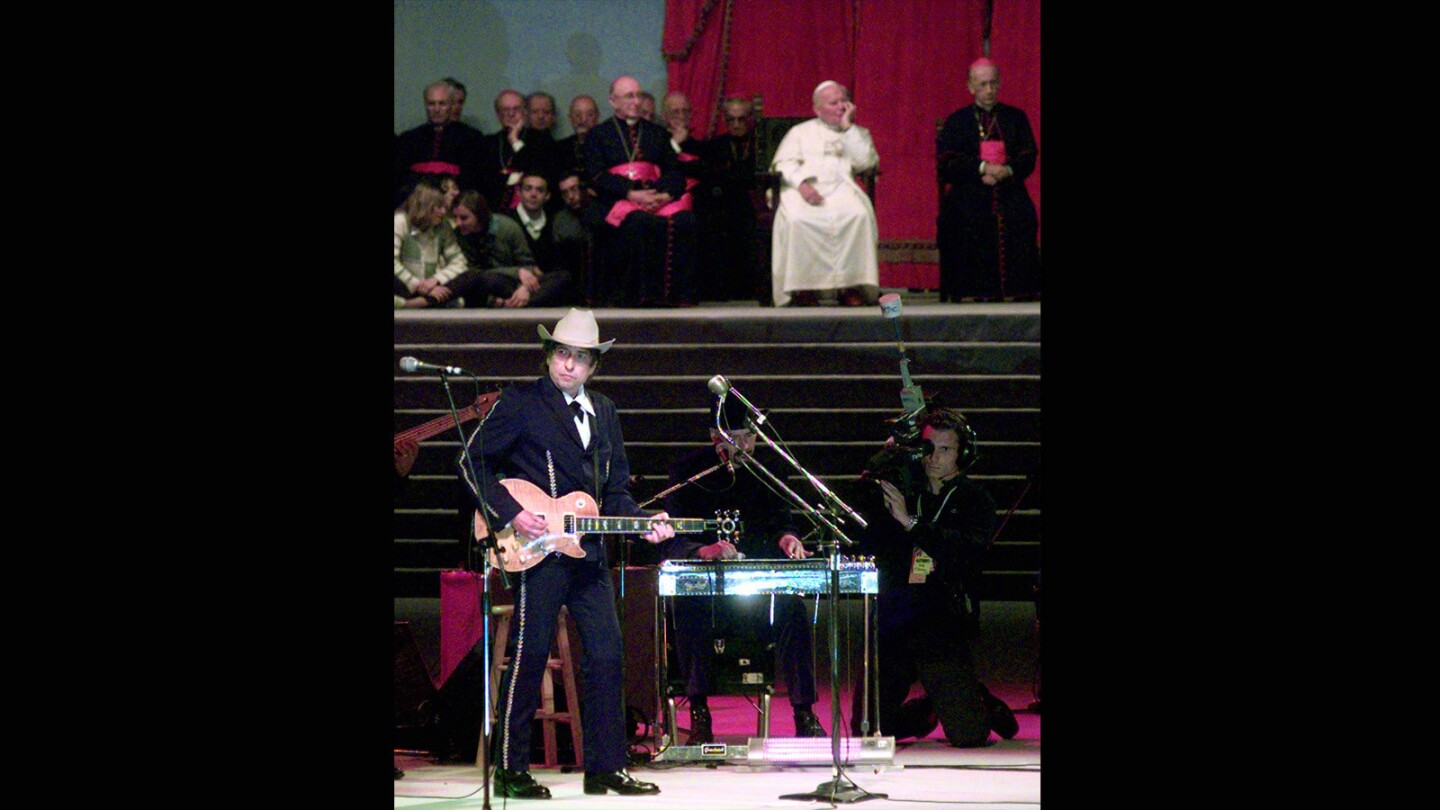 Dylan performed one of his best-known songs, "Knockin' on Heaven's Door" in front of Pope John Paul II in Bologna, Italy on Sept. 27, 1997, before an estimated crowd of 300,000
(Luca Bruno / AP)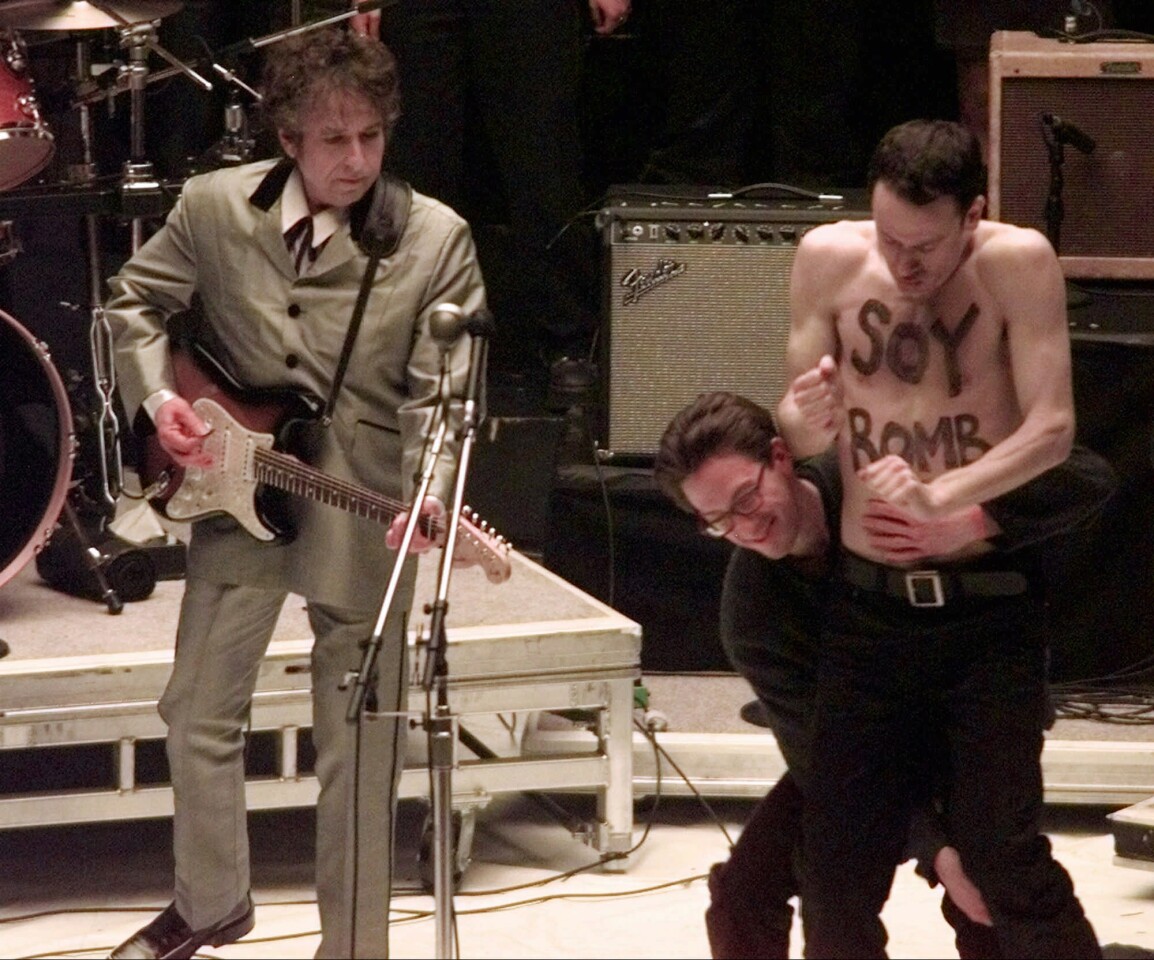 While performing the song "Love Sick" at the 1998 Grammys, Dylan was interrupted by performance artist Michael Portnoy, with the words "Soy Bomb" painted on his chest.
(Mark Lennihan / AP)
Dylan, left, teamed with Paul Simon for a 1999 tour. The duo are pictured playing in Colorado Springs on June 6, 1999.
(Kevin Mazur )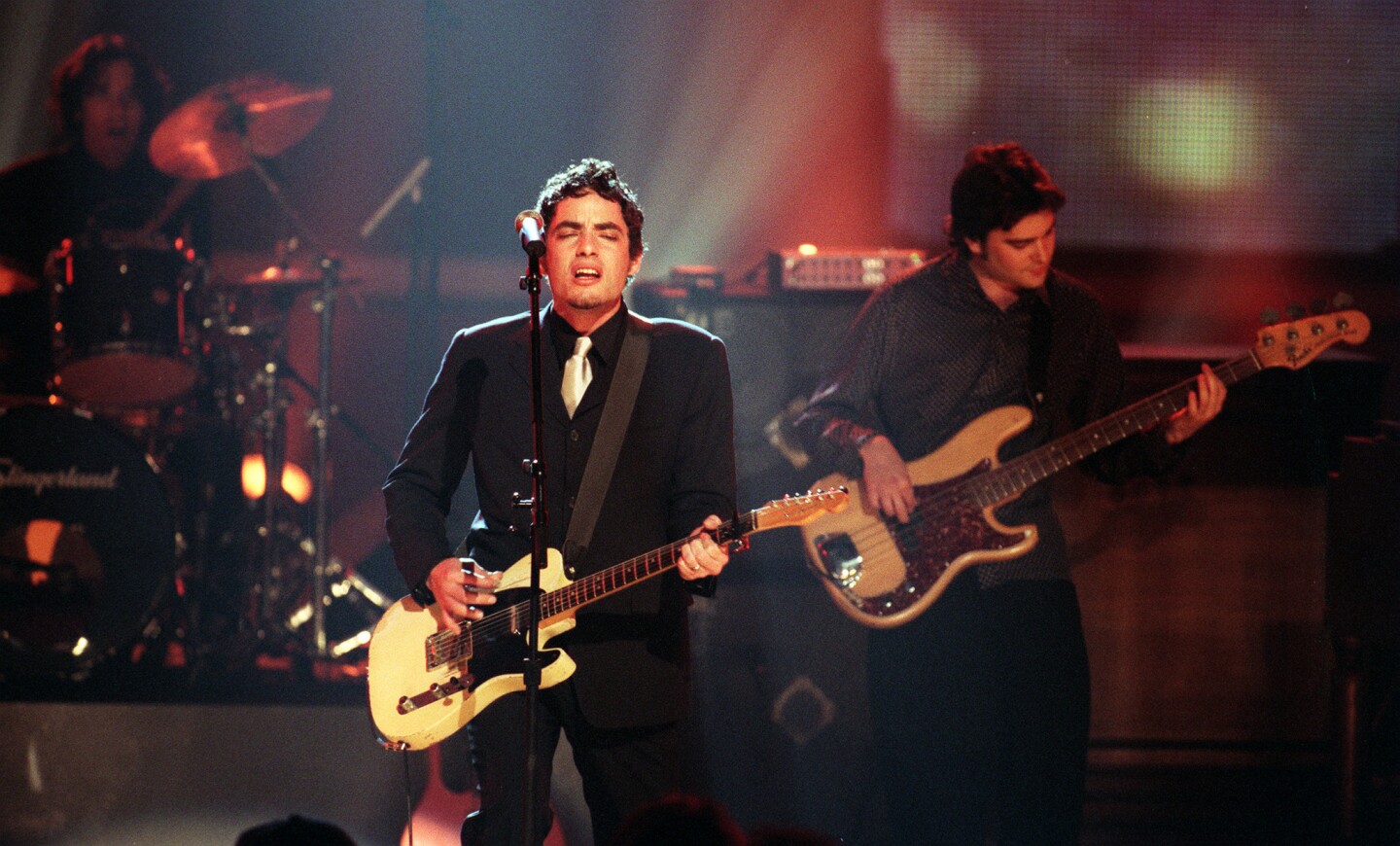 Dylan has been married twice and has six children. His son Jakob Dylan, center, is the lead singer for the rock band the Wallflowers and a solo artist.
(Patrick Downs / Los Angeles Times)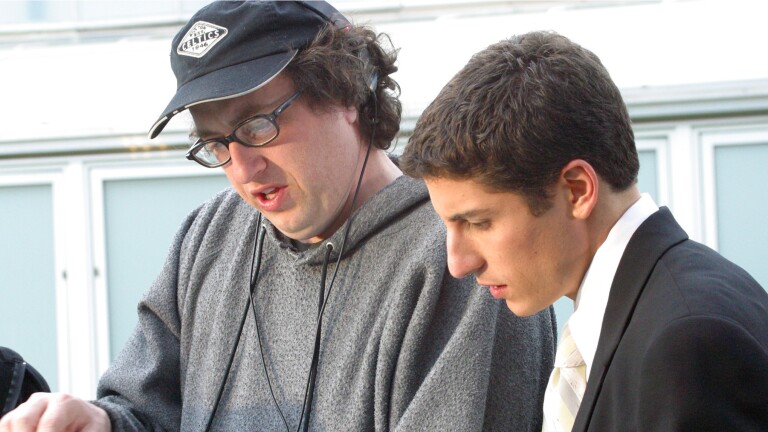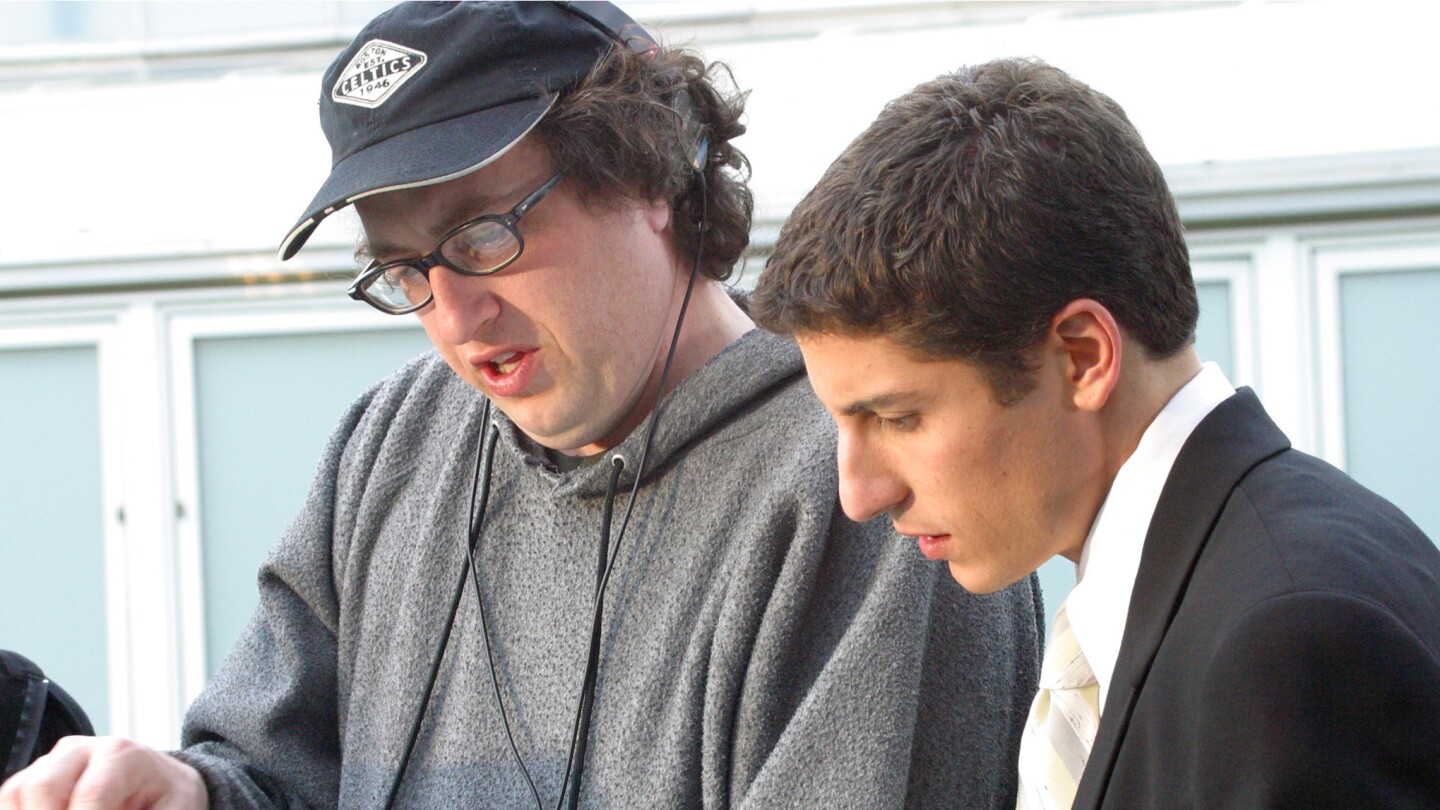 Dylan's son Jesse Dylan, left, is a filmmaker, seen here directing Jason Biggs on the set of 2003's "American Wedding."
(Vivian Zink / Universal Studios)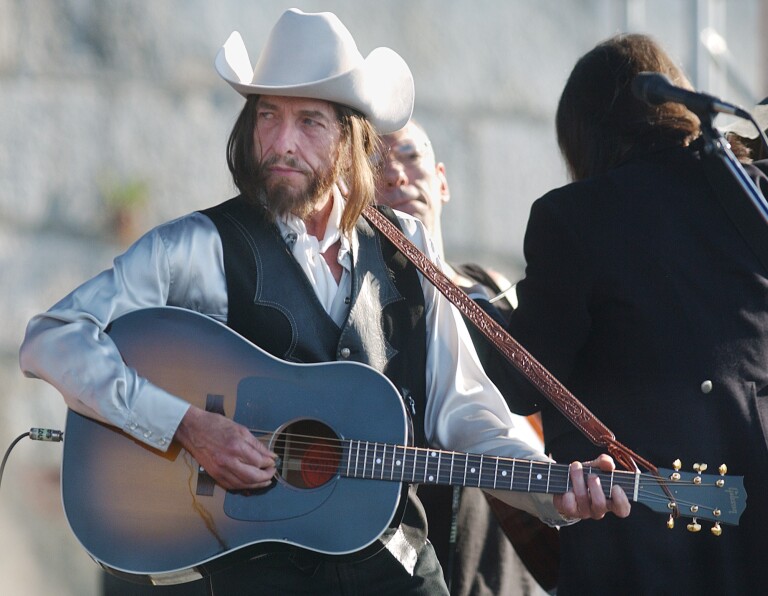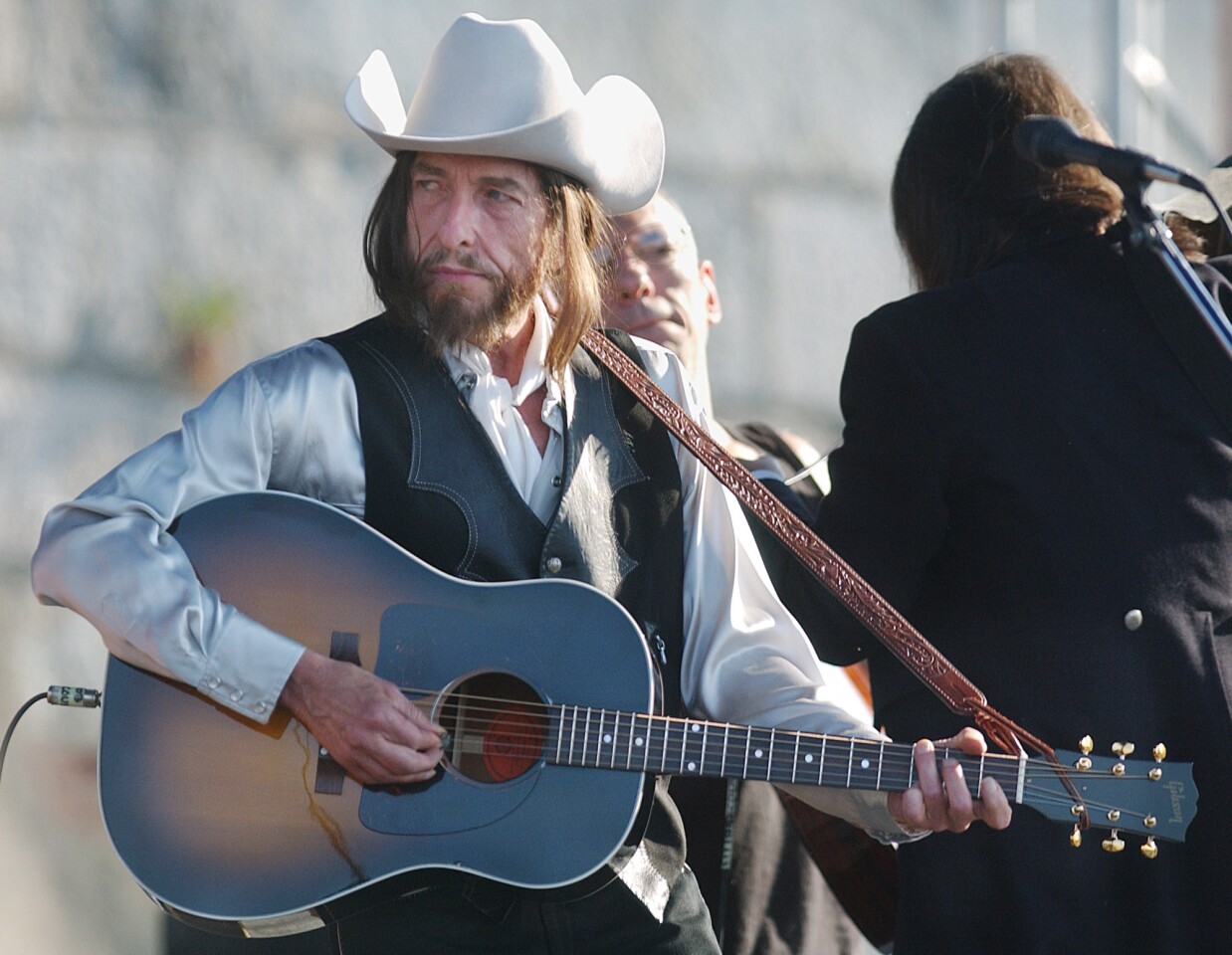 In 2002, Dylan returned to the Newport Folk Festival for the first time since 1965, when he had famously shocked fans by strapping on an electric guitar.
(Michael Dwyer / AP)
In 2006, director Todd Haynes released the film "I'm Not There," in which different actors -- including Richard Gere, Heath Ledger, Christian Bale and Cate Blanchett, pictured -- play incarnations of Dylan at various phases of his public and private life.
(Jonathan Wenk / AP)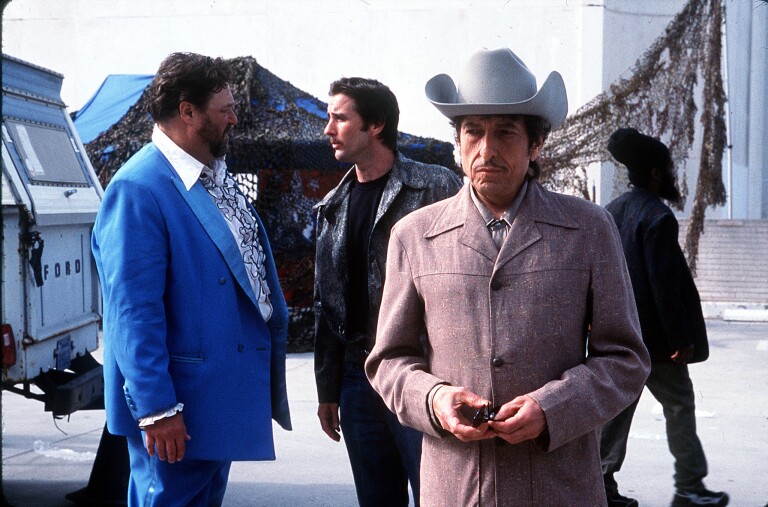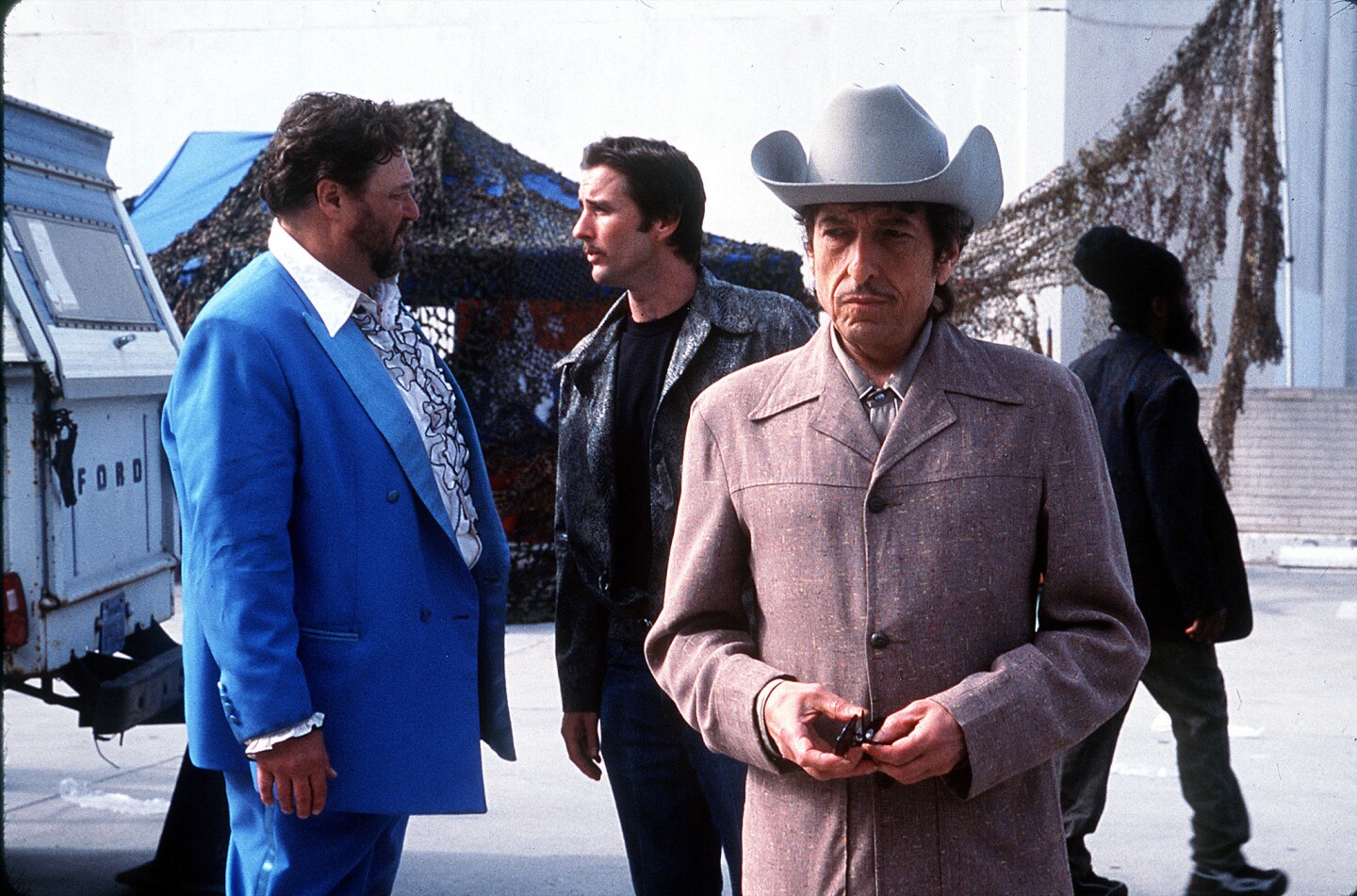 Dylan, right, stepped in front of the movie camera again in 2003, this time as Jack Fate in the film "Masked and Anonymous," which he also co-wrote. John Goodman, left, and Luke Wilson, center, also appeared.
(Lorey Sebastian / Sony Pictures)
Willie Nelson, right, and Dylan performed together at Willie Nelson and Friends' "Outlaws and Angels" concert at the Wiltern in Los Angeles on May 5, 2004.
(Lori Shepler / Los Angeles Times)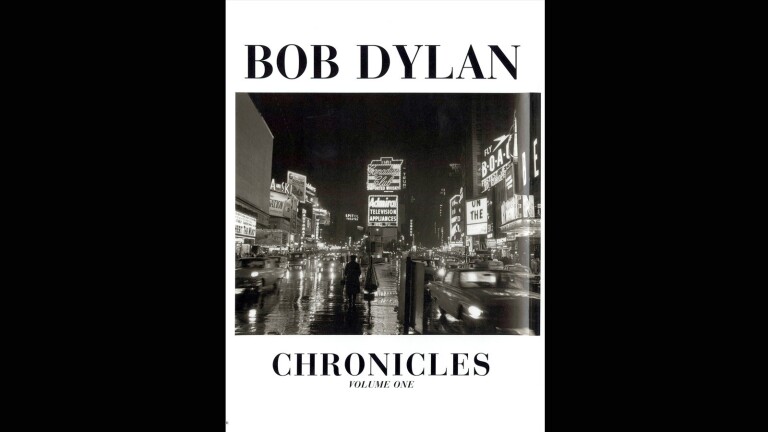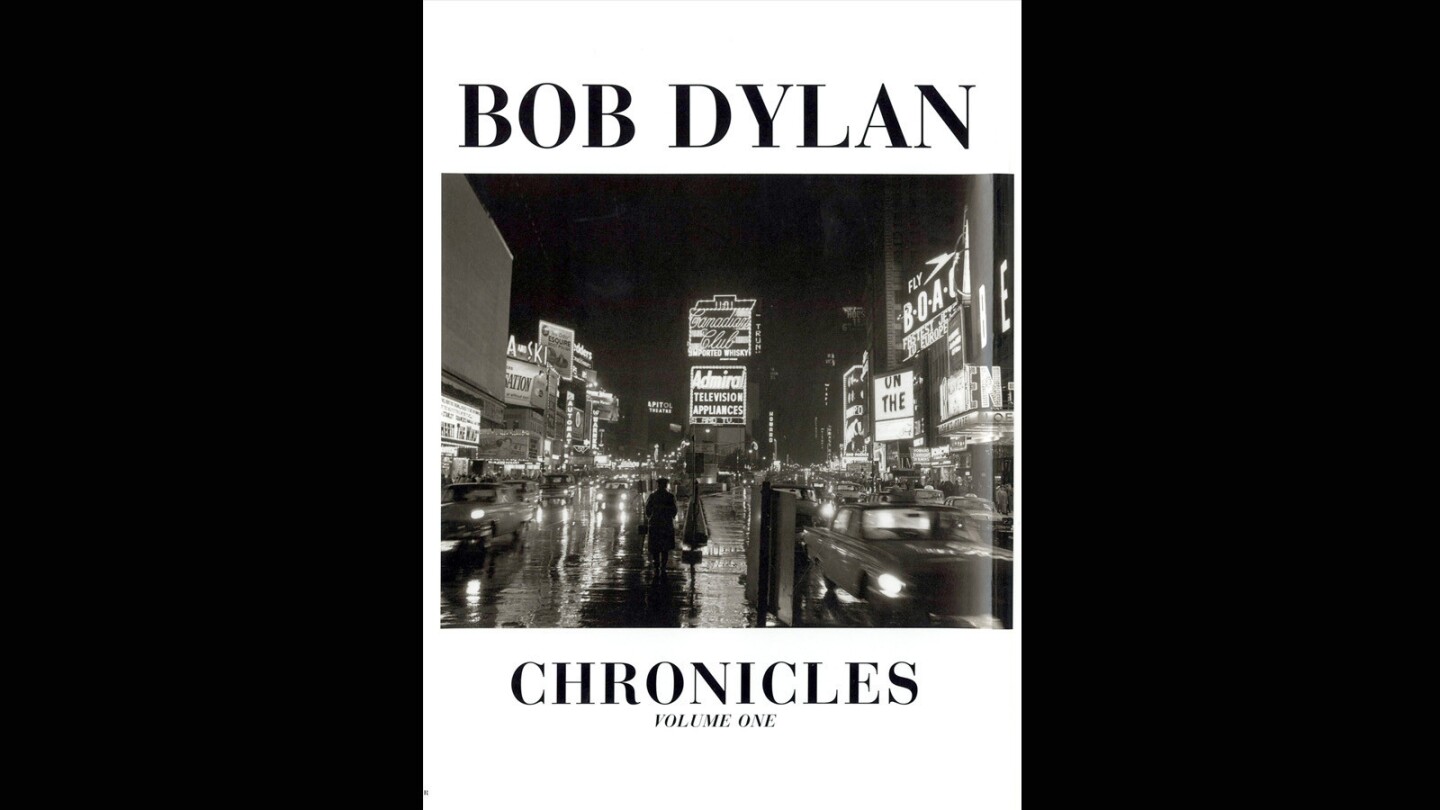 Dylan began to tell his life story in 2004's bestselling autobiography "Chronicles: Volume One." A second volume has yet to surface.
(Don Hunstein / Simon & Schuster)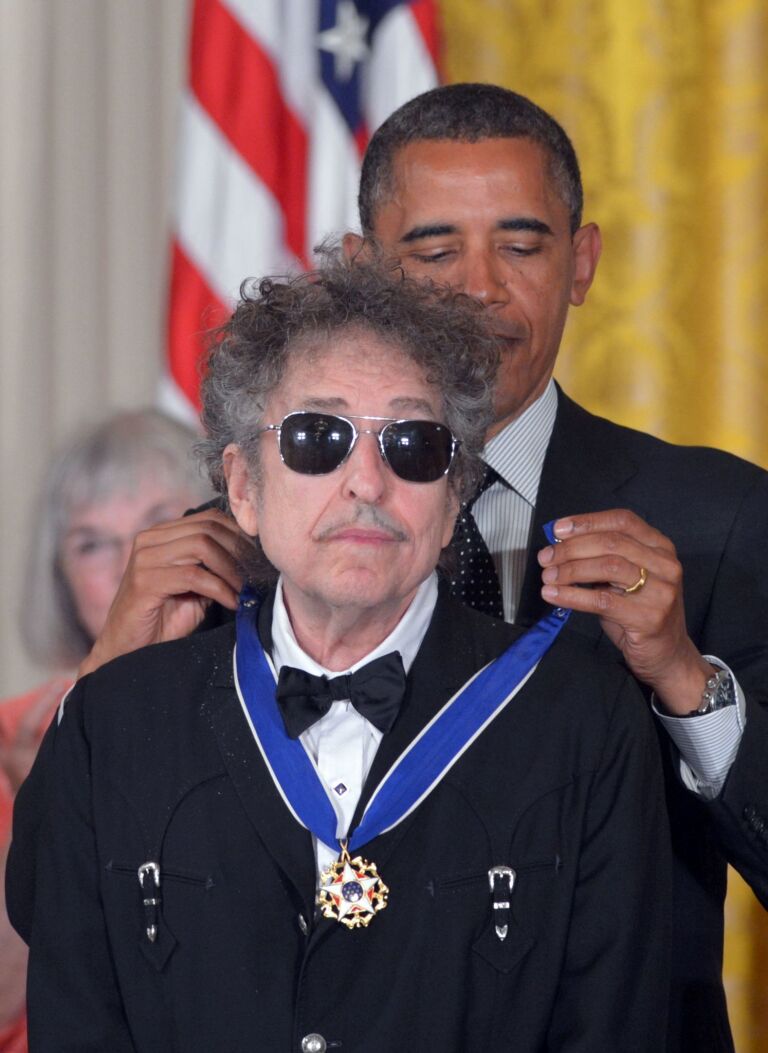 President Barack Obama, background, presents the Presidential Medal of Freedom to Bob Dylan on May 29, 2012.
(Mandel Ngan / AFP/Getty Images)
Dylan -- seen at Les Vieilles Charrues Festival in Carhaix, France, in December 2013 -- continues to perform on what's been dubbed "The Never Ending Tour."
(David Vincent / AP)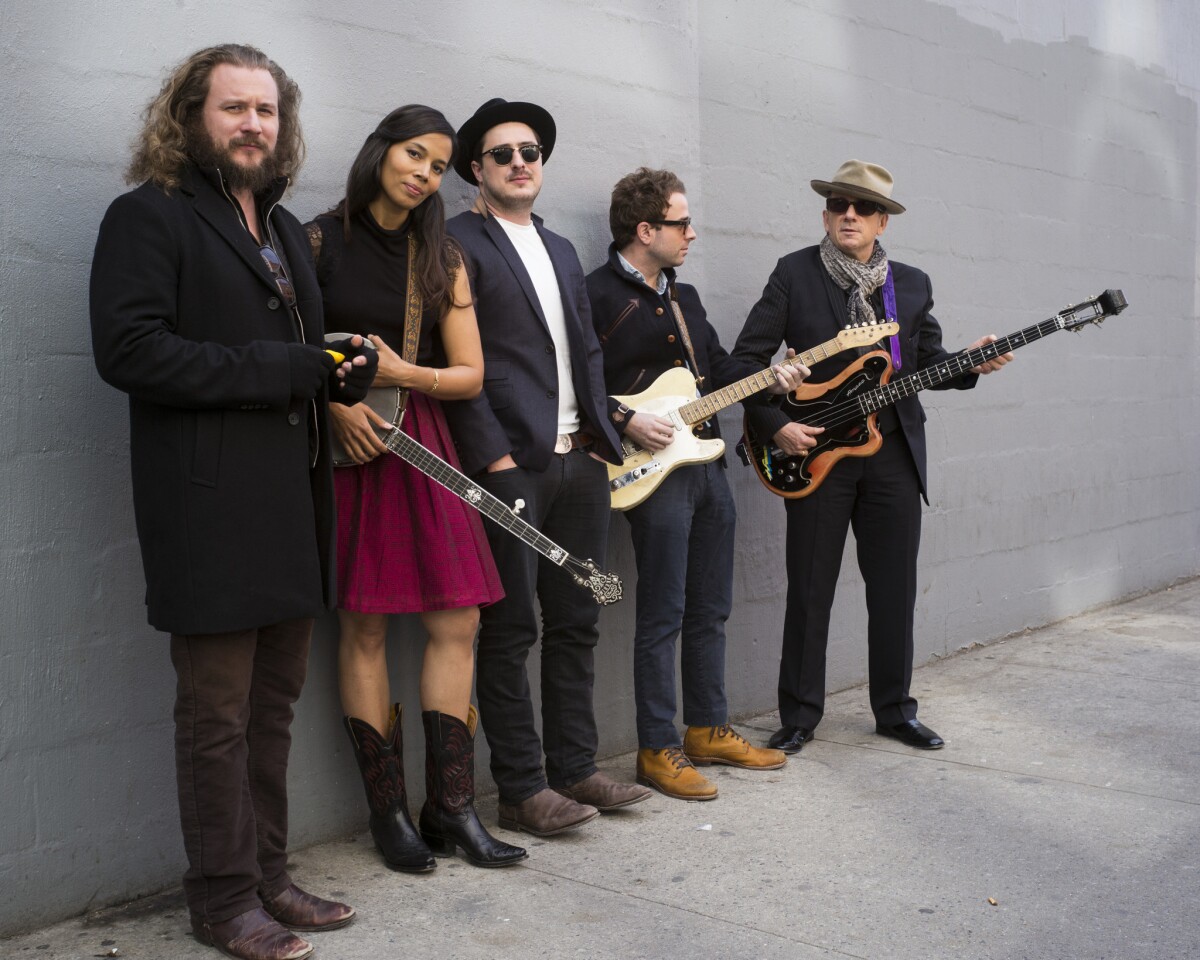 Among the many recent tributes inspired by Dylan was 2014's album "Lost on the River: The New Basement Tapes." Participants included Jim James, left, Rhiannon Giddens, Marcus Mumford, Taylor Goldsmith and Elvis Costello.
(Drew Gurian / Invision / AP)
The newly released "Shadows in the Night," a collection of standards once performed by Frank Sinatra, is Dylan's 36th studio album.
Read the L.A. Times review here.
(AP / Columbia Records)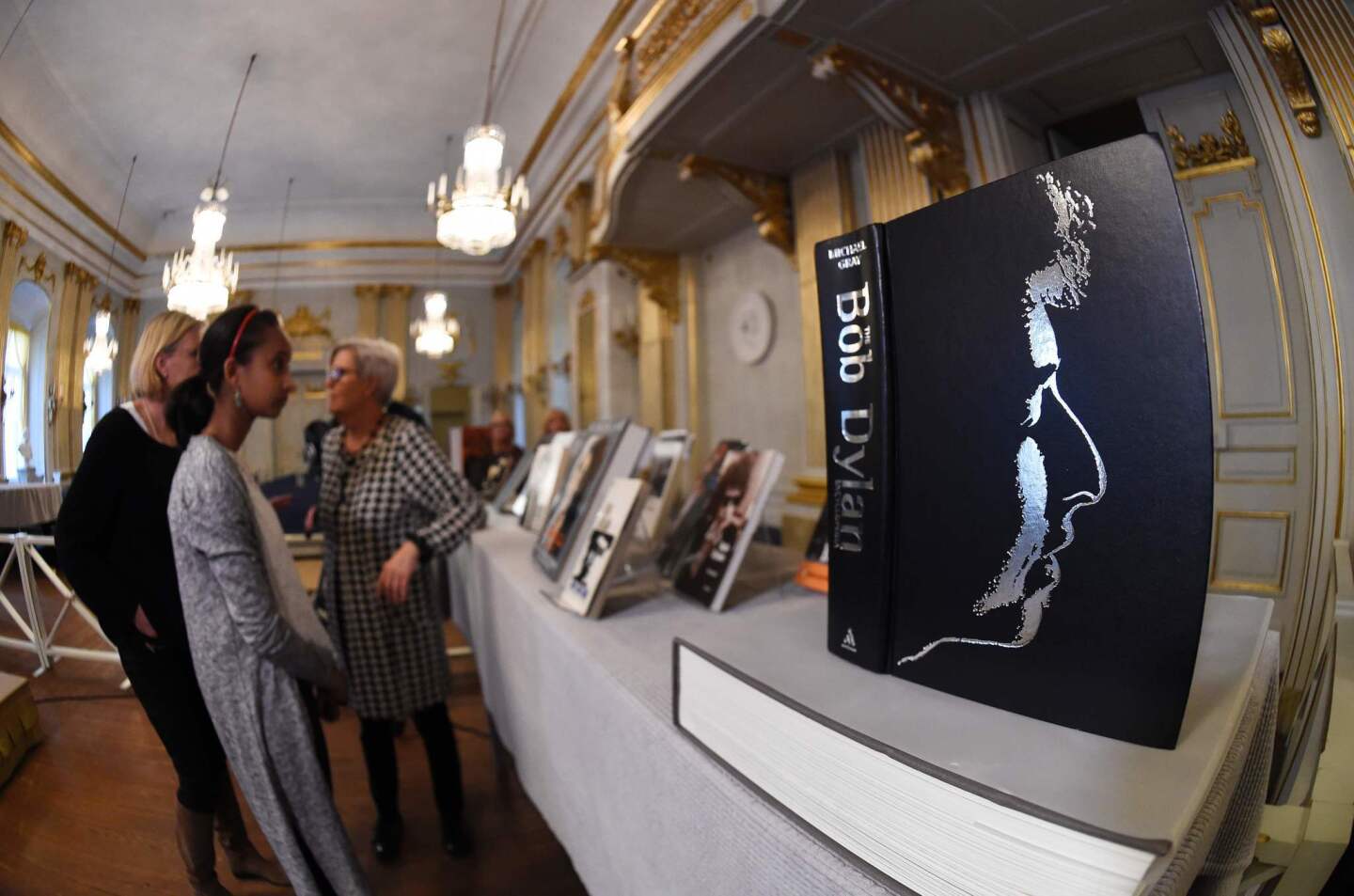 People look at books by Bob Dylan who was announced the laureate of the 2016 Nobel Prize in Literature at the Swedish Academy in Stockholm, Sweden, on Oct. 13, 2016.
(Jonathan Nackstrand / AFP/Getty Images)
But literary watchers have never considered him a serious contender. In fact the first English-language question Sara Danius, permanent secretary of the Swedish Academy, was asked ended bluntly with: "Does he really deserve the prize?"
"Of course he does, he just got it. He is a great poet," Danius replied. She linked Dylan's work to the ancient oral tradition, citing Homer and Sappho, who "wrote poetic texts that were meant to be listened to, meant to be performed, often together with instruments. It's the same way with Bob Dylan."
Still, it's a shock that a musician cited for his lyrics and music has won the world's most important literature prize. The Nobel has previously been confined to writers working in text alone — poetry, prose and plays.
But the prize also usually goes to a writer well into a long career whose work often reflects a social conscience.
In that, Dylan fits.
"He made you think," said Robert Hilburn by phone Thursday. Hilburn, who has attended many Dylan performances, also had many sit-down interviews with the musician during his career as a music critic at the Los Angeles Times. "He was talking about life, politics, civil rights — he made music the equivalent of books.
VIEW MORE: 2016 Nobel Prize Winners »
"Look at all the great writers. When you talk about words having an effect on people around the world for generations — his words make us dream, they inspire us, they comfort us, they exhilarate us…. You could have given him this prize 20 years ago for the cultural revolution he created with just words."
Bob Dylan was born Robert Allen Zimmerman in Minnesota in 1941. His story — by now well known — includes traveling to New York, giving himself a new name, and embarking on a career in folk music.
He played in coffee houses and clubs in Greenwich Village, infusing the great American longing of Woody Guthrie with the more modern concerns of his generation — war, civil rights, sexual repression — stretching the traditional ballad deep and wide with street-level observation and stream-of-conciousness.
Early songs, including "The Times They Are a-Changin'," "Blowing in the Wind" and "Like a Rolling Stone," became, and remain, anthems for the 1960s counterculture, and Dylan himself, a waif with a voice that redefined "raw," became an icon of an iconic times; his steadfast refusal to accept the title "voice of a generation" only cemented his image as such.
As the Vietnam War raged, so did he, taking on what many considered a hypocritical government.
"You that build all the bombs/ You that hide behind walls/ You that hide behind desks/ I just want you to know/ I can see through your masks."
A brief look at the catalog of Bob Dylan.
Quickly embraced by other artists, he also became something of a national bard. Artists as diverse as the Byrds, Peter, Paul and Mary, and Joan Baez began covering his songs. Jimi Hendrix covered "All Along the Watchtower." In 1965 Odetta, whom Dylan praised as an influence, put out a whole album of Dylan songs.
As the times changed, so did he; though originally based in folk, he reshaped the perimeters of rock when he infamously went electric at the Newport Folk Festival in 1965. Bolstered by a trio of era-defining albums — "Highway 61 Revisited," "Blonde on Blonde" and "Bringing It All Back Home" — he gave rise to the singer-songwriters movement that would also produce Joni Mitchell, Neil Young and James Taylor, poets all, to a greater or lesser extent.
Though his influence extended through generations, Dylan has, at points during his career, been criticized for borrowing from other artists, but that understanding of the literary continuum is precisely what the Nobel committee cited: his ability to re-use and adapt folk traditions to create new art.
In 1978, Dylan told The Times, "My music comes from two places: white hillbilly music — Roscoe Holcomb, stuff like that — and black blues — people like Son House, Charley Patton, Robert Johnson. These are the two elements I've always related to best, even now," Dylan told Hilburn in 1978. "Then, all of a sudden in the '60s, I heard Woody Guthrie, which just blew my mind — what he did with a lyric. So I stopped everything and learned his songs.
"That's what kept me going. I wanted to see how far I could take those elements, how well I could blend them together. Sometimes my music has gone a little to one side, but I'm always headed in the same direction."
carolyn.kellogg@latimes.com
ALSO
Critics wonder if Bob Dylan really needs a Nobel Prize
Bob Dylan, interpreter: Seven of the artist's greatest covers
Celebrating Dylan's late career work, when he started getting obsessed with death
'He's a historical magician': Two professors on why Bob Dylan deserves the Nobel Prize
Nobel Prize winner Bob Dylan on life, love, idiots, war mongers, religion, self-esteem, desire, fashion and insufferable people
---
UPDATES:
6:15 p.m.: This story has been updated with new quotes and information.
5:30 a.m.: This story has been updated with archived interview excerpts.
5:05 a.m.: This story has been updated with background about Bob Dylan's books.
4:40 a.m.: This story has been updated with additional reaction and background.
This story was originally posted at 4:05 a.m.
---
Get the latest news, events and more from the Los Angeles Times Book Club, and help us get L.A. reading and talking.
You may occasionally receive promotional content from the Los Angeles Times.