Review: Bob Dylan and Mavis Staples inspire in Santa Barbara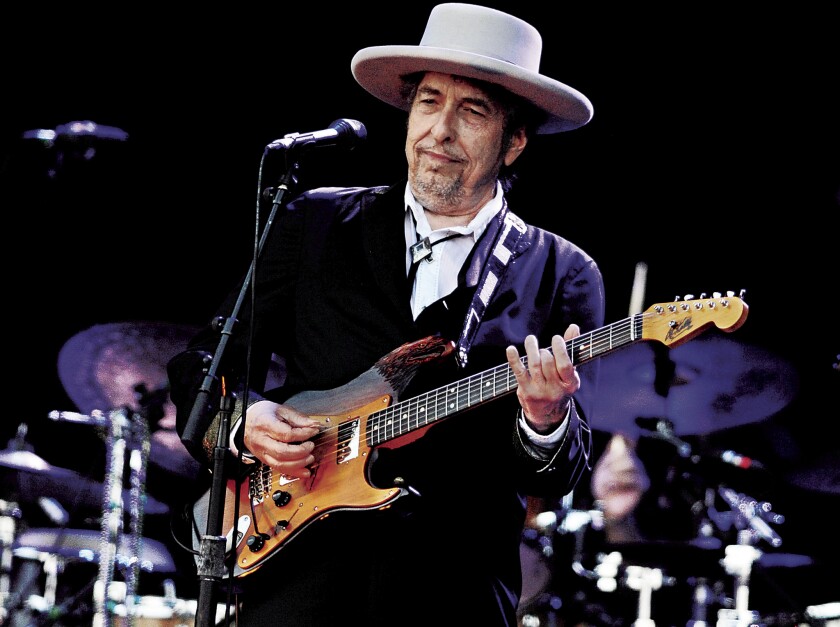 "Do you recognize any of these songs he's singing?" The question was posed by a woman maybe in her 60s or early 70s to her neighbor near the end of Bob Dylan's two-hour show Saturday at the Santa Barbara Bowl.
Told he'd been playing many of the pop standards from his two most recent albums, as well as several from the albums of his own songs he's released over the last 20 years, she said, "What about the old songs he used to do?"
Aye, there's the rub.
It isn't that Dylan ignores material from his watershed 1960s repertoire that got him dubbed "the spokesman for a generation." After all, he included "She Belongs to Me" and "Blowin' in the Wind." Yet the latter was so drastically rearranged that the same mystified fan asked, "Is that one of the new ones?"
But anyone showing up for one of Dylan's shows these days merely to check the "Rock Legend Sings His Greatest Hits" box off a bucket list, including a stop Thursday at the Shrine Auditorium, should proceed with caution.
As he's done throughout his exceptionally distinguished and sometimes perplexing career, Dylan has proven time again that he chooses the path of the artist over that of the entertainer.
His guidepost is not the expectations of his audience, but the siren call of his muse. For those who were ready and willing to see where that muse led him, Saturday's show, for which Dylan, as usual, allowed no photography or cellphone use during the evening, was a masterful exercise in the art of interpretation.
That includes the generous handful of numbers from the just released "Fallen Angels" album and its 2015 predecessor "Shadows in the Night," as well as for those from his own songbook, including some truly deep cuts.
He could hardly have been more forthright with fans than the advisory he gave them with his opening number, "Things Have Changed," from the "Wonder Boys" soundtrack in 2000. That was three years after his comeback album, "Time Out of Mind."
That album signaled a new shot of inspiration. It followed a period he acknowledged in his autobiography as one in which he felt he'd partly lost the connection with his art. In the ensuing two decades, he's created a string of albums artistically as impressive, if not as culturally revolutionary, as his best work in the '60s and '70s.
The ominous chorus of "Things Have Changed" returns time and again to the phrase "I used to care/But things have changed," an idea that encompasses a multiplicity of applications.
As usual, he said nothing before or after songs, letting the music of the five-piece band and lyrics speak for themselves.
Four songs in, he turned to the survey of mostly pre-rock songs he's been focusing on in the last couple of years, with the aim of "uncovering" songs of the Great American Songbook – tunes that he once quipped "have been covered enough. Buried, as a matter of fact."
It's a mighty stretch for many listeners to make the connection between Dylan's renditions and those of the man who recorded most of them, and whose versions are considered the definitive ones by many, Frank Sinatra.
But as he did with reimagined arrangements of his own compositions, Dylan challenged himself and his audience not to sink into rote memory, but to engage with these time-tested standards with active attention.
Irving Berlin's "What'll I Do" ached with anguish, a steel guitar providing the primary foil for Dylan's dusky voice. If he's sometimes mumbled his way through his own lyrics, for these pop gems he summoned his clearest tones, often sustaining notes impressively, tapping unforced vibrato and bending syllables for emphasis with a skill on a par with the greatest jazz and blues singers.
Wearing a broad-brimmed white gaucho hat like the one he favored during the mid-1970s Rolling Thunder Revue, Dylan explored the haunting nature of emotion at the heart of "Melancholy Mood," the pained resignation of "I'm a Fool to Love You," and the extremes to which love can prompt those who are in it to go in "All or Nothing at All."
The same lack of interest in compromise is the hallmark of his own songs, as he outlined it in "Beyond Here Lies Nothing" from 2009's "Together Through Life." "Without this love that we call ours," he sang, "beyond here lies nothing."
.
He let the band cut loose with the rollicking performance of "Duquesne Whistle" from 2013's "Tempest." It's ambiguous what the Duquesne whistle is signaling, but Dylan makes it easy to join in as he describes the myriad of possibilities.
Another "Tempest" song, "Scarlet Town," felt like an epic poem set to music, its dozen verses painting a picture as richly vivid and full of evocative imagery and ideas as "Ballad of a Thin Man" or numerous other of his better-known songs.
For many of the dates on Dylan's latest round of shows, he's joined by soul-gospel singer Mavis Staples, who at 76 remains a fireball of divinely fueled energy.
Staples has also seemed rejuvenated in recent years, delivering a series of strong albums going back to 2004's "Have a Little Faith" and extending through her new "Living On a High Note."
She did include the touchstone numbers of her career, among them the Staple Singers' '70s hit singles "Respect Yourself" and "I'll Take You There," along with some smart choices from the broader rock, soul and R&B canon, including the Talking Heads' "Slippery People." "That David Byrne, he can write a song!" she cackled at the end of that number.
Her vocals were propelled by the superb three-piece band of L.A. blues veterans who have been supporting her in recent years: guitarist Rick Holmstrom, bassist Jeff Turmes and drummer Stephen T. Hodges, who provided instinctive, seamless instrumental backing while she stretched and vamped sermon-like in several numbers.
randy.lewis@latimes.com
Follow @RandyLewis2 on Twitter.com
For Classic Rock coverage, join us on Facebook
---
The complete guide to home viewing
Get Screen Gab for weekly recommendations, analysis, interviews and irreverent discussion of the TV and streaming movies everyone's talking about.
You may occasionally receive promotional content from the Los Angeles Times.