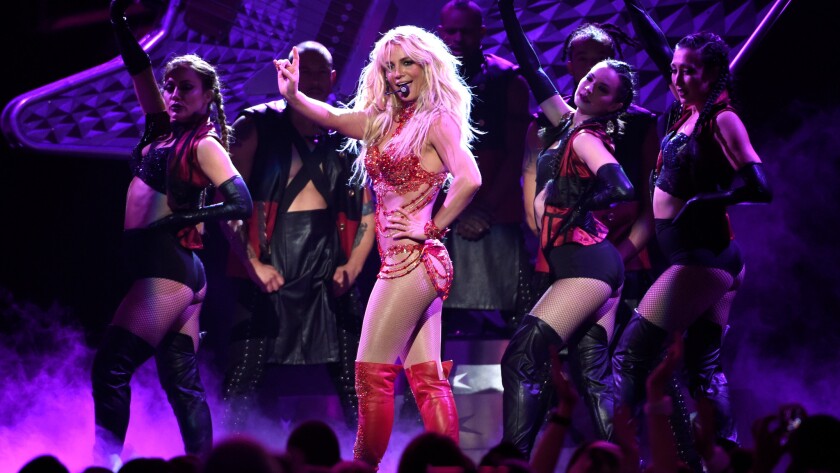 Britney Spears is back. Again.
Three years after she failed to reignite her recording career with the little-heard (but weirdly interesting!) "Britney Jean," the pop star announced this week that she'll release a new album, "Glory," on Aug. 26.
The record, Spears' ninth studio disc since debuting in 1999 with the blockbuster "...Baby One More Time," will include "Make Me…," a recent collaboration with rapper G-Eazy, as well as "Private Show," a slinky, strip club-inspired ditty that appeared online Thursday.
On Twitter, Spears called the album "the beginning of a new era" and said it contained "17 Glorious tracks."
"August 26th can't come soon enough!!" she wrote in a reply to one fan's tweet. "So excited for you to hear it!"
Though "Britney Jean" was hardly a return to Spears' chart-topping days — the single "Work Bitch" peaked at No. 12 on Billboard's Hot 100 — the singer has held down a successful residency since 2013 at Planet Hollywood in Las Vegas.
And she still knows how to attract attention in the Internet age: By midday Thursday, Spears' album announcement had been retweeted more than 18,000 times, while a performance on May's Billboard Music Awards has nearly 8 million views.
With '90s-mania running rampant in pop culture and politics, perhaps the time is right for a true Spears comeback?
Twitter: @mikaelwood
ALSO
David Bowie, Radiohead and others nominated for Britain's prestigious Mercury Prize
At Staples Center, Barbra Streisand is a down-to-earth diva with Donald Trump on her mind
Kanye West weighs in on streaming-music wars: 'Let the kids have the music'
---