When singer-songwriter Paula Trama was growing up in Buenos Aires during the '90s, there weren't enough female role models in the local rock scene to fuel her band-leading dreams.
Trama instead discovered Janis Joplin from a stack of albums she inherited from her uncle. She decorated her bedroom with posters of androgynous artists such as David Bowie and Argentina's own Fito Páez. Later, she became obsessed with Pet Shop Boys' 2002 synth-pop album, "Release," and the first two full-lengths by Everything but the Girl, records that are permeated by longing and nostalgia.
Trama's sophisticated musical education informs "Helados Verdes," the EP she released last year with her band Los Besos (The Kisses). The leadoff track, "Dos Cassettes," is a cinematic dream-pop gem that forsakes any opening verses and instead jumps straight into its hypnotic chorus.
It's also one of a handful of releases by bands from Argentina, all of them fronted by women, who are creating some of the most intriguing and inspired soundscapes to emerge from Latin America in recent years. Amor Elefante's "Oriente," Hamacas Al Río's "Fresco" and Susi Pireli's forthcoming debut complete a quartet of albums marked by their strong feminine perspective and an enviable command of pop-rock aesthetics.
While not linked to any particular movement, these four bands share a number of common traits. All thrive in a sonic landscape informed by art-rock and dream-pop and favor short, oblique songs enriched with wind instruments and lush strings.
These records deliver a statement, confirming Buenos Aires as the epicenter of a quiet, yet powerful, musical revolution, and it's one that happens to be led by women and female-fronted bands. They're also indicative of a pivotal change at the core of Argentine society, where a surge in feminist marches, not to mention the launch of the 2015 social movement "Ni Una Menos" ("Not One Woman Less"), have aimed to eradicate long-held chauvinist values.
"There is a new generation of Argentine women who came of age in an environment steeped in the musical lessons of decades past," says Tweety González, veteran producer and owner of the well-regarded Twitin Records label.
"For instance, I can hear a touch of [rock en español pioneer] Luis Alberto Spinetta in what they do. It is also a generation that is hyper connected. They can explore all existing music — moving backwards and forward in time — and even record their albums at home. What they do is lo-fi, perhaps, but highly sophisticated and marked by some really interesting melodies."
When it comes to the presence of women in the local rock scene, says Trama, "things have improved, but there are still battles being waged every day. It's something I don't experience myself because as a band, Los Besos is somewhat dispersed. We only play seven to eight gigs a year, less than once a month."
Musically, Trama's voice sounds wistful, framed by software that evokes the retro textures of a Farfisa organ. On "Dos Cassettes," Spanish lyrics talk about finding two old tapes of bands singing in English while experiencing a turmoil of joy, jealousy and obsession.
In conversation, Trama is eloquent and erudite. She speaks in a lilting Argentine accent, describing her early setup performing solo with an acoustic guitar as restrictive. For her day job, she teaches literature.
"I guess I'm nostalgic in my musical taste," she says. "There are a number of records that I keep coming back to. But I'd like to think of the emotional fabric of my songs going beyond feelings of longing. There is a number of smaller sentiments in there, struggling to make themselves heard."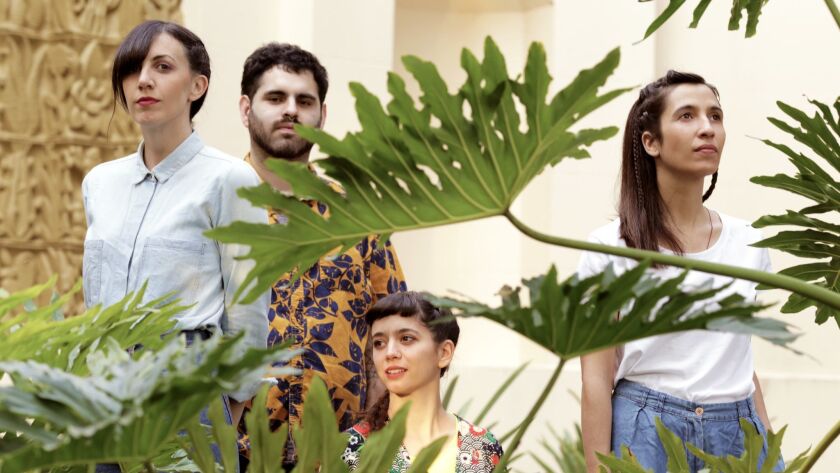 Curious, adventurous melodies are at the heart of Amor Elefante's "Oriente," the foursome's third album. Even the act's drummer, Rocío Fernández, is known for using her kit as a melodic instrument.
In concert she adds vocals to the lush harmonies created by singer Rocío Bernardiner and keyboardist Inés Copertino. On "Trópico," a torrid song about unfulfilled desire that Bernardiner wrote years ago inspired by a girl who didn't love her back, the retro intro, punctuated by stately drum rolls and a melodramatic guitar line, turns quickly into a bubbly chorus straight out of pop heaven.
"There is a delicate quality to what we do that is certainly female," says Bernardiner. "Even though our bass player is male, the songs themselves are put together by the three women in the band. Inés [Copertino] adds a finishing touch of allure to the compositions. This happened in an organic way, since our first records rocked a little harder than what we do now."
Los Besos and Amor Elefante have performed together. The friendship between both bands spawned Susi Pireli, a duo formed by Copertino on keyboards and Trama on vocals.
Released last year to preview a forthcoming album, the single "Bolsa de Mano" ("Handbag") veers closer to minimalism with hints of electro-pop, fusing Trama's evocative poetry ("the night, the fire, the chewing gum, the god of thunder, all in your handbag") with Copertino's subtle atmospherics.
"When Paula and I work on Susi Pireli material, the songs are written in the studio, which allows us to add layers and experiment with sounds," explains Copertino. "The moment a track is done, we share it on our Bandcamp page, bypassing the formality of releasing albums or singles. It's pop, but seasoned with gypsy music, and Latin, influenced by the British bands we love."
The melancholy chamber-pop confections of Hamacas Al Río's stand comfortably next to the other three bands, but the act's background is different. Hamacas is the brainchild of classically trained singer-songwriter Laura Ciuffo and her husband, multi-instrumentalist Fernando Bellver.
The band's debut came out in 2004, and at the time, they experienced something close to mainstream recognition. After a hiatus during which Ciuffo became a mother, they returned in 2016 with a four-song EP, "Fresco," showcasing the same tendencies of treating pop songs as fragile miniatures of condensed beauty.
"I bring my vocal training and a certain spontaneity to the process," says Ciuffo. "My husband is more of a musician. I give him three chords, and he turns them around, looks for an oboe, adds violins to the mix. What we do ends up sounding like some sort of orchestral folk-pop."
These bands all operate in the Buenos Aires indie circuit — their shows attract hundreds, not thousands — and all of them need day jobs.
But the hope to transcend remains, and what they may lack in mainstream recognition is perhaps more than made up for in cultural importance.
"For the longest time, women were relegated to a passive role as either muses or groupies," says Lucía Alvarez, a Buenos Aires-based journalist. "The female musicians of this new generation are, in fact, artisans of a new poetic language. Their work stems from the fragility of being outsiders but carries in it a sense of energy and freshness. I suspect this movement, which reflects the political and social struggle happening in the streets, is just getting started."
"There's always the desire to sell a lot of records," says Ciuffo. "That said, I make music simply because I get really depressed whenever I don't. I remember when we were starting out, I had a panic attack just before going onstage at a big festival. Obviously, I was not ready for the kind of success we experienced in the beginning."
She thinks about it for a moment, then adds with a laugh: "But if it happened now, I'd be really cool with it."
---