Review: This year's Calibash was a vivid showcase for post-'Despacito' Latin pop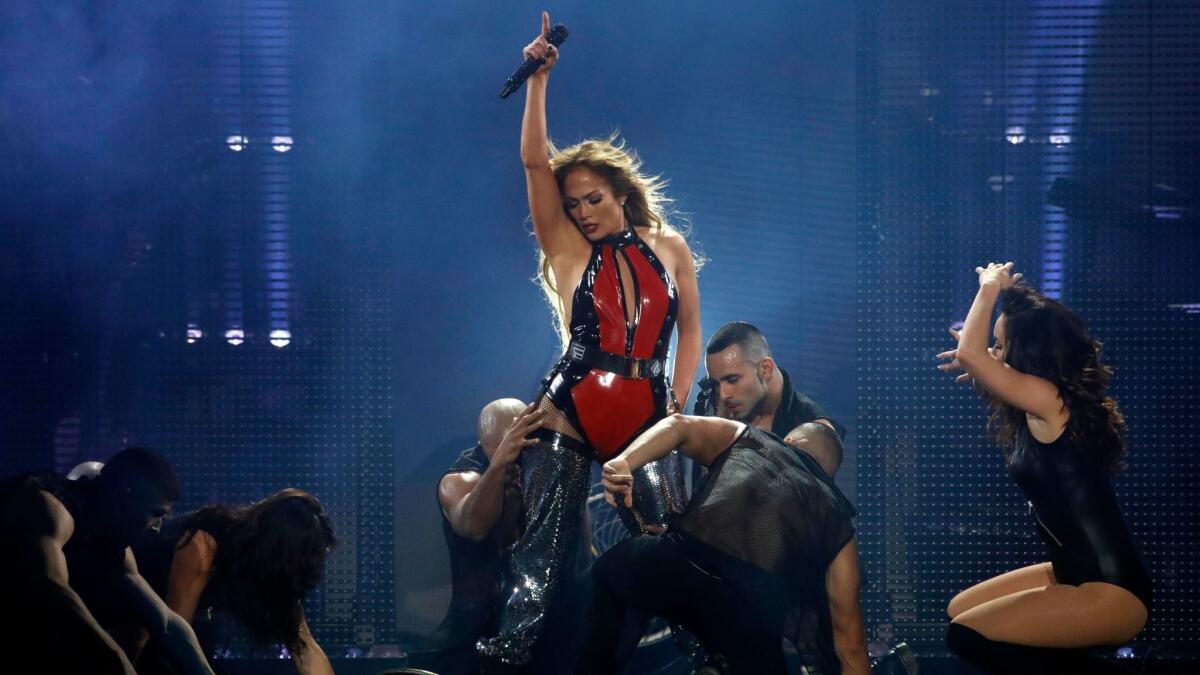 Pop Music Critic
Jennifer Lopez began her headlining performance at Saturday night's all-star Calibash concert with her old hit "Jenny From the Block," in which she famously advises listeners not to be fooled by the rocks that she got.
Typically resplendent in a red-vinyl leotard and sparkly silver chaps, the singer-actor was reminding us — yet again — that in spite of her riches she still knows where she came from.
Yet Lopez also knows where music is going.
The triumph last year of "Despacito" — the chart-topping smash by Puerto Rico's Luis Fonsi and Daddy Yankee — demonstrated an enormous, and quickly growing, appetite for Spanish-language pop in the United States.
The song, which has been streamed online more than 7 billion times, is nominated for multiple prizes at next week's Grammy Awards, including record and song of the year.
And with its guest feature by Justin Bieber, it's inspired plenty of other artists to try to duplicate its crossover success, from Beyoncé (who hopped on a remix of J Balvin's "Mi Gente") to Demi Lovato (who teamed with Fonsi for "Échame la Culpa").
So it came as no surprise Saturday that Lopez followed "Jenny From the Block" with "Ni Tú Ni Yo" and "Amor, Amor, Amor," two singles she released in 2017 from a forthcoming Spanish-language album — this lovable show-biz veteran's savvy attempt, following 2014's largely ignored "A.K.A.," to capitalize on an encouraging moment.
Indeed, this year's Calibash, presented annually at Staples Center by Los Angeles' Mega 96.3 FM, felt like a showcase for some of the Latin-pop acts best positioned to walk through the door that "Despacito" opened.
Most impressive was Ozuna, the 25-year-old Puerto Rican singer whose music places his sweet, imploring vocals atop slick arrangements that pull from reggaeton, bachata, EDM and the emerging sound known as Latin trap.
Wearing a light-pink satin varsity jacket over a T-shirt honoring the rapper Nas, Ozuna put across a beguiling mixture of tenderness and grit as he sang about the comforts and betrayals of young romance.
For "La Modelo," his sultry duet with Cardi B, he brought out the hugely popular hip-hop star who hit No. 1 last year with her song "Bodak Yellow"; the response from the capacity crowd threatened to drown out their voices, if not Cardi B's obvious excitement to be in the room.
Bad Bunny was strong too in a set that showed how naturally trap music's woozy rhythms and triplet rhyming flow translate to Spanish. And when he turned up later in the concert to join J Balvin for "Sensualidad," their irresistible collaboration with the bachata singer Prince Royce (who wasn't at Staples), he made you think of earlier rappers — like Big Pun and Snoop Dogg — who made themselves valuable as guest MCs without sacrificing their unique charms.
Elsewhere in his performance, Balvin, perhaps Colombia's biggest young star, put the rave in reggaeton as he chanted over the thundering dance beats of "Mi Gente" and his insistent new single, "Machika," which came out Friday and immediately racked up more than 20 million plays on YouTube.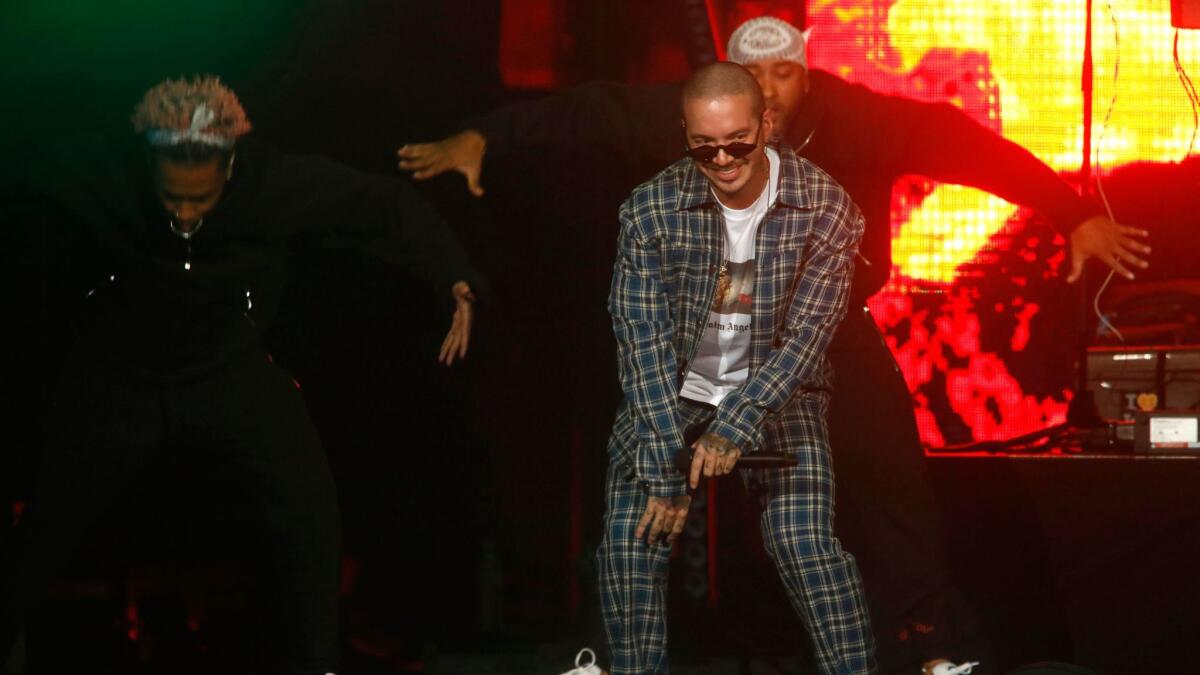 Among the artists who no doubt inspired Balvin's take on reggaeton — which Daddy Yankee first took worldwide years before "Despacito," with his 2004 track "Gasolina" — were Wisin and Yandel, who spent the '00s as a reliable hit-making duo and here did separate solo sets propelled by bouncy electronic grooves.
Both were lively enough to suggest that neither man is ready to pass the baton to anyone with fewer years (and more Instagram followers) to his name.
Wisin appeared again with Lopez during the thumping "Amor, Amor, Amor." And like the reggaeton trailblazer who went on to expand that genre with elements of EDM, Lopez clearly views dance music as a means of staying in the conversation.
At Staples she introduced a new song — one she didn't name but which she said nobody had heard before — that she created with Skrillex, the post-dubstep production whiz who has also worked with Bieber.
Catchy and sleek, with pitched-up vocal samples darting around Lopez's voice, the production sounded plenty modern — just not as modern as the song's proudly bilingual lyric about love.
Twitter: @mikaelwood
ALSO
Coachella is going without a single rock headliner for the first time
What Donald Trump had to do with the smash-hit remix of 'Despacito'
With Oscar nominations on the horizon, here's how voters can get the song category right
Get our L.A. Goes Out newsletter, with the week's best events, to help you explore and experience our city.
You may occasionally receive promotional content from the Los Angeles Times.