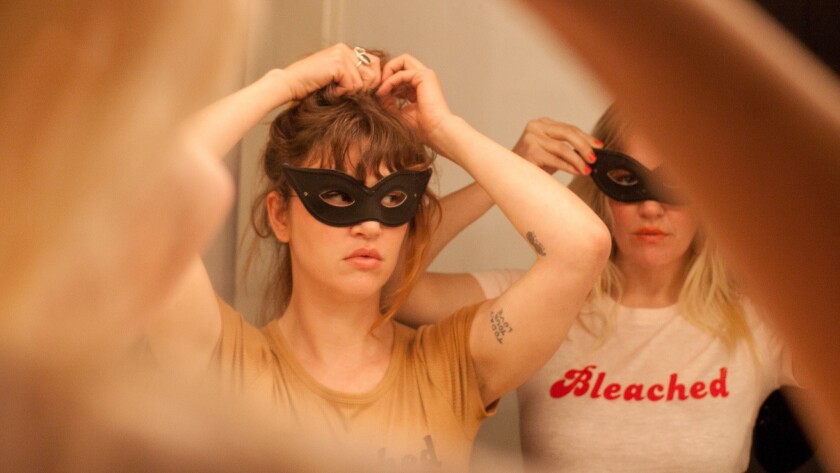 Bleached, "Hard to Kill" video (Dead Oceans). The first song from the sibling band's forthcoming album "Don't You Think You've Had Enough?" rolls with a dance rock energy, and its accompanying video feels beamed straight from MTV, circa 1984.
Formed eight years ago by sisters Jennifer Clavin and Jessica Clavin after the demise of beloved downtown L.A. punk band Mika Miko, Bleached has gradually moved away from a reliance on distortion as the sole means of expressing hard emotions.
The video for "Hard to Kill" opens with a shot of the sisters sprinting out of Art Deco landmark the Lane-Wells Building in Huntington Park. Both in disguise, they ditch the wigs and sunglasses and take to the streets. Are they secret agents? Escapees? What's with the gold pistol? So many questions. But like classic kinda-sorta narrative videos of the 1980s, many of them go unanswered.
What is known is that prior to making "Don't You Think You've Had Enough?" the Clavin sisters made a decision to get sober after the so-called rock 'n' roll lifestyle proved a dead end.
That decision is referenced in the album's title and the lyrics to "Hard to Kill." The refrain of the song — "All the cities that we burned down / Turns out I'm very hard to kill" — comes amid lyrics that describe "looking for a place to breathe" and "lying on the floor in a stranger's house."
Musically, the grimness is absent. In its place is a groove-heavy rhythm bed that hints at dance-punk bands the Rapture and Gang of Four. The band will celebrate the album's July 12 release with a party at the Moroccan Lounge the night before.
Bedouine, "Echo Park" (Spacebomb). From the opening twilight shot of Jensen's Recreational Center to the final image of the singer on a blanket near Echo Park Lake, the folk singer Bedouine's new video for "Echo Park" revels in its titular environment.
Bedouine, born Azniv Korkejian, strolls down Sunset Boulevard near the Time Travel Mart, peruses the stacks at Stories bookstore and rhymes "boulevard" with "avant-garde" before finally settling in the grass by the lake.
Whether or not you agree with her that "everyone is avant-garde" in the historically working-class Latino neighborhood, the first song from her forthcoming second album "Bird Songs of a Killjoy" (June 21) is, like most of her music, plaintive, delicate and expertly arranged. Despite the self-deprecating title, though, her work is seldom a drag.
Schoolboy Q feat. Travis Scott, "Chopstix" video (TDE). The new video from the South L.A. rapper born Quincy Hanley finds him onstage in a top hat while surrounded by a bevy of ballerinas and an orchestra conducted by singer Travis Scott. Exuding well-earned sophistication, the rapper works the stage of what appears to be the Theatre at Ace Hotel while delivering verses.
Watch the video here. (Warning, it contains cussing.)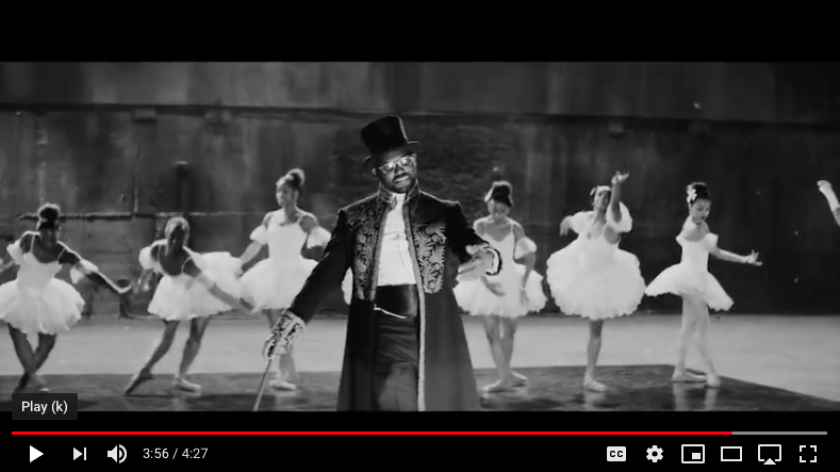 He's not singing about Gary Cooper or dressing like a million dollar trooper, though. Rather, the tuxedoed Q is pondering his lover's "legs up like chopsticks." Scott puts a mirror to his collaborator's fantasy, singing a simple, pitch-tuned refrain: "Chopsticks, chopsticks, chopsticks, yeah."
Poetry? Nah, but like the other 13 tracks on Schoolboy Q's new album, "Crash Talk," this is music for parties and what happens between the sheets afterward. With a beat by Inglewood hitmaker DJ Dahi, "Chopstix" propels the 14-song album, like a post-midnight tequila shot, into another realm.
Elsewhere on "Crash Talk," Q teams with fellow South L.A. artists YG and Ty Dolla Sign for "Lies." On the woozy, drunken "Dangerous," the rapper and collaborator Kid Cudi takes Schoolboy on some sort of drug-induced trip.
For tips, records, snapshots and stories on Los Angeles music culture, follow Randall Roberts on Twitter and Instagram: @liledit. Email: randall.roberts@latimes.com.
---
UPDATES:
12:42 p.m. This article was updated to reflect the new release date for Bedoiune's forthcoming album.
---