Review: Cardi B is a close friend made good on the vivid 'Invasion of Privacy'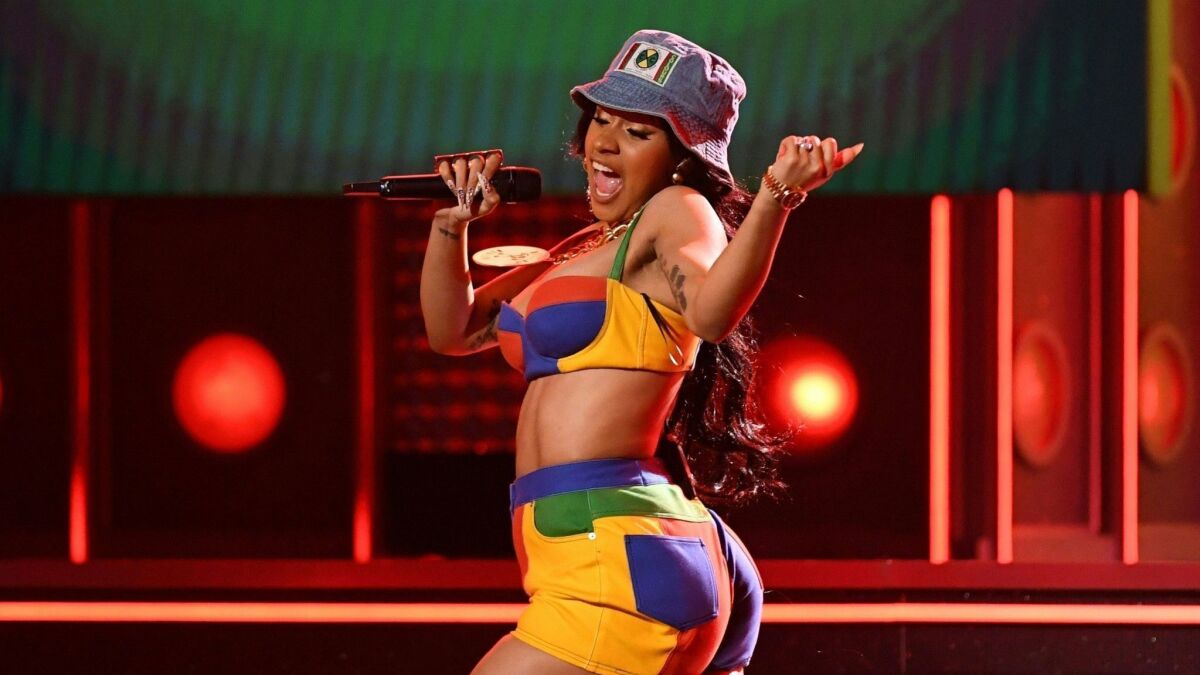 Pop Music Critic
A year ago — heck, let's say six months ago — Cardi B would have gone only one place to tell the world she was pregnant, and that's Instagram.
The social-media app is where this young Bronx-born rapper first built a following as a charming and deeply honest chronicler of her work in the city's strip joints. And it's the platform she continued to use to transition into music at a moment when accessibility (or at least its illusion) can trump the pop-star mystique of old.
But that was before Cardi B — whose inescapable "Bodak Yellow" topped Billboard's Hot 100 in September — had come within striking distance of the kind of prestige that legacy media is still thought to confer.
So when she made her big announcement this weekend, she didn't do it online but on "Saturday Night Live," where she performed her song "Be Careful" while wearing a clingy Christian Siriano gown that revealed the baby bump she'd spent the previous few weeks carefully concealing.
Could "SNL" offer Cardi B an audience larger than her 21 million Instagram followers? Nope. But her appearance symbolized her hard-fought ascent just hours after Friday's release of her major-label debut album, "Invasion of Privacy."
More symbols are in the offing too: On Monday, she'll co-host "The Tonight Show Starring Jimmy Fallon," and this weekend, she's set to perform at Coachella.
You can hear signs of Cardi B's elevated standing throughout "Invasion of Privacy" — in the sleek pop production of a song like "Thru Your Phone," in high-profile cameos by SZA and J Balvin and Chance the Rapper, in an interpolation of a Lauryn Hill tune in "Be Careful" that Cardi B has said the former Fugee personally approved.
Yet what's remarkable about the album is how un-smoothed-out Cardi B sounds in this new environment. Though she clearly values the approval of old-fashioned arbiters, she won't dull her rough edges, as many have before her, to get it; the vivid result gives the impression that she's still in communion with her core audience — and indeed that her fans are somehow sharing in her success.
Her rapping demonstrates that relatability derives from specificity rather than any outright attempt to be universal.
"Invasion of Privacy" opens with the dramatic "Get Up 10," in which Cardi B runs down her background — "Used to dance in a club right across from my school" — in long lines full of unfiltered (and largely unprintable) detail. In "Money Bag" and "She Bad," she boasts about her growing riches with an infectious blend of exuberance and practicality.
"I could buy designer, but this Fashion Nova fit," she raps in the latter, right after proposing a threesome with Rihanna and Chrissy Teigen.
Other tracks take up less rarefied themes, such as "Thru Your Phone," which addresses an unfaithful lover, and "Be Careful," where she quotes Hill (from her "Ex-Factor") to urge another guy to "care for me, care for me / Always said that you'd be there for me, there for me."
But as in "I Like It" — a bilingual ode to New York built on an instantly recognizable sample of Pete Rodriguez's late-'60s boogaloo smash — Cardi B so effectively customizes these sentiments through her words and delivery that the songs make you feel like she's speaking directly to you.
Twitter: @mikaelwood
Get our L.A. Goes Out newsletter, with the week's best events, to help you explore and experience our city.
You may occasionally receive promotional content from the Los Angeles Times.