Review: Why Carrie Underwood's new album has nothing on Willie Nelson's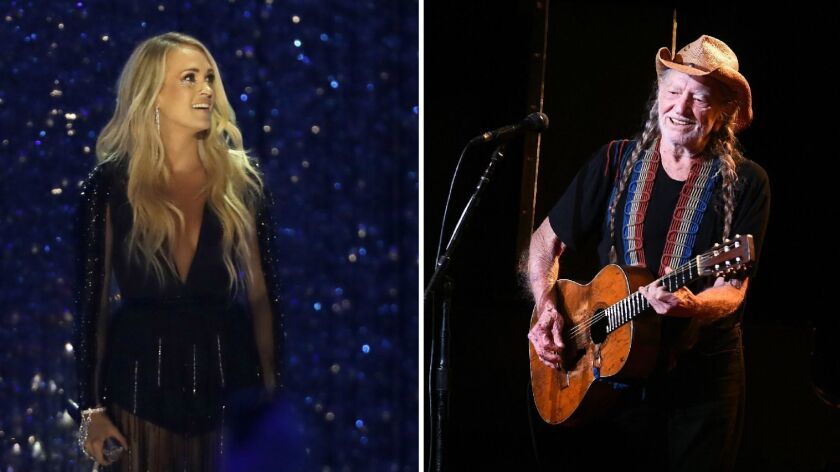 Pop Music Critic
The most talked-about song on Carrie Underwood's new album, at least in the run-up to its release on Friday, has been "The Bullet," in which the country superstar traces the damage left behind by a shooting.
"You can blame it on hate or you can blame it on guns," she sings over fingerpicked acoustic guitar, "But mamas ain't supposed to bury their sons."
In interviews Underwood has said she was drawn to the tune (written by the Nashville pros Marc Beeson, Andy Albert and Allen Shamblin) as a mother. Which makes sense, of course: Bringing a person into the world, as the singer did in 2015, fundamentally changes the way you think about how people leave it.
But nowhere I've seen, including in the carefully equivocating "The Bullet," does she take a decipherable stance on the issue of guns. And that simply doesn't jibe with a real-life parental mind-set (of whatever political persuasion) — one of several red flags on an album, "Cry Pretty," that Underwood's team is explicitly framing as her most personal.
Elsewhere on the record, her first since a facial injury that led to months of seclusion as she healed, Underwood sings about pain and desire and finding a kingdom in a family home. "Backsliding" recounts an ill-advised hook-up with an ex; "Southbound" runs down the charms of a region that hardly needs the help.
The singer, no surprise, sets off all kinds of vocal fireworks. But as the painfully familiar images in "Southbound" demonstrate — another pontoon boat? — the songs on "Cry Pretty" (most of which Underwood co-wrote) cast these emotions and experiences in such generalized terms that it's hard to come away with a clear sense of a human in the world.
The effect is of a gifted strategist trying to cover all her bases, never less so than in "Ghosts on the Stereo," which sounds like it wants to be a Coldplay song even as Underwood insists that she's happiest all alone listening to "Hank, Haggard and Jones."
You'll notice that one country legend she doesn't mention there is Willie Nelson, who mercifully still walks among us. Indeed, the 85-year-old also has a new album due Friday, his third in the last year and a half after April's "Last Man Standing" and 2017's excellent "God's Problem Child."
For some lifers, that rate of production might invite an assembly-line approach that can be just as depersonalizing as Underwood's determination not to offend anyone.
Yet Nelson's "My Way" is utterly idiosyncratic — all the more remarkable given that it's a collection of standards associated with Frank Sinatra (and frequently interpreted by zillions of others).
His eccentric phrasing brings out new wrinkles in "One for My Baby (And One More for the Road)" and in a "Young at Heart" that suggest he's coming up with the song's tricky intervals on the fly.
And he and his producers, Buddy Cannon and Matt Rollings, make all kinds of unexpected choices with the arrangements, as in a sprightly "Blue Moon" and "It Was a Very Good Year," which they give a lilting Cuban vibe.
"My Way" closes with — what else? — the tune that Sinatra used to sing like a man who'd turned around at the finish line to sneer at his enemies. But Nelson takes a different tack, underselling Paul Anka's lyric about not having enough regrets to mention any of them.
The music is hushed, the vocal unembarrassed by its vulnerability. Yet there's no mistaking the force of Nelson's cosmic-hillbilly charisma. You can picture him completely.
Twitter: @mikaelwood
---
From the Emmys to the Oscars.
Get our revamped Envelope newsletter, sent twice a week, for exclusive awards season coverage, behind-the-scenes insights and columnist Glenn Whipp's commentary.
You may occasionally receive promotional content from the Los Angeles Times.