How Charlie Wilson became an old soul in demand — and why he's finished with R. Kelly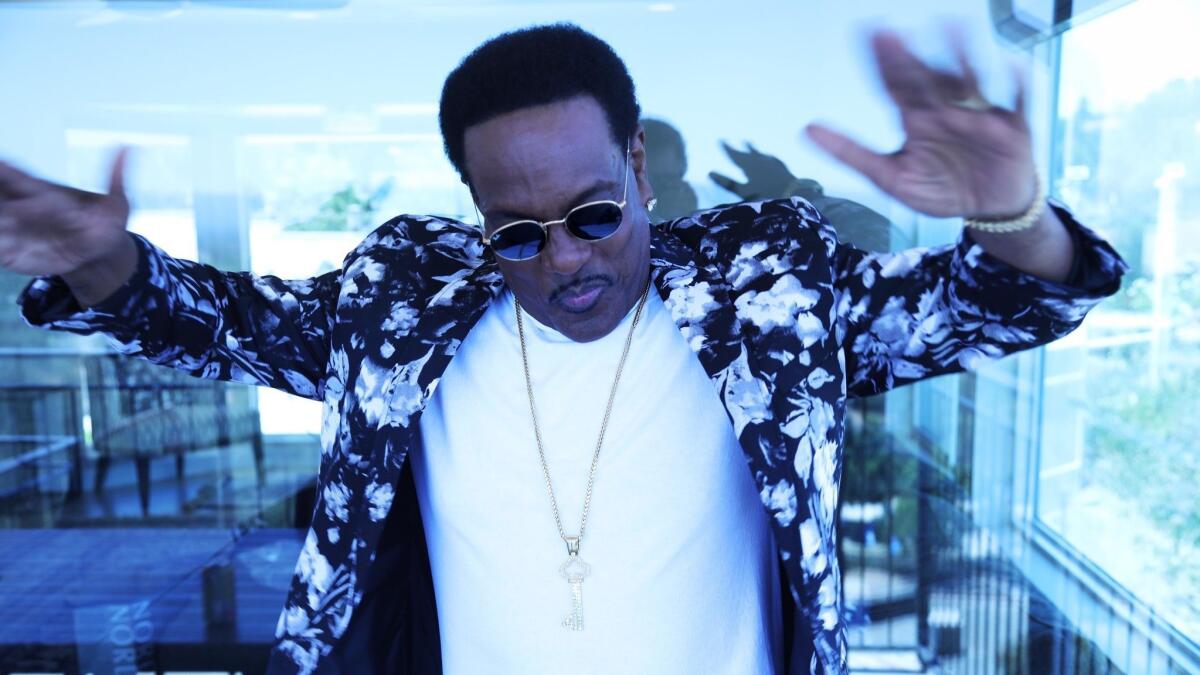 Pop Music Critic
Charlie Wilson sat on a balcony at his manager's home in Granada Hills and took in the view of the 118 Freeway stretching out below him.
The veteran soul singer, who was born and raised in Tulsa, Okla., was reaching back into his memories to describe his earliest days in Los Angeles, where he moved in the 1970s after forming the Gap Band with two of his brothers.

For the record:
12:50 p.m. Aug. 1, 2018A previous version of this article said that Charlie Wilson opened for R. Kelly in North Carolina. He opened in Detroit.
Their first crash pad, as he recalled on a recent afternoon? A two-bedroom apartment in Baldwin Village that the Wilsons shared with 18 other people — not including the woman whose name was on the lease and her four or five children.
"Look, I came out here determined to make it big," Wilson said, explaining the sacrifice of his comfort. Then he laughed, the sound as reverberant as the booming vocals that would eventually power early-'80s Gap Band hits like "Outstanding" and "You Dropped a Bomb on Me."
"I never made it big, I don't think," he added. "But I'm still trying."
Wilson is too modest.
At age 65, he's enjoying clear success as a solo artist, with sturdy, lightly retro-minded singles that perform well on R&B radio and a healthy touring business that keeps him in front of adoring middle-age audiences. On Friday and Saturday, he's playing the Hollywood Bowl, with accompaniment by the Hollywood Bowl Orchestra.
Yet Wilson isn't lying when he says he's still looking to expand his footprint. In addition to his own records and shows — his latest album, "In It to Win It," came out last year — the singer has carved out a busy sideline as a go-to guest vocalist for younger, edgier hip-hop stars such as Kanye West, Pharrell Williams and Snoop Dogg, among many others.
That's Wilson delivering the heartfelt chorus of West's "No Mistakes," from this summer's controversial "Ye." And that's him drawing on his childhood singing in church for "One More Day," a cut from Snoop's recent gospel excursion, "Bible of Love."
In July, after Wilson and Bruno Mars both appeared at London's British Summer Time festival, Mars tweeted, "I gotta do a song with Uncle Charlie," as the singer is widely known.
For Wilson, the result is a career that feels unique in today's pop scene. He's a legacy act as beloved by nostalgists as he is taken seriously by aesthetes. And for all the depth of his catalog — other Gap Band chart-toppers include "Early in the Morning" and the oft-sampled "Burn Rubber (Why You Wanna Hurt Me)" — what seems to excite him the most is the prospect of new music.
"His energy is like he's 18," said Aminé, a twentysomething rapper from Portland, Ore., who drafted Wilson to sing on his acclaimed 2017 debut, "Good for You." "In the studio, I think he was even more pumped than I was."
Wilson's natural exuberance fueled the Gap Band as it established a following decades ago with legendarily funky gigs at taste-making L.A. soul-music spots like the Total Experience and Maverick's Flat on Crenshaw Boulevard.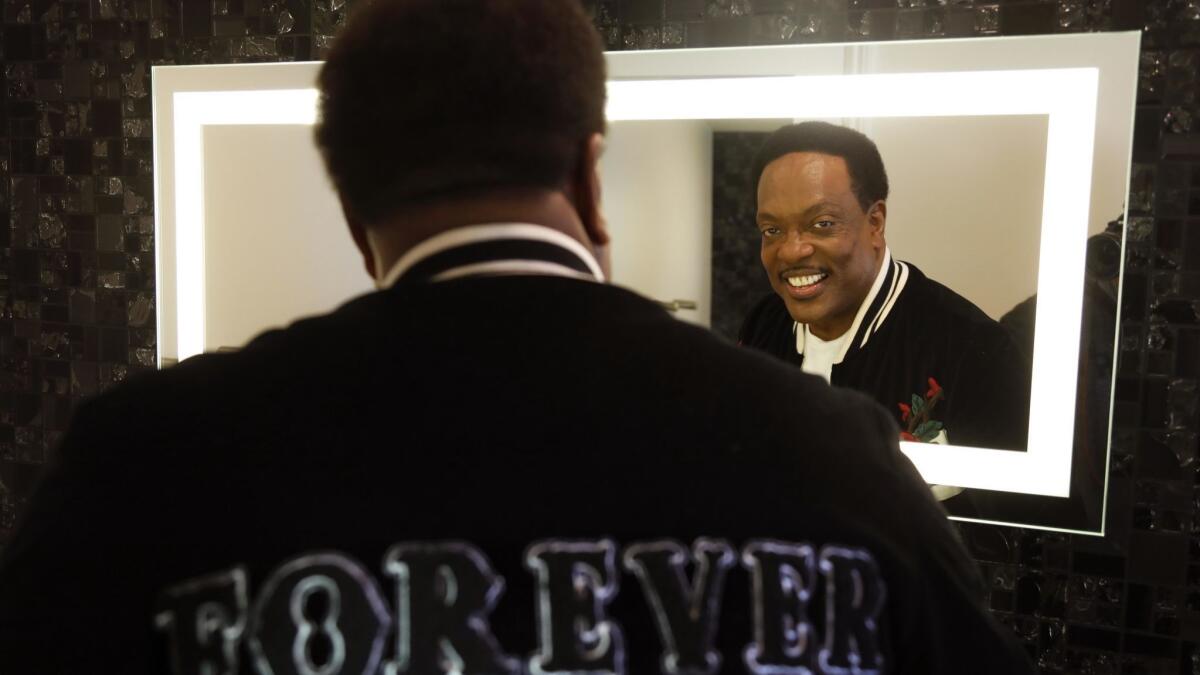 By the early '90s, though, the singer's life had taken a turn, thanks to what he described as a series of unfair business dealings, as well as a drug problem that he said led to a stretch of homelessness.
"I was the world's greatest crackhead," he put it bluntly at his manager's place as he twisted the tab on a can of seltzer.
In rehab, he met a counselor, Mahin Tat, who helped him get clean; they later married, and Mahin began accompanying her husband everywhere — including to a recording session in 1996 that Wilson now says sparked his comeback.
The scene was Can-Am Recorders in Tarzana, where Snoop, a longtime Wilson fan, was laying down tracks for his album "Tha Doggfather."
"We go in the room and everybody is blazed," Wilson recalled. "My wife pulled him out and said, 'Snoop, you guys gonna have to put that stuff out, because my husband is sober.'
"He was looking down at her like, 'Who are you?' She said, 'I'm his wife.'
"'OK, little mommy!'" Wilson said Snoop shot back. "Then he turned around to all those West Coast gangstas with all the gold chains, and everybody put out the joints one by one."
After "Tha Doggfather" (which featured Wilson's vocals on four tracks), Wilson went on the road with Snoop for the Lollapalooza tour, an experience Wilson said reminded him of when the Gap Band played with the Rolling Stones.
And the calls to collaborate kept coming — from Mystikal and UGK and West, who built his 2013 single "Bound 2" around a stunning Wilson vocal that newly showcased his signature emotional intensity.
"Kanye knows how to take my voice and put it in a situation that changes the game at that time," he said. "It's beautiful for me."
Wilson's manager, Michael Paran, said he and Wilson are careful when choosing which appearances to do. They don't want to present "Charlie as something he's not," Paran said, nor do they want to risk alienating his core audience of older folks who buy Wilson's albums and concert tickets.
"We were a little hesitant with Tyler, the Creator," the manager said of an unprintably titled song Wilson recorded a few years back with the willfully provocative L.A. rapper. "But he's so underground that it seemed cool to do it."
The two men also are protective of Wilson's image as a sensitive romantic. In an age of increased awareness of toxic masculinity, there's something undeniably refreshing about a tune like Wilson's "You Are," in which he describes a partner as "the reason I love, the reason I trust."
"My thing is celebrating the woman," Wilson said. "I feel like we've forgotten how to respect women."
Which is why it came as a surprise earlier this year to find that Wilson had agreed to open a concert in Detroit for R. Kelly, the proudly raunchy R&B star accused by numerous women of sexual abuse.
Asked about the show, Wilson paused before saying that Kelly, like Snoop, had given him a hand at a crucial point in his career — in this case by producing Wilson's 2005 release "Charlie, Last Name Wilson," which reintroduced the singer as an album artist following those early cameos.
"So I said, 'Take this, and then that's it,'" Wilson recounted telling Kelly. "'Thank you for what you did for me. I'm gonna give you this one, but one is it.'" He brushed his palms together.
"Then we stepped out the way. No more." (Kelly has denied the allegations against him.)
Wilson, whose gently authoritative manner justifies his nickname, said he's offered guidance to younger artists he's encountered over the years — those struggling with the type of addiction or money troubles that he knows firsthand. The outcomes have varied.
"I've talked till I'm blue in the face with some of these people, man," he said. "Some people don't want to listen, and if you don't want to listen, the bed of nails is there for you to lay on.
"But I'm the industry's uncle. Somebody's getting out of hand, I'm there to speak: 'Just settle on down.' It's coming from my heart.
"Everything that you're going through, I've already been there."
So what's left to do?
Wilson said he's working on a "special project with special people" but declined to specify his collaborators.
"I wish I could spit that name out, but I just can't," he said, looking genuinely pained.
He's also eager to make an album of his own that revisits the Gap Band's squirmy electro-funk style, which has come back into vogue in the wake of hits by Mars and others.
"If you hear your sound in these new records," he said, "you should go get it."
Then there's the novel idea of taking a vacation, which Wilson insists he's never done in "so many years of working back to back to back." Just the other night, he and Mahin were discussing the possibility of going somewhere for a while — maybe Italy.
"I'm like, 'Let's go!'" he said with another deep Uncle Charlie chuckle. "Let's do something before my trotters fall off."
_______________
Charlie Wilson with the Hollywood Bowl Orchestra
When: 8 p.m. Friday and Saturday
Where: Hollywood Bowl, 2301 N. Highland Ave.
Cost: $14-$164
Info: www.hollywoodbowl.com
Twitter: @mikaelwood
Get our L.A. Goes Out newsletter, with the week's best events, to help you explore and experience our city.
You may occasionally receive promotional content from the Los Angeles Times.