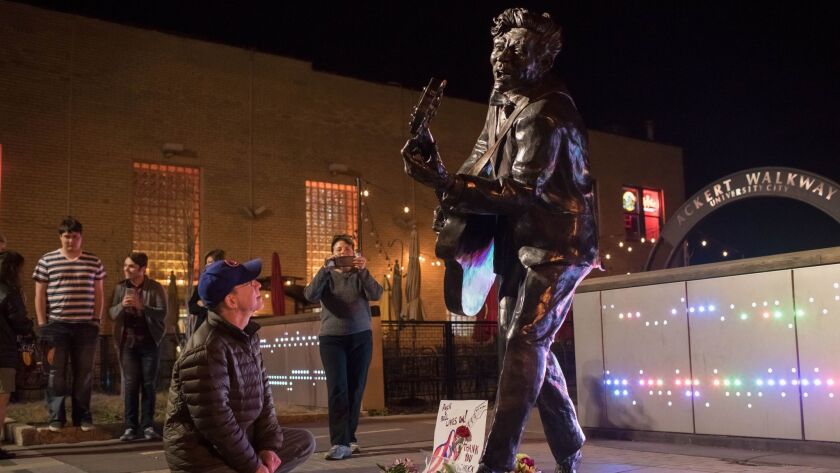 Chuck Berry was to St. Louis what Prince was to Minneapolis, what Elvis was to Memphis (and Tupelo) and what Sinatra was to Hoboken. Its citizens didn't agree on everything, but Berry was sacrosanct.
And while genius can rise wherever, it stands to reason that Berry, who died on Saturday at 90, concocted his particular rock 'n' roll potion growing up in the Ville neighborhood of St. Louis.
In the 1940s and '50s the North St. Louis district was considered one of the most cultured in black America. A half century later, so many people have left that the area is pocked with abandoned property.
Now considered one of the most dangerous neighborhoods in the country, the Ville is part of a ward dotted with more than 1,200 vacant buildings and five empty schools, according to a recent story in the St. Louis Post-Dispatch.
Which is to say, songs born in the Ville such as "Roll Over Beethoven," "Maybellene," "Reelin' and Rockin'" and "Sweet Little Sixteen" deliver snapshot moments that, while universal, sprouted in a community struggling to bust out of a segregated system designed to confine its residents.
The Ville existed in a whole other galaxy from Edwardsville, Ill., the bedroom community where I grew up in the 1970s. Though only a half hour drive across the Mississippi, Edwardsville was a majority white community whose residents worshiped Berry from afar. I liked Berry too, but for my own reason: Like most grade-school boys, I thought his recording of "My Ding-a-Ling" was hilarious.
It wasn't until high school, when I learned of Berry's influence on a bunch of bands I liked — the Rolling Stones, the Clash and Stray Cats among them — and dubbed onto cassette a friend's copy of "The Great Twenty-Eight," Berry's 1982 collection. "Brown-Eyed Handsome Man" was a world away from "My Ding-a-Lling," and I wanted to learn as much as I could about that man.
Berry honed his style at Sumner High School in the Ville and gave it energy through early performances on a 15-minute trolley ride across the river to East St. Louis. He was raised in a modest home that's now demolished.
At the time of Berry's rise, the Ville, and St. Louis in general, was precisely situated for his revolutionary sound, which married electric blues, rhythm & blues and country music.
The city, after all, is a five hour drive (preferably in a coffee-colored Cadillac) from three crucial music hubs: Chicago, Memphis and Nashville. Berry absorbed these competing sounds.
That's evident in the very DNA of his records. Zoom in on those classics and hear the exuberance of thriving city and the twang of the rural open road.
When Berry describes in "School Days" the closing hours of his day, he moves through the Ville across a few spare lines. "Down the halls and into the street/ Up to the corner and 'round the bend/ Right to the juke joint you go in."
In real life when Berry motored from class, he was exiting the site of the first high school west of the Mississippi founded for African Americans. Notable Sumner alumni include singer Tina Turner, tennis pro Arthur Ashe, actor Robert Guillaume, opera singer Grace Bumbry and comedian Dick Gregory.
Berry likely would have walked past a few of the neighborhood's biggest employers to get to that juke joint. Homer G. Phillips Hospital, now shuttered, was one of the few venues in America at the time to train black doctors and nurses, and the St. Louis Colored Orphans Home was financed by black cosmetics businesswoman, inventor and millionaire philanthropist Annie Minerva Turnbo Malone.
In fact, Berry learned cosmetology through a Malone-owned beauty school, and absorbed lessons in style and flair that he reflected in song.
The Ville's commercial center was along a stretch that is now Martin Luther King Jr. Blvd. (formerly Franklin and Easton avenues). At the time it was teeming with retailers catering to the black community — grocery stores, movie theaters, record stores, ice cream parlors, a barbecue joint called Pinky's.
Area clubs including Sadie's Personality Bar, the Dynaflow and Helen's Moonlight Lounge presented live music, observed historian Benjamin Looker in his book "The Point From Which Creation Begins: The Black Artists Group of St. Louis." For a time in the late '50s, Berry ran his business out of a building on the strip.
Tired of walking? Hop on a streetcar and in a few minutes jump off at the rising Pruitt-Igoe housing complex. Its 33 11-story buildings, with over 2,800 segregated housing units designed for 12,000 residents, was under construction in 1954. A year later, St. Louis' first black-programmed radio station, KATZ, opened. Its AM transmitter was located on Route 66.
In "Rock & Roll Music" when Berry sang of taking his date "over cross the tracks so she can hear my man a wailin' sax," his personal point of reference was across the river to East St. Louis.
After the St. Louis clubs shuttered for the night, Berry would have traveled past Pruitt-Igoe on his way to the East St. Louis club the Cosmopolitan. In the early '50s, he joined the Sir John Trio, founded by pianist Johnnie Johnson, who had a regular gig there. By the mid-1950s, Ike Turner had relocated his Kings of Rhythm to St. Louis, where at Club Manhattan he was speeding up the blues and competing for fans with Berry. Just up the Mississippi in Brooklyn, Ill., were more venues.
Trumpeter Miles Davis (like Berry, born in 1926) was raised a few blocks from the Cosmopolitan in East St. Louis. He first played with Charlie Parker's band at a jazz club not far from the Ville.
Davis recalled the music scene in his autobiography, "Miles": "After St. Louis closed down at night, everybody over there came to Brooklyn to listen to music and party all night long. People in St. Louis and East St. Louis worked ... in them packing and slaughtering houses. So you know they was mad when they took off work."
Berry and Johnson's gigs (with drummer Ebby Hardy) bore that out. Johnson once described the Moonlight as being particularly brutal. "It should have been named 'Bucket of Blood.' We played right on the floor, we didn't have no stage, and they'd get to fighting and knock over the drums or whatever," the late pianist (and the "Johnnie" of "Johnny B. Goode") Johnson told Berry biographer Bruce Pegg in "Brown Eyed Handsome Man: The Life and Hard Times of Chuck Berry."
Still, after Berry earned his success, he followed the lead of many St. Louisians and abandoned the city core. He bought a plot of land near Wentzville, Mo., which is just outside an outer ring of suburbs born of white flight.
He dubbed the place Berry Farm, and he and his family lived there for decades. He still cut the lawn with his riding mower well into his 80s.
After hitting retirement age, though, he continued to perform regularly at a place called the Duck Room, so named for Berry's trademark duck walk.
Located in the basement of Blueberry Hill, a rock 'n' roll themed bar and restaurant that serves both locals and the students of Washington University a few blocks away, Berry gigged to appreciative audiences. In a city that's hardly an international tourist destination, the volume of European and Asian rock 'n' roll pilgrims was notable.
Those late-period performances, which he stopped doing in 2014, were wild, but not always in the way one would have hoped. Berry would arrive in a white captain's hat and a sparkly shirt, pick up his guitar and rip through a dozen songs with a for-hire backing band.
His legacy was so established that he earned huge applause despite playing woefully out of tune and with occasional disinterest.
I interviewed him once in a booth at Blueberry Hill, but by then Berry had grown so wary of the limelight and frustrated at the disconnect between his influence and his finances that he'd started charging money for many interviews. Though he didn't make me pay, the session likely would have been more fruitful if I had. He participated with polite disinterest.
Onstage, though, he retained his trademark wit. "Hey, hey, spread the news," he said between songs during a 2014 Duck Room performance preserved on YouTube.
Still sharp, he slipped into a sad voice: "Just a little bit of bad news. I'm not well." Mimicking a concerned other, he wondered, "'What do you mean you're not well?'"
Pausing a beat, he said, "I have some bad hiccuping." The crowd erupted with laughter and relief.
Were he able to communicate from beyond, Berry would likely quip that in death, at least he's found his cure.
For tips, records, snapshots and stories on Los Angeles music culture, follow Randall Roberts on Twitter and Instagram: @liledit. Email: randall.roberts@latimes.com.
---