Rock 'n' roll at twilight: Classic West fans celebrate these stars, while they still burn bright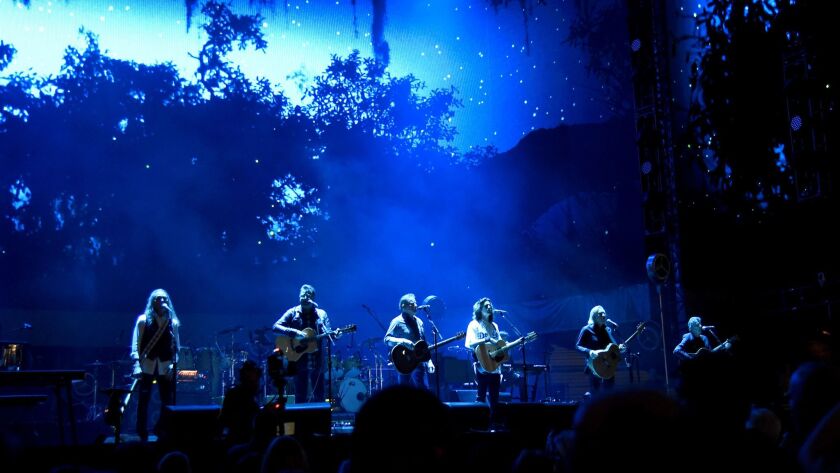 A bucket list is supposed to convey someone's priorities for experiences to notch before exiting this mortal coil.
But how those desires intersect with sobering reality played out in a number of ways at the new Classic West festival at Dodger Stadium over the weekend.
"You may have noticed that my longtime partner Walter Becker is not on stage," Steely Dan keyboardist and lead singer Donald Fagen announced immediately after his band's opening number, "Bodhisattva," on Saturday. "He took ill shortly before he was to come to California. We wish him a speedy recovery."
That news didn't go unnoticed in the top deck seats.
"I was crying," said Michele Romero, 57, who had driven from Menifee in San Bernardino County with Steely Dan's performance as part of her bucket list. "I'm so disappointed."
Becker's late cancellation merely added to the sense of mortality facing veteran rock and pop musicians. Eagles co-founder, songwriter, guitarist and singer Glenn Frey died last year at 67. Earth, Wind & Fire co-founder and drummer Maurice White died just a couple of weeks later. The Doobie Brothers, also in the Classic West lineup, lost percussionist Bobby LaKind and saxophonist Cornelius Bumpus years ago.
Meanwhile, some key members of bands are not around for other reasons: Doobie Brothers singer Michael McDonald's solo career has kept him from appearing with the group on any sort of regular basis.
Likewise, Journey's lead singer from its days of charting hits, Steve Perry, split in 1998, leaving his former bandmates to fill his shoes with Arnel Pineda, a singer living out the fantasy of every fan after getting the call to take over fronting his favorite group.
The extent to which such things matter to Classic West festival-goers had a lot to do with how and when they became familiar with each group's music.
"I didn't grow up with these bands, so that doesn't really bother me," Kaytlin Harold, 25, of Glendora, said while discussing the show with her friend Katie O'Keefe, 30, of San Dimas.
On the other side of the generation gap, David Okun, 68, and his wife of 43 years, Sheila Reiser-Okun, 66, of Capistrano Valley in south Orange County, watched the opening performances on Saturday from their seats just above first base line. They were sporting matching T-shirts from last October's three-day Desert Trip classic-rock show in Indio featuring Bob Dylan, the Rolling Stones, Paul McCartney, the Who, Neil Young and Roger Waters.
"It's upsetting," Reiser-Okun said in reference to Becker's illness. "And sad."
Still, both said they had no complaints about the performances delivered by the Fagen-led Steely Dan, in which veteran guitarist Larry Carlton handled lead guitar duties on Saturday. "Desert Trip was a once-in-a-lifetime kind of show. These groups are the ones you'd have wanted to see if they had a fourth day."
Others were less generous.
"Fine," a fan who tweets under the name @hypomanicII posted from Dodger Stadium during the show, "but it ain't the Dan without Walter Becker. Hope he's OK……BTW, they're my favorite band and I've heard them play all over the world. So this was kind of a letdown."
Eagles co-founder Don Henley and Frey's son, Deacon, who is guesting with the band for the Classic shows, including a reprise performance for Classic East edition on July 29 in New York, both acknowledged Frey's passing.
"Anybody out there miss my dad?" Deacon, 24, asked in the midst of the group's rendition of Jack Tempchin's "Peaceful Easy Feeling," one of the Eagles' earliest hits.
"You're here for the songs," Henley told the crowd shortly after his group's set began, "That's why you're here."
He elaborated on that idea in an earlier interview with The Times in talking about the motivations, beyond the financial, for resuscitating the group, which still includes longtime guitarist Joe Walsh and bassist Timothy B. Schmit as well as several adjunct touring members: guitarist Steuart Smith, drummer Scott Crago and keyboardists Will Hollis and Michael Thompson.
"People want to hear these songs played live, by the band that recorded them — and not by a tribute band," Henley said. "God knows, there are enough of those. And even though it's not exactly the same band, they want to hear the songs.
"I think we're doing it in a highly ethical manner that I think Glenn would approve of."
Still, Henley hinted that the future for this new iteration of the group is anything but assured. "In case this is our last dance," he told the crowd, "I'd like to thank all of you for all your support. This all started 46 years ago right here in California."
Dan Tanniello, 31, trekked from Liberty, Utah, north of Salt Lake City, with his wife, Allison. She bought him tickets to the show, which fell on her own 28th birthday "because he's totally obsessed with Fleetwood Mac."
For him the band he's most interested in over the course of the two-day festival is the one still touring with what's considered its classic lineup from the 1970s: Stevie Nicks, Lindsey Buckingham, Christine McVie, Mick Fleetwood and John McVie.
As for the rest of the acts that flourished before he was born, Dan Tanniello said, "It just reinforces our desire to see them while we still can."
See the most-read stories in Entertainment this hour »
Follow @RandyLewis2 on Twitter.com
For Classic Rock coverage, join us on Facebook
---
The complete guide to home viewing
Get Screen Gab for weekly recommendations, analysis, interviews and irreverent discussion of the TV and streaming movies everyone's talking about.
You may occasionally receive promotional content from the Los Angeles Times.