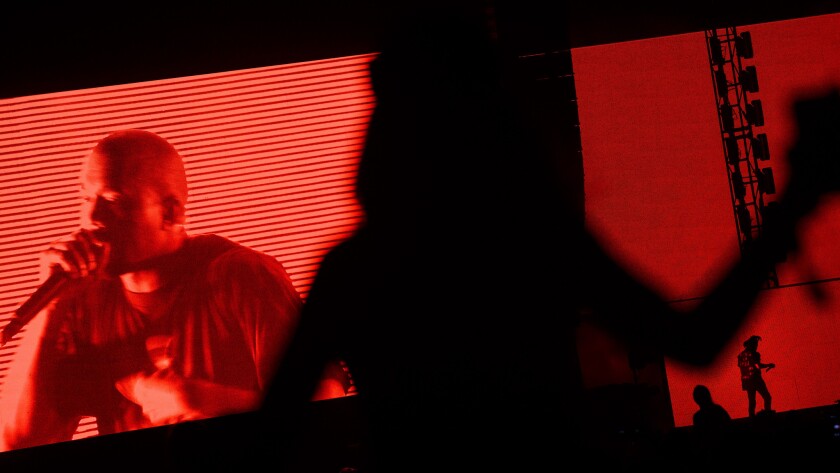 On the final Saturday night of Coachella 2015, the singer and guitarist Jack White bid farewell to the 90,000-plus revelers by leading them in a chant. As he was winding down his expertly imagined, electrified rock and roll hoedown on the main stage, he took a moment to deliver a sermon.
With the voice of a preacher speaking to his flock, White urged the masses to treat music with the same respect afforded actors and directors and the films they make, then got them to shout in unison, "Music is sacred!"
The very fact of Coachella confirms music's importance in our lives, but it bore repeating. If that didn't do it, Kanye West's surprise appearance with the Weeknd later on the same stage further fueled the argument. One glance at the miraculously active dance floor within the Yuma Tent for Loco Dice's hard, mesmerizing set of future house was compelling evidence. The airplane circling overhead with the banner trailing behind reading "Cherry Bomb" to market rapper Tyler, the Creator's new record? Yes! (The Times will have further information on West's appearance in an upcoming post.)
Throughout the final Saturday of Coachella 2015, acts bid farewell until next time (or, statistically speaking, never again) with heavy sets. The Gaslamp Killer Experience was wicked and memorable, the Los Angeles beat producer and rhythm dramatist performing with a dozen-plus-member big band featuring brass, strings, percussion, bass and keyboards. All the while the Killer, who acted out the beats onstage like the frequencies were shooting through him, ripped across the stage while controlling beats and tones on an iPad.
After a typically banging Detroit techno and house set from Carl Craig, the timeless house DJ Danny Tenaglia kept the Yuma Tent hot with a seamless mix of utterly strange, utterly magnetic 128 beats-per-minute stompers. At one point he mixed in the sound of a revving motorcycle zipping through the bass bumps; it felt like a Harley-Davidson had overtaken the dance floor.
Music is sacred? Yep.
As the chants subsided, White reiterated what he'd previously announced: that this would be his last electric set leading his band for the foreseeable future. Dedicating his performance to the memory of the late keyboard player Ikey Owens, he and his large band moved through highlights from across White's repertoire.
His particular interests, though, were focusing on songs from his 2014 album "Lazaretto," and White Stripes standards and surprises including "Hotel Yorba," "We're Going to Be Friends," "Cannon" and "My Doorbell." (What a run!)
In nearly every instance, he and his band not only reimagined but improved upon the original renditions. The arguments against retiring this band came steady and quick, relentless even. Why dismantle such a lubricated machine?
White's final song? Also by the White Stripes: "Seven Nation Army."
Not a bad way to go out.
Follow Randall Roberts on Twitter: @liledit
---