Rock 'n' roll no longer dominates Coachella, but its lessons still apply
"Let's shake it up!" declared singer Brendan Yates, swinging his hips behind a microphone as his band, Turnstile, presided over a swirling mosh pit during the opening hours of the Coachella Valley Music and Arts Festival.
The sound onstage was a familiar one from the history of the annual gathering in Indio: loud, aggressive, inventive hard rock. It's also a sound that if, one judges solely by the Coachella main stages, appears to be endangered.
Turnstile attracted a mostly young crowd in front of the festival's indoor Sonora stage, as one fan after another climbed up, danced along the edge, and dropped back into the pit during a hardcore punk song called "Big Smile," which seemed to collide two or three rock genres into about 90 seconds. Abrasive and tuneful, fast and slow, noisy and danceable.
For one moment at least, loud guitars seemed as alive as ever during this latest chapter of Coachella, even in a year when rock's traditional dominance on the lineup has been eclipsed by pop, EDM and hip-hop. But that doesn't mean there weren't plenty of guitars, as well as some lessons from rock 'n' roll, heard throughout the grounds. But at Coachella, which will repeat next weekend with largely the same lineup, rock has gone from a dominating genre to one for those in the know.
From his perspective onstage on Friday, Yates saw only excitement.
"Rock seems to not be as prominent at a festival like this, but that almost makes it feel cooler to be a part of it," Yates said after his 30-minute set with Turnstile, an uncompromising, hyperactive five-piece out of Baltimore. "It makes it feel more special. Music is always shifting."
FULL COVERAGE: Coachella 2019 »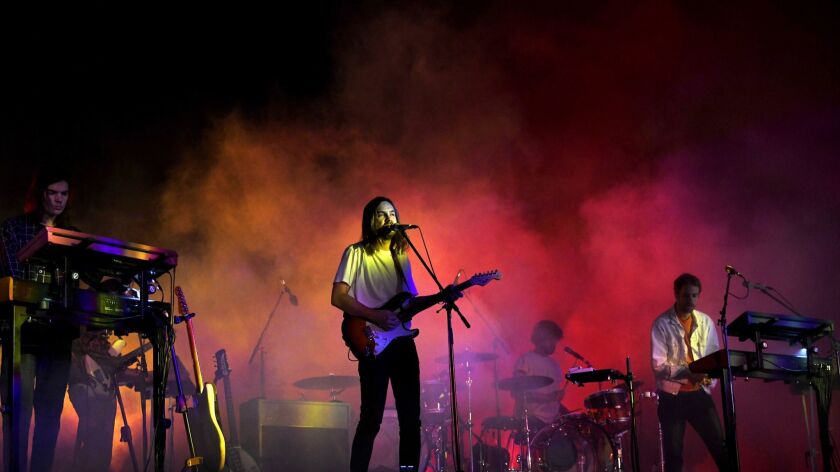 Two decades after Coachella was birthed in the Southern California desert with a lineup headed by Rage Against the Machine, Beck and Tool, rock is much harder to locate at the upper levels of the bill in 2019, even with Tame Impala and Weezer appearing on the main stage on Saturday. But Coachella's shift toward pop and electronic music is one barometer of the musical moment.
If rock is as much about attitude as instrumentation, then one of the biggest rock stars of the festival's opening weekend was a bold 17-year-old pop sensation from Los Angeles named Billie Eilish. But Coachella's strength as an ongoing source of musical inspiration is not just with headliners but an undercard of newer voices and ideas, and the curators of Goldenvoice Productions delivered through the likes of Soccer Mommy (aka 21-year-old Sophie Allison) and an especially strong contingent of Latin rockers: Hurray for the Riff Raff, psychedelic indie rockers Las Robertas and the flinty garage rock of the Red Pears.
For El Monte trio the Red Pears, two consecutive weekends playing the influential desert music festival is another startling step forward for a band that rose from backyard parties to being embraced at the downtown rock club the Smell. The band's songs share some textures with the Strokes, but also cultural and pop traditions east of the L.A. River.
"It means a lot coming from where we come from, our culture and our background, the kind of music we play," says drummer Jose Corona. "It seems impossible."
The trio also took comfort in the presence of the Norteño band Los Tucanes de Tijuana, who opened the festival's main stage on Friday. "Having them here is, like, damn, that's nostalgic," said singer-guitarist Henry Vargas, who grew up hearing the band played in his home. "When you hear them, you think of your family and your parents."
Aside from the indie rock found at the relatively intimate Sonora and elsewhere at Coachella, there were big rock moments from unexpected sources on Sunday: singer-rapper 070 Shake stepped out in the Gobi tent accompanied by a DJ on one side, a grinding electric guitar on the other, making sounds more rock than not; and Zedd closed his DJ set on the main stage with a blast of Queen's "Bohemian Rhapsody," a classic rock tune back in the cultural zeitgeist for a new generation of filmgoers.
For their second Coachella appearance, ska-punk act the Interrupters brought out Rancid singer-guitarist Tim Armstrong, who has produced all three Interrupters albums, for a cover of his band's ska-punk hit "Time Bomb" to a crowded circle pit on the grass. Performing midday on the Outdoor Theater, singer Aimee Interrupter kept her leather jacket on the whole set.
"Whether or not rock is as heavily represented on the lineup, people's tastes in music is so eclectic nowadays they want a little bit of everything, and we're happy that we got to provide the punk rock for the day," said guitarist Kevin Bivona. "That meant a lot to us. We're flying the flag, you know."
Tame Impala pushed itself to match its position of notoriety on the bill in the band's fourth time playing the desert festival. In previous appearances, the band arrived looking casually lo-fi, but this time stepped up the production values, filling the giant video screens with endless swirls of color, light and psychedelic images.
While the much-buzzed Eilish erupted across the field, Tame Impala stepped out amid whisps of stage fog, delivering a sound that was big but in another, more understated category from the muscular hard rock of Guns N' Roses that headlined the same stage just three years before. Led by singer-guitarist-mastermind Kevin Parker, the sound was more in the dreamy tradition of mid-career Pink Floyd or, much more recently, Phoenix (another popular Coachella modern rock act from the recent past).
After performing the Floyd-ish hit "Elephant," Parker told the crowd: "You look more beautiful than I imagined. ... Never in a million years did I think we'd be up here, playing at this time of night."
Rüfüs Du Sol is an Australian trio firmly in the electronic dance music scene, but with roots in rock that reveal themselves in the band's live performances. On Friday, the band's distance from DJ music was in the striking presence of drummer James Hunt pounding live beats in a black motorcycle jacket. Rüfüs Du Sol is a live band positioned as an electronic act, but the trio's music inevitably overlaps with rock.
In another era, the three players might have been seen much like the transformative U.K. act New Order, which collided postpunk and electronic dance music in the 1980s with a sound built on electronics, live players and danceable beats. Likewise, from the beginning of Rüfüs Du Sol's set this weekend, there were several moments of industrial strength Sturm und Drang amid the synths and beats that landed a lot closer to NIN than Chainsmokers. Even during the brooding "Solace" and the romantic "Underwater," there were crackles of noise to puncture the smooth vocal delivery of Tyrone Lindqvist.
Shortly before their performance, Lindqvist noted that both he and Hunt had played in rock bands together before forming Rüfüs Du Sol, and they still draw inspiration from rock. "There's a magic in the unpredictable nature of rock music," Lindqvist said. "It's a huge influence of ours when we take our music to the live stage. We're a three-piece. It's live vocals, drums, guitar, synths. Translating that live, there is an energy from rock music that is palpable."
---
The complete guide to home viewing
Get Screen Gab for weekly recommendations, analysis, interviews and irreverent discussion of the TV and streaming movies everyone's talking about.
You may occasionally receive promotional content from the Los Angeles Times.