Coachella after Beyoncé: Hunting for more pop stars, and profit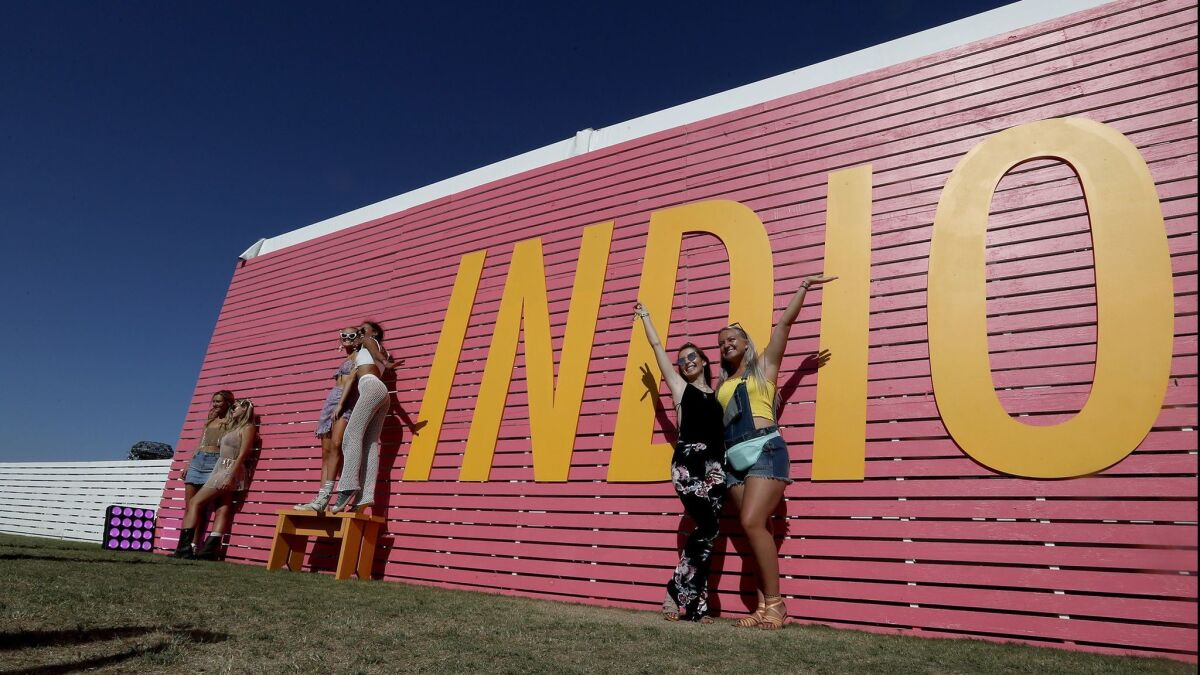 Fans love arguing over when Coachella went too pop. But 2019 might be the year promoters Goldenvoice fully embraced the musical taste of its increasingly Gen Z crowds.
Since its 1999 inception, Coachella has tried to stay ahead of the curve in its bookings and appeal. Rock music, which built the fest's reputation, is largely out, in favor of hip-hop and adventurous pop music. There will be guitars — a surging Latin rock underground presence will be felt at the festival — but even the main rock headliner, Tame Impala, seems more interested in vintage effects and dance-friendly grooves these days.
So to use popular Twitter parlance:
Tired: Intergenerational showcase for veteran and rising acts, grounded in rock, EDM and a few giants of hip-hop. Some fun art and bougie VIP options.
Wired: Meme-able pop stars such as like Ariana Grande and Childish Gambino, Latin streaming-leviathans such as J Balvin and Bad Bunny, related film premieres and now a church service from top artists, and an acknowledgment that, like tech's winner-take-all culture, Coachella must own the biggest platform to survive.
Maybe the only option was to become a live-action mix of Spotify and Instagram.
"Coachella is interesting because it's one of the biggest festival brands in the world, and they realized they have to adapt to the times," said Jon Lieberberg, who manages progressive young acts including Sophie and Haim. "If you look at what they're doing, it's informed by what's happening in the cultural zeitgeist. We all live on social media. We want to spend our money on experiences. In Instagram culture, it's social currency."
Coachella has always lent an imprimatur of cool to anyone who plays there. It draws a quarter-million people every year and sets the tone for the live music industry. It had the clout to reconcile the irascible original Guns N' Roses, and when brand name artists such as Madonna appeared, they were hunting for cache and credibility.
But last year, Coachella featured an artist who seemed bigger than the fest itself. Beyoncé's masterful performance, heralded as the best in the show's history, drew a new audience of impassioned fans out to Indio. HBO's "Insecure" made a whole episode out of it. So did Beyoncé herself, who on April 17 will premiere a documentary about it on Netflix.
"[Beyoncé] was incredible, and I think it was the start of that change to a pop audience," said Randy Phillips, the president and chief executive of concert promoter LiveStyle and the former CEO of AEG Live, Coachella's parent company.
FULL COVERAGE: Coachella 2019 »
But a shift to pop may have also been an economic necessity as much as it was an acknowledgement of cultural and generational shifts. In 2006, Coachella was a single weekend, two-day affair drawing 60,000 fans per day. Today, Coachella is spread over two weekends and six days and commands audiences of about 125,000 people per day.
While tastes have transformed, the business model has also changed.
"What does pop mean? It means popular," said Phillips. "Hundred-thousand-capacity festivals are really expensive to roll the dice on. You've got to sell these expensive tickets and you can only do that with popular and credible acts."
Ariana Grande and Childish Gambino, aka actor Donald Glover, two of this year's headliners, will bring fans from a broader swath of pop culture, including TV and the celebrity-industrial complex. It's a step removed from the music nerds who helped build Coachella's reputation.
This year's must-see moment might be Kanye's Sunday Service, held once at an offsite location on Coachella's second weekend (on Easter morning). The freewheeling, celeb-packed "services" West has been hosting at various locations, often his Calabasas home, in recent months have become the stuff of lore online. But few fans have ever actually been to one: perfect Coachella social-media bait.
Coachella doesn't release its demographic info, but Gary Tovar, the Goldenvoice founder and Coachella advisor, told the Desert Sun last year that this crowd is "a new generation" and that, ultimately, "youth must be served."
"When I started, it was pretty much an indie rock festival," Phillips said. "Hip-hop started around 2004-2006 and EDM just exploded after. Today, the curation feels very different. But hip-hop is pop music now, and because of social media, nothing is genre-specific."
James Hunt, of the progressive electronic group Rufus Du Sol, will play a major nighttime slot at the Outdoor Theater, something he couldn't have imagined a few years ago. "What Coachella has done well is not only recognizing changing tastes and sounds, but giving them a platform. Ten years ago, a band that sounded like [us] might not have gotten such a big time slot and the live stream, but here we are."
The youth are amply served this year, with K-pop megastars Blackpink, streaming favorites such as Billie Eilish and Khalid, and hip-hop phenoms including Juice WRLD, Playboi Carti and Sheck Wes. It may not be to every fan's liking, but with its near-total abandonment of classic rock (save for Weezer, as much a meme as a band now), the festival is clearly after a younger audience.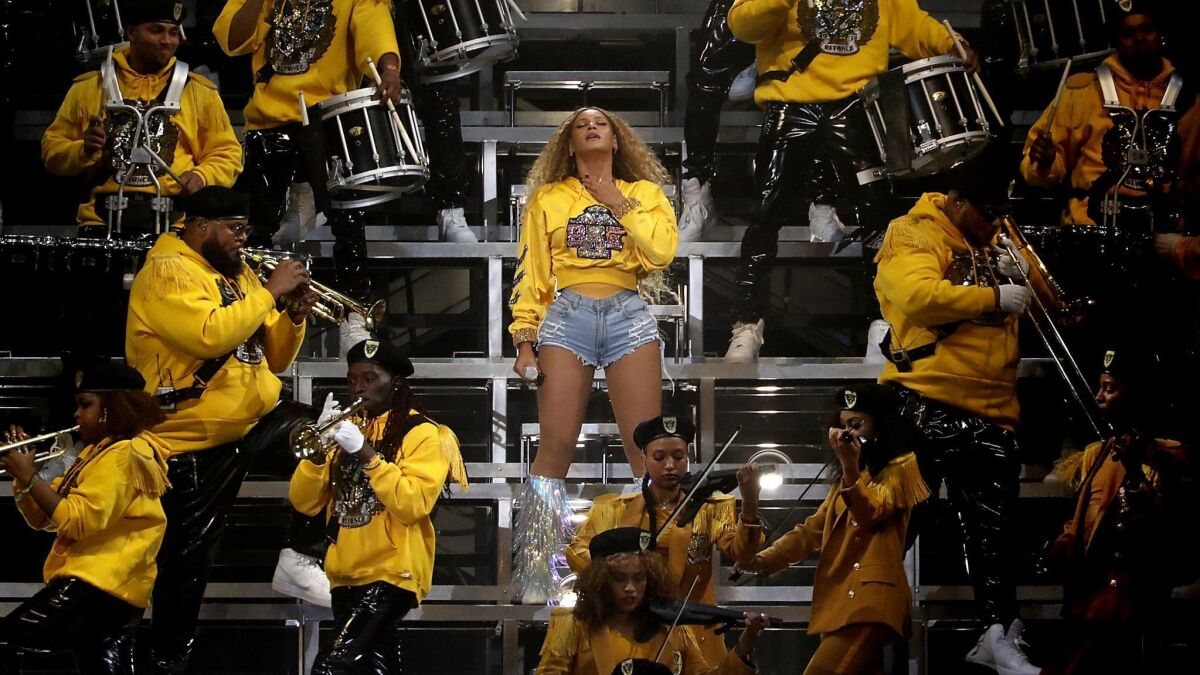 "Culture changes in 20 years so much, and I have to be there and make sure Coachella stays on course," Tollett told The Times in an interview earlier this year. "I love everything we've ever promoted. That being said, you've got to move on."
"I don't know what the future holds, but, currently, electronic-based music, including hip-hop and pop, seems to be at the forefront."
And a means to survival.
Coachella's continued success isn't shared by the festival industry at large. Big fests too concerned with their roots can crash and burn.
The Washington-based Sasquatch fest was a kind of spiritual sister-event to Coachella, rooted in the area's indie rock culture with an idyllic natural setting.
But in 2017, it tried to go mainstream with rap-rock brooders Twenty One Pilots, Chance the Rapper and Frank Ocean. Longtime fans roasted it online. The next year, the festival returned to indie acts such as like the National, Bon Iver and Modest Mouse. But the audience stayed home.
The festival called it quits in 2019.
"The public just wasn't supporting it like they used to and we need to move on," Jeff Trisler, president of Live Nation Northwest, which produced the festival, said at the time. "We never had so much love on social media as we had this year, but it didn't correlate to box office."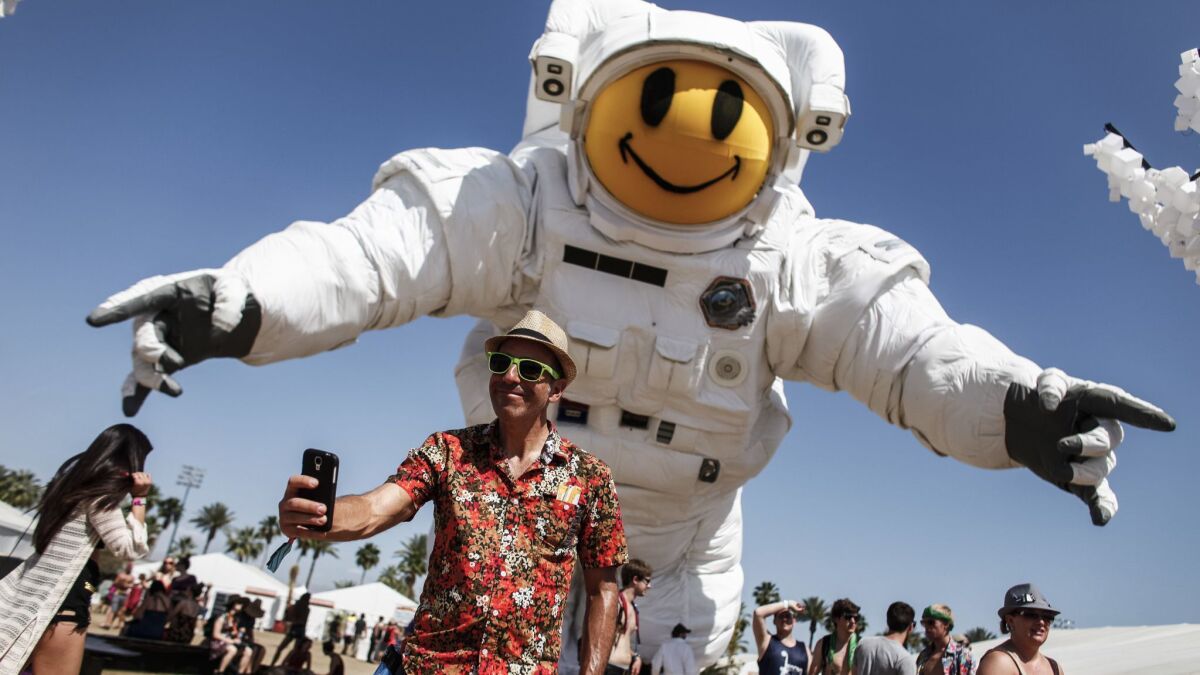 The Tennessee-based Bonnaroo had similar troubles after its 2016 attendance dropped to an all-time low. It recovered somewhat in 2017, but still had its third-worst year. Now, it's booking pop acts such as Cardi B and Post Malone, and its founders says they're more focused on immersive environments for its once hippie-leaning, jam-band-focused audience than setting a national agenda.
After Beyoncé, Coachella is in a class of its own.
August's Lollapalooza in Chicago is following Coachella's lead with near-identical headliners (Grande, Childish Gambino and Tame Impala among them), but with its growing multicultural flair, Coachella may be one step ahead.
Blackpink, Bad Bunny, Rosalia, Mon Laferte and Los Tucanes De Tijuana all bring strong global fanbases. Ticket re-seller StubHub has noted that international sales have spiked recently, and the fest's global appeal and eminently Instagram-able environs give it an edge where other mass-market fests fell behind.
"That's absolutely where we're heading," says artist manager Lieberberg, referencing multiple events known more for their setting or the audience than their lineup.
"It goes hand-in-hand with something like Burning Man, where it's a global tourist destination that everyone wants to be a part of, and appeals to a broader audience," he said. "Primavera, Glastonbury, Burning Man, they're all built around being much more than a music festival."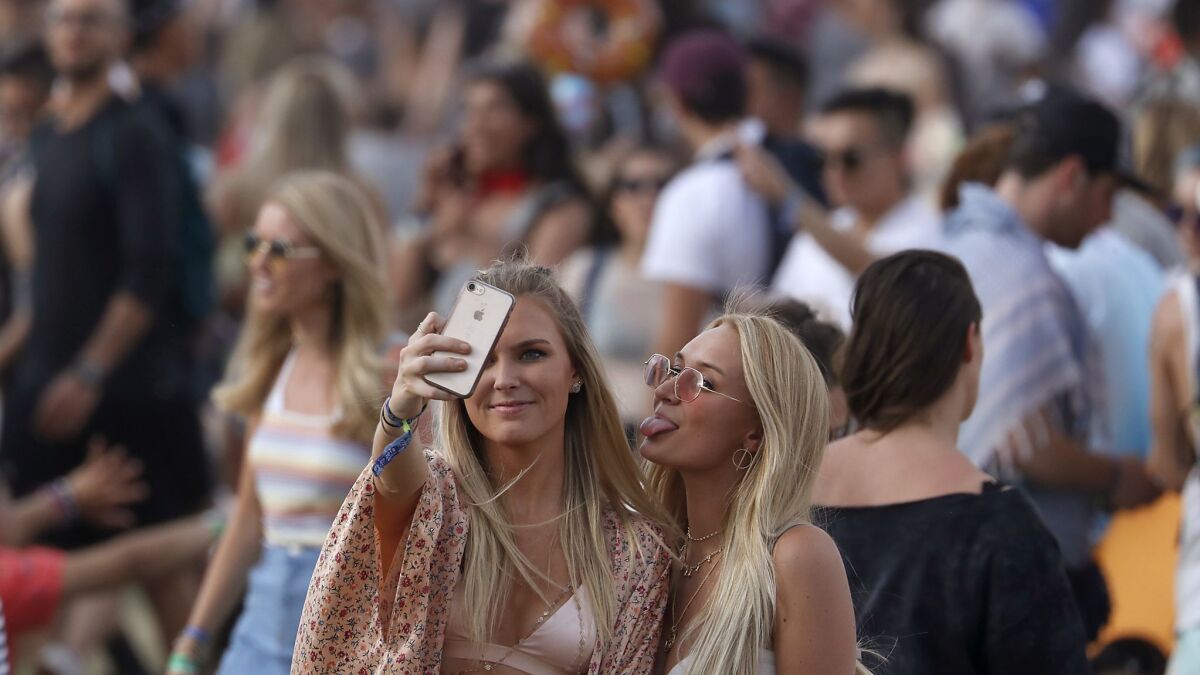 But that doesn't mean leaving Coachella's punk and indie roots behind either. In 2017, a wave of young Latin and Spanish-speaking indie acts got a stage all their own, the Sonora Tent.
As the fest goes pop, up top, the same diverse Gen Z crowd also wants edgy music that speaks to their experiences.
"It's so popular in Southern California. [The Sonora Tent] is catering to a much younger audience. I've seen 8-year-olds in the crowd with their families," said Devin Landau, a talent agent at Paradigm who books many Latin indie acts such as the Marias on festival bills including Coachella. "There's a community of young kids who, ever since Selena, haven't had many Latin artists to look up to."
The Chilean indie-electro artist Javiera Mena agrees that new doors have opened.
"I have noticed that the number of Latin artists is a really big sample," she said. "Chile is so far and can feel like an island. We see so much music from L.A. that it's a good moment to do the opposite."
There are challenges, of course.
Coachella is up against the entirety of the internet for entertainment and a generationally-broke fanbase that may not have the outlays to get there. And it must weather deeper societal changes too.
After dozens of fans told Teen Vogue about their experiences with sexual harassment at the fest, Goldenvoice launched a new and very public initiative for fan safety. Even the person once cited by Coachella's Tollett as his "replacement," FYF Fest founder Sean Carlson, was forced out after allegations of sexual misconduct reported by The Times and Spin.com.
While the youth must be served, they're not accepting old ways of running things.
"When I go, I can't help but feel a little old," Lieberberg, 37, said. "But with Gen Z, there's been a big shift between our world and theirs."
For breaking music news, follow @augustbrown on Twitter.
---
Get our L.A. Goes Out newsletter, with the week's best events, to help you explore and experience our city.
You may occasionally receive promotional content from the Los Angeles Times.