Sampha is enveloped by a cluster of monumental canvases dedicated to black life. It's the morning after a sold-out show at the El Rey and the British singer wanted to see Kerry James Marshall's retrospective at the Museum of Contemporary Art downtown.
Romance, loss and alienation are a major thread of Marshall's work. They're all topics Sampha leaned on for "Process," the debut from the experimental electronic soul producer-singer and the work that brought him to this month's Coachella Valley Music and Arts Festival.
Released earlier this year, "Process" came after the singer, born Sampha Sisay, had spent the better part of a decade as a go-to collaborator.
Drake, Beyoncé, Frank Ocean, Jessie Ware, SBTRKT, Kanye West and Solange have all worked with him. Quite content with being under the radar, he was unsure he'd ever step to the forefront.
"I've always been quiet and pretty shy," the 28-year-old said, his voice quieting as he got lost amid paintings depicting public housing projects as lush, romantic idylls.
A pair of EPs released through indie imprint Young Turks (2010's "Sundanza" and 2013's "Dual") introduced his falsetto — delicate and with a thick South London accent — to frequent collaborators SBTRKT and Drake. After gaining a following, Sampha decided to "muster the courage" and write an album.
"Before that period, I just felt like I wasn't quite ready," he admitted. "Not necessarily in a musical sense, more so for the thought of being out there as a solo artist."
It was quite an intense period. It kind of ended up seeping its way quite strongly into the album.
Sampha, on how the loss of his mother informed his debut, "Process"
In the summer of 2014 he began work on "Process." He ventured out of his home, where he recorded, and went into studios with musicians and a co-producer, Rodaidh McDonald, who was initially supposed to only engineer the album.
"Watching someone like Kanye and seeing how he worked with other people, I realized that working with other people doesn't dilute my authenticity or the integrity of what I'm trying to do," he said. "I don't actually do anything by myself anyway; I didn't make the computer, I didn't invent the piano, I didn't invent the keys I'm working within."
The album's title is meant to be literal, as it sees him tenderly navigating love, anxiety, loneliness and the loss of his mother. "It came at a time when I realized that I recover best in solitude as a person," he confessed.
Sampha's reluctance to step to the forefront, and his self-consciousness as an artist, is tied to his inherent shyness as well as the outcast nature he felt growing up. In conversation, he has a whisper-like, elliptical way of speaking that makes it seem as if he's constantly revising his thoughts.
The youngest of five brothers, he was born in South London to parents who were immigrants from Sierra Leone. Even before he'd written the album, he wanted to explore the duality of being from London and having roots in Africa as well as his own self-discovery of going back to Sierra Leone.
Those feelings led him to want to create the album's visual companion. Directed by Kahlil Joseph ("Lemonade"), the short film, also titled "Process," is a poetic, nonlinear mixture of imaginative storytelling that loosely traces the generational arc of his family amid performance scenes.
"I just wanted to embrace all these sides of my culture and not even in a very specific intellectual lens or whatever," he said, "and show Sierra Leone as this kind of extravagant sort of beauty, as opposed to maybe all the ways I feel like it's been quite heavily depicted or shown in the media."
The loss of his mother, Binty Sisay, permeates the album and the film.
In late 2010, she was diagnosed with cancer. As Sampha was a decade younger than his siblings he was the only one at home (their father died from lung cancer in 1998) and became his mother's caregiver.
With her cancer in remission, Sampha began a string of high-profile collaborations in 2013, working with Drake for two tracks on "Nothing Was the Same" (sessions that led to an uncredited appearance on Beyoncé's self-titled 2013 album) and traveling to Ghana to work with Solange on what became her acclaimed "A Seat at the Table." He then found himself in Italy working with West on "The Life of Pablo."
When Binty's cancer returned in 2014, it was terminal. He moved back to the South London suburb of Morden to be with her.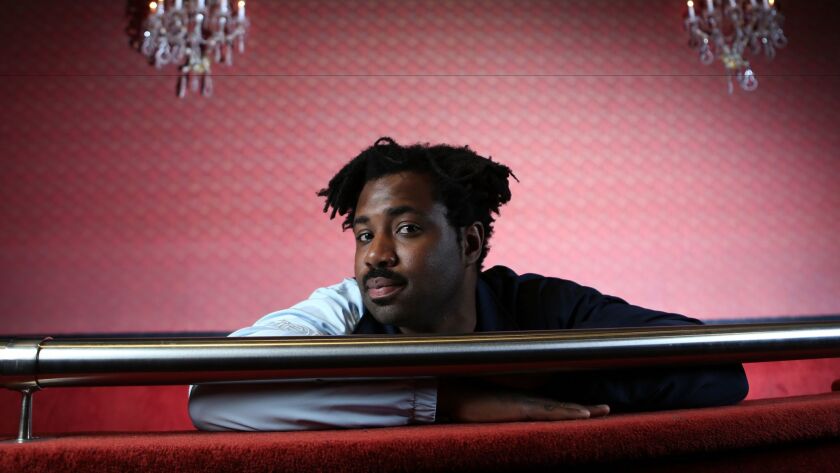 "It was quite an intense period," he said. "I would kind of make music on the off day, when she was in hospital. It became like an escape a little bit, and a way of me expressing what I was going through because, obviously, even as an adult you kind of learn to repress things to be able to function."
"You don't even know how you're feeling," he continued, "or if you're feeling anything — there is a kind of numbness. It kind of ended up seeping its way quite strongly into the album."
Album centerpiece "(No One Knows Me) Like the Piano" is an ode to his late mother, who died September 2015. "The [song] just came to me while looking at the piano and looking at my mom watching TV. It just sort of crept up as words do."
"Process" is a sweet, heartfelt listen that slices between frantic electronic soul grooves and aching balladry. West co-wrote the first single, "Timmy's Prayer," and the album's breakthrough song, the throbbing "Blood on Me," was inspired by the singer's occasional battle with sleep paralysis. "It's kind of a huge sinking feeling [and] you have to like jolt yourself out," he explained.
Ahead of his debut at Coachella last weekend, the singer wasn't feeling confident. An admitted perfectionist, Sampha very much likes to tinker, and he appeared weary when we discussed balancing headlining shows with festival sets, which are often truncated versions of an artist's current production.
"I don't know if we'll be where we need to be, to be honest," he said with worry.
But he didn't need to.
Judging from the warm reception he received at Coachella, those fears of not feeling ready — whether it was for his date in the desert or releasing a full record — have proved to be unfounded.
Twitter: @GerrickKennedy
---